Huntington Beach has a unique ability to adapt to whatever your idea of tranquility is. Whether your definition of wellness involves getting outside and moving your body, spending quality time with friends and family, or losing yourself in a much-needed spa treatment, Surf City USA® aims to help you end each day feeling peaceful.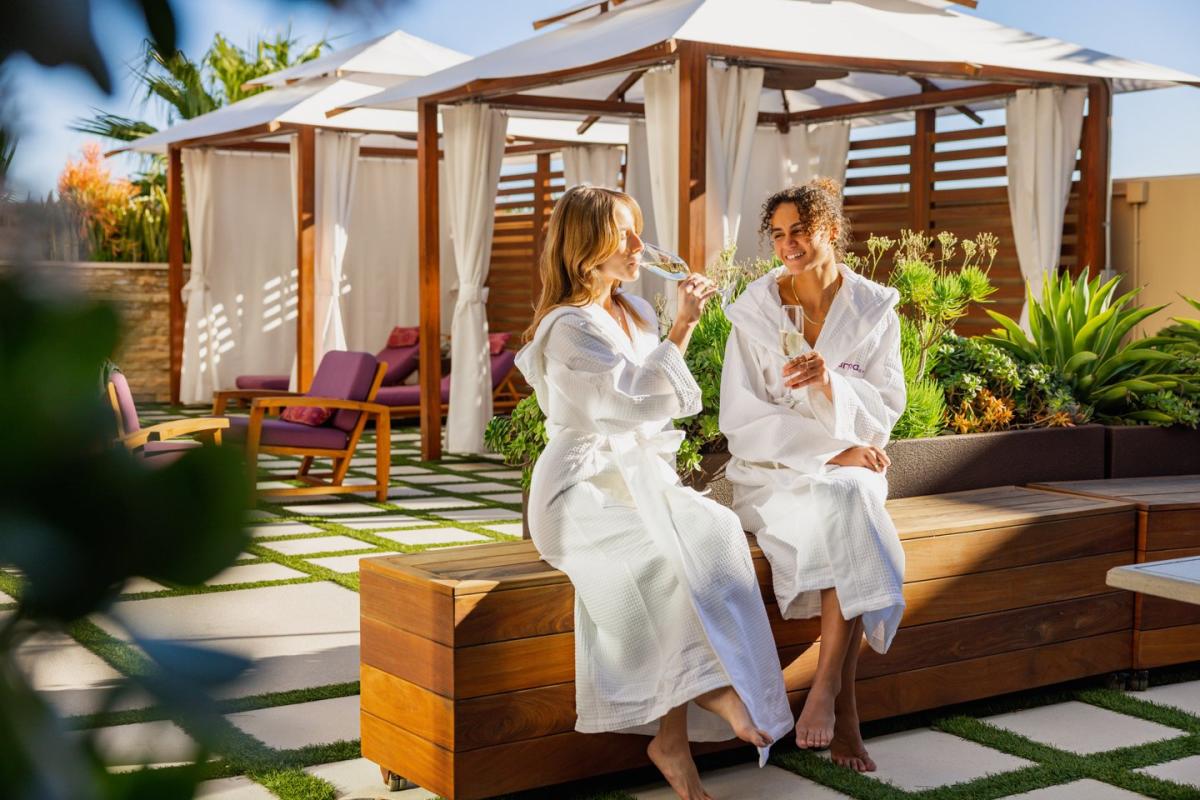 Aarna Spa
With the help of our world-class spas, an abundance of outdoor activities, and our four premier oceanfront resorts, we hope you allow yourself to take a break from the daily hustle-and-bustle and discover what it means to truly be well.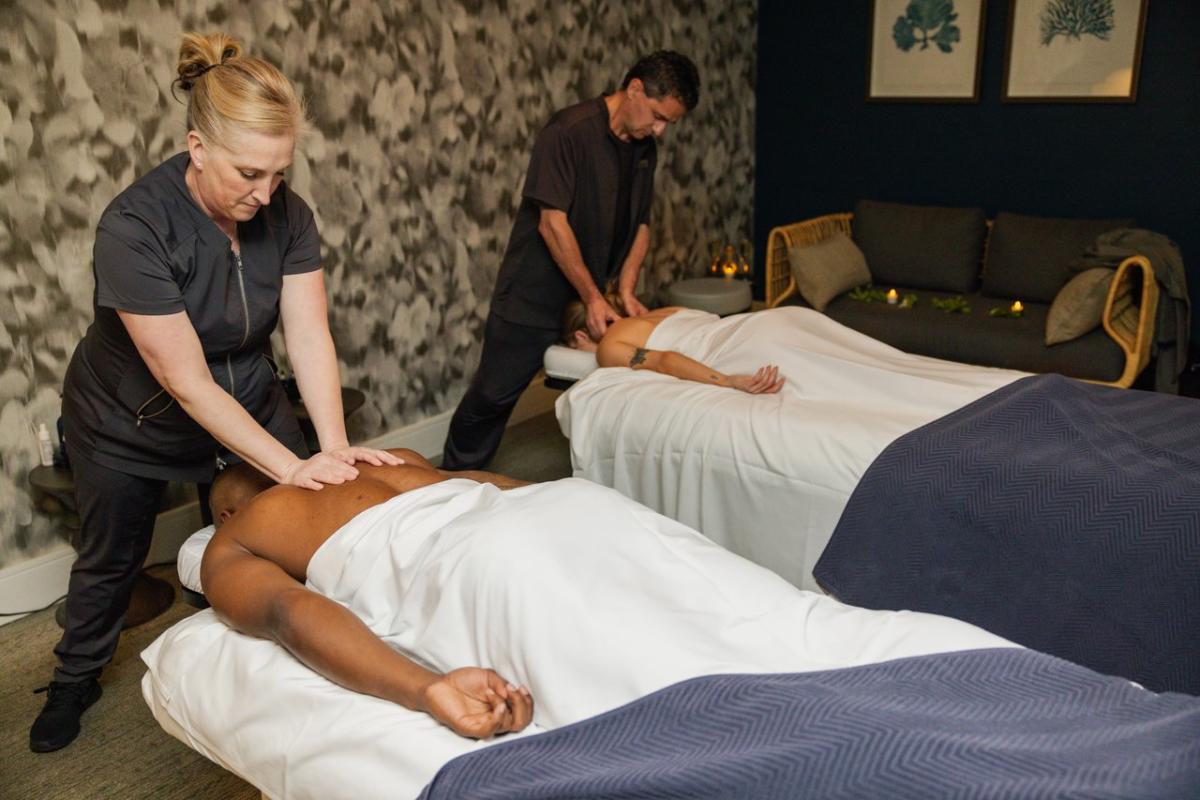 Experience the essence of Southern California with a unique blend of relaxation, serenity, and calmness at Drift a Waterfront Spa, located inside The Waterfront Beach Resort, a Hilton Hotel. The full-service day spa offers guests a next-level sensory experience, blending all-natural elements to leave guests feeling calm and carefree. Treat yourself to a personalized massage or energize your spirit with a botanical-infused facial. This oceanside sanctuary promises the ultimate release for your mind, body, and soul.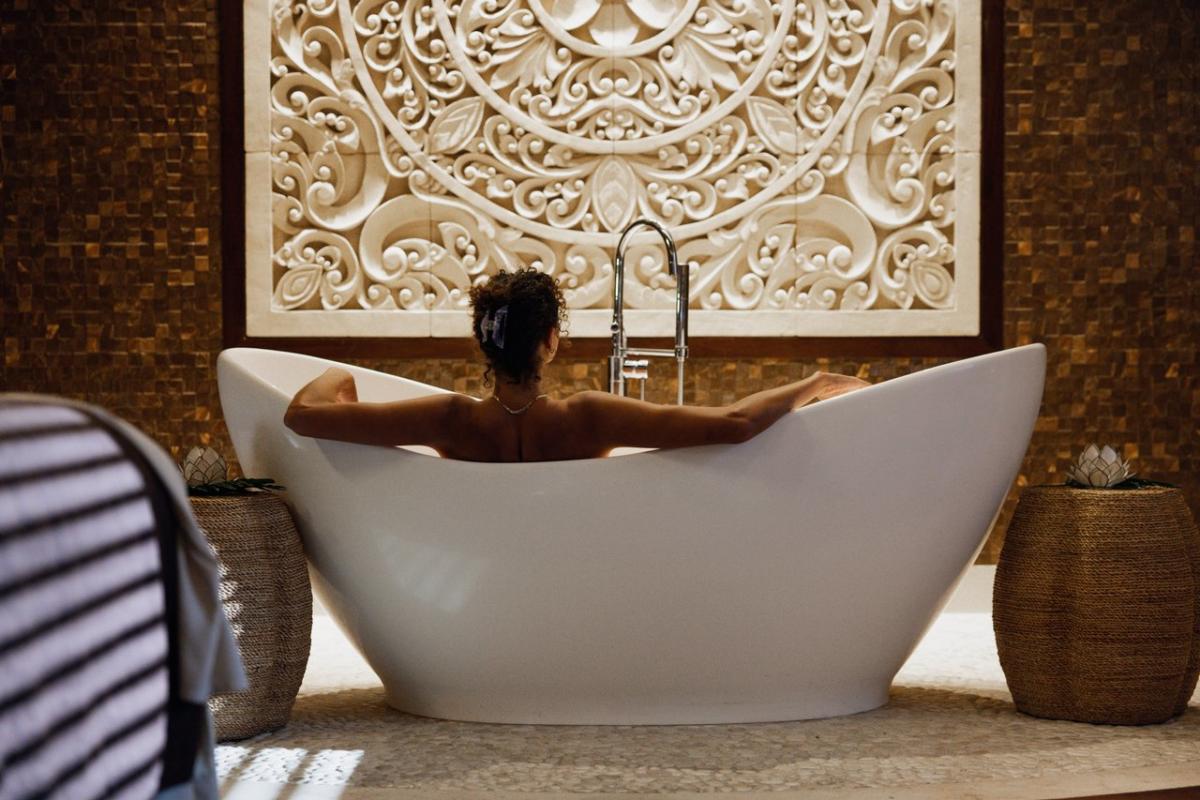 Rated as one of the Top 100 Spas by Spas of America, the Paséa Hotel & Spa's Balinese-inspired Aarna Spa sets a new standard of relaxation and rejuvenation. Guests can enjoy the eight indoor treatment rooms, each named after flowers found in the Balinese countryside, as well as a private spa garden with cabanas and fire pits. Both the men's and women's facilities boast a sauna, eucalyptus steam room, and a saltwater pool. Enjoy the signature spa products that are designed to relax and cleanse the mind, body, and spirit - the experienced Aarna staff and therapy treatments create the perfect addition to your Huntington Beach getaway.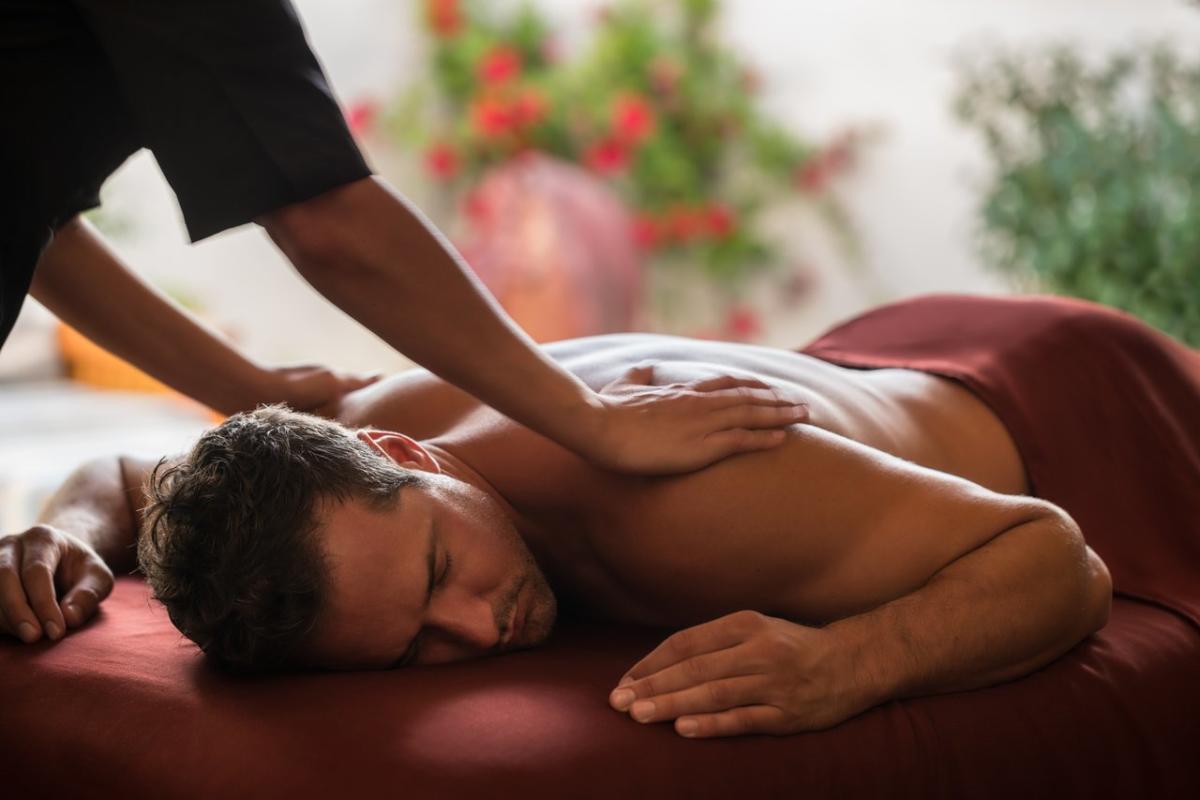 Indulge in the ultimate spa experience at Pacific Waters Spa, located inside the Hyatt Regency Resort & Spa. The 20,000 square foot space is reminiscent of a warm, elegant, Spanish-style estate that fuses elements of Mediterranean culture with inspiration from the Southern California waters off the coast of the resort. Get lost in a blissful massage, facial, or body or salon treatment as you retreat to pure serenity and pampering.
As the only full-service day spa in downtown Huntington Beach, Main Street Day Spa delivers professional, luxurious, and affordable services. Whether you're visiting for a regular manicure/pedicure or interested in a full spa day, Main Street Day Spa is here to help you lose track of time and find your soul. 
CloudMover Day Spa has been voted #1 on the OC Hotlist seven years in a row. Located in 5 Points Plaza, CloudMover's licensed service providers offer quality spa services including massage, skincare, waxing, body treatments, airbrush tanning, lash extensions, and more. CloudMover encourages you to take a break from the fast-paced Southern California lifestyle and indulge in some much-needed self-care.
HavenMD serves as Downtown Huntington Beach's tranquil getaway that helps clients relax and refresh their minds, bodies, and souls. The day spa offers a variety of pampering services, including facials, massages, and waxing. The new medical clinic also offers facial enhancement and rejuvenation, as well as body sculpting services.

Yoga on the Beach HB offers donation-based yoga classes every day at Tower 14 on City Beach (on 14th and Pacific Coast Highway, on the left side of the tower). Classes are suitable for all levels of yoga experience and are taught by certified instructors. Bring a mat (if you don't have one, most teachers will bring a few extras), water, and, most importantly, sunscreen. Improve yourself through movement, breathwork, and meditation.
Donations are gladly accepted but are not necessary to join. Be sure to follow them on Instagram to keep up with class updates!
Meg of Namaste Family Yoga specializes in alignment-based Hatha yoga and is also trained in teaching children's yoga. Her light-hearted, positive, outgoing personality brings fun-loving energy to her classes, and she fuses together a Vinyasa flow with Iyengar principals. As a certified Reiki energy healer & doTerra wellness advocate, she brings spirituality, pranayama, and meditation for a well-rounded practice. Follow Namaste Family Yoga on Instagram for more information. 
Join Meg for these all-ages/levels vinyasa flow classes:
Beach Yoga (Tower 10): every Friday at 9:30 a.m. 
Park Yoga (Farquhar Park): Every Saturday at 9:30 a.m.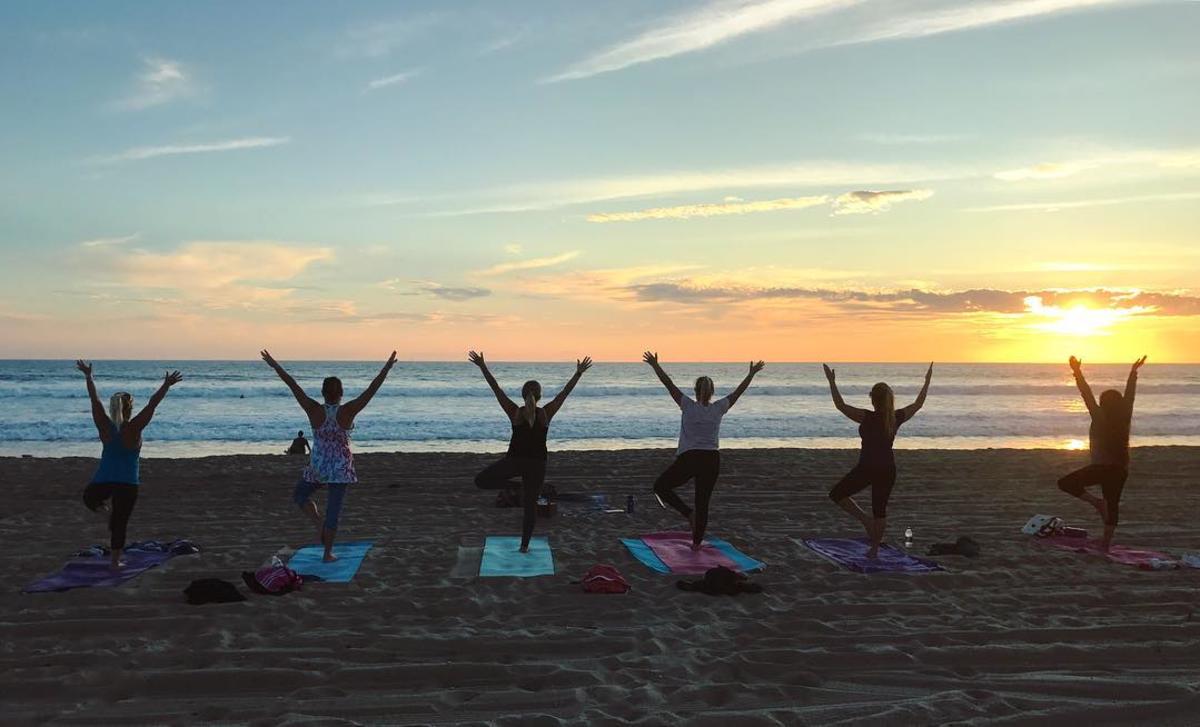 Dawn Patrol Yoga's 30 minute classes are designed to wake you up and get you moving before your day kicks off. There are a variety of classes to choose from, some being more yoga-based and others involving more foam rolling and stretching. The Vinyasa Flow classes are 45 minutes long and offer more for the traditional yoga enthusiasts, focusing mostly on strength, flexibility, and breathwork. 55+ Yoga is for anyone over age 55 looking to take a different approach to yoga to the best of their ability. Lastly, Yoga for Athletes is specifically designed to compliment athletes' performance and training regimen. This class will help students maintain their strength while also increasing flexibility, mobility, and body awareness. Breathwork in this class will also help athletes with mental toughness and concentration. Follow Dawn Patrol on Instagram to learn more!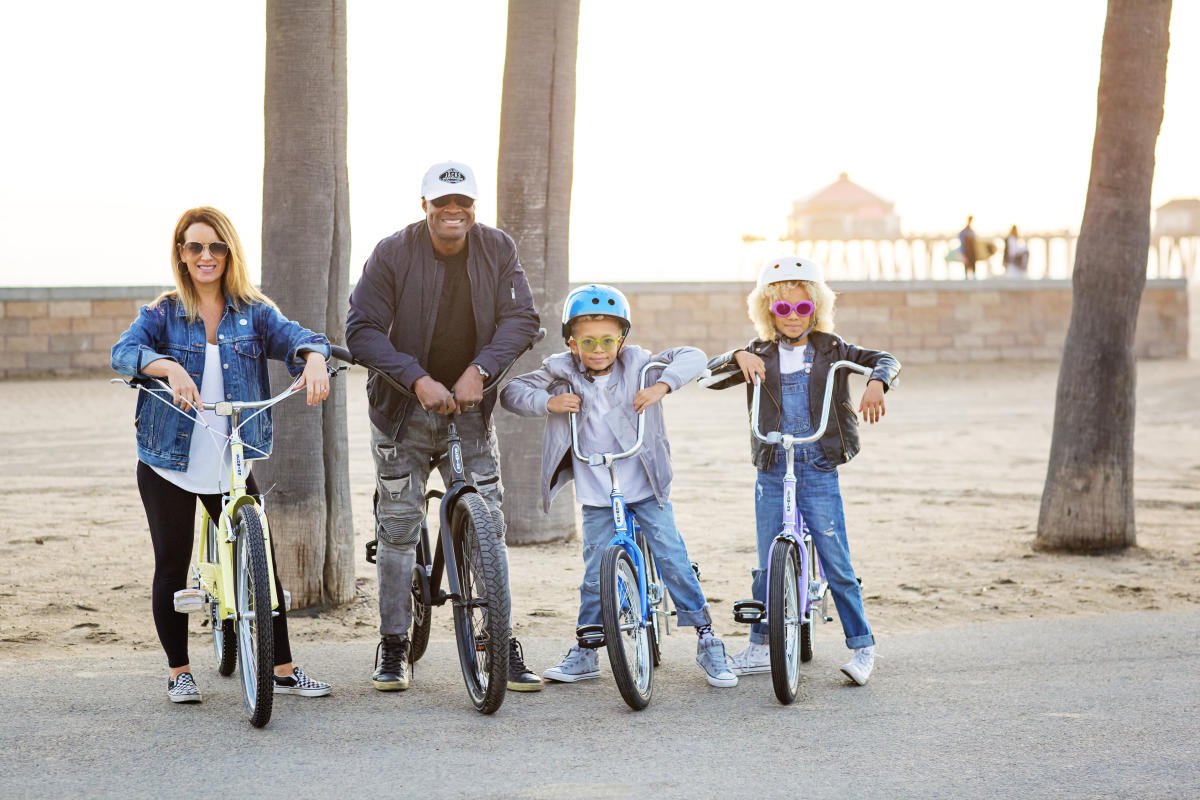 One of the most relaxing things to do in Huntington Beach is cruise down the 10 miles of coastline with the crisp sea breeze flowing through your hair. No bike? No problem - there are plenty of places to grab a rental for a few hours or an entire day. Fat Bike HB, Pedego, and HBBC are just a few places you can stop in to grab a pair of wheels. To see the full list of rental concessionaires, click here.

At Kimpton Shorebreak Resort, a boutique Huntington Beach resort, guests are free to pick their pleasure. From a carefully curated cocktail at Pacific Hideaway and a guest room with ocean views and a sun deck, to outdoor diversions like ping pong and mingling by the fire pit, all you need to do is check your worries at the door. Steps from the beach and party-rocking Main Street, Shorebreak invites you to see where the tide takes you.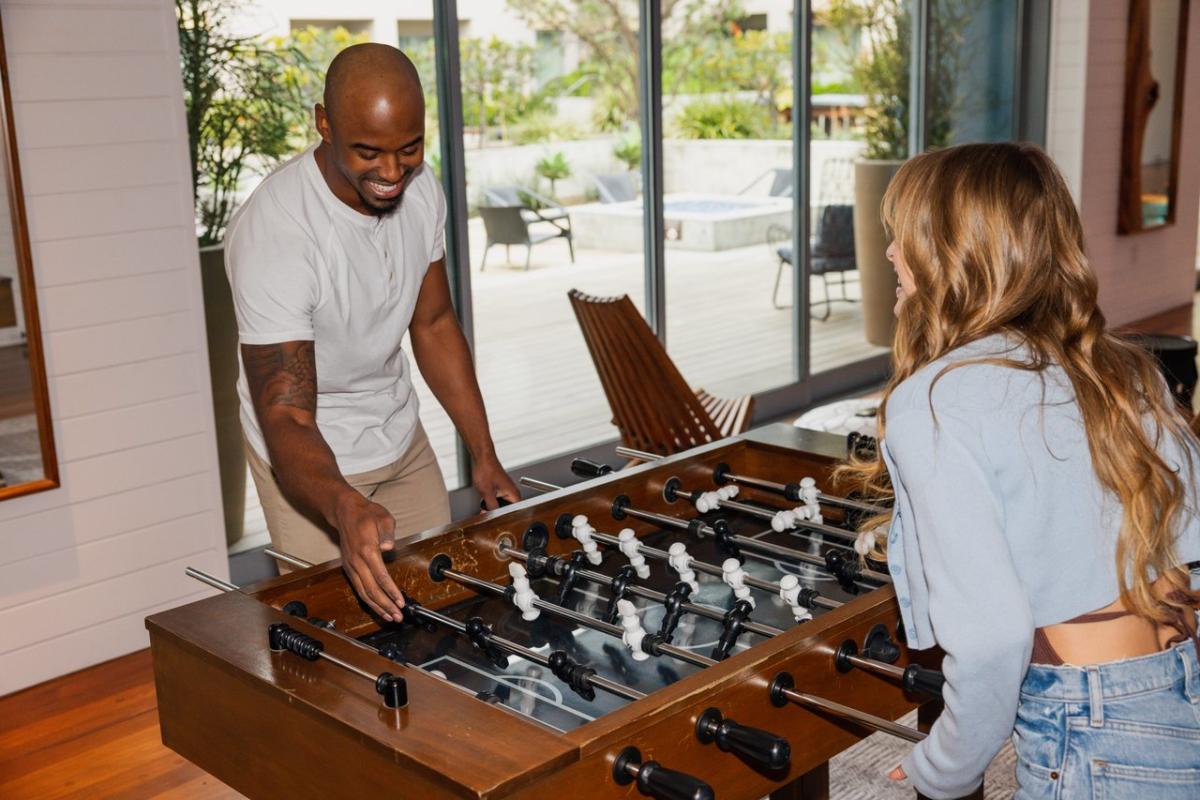 Complimentary coffee and tea in the mornings and hosted wine hour in the evenings, beach chair, towel, and umbrella rentals, and a 24-hour fitness center await to relax and inspire you.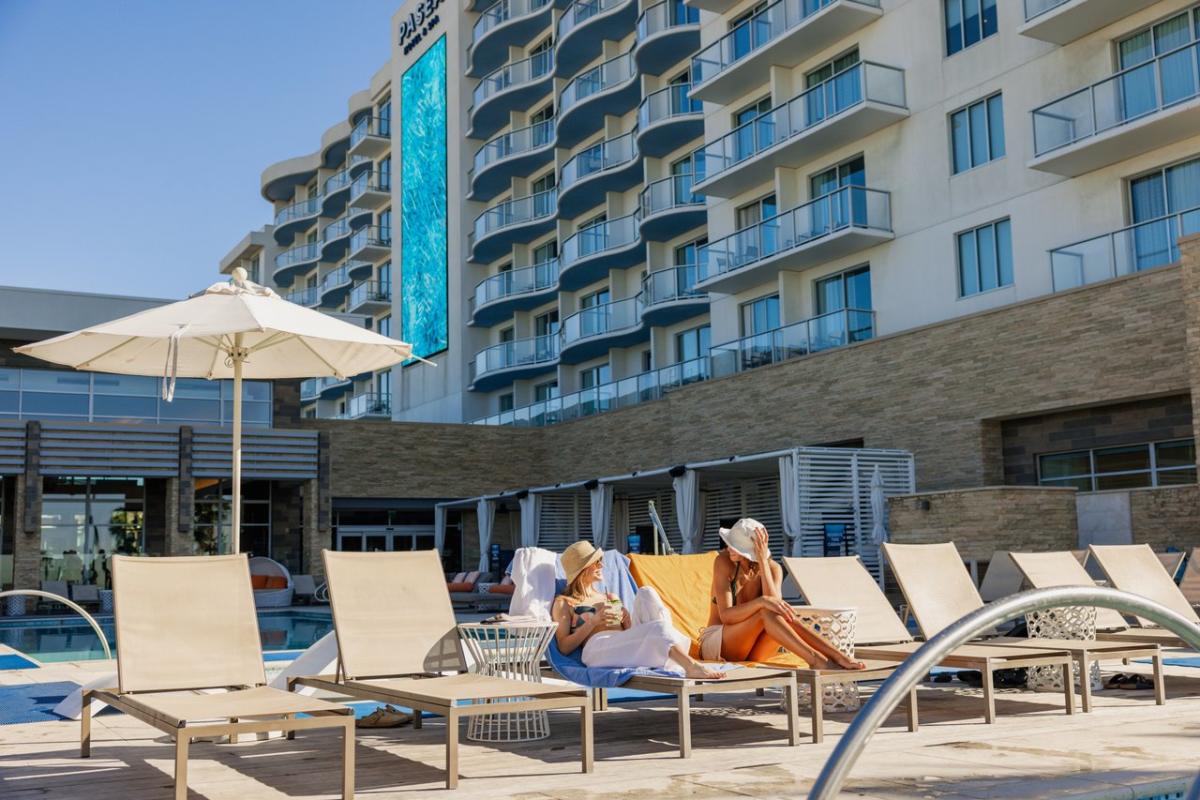 Perched on the edge of the world's most expansive ocean, Paséa Hotel & Spa entices you to leave the everyday behind and get lost into the blue. Whether it's a California coastal-inspired meal at Tanner's, a seasonal craft cocktail at the Treehouse Lounge, or a quick bite at the in-house café, good eats and good vibes are always on the menu. Award-winning Aarna Spa offers both indoor and outdoor treatment spaces with a wide variety of signature experiences. Paséa provides endless activities under the Southern California sun just steps from the beach and a short walk to the iconic Huntington Beach Pier.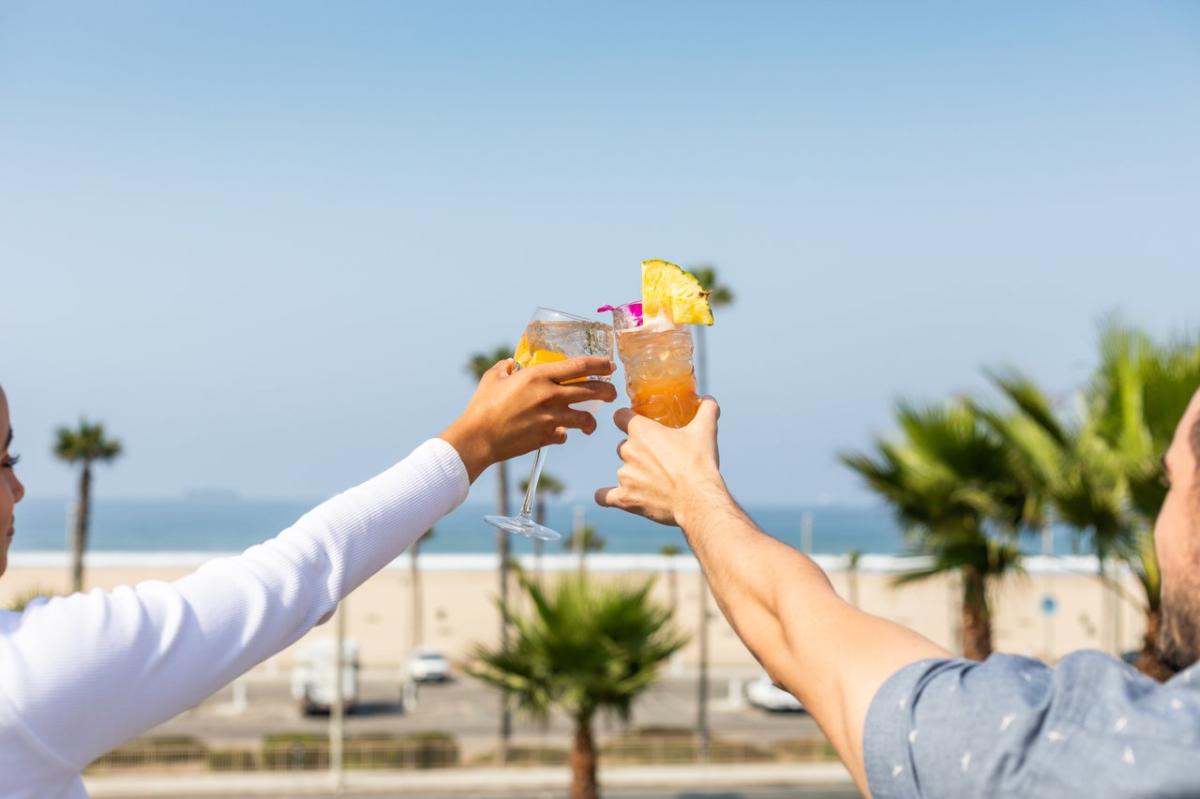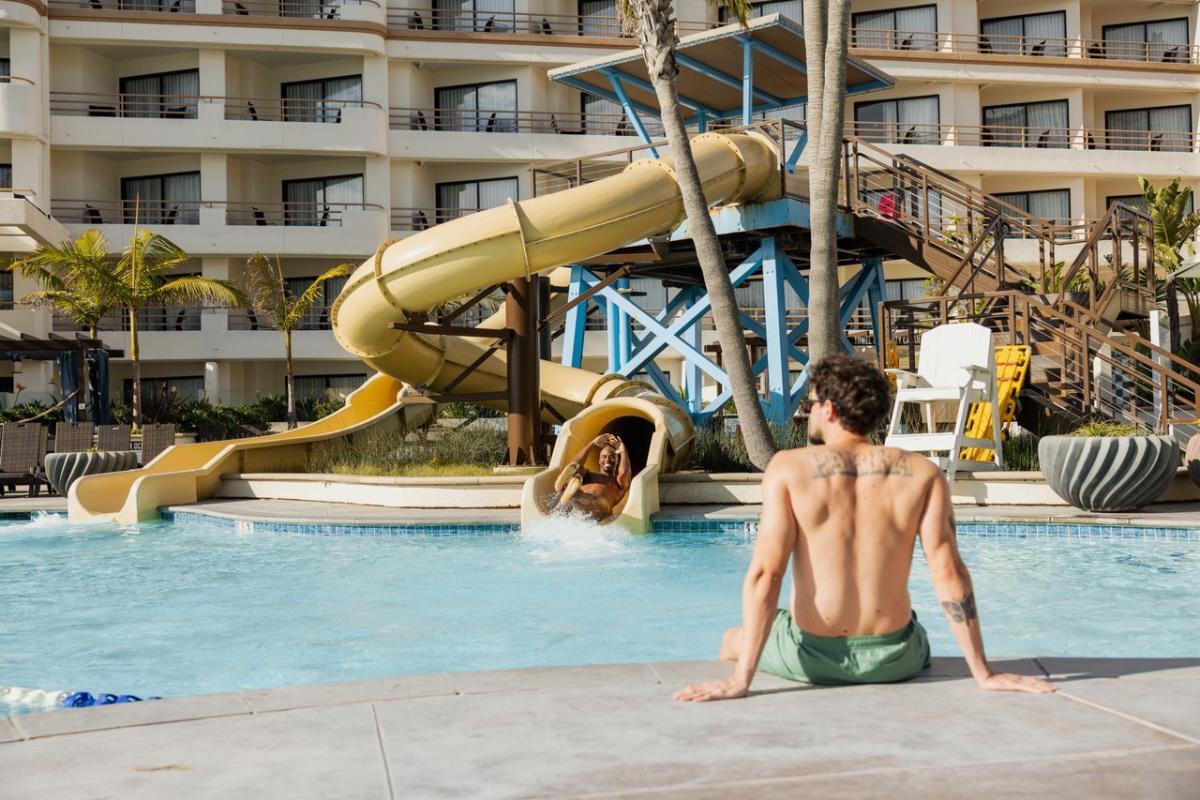 Embrace the Southern California lifestyle at The Waterfront Beach Resort and soak in the surf culture with the help of luxury amenities. Depending on your mood, spend a day at one of the two sparkling pools - one complete with waterslides - and hot tubs, or pack a lunch and hit the sand and surf just across the street. Make the most of your time in the sun with a cabana and beach butler service or reserve a pit for a beach bonfire when the sun sets. Feed your sense of adventure on a boogie board or tandem bike ride or take an afternoon off to pamper yourself with a blissful array of signature treatments at Drift a Waterfront Spa.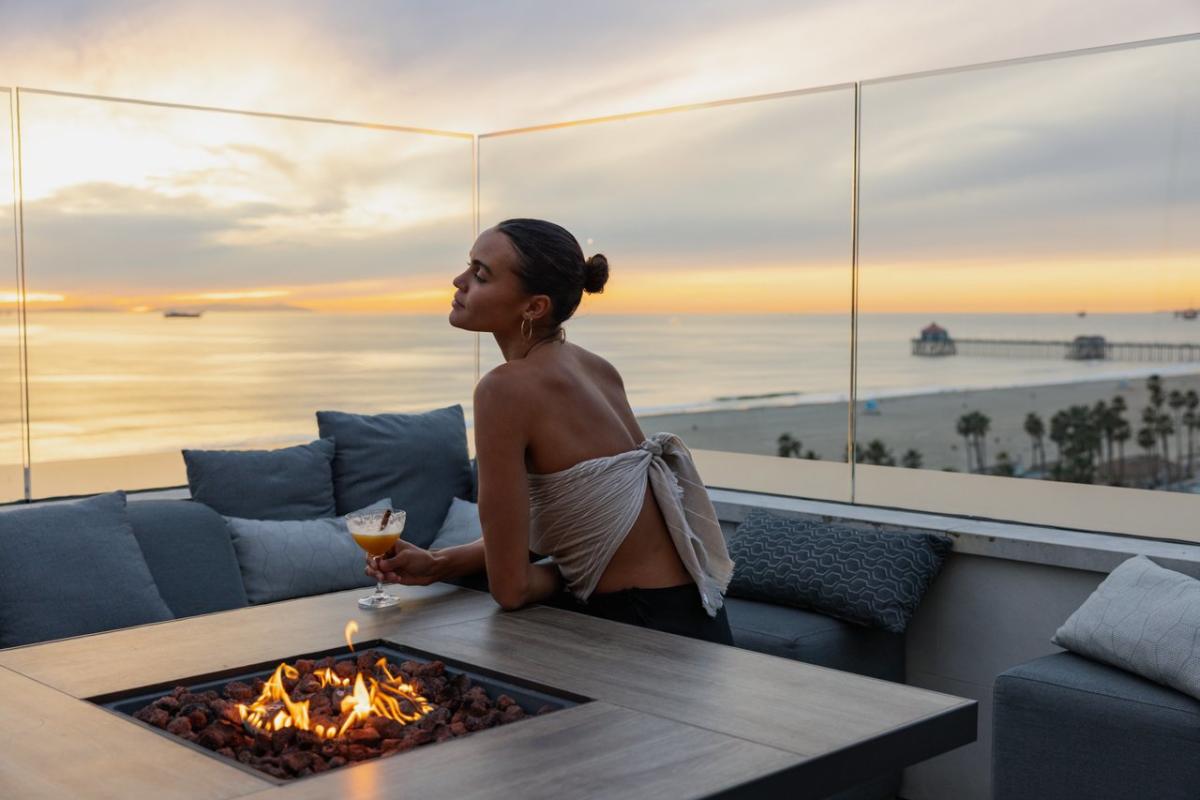 Dive into delicious meals from Henry's Coastal Cuisine or The Boardwalk Restaurant, then head up to the 9th floor of The Twin Dolphin Tower to enjoy stunning panoramic views from Orange County's highest coastal rooftop lounge, Offshore 9.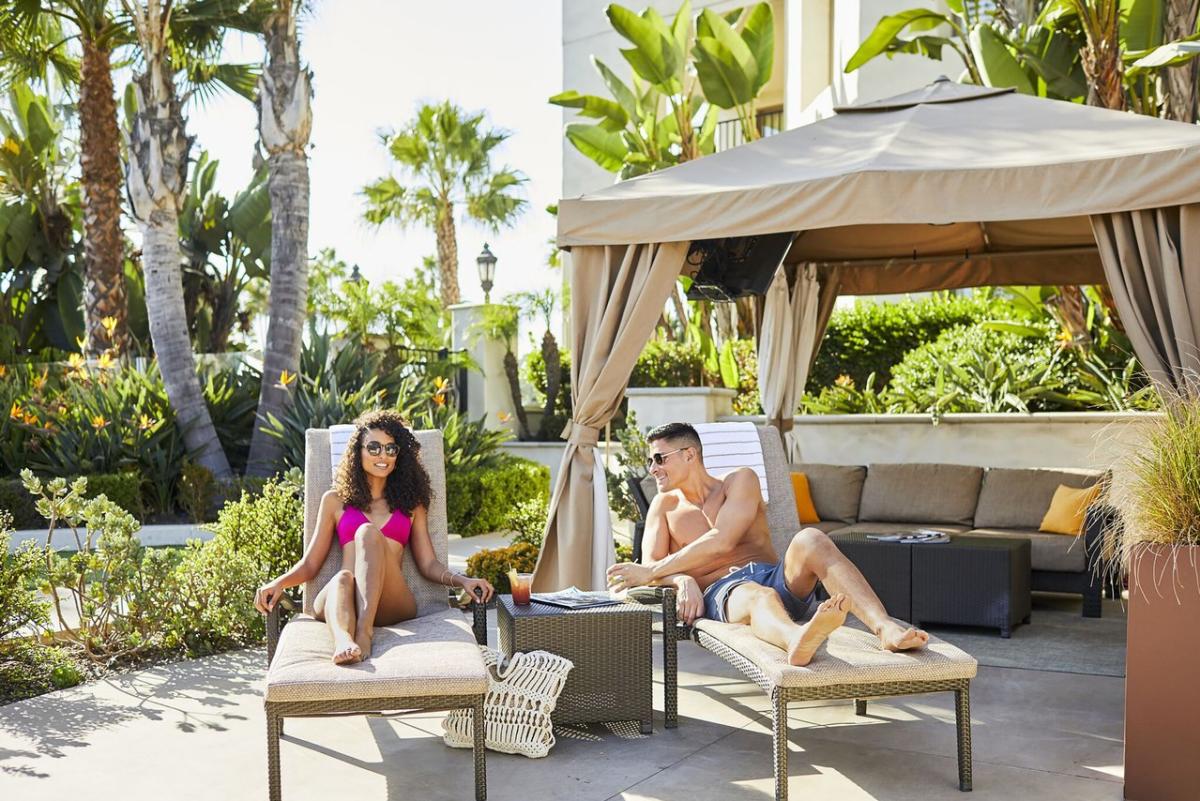 Relax amid Pacific Ocean views and Spanish-inspired architecture at Hyatt Regency Huntington Beach Resort & Spa. Enjoy a prime oceanfront location, perfect for multi-generation family gatherings, along with outdoor wellness facilities, award-winning restaurants, family suites, and the Pacific Waters Spa. Soak up the sun during a pool day in the newly-refurbished cabanas or take a short, 5-minute walk to access 10 miles of beaches, the Huntington Beach Pier, and Pacific City.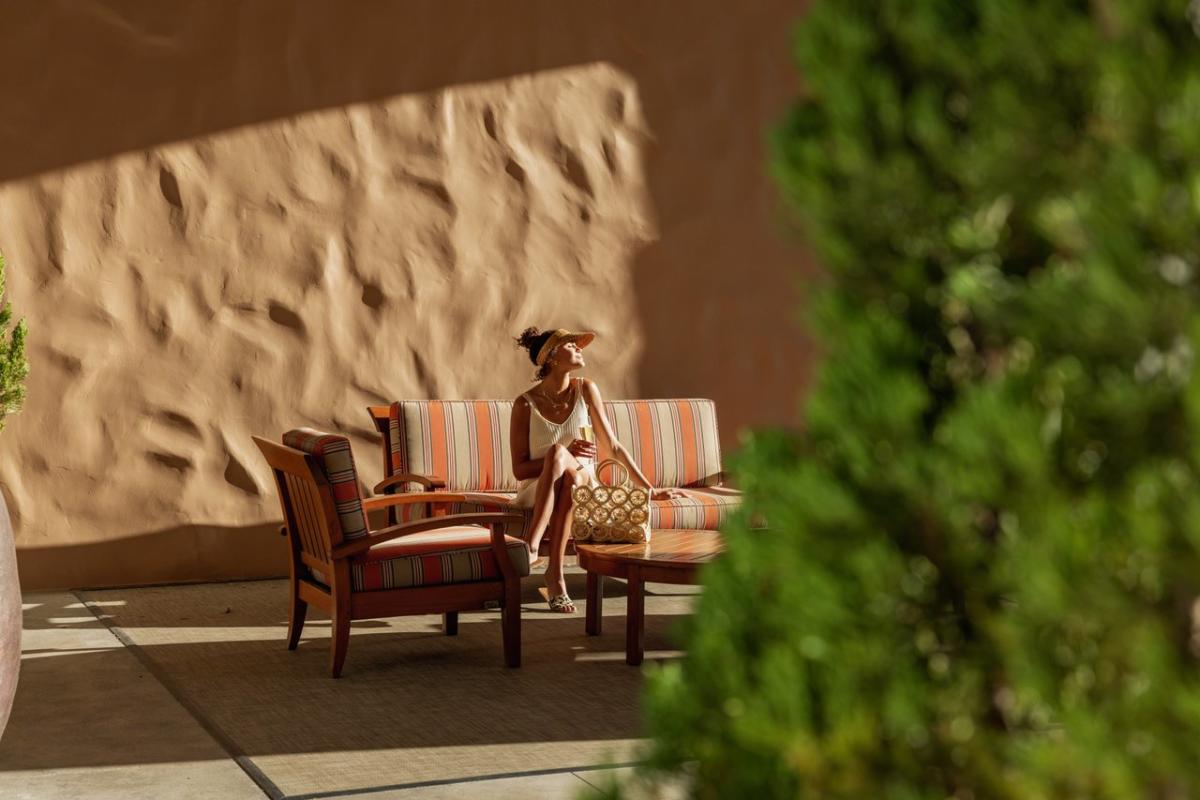 Enjoy seasonal menus featuring locally sourced fare in a rustic dining space at Watertable. World-class vintage wines and artisanal cocktails accompany Southern California cuisine and impressive views of the Pacific Ocean.