Bike Riding at Huntington Beach
Bike riding at Huntington Beach is one of the best ways to explore and experience the area. Look to the west to enjoy the stunning ocean view and to the east to see the famous Pacific Coast Highway; if. you didn't bring a bike, no problem! Beach concessionaires rent and sell standard bicycles, tandem, electric, surreys, and more. Once you find your preferred mode of bicycle transport, you are free to start cruising the coast.
Huntington Beach oceanfront resorts provide bike rentals for guests as well. Don't forget to wave at the folks strolling the Huntington Beach Pier as you glide underneath it onward towards your next adventure.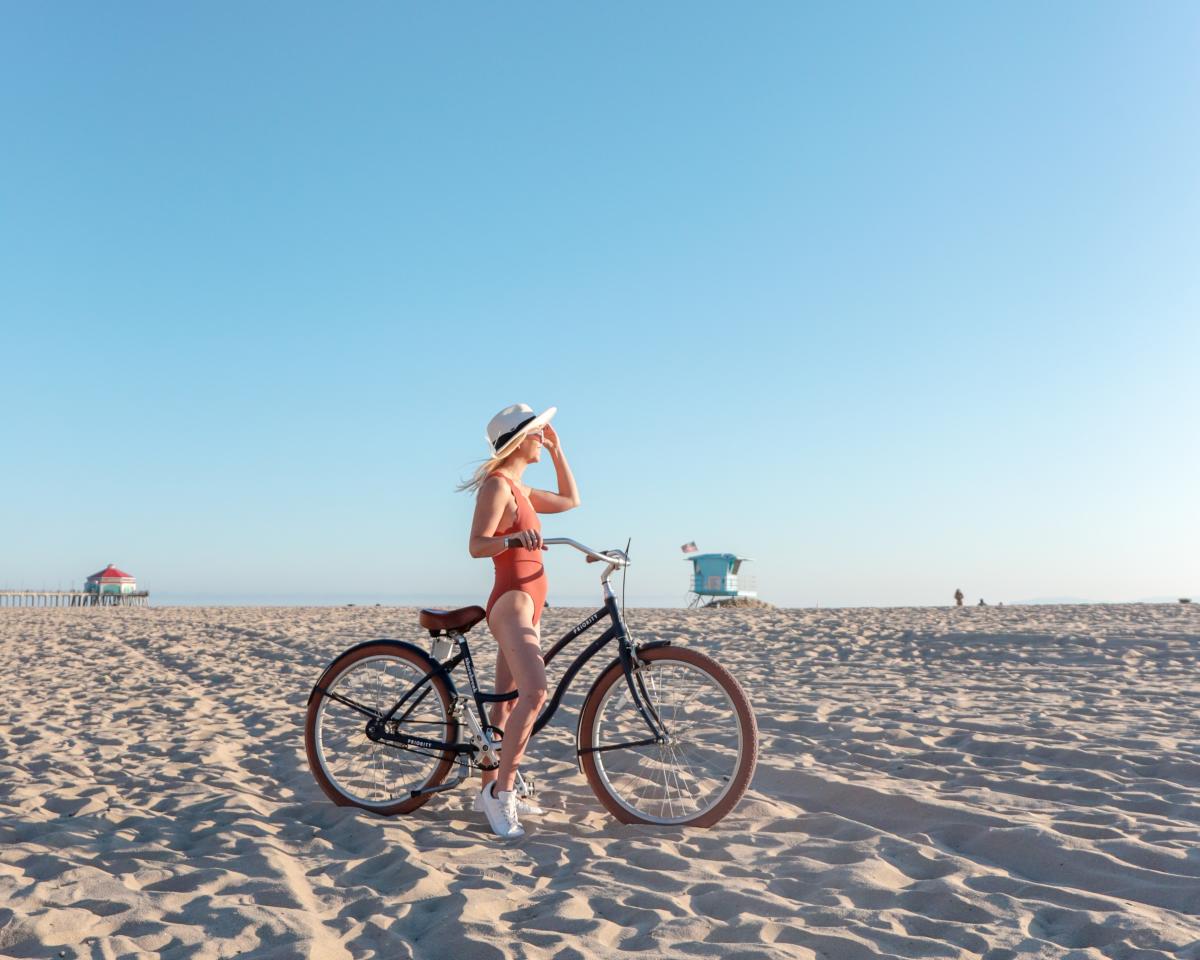 Huntington Beach Bike Path 
Orange County has a lot of trails and bike paths to choose from, but the Huntington Beach bike path is one of the main trails along the Southern California coast. The Huntington Beach bike path connects the Huntington Beach Pier to the Newport Beach Pier, a 6-mile cruise south or a 12-mile bike ride if you do an out-and-back. This trails also provide easy access to all the beaches, such as the famous Huntington Beach City Beach near the pier. For the more ambitious rider, you can also hop on the Santa Ana River Trail junction, just south of Huntington State Beach, and head east following the Santa Ana River on a bit hillier 30-mile ride towards the San Bernadino mountains. 
The Huntington Beach bike path starts where Warner Ave. runs into the Pacific Coast Highway, just north of Bolsa Chica State Beach and the dog beach. If you ride the entire trail starting at Warner Avenue, it is just under a 16-mile out-and-back ride from point to point. Since this area is a go-to spot for surfing, running, and volleyball, there are free parking lots, restrooms, and water fountains along the way. There are also plenty of places to stop for a bite, picnic, and photo op along the bike path, so all you have to do is relax, enjoy the ride and take in the views. 
If a long bike ride isn't your idea of relaxing, there are many spots along the path to hop on a trail in Huntington Beach from anywhere along the Huntington Beach coast. One of the more popular spots to start the trail is at the Huntington Beach Pier and take a stroll or cruise north or south to a nearby beach. 
Huntington Beach Bike Rentals
Many Huntington Beach bike rental options offer all kinds of bikes. An array of bicycles line the famous Huntington Beach bike route. From the classic beach cruisers and electric bikes to surrey bikes, perfect for a family or group of four. There are also tandem bikes available for a day of leisurely bike riding and the fun of cruising down the coast of Surf City, USA.