UPDATED JULY 11, 2022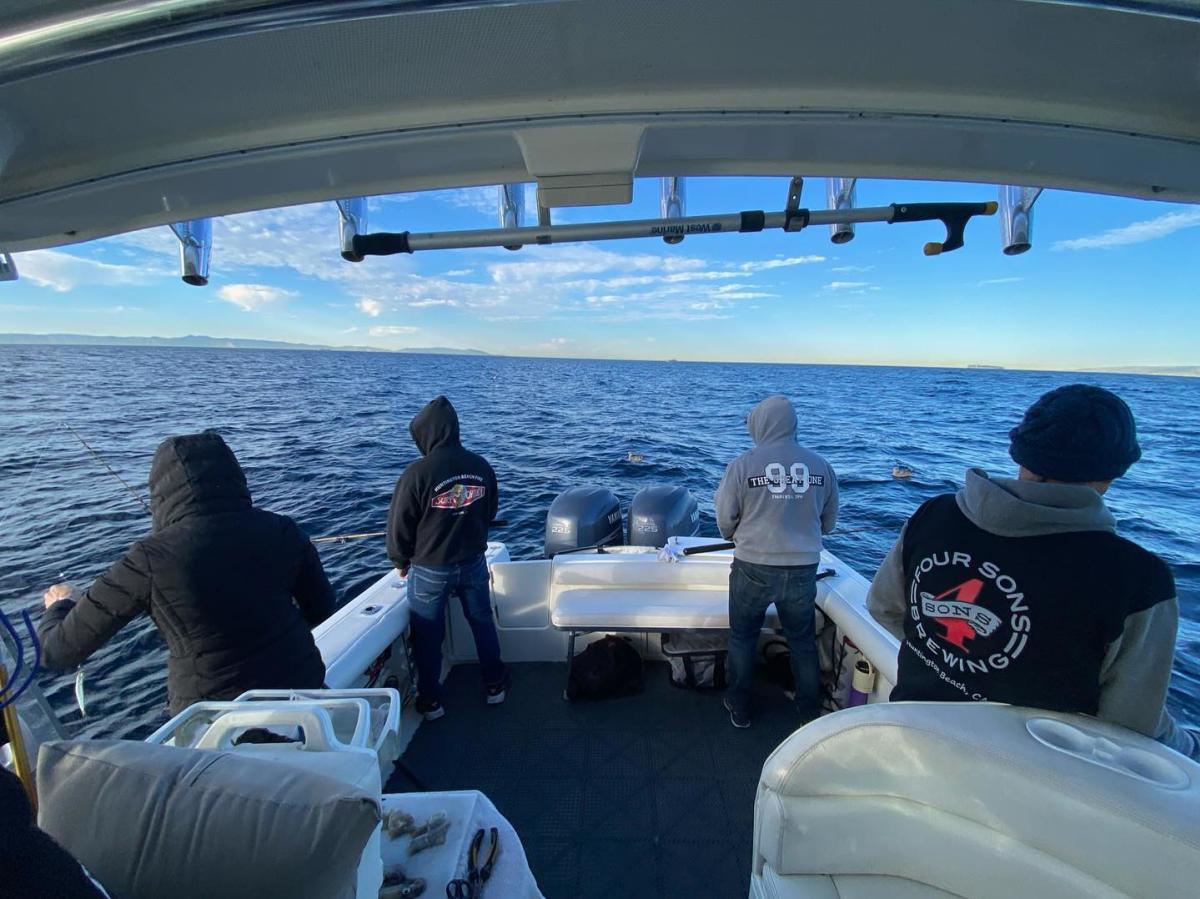 Image: @wagnerchartershb on Instagram
With 10 miles of uninterrupted shoreline and two freshwater lakes, Huntington Beach makes it easy to get hooked on fishing. A deeper dive into the nitty gritty details can be found at the comprehensive California Department of Fish and Wildlife (CDFW) website, but here's everything you need to know to start planning your first catch. 
FISHING LICENSES
When fishing at one of Surf City USA's five beaches or two lakes, a fishing license is required for anyone 16 years and older. Since it is a public pier, a fishing license is not required on the Huntington Beach Pier. Anglers no longer need to display their license, but it must be in their immediate possession while fishing. Both annual and short-term licenses can be purchased online, from a license agent, or from a CDFW license sales office.
SALTWATER
Image: @fromeast10th on Instagram
Fishermen and fisherwomen are welcome to fish from the shore, but must keep their distance from swimmers. Local Pacific Ocean catches include cabezon, corbina, croaker, jacksmelt, mackerel, perch, rays, sardines, sharks, and shovelnose guitarfish.
Dangling a line from the iconic 1,856-foot Huntington Beach Pier is a favorite choice among anglers. Conveniently located near the pier's end, Let's Go Fishing rents gear and sells bait, tackle, assorted fishing supplies, snacks, beverages, sunscreen, beach gear, and souvenirs. Reach them at 714-960-1392.
Looking to go kayak fishing? There's no calmer spot than the Huntington Harbour. Public parks along the water's edge, like Seabridge Park, offer easy launching and, if you're staying on land, shore fishing spots.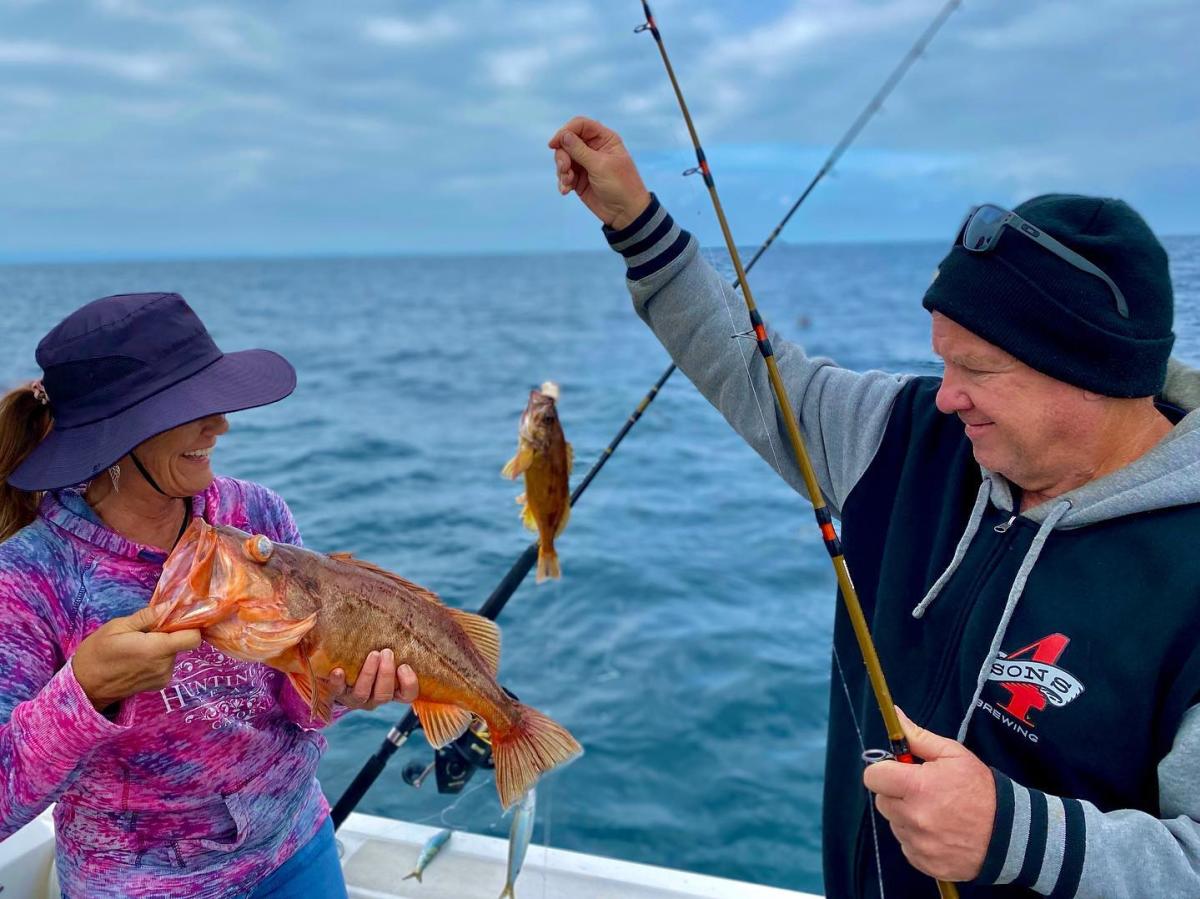 Image: @wagnerchartershb on Instagram
Per the CDFW, the general bag and possession limit "states that no more than 20 finfish in combination of all species with not more than 10 of any one species, may be taken or possessed by any one person. Within this general bag limit of 20 fish with not more than 10 of any one species, special sublimits apply to many species. There are also many species that have no bag or possession limit. Refer to the ocean sport fishing regulations for complete information."
Rodmans need be aware that species-specific gear restrictions also apply when fishing from both the pier and the shore, which are listed in detail on the CDFW site.
The CDFW also lists regulations for species that are fair game—and those that are not—here.
Looking to cast your line from the sea? Several local fishing charters welcome you aboard, including Breakaway Sportfishing Charters via Mako Matt's Marine, Golden State Sportfishing, and Wagner Charters.
FRESHWATER
Huntington Beach Central Park, located less than five miles from the pier, is home to two freshwater lakes: Huntington Lake and Talbert Lake. Fishing is permitted, and anyone 16 years and older must have a license. Lake swimmers include bluegill, carp, channel catfish (stocked in the summer), crappie, largemouth bass (catch and release suggested), and rainbow trout (stocked in the winter). No boats or rafts are permitted on either lake.
EXTRA BAIT
CDFW offers two free fishing days each year, which are listed here.
Annual grunion runs entertain the Southern California shoreline come spring and summer and are a wild experience for all. Grunion may only be taken by hand, and a fishing license is required for anyone 16 years and older during the open season. Refer to CDFW's expected schedule to plan your run.
Catch something but don't know what? Snap a photo and email it to AskMarine@wildlife.ca.gov.
Another fantastic CDFW resource is their map-based Fishing Guide, which features helpful info like the best fishing spots, boat launches, marine protected areas, and more.
We're all in need of a beach break, a moment of escape, and rejuvenation. Read More