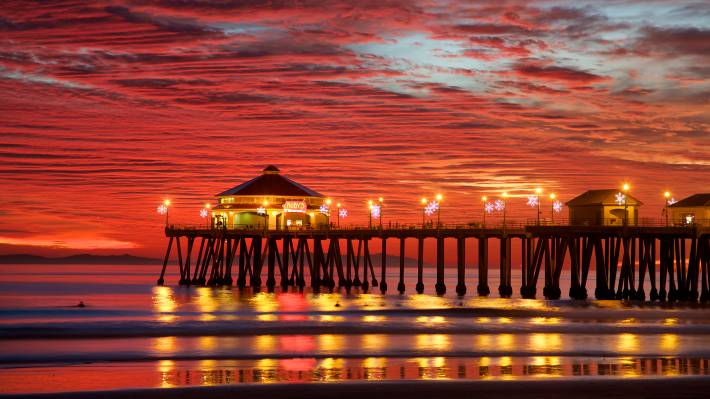 'Tis the season to be grateful, and life by the sea comes with countless gifts. We've rounded up seven standout elements of Surf City USA that are sure to summon that warm, cozy feeling of gratitude this holiday season.
1) Huntington Beach Pier
You can stroll it or you can "shoot" it—and it's the most photographed spot in Surf City USA. The iconic Huntington Beach Pier stretches 1,856 feet into the Pacific Ocean, making it the longest recreational pier on the West Coast. An extension of Main Street, the pier is home to shops, events, fishing, panoramic views of the coastline and Catalina Island, Ruby's Diner and Jan & Dean's Tiki Lounge at its tip, and, of course, surfing along its base.
2) Oceanfront Resorts
Dotting Pacific Coast Highway are four exquisite luxury hotels, singing sweet lullabies to visitors and welcoming locals for a sweet respite. Kimpton Shorebreak Resort at 5th and PCH charmingly captures Huntington Beach's surfer spirit and holds one of the best restaurants in town—Pacific Hideaway, a Pacific Rim-inspired space offering Latin American and Asian fusion fare, plus an eccentric craft cocktail menu. Continuing south, Paséa Hotel & Spa neighbors Pacific City and plays host to fabulous events, Bali-inspired Aarna Spa, and the whimsical treehouse bar at Tanner's. The Waterfront Beach Resort, A Hilton Hotel, boasts the new Offshore 9 Rooftop Lounge atop the new Twin Dolphin Tower, along with newly minted Drift, A Waterfront Spa. Finally, the Hyatt Regency Huntington Beach Resort & Spa wins with Spanish-style Pacific Waters Spa and deliciously praised Watertable, plating West Coast comfort food in a refined rustic setting.
3) Endless Summer Weather
Why do we call our coveted climate "the endless summer?" Because we are blessed with 281 days of sunshine every year and an average temperature of 80 degrees. Call it a state-of-mind, if you will, as locals revolve daily life around the great outdoors all year long, from the sparkling Pacific to our more than 70 local parks. 
4) Our Culinary Scene
From fresh takes on fresh seafare to authentic bites of Mexico and Little Saigon, Huntington Beach's wildly worldly food scene serves up just about anything your little (or hopefully big) appetite desires. Each distinct neighborhood houses hidden culinary gems, like LSXO, a restaurant within a restaurant at Pacific City plating a French Vietnamese menu and hosting afternoon tea. Along Beach Boulevard, Slapfish offers sustainably caught seafood, including a killer lobster roll. Slowfish on the Bolsa Chica end of town serves up Asian cuisine with a California twist, like the "Fat Avo," a whole avocado "apple" filled with seared and seasoned albacore. Check out our online Dining Guide, and flip through our latest Visitors Guide to the "Hidden Gems" feature for more samples.
5) Our Beaches
Locals and visitors alike give thanks to Huntington Beach's 10 miles of uninterrupted shoreline every day by soaking up sun, sand, and surf. Apparently, we're not the only grateful ones, given Surf City USA's growing list of accolades. In 2018, we were named "Best California Beach" by USA Today 10 Best Readers' Choice Awards.
Five distinct public beaches dot the coast, each with its own amenities and charm. From north to south, the lineup is as follows: Sunset Beach, Bolsa Chica State Beach, Huntington Dog Beach, Huntington City Beach, and Huntington State Beach. Fire pits can be found on both state beaches and City Beach, salty dogs roam freely at Dog Beach, and Sunset Beach retains that quintessential Southern California vibe.
For more on our beaches, visit our online guide.
6) Bolsa Chica Ecological Reserve
Here, nature lovers pay homage to the great outdoors. The Bolsa Chica Wetlands is the largest saltwater marsh along coastal California between Monterey Bay and the Tijuana River Estuary. More than 300 bird species have been spotted within its 1,400 acres of wetlands and trails. A stroll, jog, or cycle along the trails also affords visitors sightings of furry inhabitants like coyotes and rabbits, scaly residents including snakes and lizards, and marine life such as fish, sharks, and rays. Keep your eyes peeled for burrowing owls too!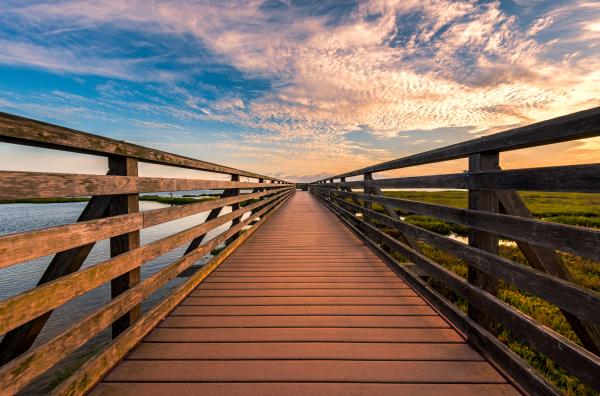 7) Huntington Harbour
Formed in the 1960s, this romantic European-inspired pocket of islands and waterways blends the mystique of waterfront estates and luxury yachts with adventure seekers, from boaters to boarders. Explore this unique neighborhood on the water via kayak, stand up paddle board (SUP), Duffy boat, or gondola, and if you're here in December, don't miss the dazzling Cruise of Lights and Boat Parade. A hidden gem harboring several other hidden gems is Huntington Harbour Place, a family-friendly open-air center of locals-run restaurants and shops, plus Trader Joe's as its anchor.