Huntington Beach Dining
Huntington Beach's culinary scene is filled with a lively mix of locally and internationally inspired flavors. Farm-to-table dishes, fresh seafood, delectable burgers, mouthwatering tacos, wild flavors, and unique chef presentations all encompass Surf City USA's foodie scene.
Download the OneHB Clean & Safe Passport
We welcome you to explore Huntington Beach safely through the OneHB Clean & Safe Passport. Come discover over 120 Huntington Beach businesses that have signed the OneHB Clean & Safe Pledge as a commitment to your health and safety. Huntington Beach's attractions, retail, dining, hotels, and more are all waiting for you. 
Why should I download?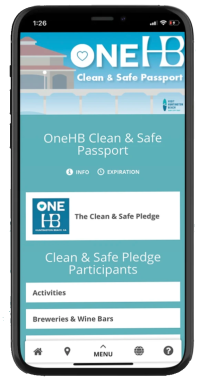 Deals and special discounts

Google map of OneHB Clean & Safe businesses

Easily downloadable 

Support local businesses