Procaffeinating: The tendency to procrastinate until you've had your morning cup of coffee. If your coffee addiction is real, you're in luck. Surf City USA's coffee shops will bring the unique scenery, delicious food, and the coffee! 
Stop by this specialty coffee shop on Pacific Coast Highway for a beautiful view of the Huntington Beach Pier. This is the place to fuel up before you walk across the street for a day at the beach. If you're just stopping by for a quick sip, don't worry about parking. There's a designated lot for 602 Coffee House. 
Must ordered menu items: Nutella Mocha, activated charcoal latte, and power bowl.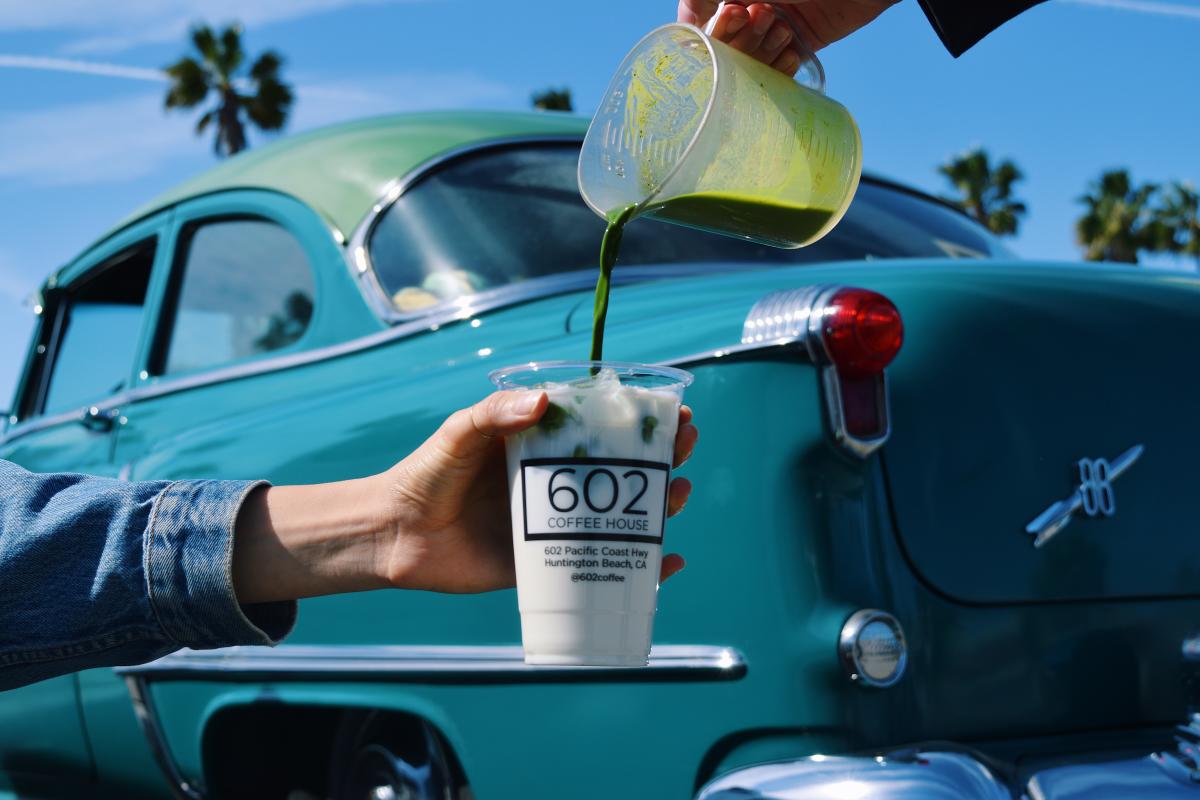 The name says it all. Once you order your delicious coffee or tea and sit down, you're going to stay for quite a while. Sit and Stay Cafe is the place where you can tune out, get inspired, and get wired on caffeine. Their breakfast and lunch sandwiches are off the charts and delicious. If you're like me and enjoy an afternoon cup of delight with your lunch, Sit and Stay Cafe has got you covered. There's complementary wifi, comfy seats, and an outdoor patio. It's very pet friendly and has treats and water for your furry friend. They also have an entire wall of photos of the local dogs that come in. Sit and Stay Cafe is casual and chill — come in flip-flops, shorts, or your PJs.
Must-order menu items: chai lattes, butter caramel coffee, bagels, breakfast croissant sandwich, lemon poppyseed muffin, tuna salad sandwich, and the beach club sandwich.  
Your personal barista is at Philz Coffee in Pacific City. But really, get any coffee customized to your liking. It's not like your normal coffee shop. Order from the barista at the bar, and pay after your drink is made. Tip: order online because the line often goes out the door due to its popularity. The location is prime, with plenty of outdoor seating and views of the Huntington Beach Pier. A popular coffee drink is their signature mint mojito — this creamy, chilled drink is to die for. Also, their Avocado Toast is delicious and photogenic, so have your camera ready. Make sure to tag #SurfCityUSA in your photos!
Must-order menu items: mint mojito, create-your-own coffee with your choice of mixed beans, and avocado toast.  
Hidden in the Huntington Harbour Mall shopping center sits Aosa Coffee Shop — the contemporary coffee shop that locals love. It definitely has its own personality, which shines through with its unique decorations and crafted furniture. I love Aosa Coffee's diverse menu. They serve up coffee, lattes, cold brew, pressed juices, kombucha, smoothies, and açaí bowls — so delicious! They have complementary wifi, toys for kids, and indoor and outdoor seating. Aosa's delicious coffee and creative atmosphere make up the perfect place for brainstorming or daydreaming.
Must-order menu items: matcha latte, mocha latte, nitro cold brew, coconut dream smoothie bowl, and avocado toast. 
Invalid Widget - custom_slide_scroller
The Coffee Tale in Old World Village offers a variety of coffee drinks, teas, and pastries made from scratch. Because the coffee shop is in Old World Village, it feels like you're sipping coffee in a little European town. If you want to try something new, grab a cup of the Turkish coffee, which is finely ground, unfiltered, and one of the healthiest ways to consume coffee. Middle Eastern and Southeastern countries prepare their coffee this way. It's served with water and a little sweet treat! If you're feeling basic, all their lattes are strong and have two espresso shots in each. Come tired, leave wired! There's complementary wifi, which makes it the perfect study spot.
Must-order menu items: Turkish coffee, dark chocolate latte, vanilla latte, tiramisu cake, and flat brown. 
This is where local surfers meet to catch a buzz before they catch waves. Located in Huntington Surf and Sport in downtown Huntington Beach, Java Point is a quick place to grab a cup of Joe and hit the beach. Heads up, you may run into professional surfers. The outdoor seating is perfect for people watching and dreaming of the best waves. Java Point also has a secret area upstairs where you can sip on your coffee and while surrounded by surfboards. If you want to feel the culture of Surf City USA, start your morning at Java Point. 
Must-order menu items: Costa Rica blend coffee, white chocolate mocha, bagels, banana nut muffin, and the sunrise sandwich.  
Milk and Honey is a trendy paradise for coffee drinkers, just steps away from the Huntington Beach Pier on Main Street. The homey decorations and free wifi will make you feel at home. You must try the Lavender Latte — it's a game changer. It's sweet, aromatic, and refreshing. Order it with rice milk and you'll quickly become a regular. They also have delicious açaí bowls with homemade granola and berries. To top it off, the patio is the perfect place to catch a buzz and some rays of sun. 
Must-order menu items: lavender latte, chai latte, cold brew, fruit sandwich, and açaí bowl. 
At the heart of Lot 579 in Pacific City sits Portola, a modern coffee shop with baristas that take the science of coffee to the next level. Make sure your camera is ready, because the baristas will surprise you with some delicious coffee art. Portola has a small selection of baristas that specialize in the art of coffee making. Stake out your spot on the coffee bar to watch them at work. The welcoming vibe and open concept allows you to really get to know the baristas making your coffee. If you have a sweet tooth, come hungry. This location serves fresh pastries from Mr. Holmes Bakehouse in Los Angeles that are beautiful and delicious.
Must-order menu items: vanilla latte, matcha latte, flat brown, cold brew, mocha, lemon meringue pie croissant, and vegan donuts
Invalid Widget - custom_slide_scroller
Coffee with a side of European feels. Euro Caffe's motto is "Black as the devil, hot as hell, pure as an angel, sweet as love!" If you love the feel of European coffee shops, this one is for you! Located in Bella Terra, Euro Caffe is a cozy place to get your coffee grind on while grinding on work or studying. They also offer delicious food to fuel up while you work. They also serve sweet, savory, and delicious crepes — perfect with your cup of coffee. There is complementary wifi and seating inside and outdoors. 
Must-order menu items: Nutella latte, lavender latte, Belgium waffle, Alexander the Crepe, and Crepe Gasby. 
If we missed your favorite Huntington Beach coffee shop, let us know in the comment section below!