Accreditations, Credentials, and Awards
Destination Marketing Accreditation Program (DMAP)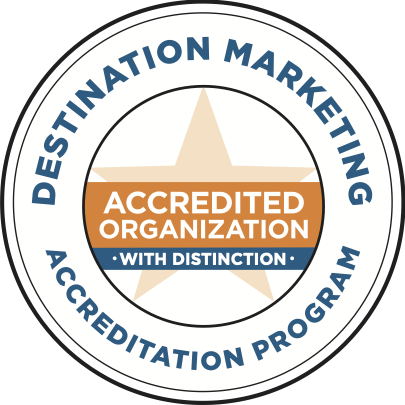 Visit Huntington Beach has been fully accredited by Destinations International (DI), the world's leading trade association for DMOs, since 2012. Only 200 visitor marketing organizations worldwide have achieved this highest badge of excellence.
How did VHB get accredited?
To become accredited, a destination marketing organization must demonstrate compliance with more than 100 performance standards in the following areas: 
Governance 
Strategic planning 
Stakeholder engagement/advocacy 
Finance 
Human resources 
Management and operations 
Technology 
Research and marketing intelligence 
Brand management 
Marketing 
Communications 
Sales and services 
Membership/partnership 
Visitor services 
Destination development 
Volunteer Relations 
Accreditation standards are set by an independent panel of industry veterans representing a diverse selection of destination organizations. Standards are regularly revisited and revised to reflect the evolution of best practices in the industry.  
Accredited organizations are required to re-apply every five years. Completing the renewal process typically takes 9-12 months. 
Credentials
Visit Huntington Beach places an emphasis on staff development. Curiosity and learning are key to creativity and innovation. Staff are encouraged to participate in continuing education in the course of their regular work, the results of which contribute to VHB's success. 
Certified Destination Management Executive 
The Certified Destination Management Executive (CDME) through Destinations International (DI) is the tourism industry's highest individual educational achievement. The CDME program prepares senior executives to thrive in a constantly changing environment. The program focus is on vision, leadership, productivity, and implementing business strategies. CDME certification must be renewed every four years. 
VHB staff who have earned their CDME: 
Kelly Miller, CDME and faculty for the CDME program
President & CEO 
Omark Holmes, MBA, CDME in progress
Chief Marketing Officer
Institute for Organizational Management 
The U.S. Chamber of Commerce's Institute for Organization Management (IOM) is designed to enhance individual performance, elevate professional standards, and recognize association, chamber of commerce, and other nonprofit professionals who demonstrate the knowledge essential to the practice of nonprofit management. Courses include advocacy, media training, membership, finance, legal issues, human resources, and more, ultimately educating graduates on all facets of running a nonprofit organization. 
VHB staff who have earned their IOM: 
Nicole Llido, IOM, CTA
VP, Administration & Community Engagement
Certified Tourism Ambassador 
The Certified Tourism Ambassador™ (CTA) program is an industry-recognized certification that strategically aligns a community's people infrastructure — destination leaders, stakeholder businesses, and the tourism front-line — to strengthen tourism and deliver quality experiences for visitors and locals. Accredited through the Tourism Ambassador Institute® and administered at the local level, CTA is the only program that gives an official designation to people who care about their destination and want to be strategically connected at every level. The Orange County CTA program is administered by Visit Anaheim. 
VHB staff who have earned their CTA: 
Jeff Campana, CTA 
Kevin Keller, CTA 
Nicole Llido, IOM, CTA 
Deanna Mote, CTA 
Heather Saez, CTA 
Brittany Tesmer, CTA 
Jennifer Tong, CTA 
Sophia Valdivia, CTA 
Denice Yeager, CTA 
 
Awards 
Visit Huntington Beach is humbled and gratified to have received these awards from its partners. 
30 & Under Emerging Leader Awards,CalTravel - Brittany Tesmer, Digital Marketing Manager (2022)
Most Patriotic Window Display, Huntington Beach 4th of July Committee (2022)
"Heart of HB" Award, Huntington Beach Chamber of Commerce - Kelly Miller, President & CEO (2019)
Best Travel Website, Webaward Competition (2018)
Award of Excellence - Best Single Media Placement, Steve Harvey Show "Family Bucket List", OCPRSA (2018)
Visitor Services WOW Award "Most Cost Effective Program", Destinations International (2016)
Poppy Award - Best Public Relations Campaign, Visit California (2016)
112th Annual Gala - Best Dressed Group, Huntington Beach Chamber of Commerce (2016)
Platinum Adrian Award - Public Relations - Good Morning America GUINNESS WORLD RECORDS Segment, HSMAI (2015)
Best of Show Adrian Award - Public Relations - "Epic Big Board Campaign", HSMAI (2015)
Gold Award -  Rack Brochure, MarCom (2011)