Beaches in Huntington Beach
Huntington Beach's shoreline stretches for 10 uninterrupted miles of five wide open sandy beaches making it a paradise for families, couples, dogs, and surfers. Our sands are so inviting, in fact, they've won awards, including named Best California Beach by USA Today. Where perfect waves are born, Surf City USA attracts professional surfers and World Surf League contests. Our beaches create memories and holds a special place in the hearts of both our locals and visitors. Enjoy an oceanfront view of Surf City USA's beaches at one of our oceanfront resorts. 
Beach Parking 
There is beach parking at each of the five Huntington Beach beaches. Check out the rates of each beach parking lots below.
Beaches Hours
Below are Surf City USA's beach hours for each individual beach. 
The Huntington Beach Marine Safety Division's lifeguards are dedicated to ensuring that Surf City USA's beaches remain accident-free. Here are safety tips developed by the lifeguards in conjunction with the U.S. Lifesaving Association.
Read More
A visit to Huntington Beach isn't complete without a traditional beach bonfire. Three out of five of
Read More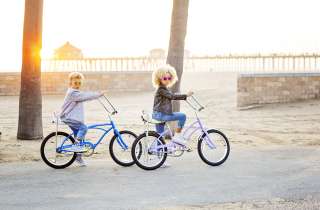 Updated April 27, 2022 What better way to explore a beach town than by cruising...
Read More
Huntington Beach Pier
Measuring 1,850 feet in length, the iconic Huntington Beach Pier is one of the longest piers on the West Coast. Jutting out into the Pacific Ocean at the intersection of Main Street and Pacific Coast Highway, it symbolizes the heart of Huntington Beach and is the most photographed spot in town. Our pier's location allows visitors and locals alike to experience the breathtaking views amidst the sounds of crashing waves and the ocean breeze. The pier and the city came into existence together in 1904, and thanks to historic surfing demonstrations by legendary Hawaiian watermen George Freeth and Duke Kahanamoku, this landmark is an integral part of Huntington Beach surfing lore. Rebuilt after two storms in the 1980s, the pier is all about simple pleasures.