What better way to explore a beach town than by cruising its coast on two wheels? With pedals circling under your feet and the sun shining over your head, you can go just about anywhere in Surf City USA. Here's why you should want to ride your bicycle, and where to rent your ride.
5 REASONS WHY
1. 10-Mile Paved Beach Path
Huntington Beach boasts 10 miles of uninterrupted shoreline, and running parallel to it is a paved beach path offering the perfect route for a smooth bike ride. Head south and pedal down to Newport Beach, or go north and cruise into Sunset Beach. Whichever way you choose, you won't be disappointed.
2. Ocean Views 
Serene and scenic, the 10-mile paved beach path runs along the coast, offering stellar ocean views. If your breath isn't taken away by your workout, it will be by the sights of the sparkling blue Pacific Ocean and Catalina Island in the distance.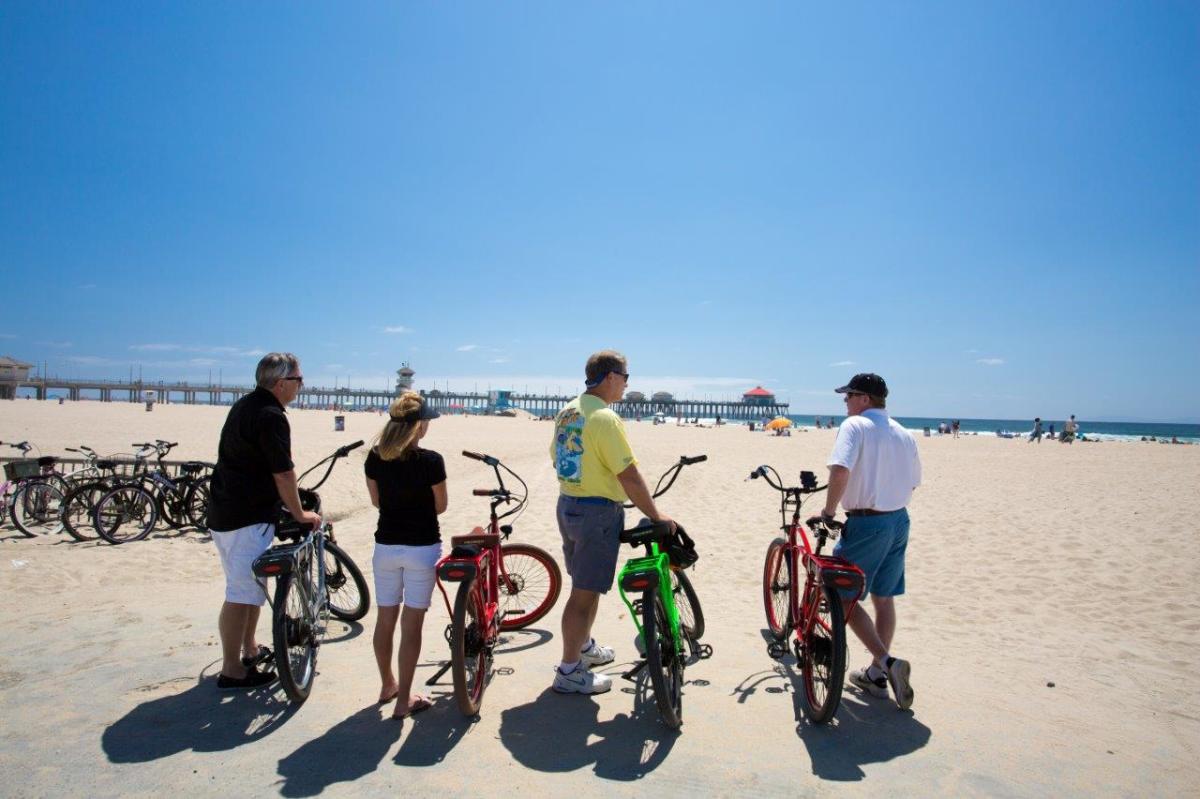 3. Good Weather Year Round
Why do we call our coveted climate "the endless summer?" Because we are blessed with 281 days of sunshine every year and an average temperature of 80 degrees. Call it a state-of-mind, if you will, as locals revolve daily life around the great outdoors all year long. Feel that sweet endless summer breeze as you coast the coast.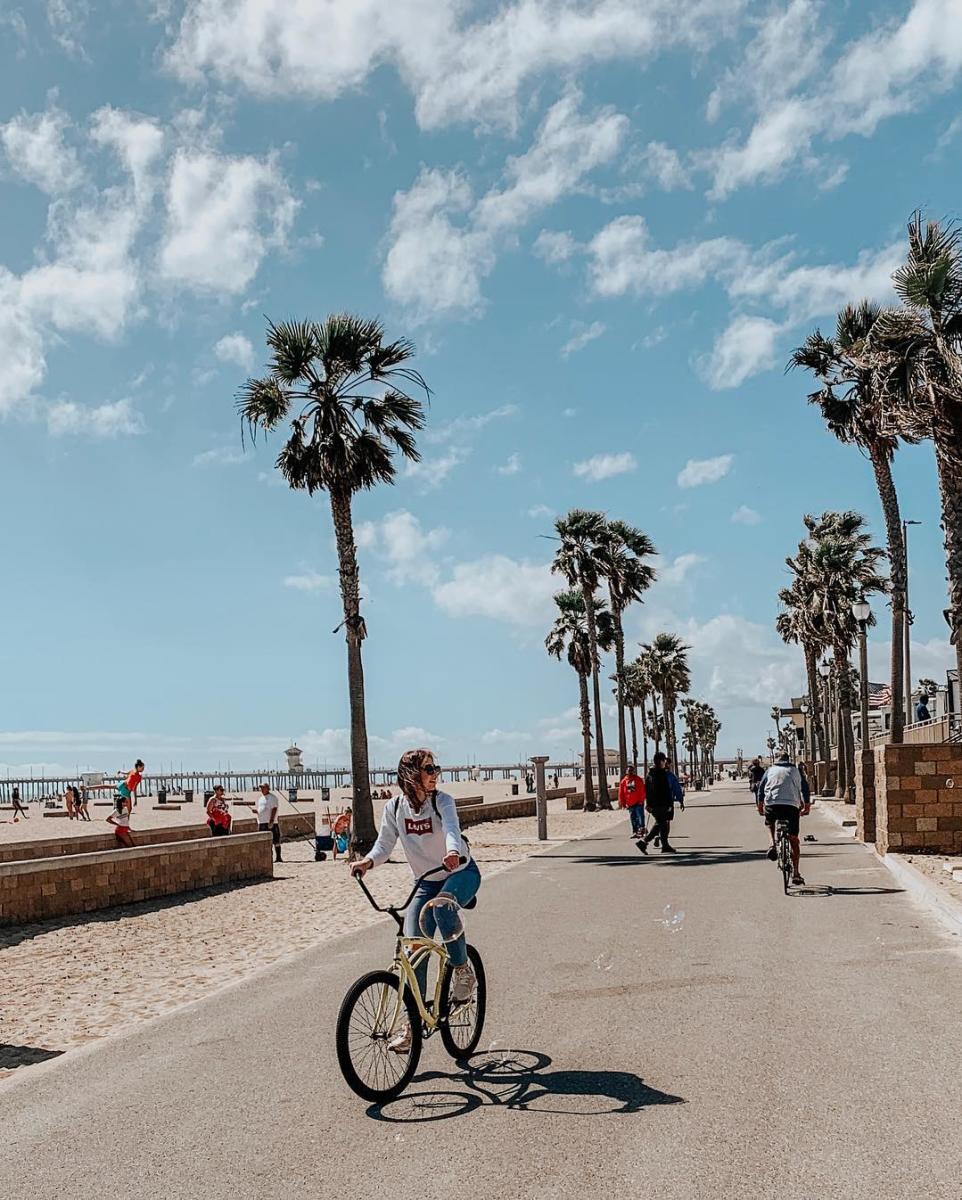 Photo credits: Kyra Wyllie
4. Beautiful Sunrises & Sunsets
Vibrant shades of orange, pink, purple, and red ignite the Huntington Beach sky at both sunrise and sunset throughout the year, and these breathtaking displays reach their peak in the fall. Plan an evening cruise to witness a magnificent sunset along the horizon, or remember that the early bird gets the worm, and in this case, the worm is an epic sunrise. Start your day with a leisurely bike ride, and stop off at one of many breakfast spots to refuel.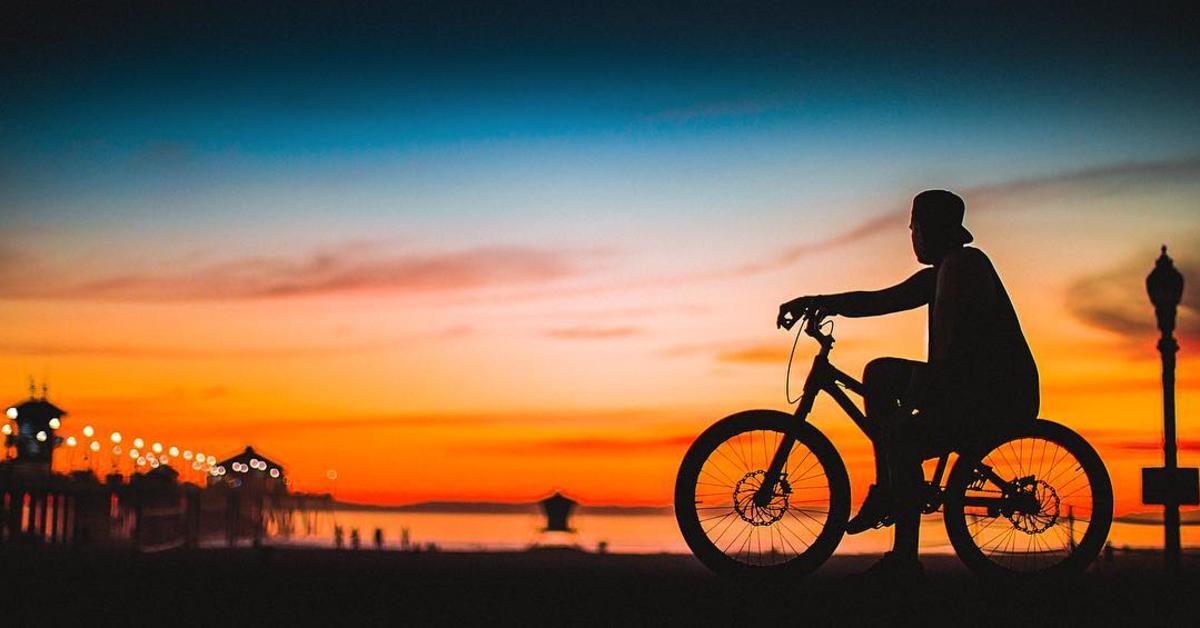 Photo credits: Dave Mackison
5. Bicycle-Friendly
Huntington Beach is recognized by The League of American Bicyclists as a Bronze level Bicycle Friendly Community, which means it's a bikeable community and one of more than 65 in the state of California. Bicycle Friendly Communities welcome bicyclists by providing safe accommodations for bicyclists and encouraging people to bike for transportation and recreation.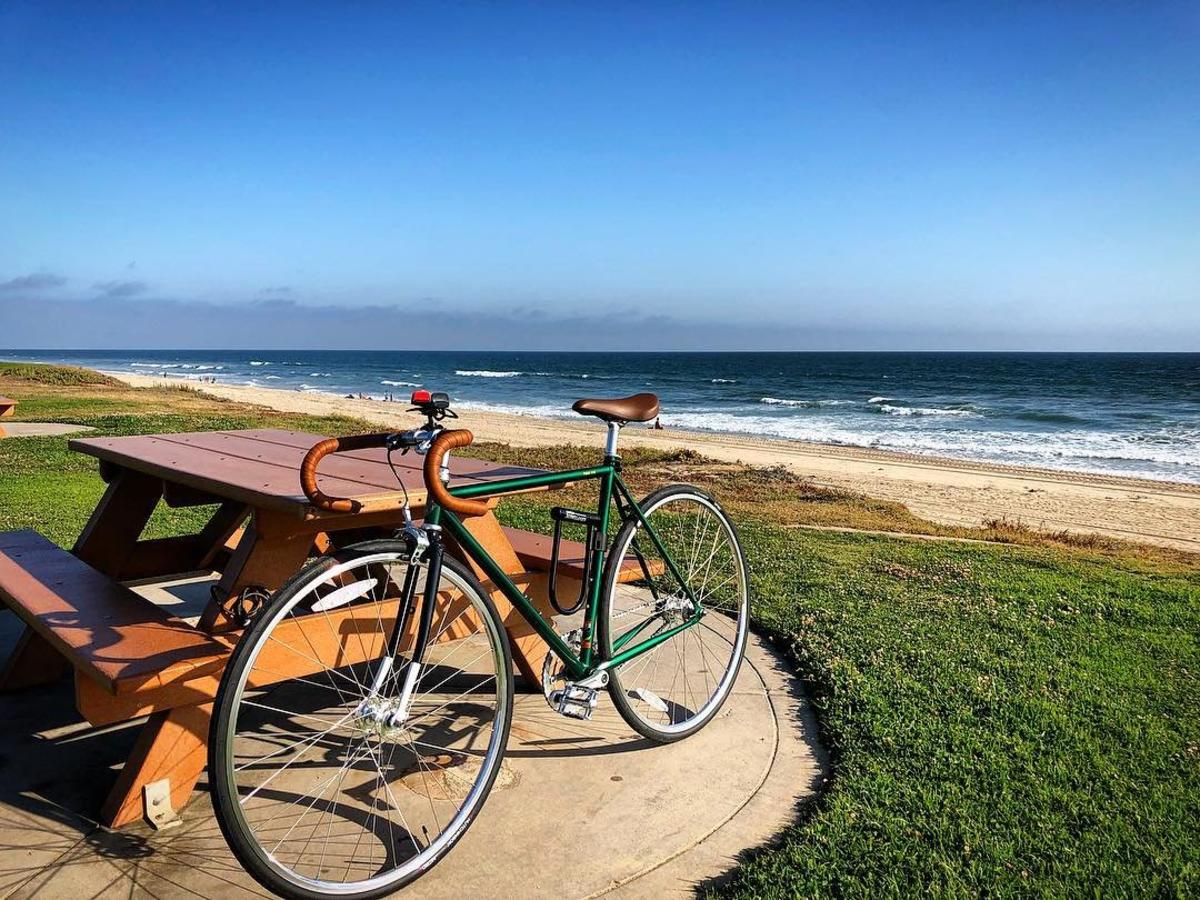 Photo credits: Erik Soeka
BIKE RENTALS
Renting a bike is a breeze in Huntington Beach, whether you're looking for your classic bicycle, tandem bike, surrey, or electric bike. Here's where to go to procure your pedals.
Pedego Electric Bikes
Go the distance with Pedego Electric Bikes, self-touted as "America's biggest and best brand of electric bikes." The great thing about going electric is that you can choose to take it slow and just pedal, or you can engage the throttle and reach speeds of up to 20 mph (other brands hit 28 mph). Rentals start at $20 per hour and $75 per day. Tag-along bikes, child seats, tandems, and trailers, as well as a self-guided three-pier tour of Orange County are all options through Pedego, which is conveniently located a few blocks from the beach in Downtown. Take advantage of the complimentary Pedego Bicycle Valet in their parking lot, which is open to the public. Keep your eyes peeled for signs throughout Downtown. Pedego also loves pets and provides baskets for pets 5 pounds or lighter, and attached trailers for bigger beasts.
301 5th Street, Huntington Beach, CA 92648
714-465-2782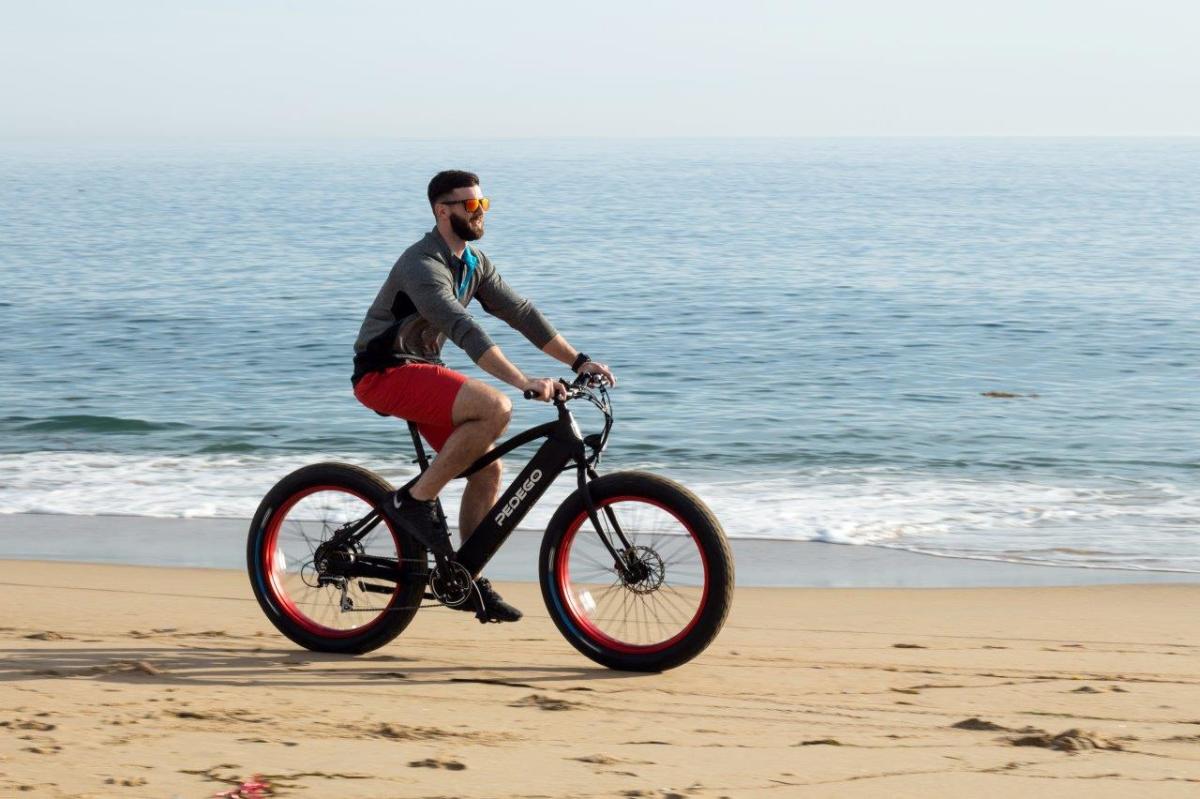 EV Rideables
EV Rideables, another electric bike supplier in Downtown, is self-proclaimed as "the most innovative electric rideables on the planet." You can go electric or stay classic with two pedals, and choose from various brands and models. Rental rates vary depending on model and timeframe. Beach cruisers start at $9 per hour, $25 per half day, and $39 per day. Electric bikes reach speeds of up to 28 mph and begin at $25 per hour, $69 per half day, and $89 per day. Thule Chariots for children (or fur children) are available for rent as well.
220 Walnut Avenue, Huntington Beach, CA 92648
800-470-8939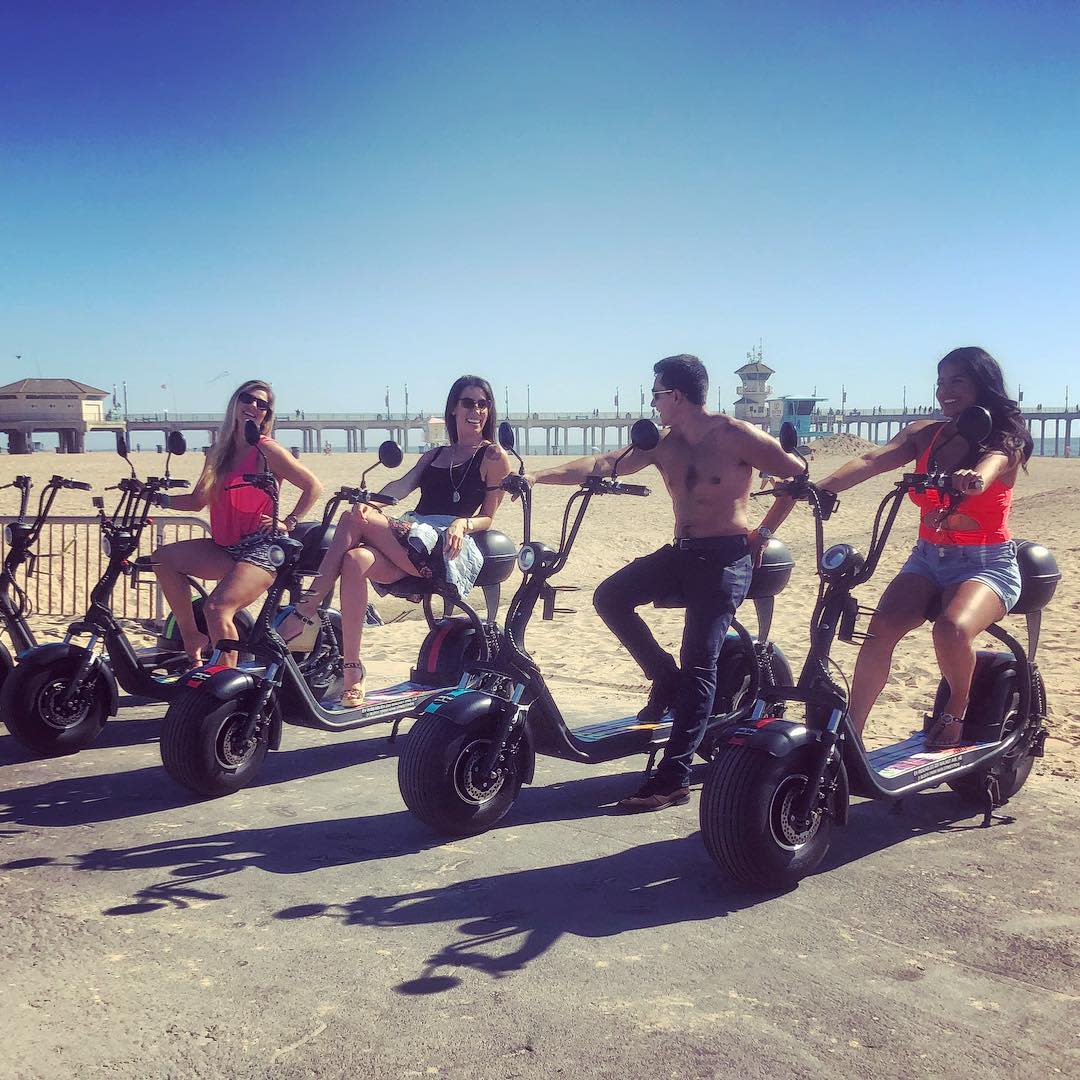 Dwight's Beach Concession
Located just south of the Huntington Beach Pier, Dwight's rents beach cruiser bikes, tandem bikes, and single- and double-bench surreys, which are great for families. Cruisers cost $10 per hour or $30 for the day. Surreys start at $25 per hour.
201 Pacific Coast Highway, Huntington Beach, CA 92648
714-536-8083
Jack's Beach Concessions & Bike Rentals 
Owned by the same family as Dwight's, Jack's is located about a half mile south of its sister concessionaire on the beach in front of Pacific City. Rental offerings and prices mirror Dwight's.
21091 Pacific Coast Highway, Huntington Beach, CA 92648
714-536-8328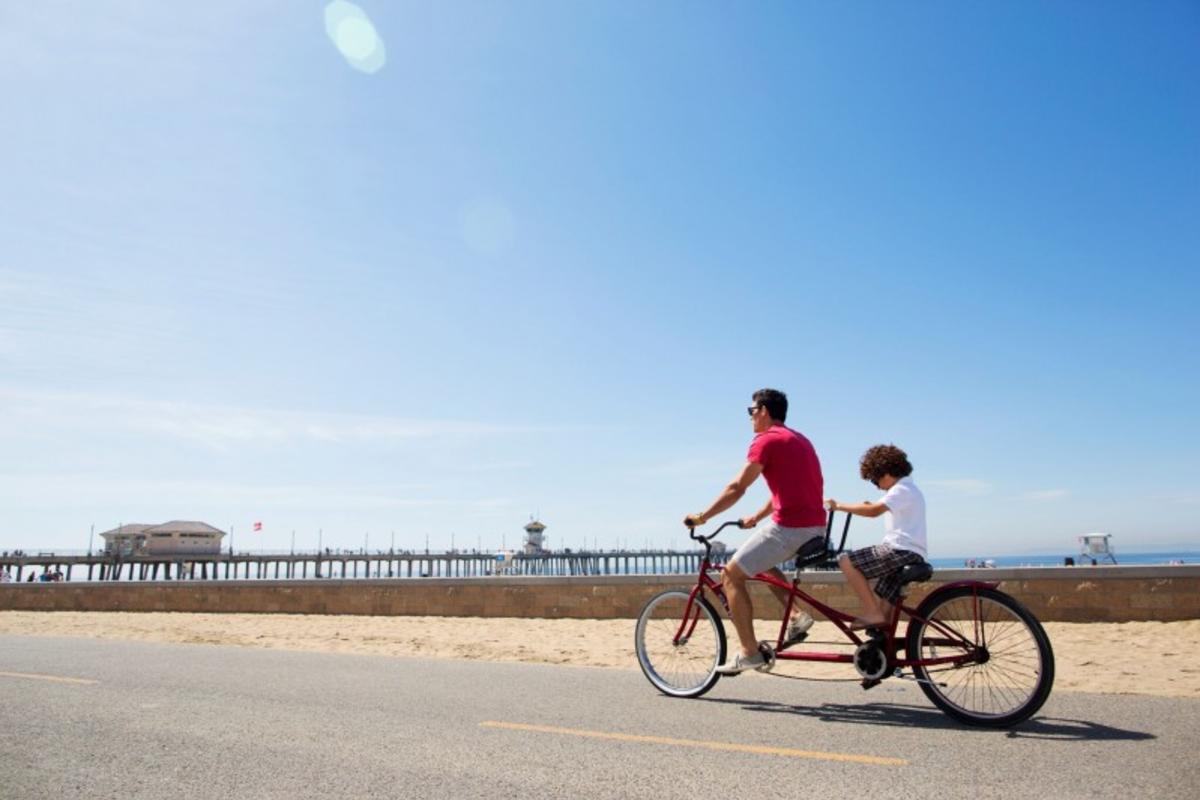 Zack's HB 
If you've visited the Huntington Beach Pier, you've surely seen Zack's. Located just north of the Huntington Beach Pier, Zack's stocks beach cruisers, double bikes, and tandem bikes. Cruisers run $10 per hour and $30 for day, with extras like alley cats, child seats, and buggies available for additional fees. Note Zack's sister concessionnaire, Zack's Too, further south at Huntington State Beach (21579 Pacific Coast Highway, Huntington Beach, CA 92648, 714-536-2696).
405 Pacific Coast Highway, Huntington Beach, CA 92648
714-536-0215
Waterfront Adventures 
Conveniently located on the beach between towers 11 and 13 in front of The Waterfront Beach Resort, A Hilton Hotel, this adventure concessionaire offers loads of biking options, including single, double, and triple surreys starting at $25 per hour; beach cruisers at $10 per hour, $20 per half day, and $30 for the day; deuce coupes; choppers; quad sports; tandem bicycles; and kids bicycles.
21351 Pacific Coast Highway, Huntington Beach, CA 92648
714-845-8000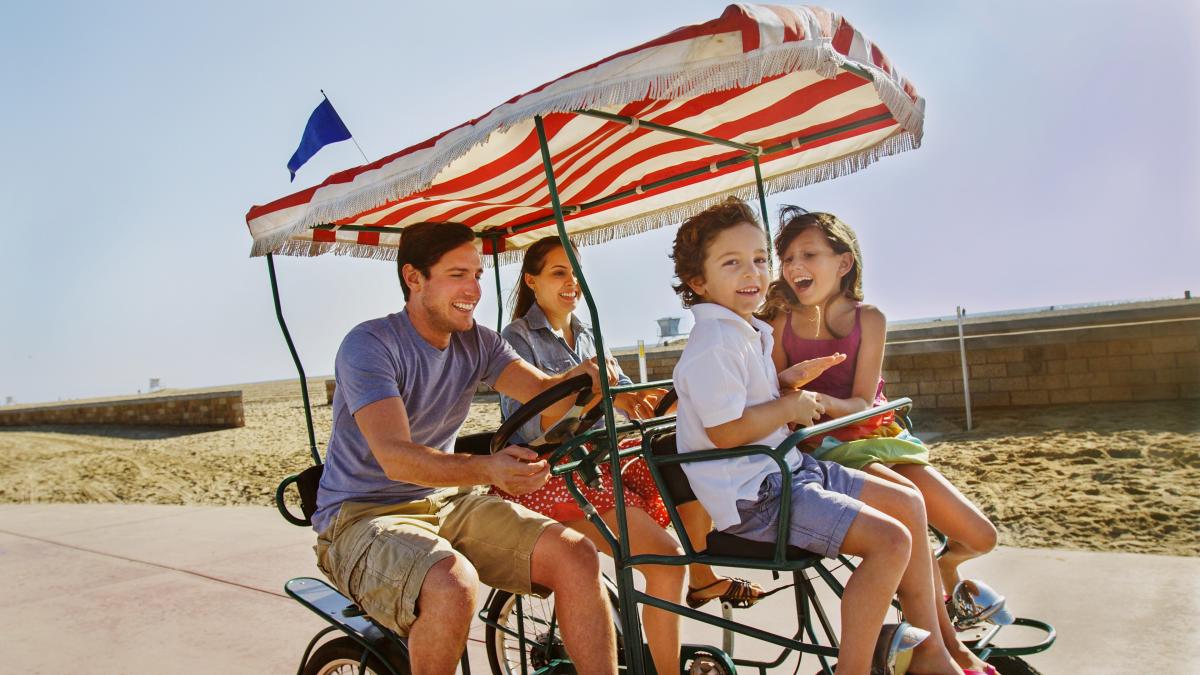 Toes on the Nose
Guests at the Hyatt Regency Huntington Beach Resort & Spa—and the general public—score convenient access to beach cruiser rentals via this charming hotel shop. Cruisers run $12 for an hour, $30 for a half day, and $40 for a full day.
21500 Pacific Coast Highway, Huntington Beach, CA 92648
714-845-4638