COVID-19 Updates in Huntington Beach 
Huntington Beach is open. Restaurants, shopping malls, hotels, beaches, and most everyday places are open as normal with no capacity limits or social distancing requirements. 
Masks
Beginning December 15, 2021, the California Department of Public Health (CDPH) will require masks to be worn in all indoor public settings, regardless of vaccination status, through February 15, 2022. 
Travel
The CDPH has also issued a new travel advisory effective immediately to recommend that all travelers arriving in California test for COVID-19 within three to five days after arrival, regardless of their vaccination status. 
Testing
Additionally, the CDPH updated requirements for attending mega events, like concerts and sporting events. Prior to attending an event, attendees will now require either proof of vaccination, a negative antigen COVID-19 test within one day of the event, or a negative PCR test within two days of the event. 
Monarch Diagnostics offers same day and rapid COVID-19 testing options at highly competitive pricing. Both antigen and PCR tests are available for residents and visitors with or without insurance, and they can even come to you for mobile testing! International visitors are welcome to benefit from the quick and affordable options. To schedule your appointment, click here.
CVS Pharmacy offers free testing for Huntington Beach locals - visit their website to find COVID testing sites and appointment availability. 
The City of Huntington Beach COVID-19 Resources
For the official City of Huntington Beach COVID-19 updates, please visit here. 
Keeping Everyone Safe While Visiting 
The City of Huntington Beach, Visit Huntington Beach, The Huntington Beach Chamber of Commerce, the Community for Innovation, Entrepreneurship, Leadership, and Opportunities (CIELO), and the Downtown HB Business Improvement District developed a new program encouraging businesses to adopt the CLEAN & SAFE Pledge to ensure a safe destination experience for all. 
Huntington Beach businesses that have signed the OneHB Clean and Safe pledge have made a commitment to the health and well-being of visitors, residents, and employees. Learn more about the pledge here. 

Download the OneHB Clean & Safe Passport
We welcome you to explore Huntington Beach safely through the OneHB Clean & Safe Passport. Come discover over 120 Huntington Beach businesses that have signed the OneHB Clean & Safe Pledge as a commitment to your health and safety. Huntington Beach's attractions, retail, dining, hotels, and more are all waiting for you. 
Why should I download?
Deals and special discounts

Google map of OneHB Clean & Safe businesses

Easily downloadable 

Support local businesses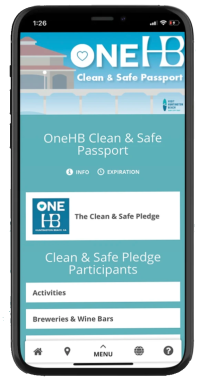 To welcome a safe stay in Huntington Beach, we want to share with you each of Huntington Beach's resort's clean and safe promise.
Read More