HUNTINGTON BEACH IS READY WHEN YOU ARE READY. To welcome a safe stay in Huntington Beach, we want to share with you each of Huntington Beach's resort's clean and safe promise.  
Hyatt Regency Huntington Beach Resort & Spa
Hyatt Regency Huntington Beach Resort & Spa's Global Care & Cleanliness Commitment focuses on the safety and wellbeing of their colleagues and guests, and builds on existing rigorous safety and cleanliness protocols. The commitment includes an international cleanliness and training accreditation process, a trained Hygiene & Wellbeing Leader or team at all locations, and a cross-functional panel of trusted medical and industry advisors. Visit Global Care & Cleanliness Commitment to learn more about enhanced safety and cleanliness measures you may see at Hyatt hotels worldwide.
IMPORTANT FACE MASK & COVERING REQUIREMENT: Following medical expert guidance to help reduce the spread of COVID-19, face masks or coverings are required in hotel indoor public areas and when moving around in outdoor areas at all Hyatt hotels globally, with some exceptions, based on local laws or guidance. For specific requirements, please contact the hotel directly or visit the hotel website.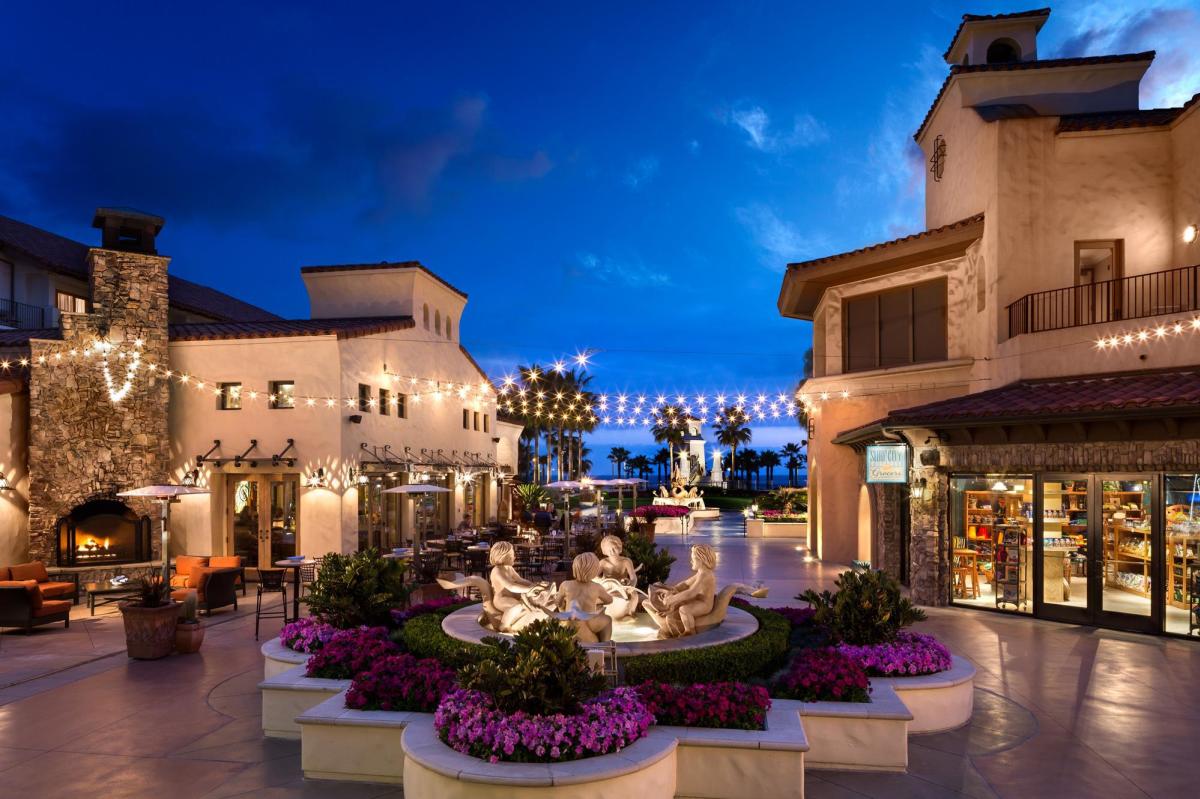 Arrival & Check in 
Contactless arrival and departure available through World of Hyatt mobile app. 

Remote and touchless guestroom key provided through the app on mobile device.
For In-person check in and check out, the following considerations have been implemented: 
Front desk safety shields are in place

All colleagues wear face coverings

Hand sanitizer stations are placed in prominent areas throughout the resort

Increased disinfecting of Hyatt's high-touch surfaces

Social distancing is required in all public areas and meeting space

Signage throughout the resort to support face masks and social distancing guidelines
Guestrooms
To minimize contact and human exposure, housekeeping services will not be provided for guests staying less than 3 nights

Rooms will be supplied with extra amenities

Contactless delivery will be provided for all guests requests

Housekeeping colleagues are utilizing proper personal protection equipment to include face masks and disposable gloves

Disposable gloves will be changed, hands washed and new gloves worn after completing service of each room

Hyatt's team will provide enhanced cleaning and sanitation of surfaces in guestrooms including door handles, remote control unites, cords for shades, television, guest room telephone and bathroom counters, tube, and toilets
Event Experience
Sanitation of Event Space
Frequent sanitation of high touch items including tables, chairs, door knobs, and handles

All tablecloths are linen replaced daily

Linen-less tables disinfected daily

Guests encouraged to stay in the same seat if possible

Podiums, speaker tables, and audio visual equipment sanitized between sessions

Hand sanitizing stations places based on attendee flow in high traffic areas

Groups will be asked to removed all materials overnight to ensure event space can be thoroughly cleaned
Food & Beverage Service 
All Food & Beverage will be individually plated or served by chef or server attended station, with safety shield and proper personal protection equipment of face mask and gloves

Individually packaged Food & Beverage available in event menus

Rolled silverware provided for all food stations and plated events

Individual use condiments and disposable (one time use) cups

Sealed beverage dispensers, no pitchers

Social distancing signage in food service areas
The Waterfront Beach Resort, a Hilton Hotel has ramped up their cleaning efforts throughout the hotel while still exercising social distancing guidelines and requiring face covering for the safety of fellow guests and associates. See below a diagram of The Waterfront Beach Resort, a Hilton Hotel CleanStay Guest Experience.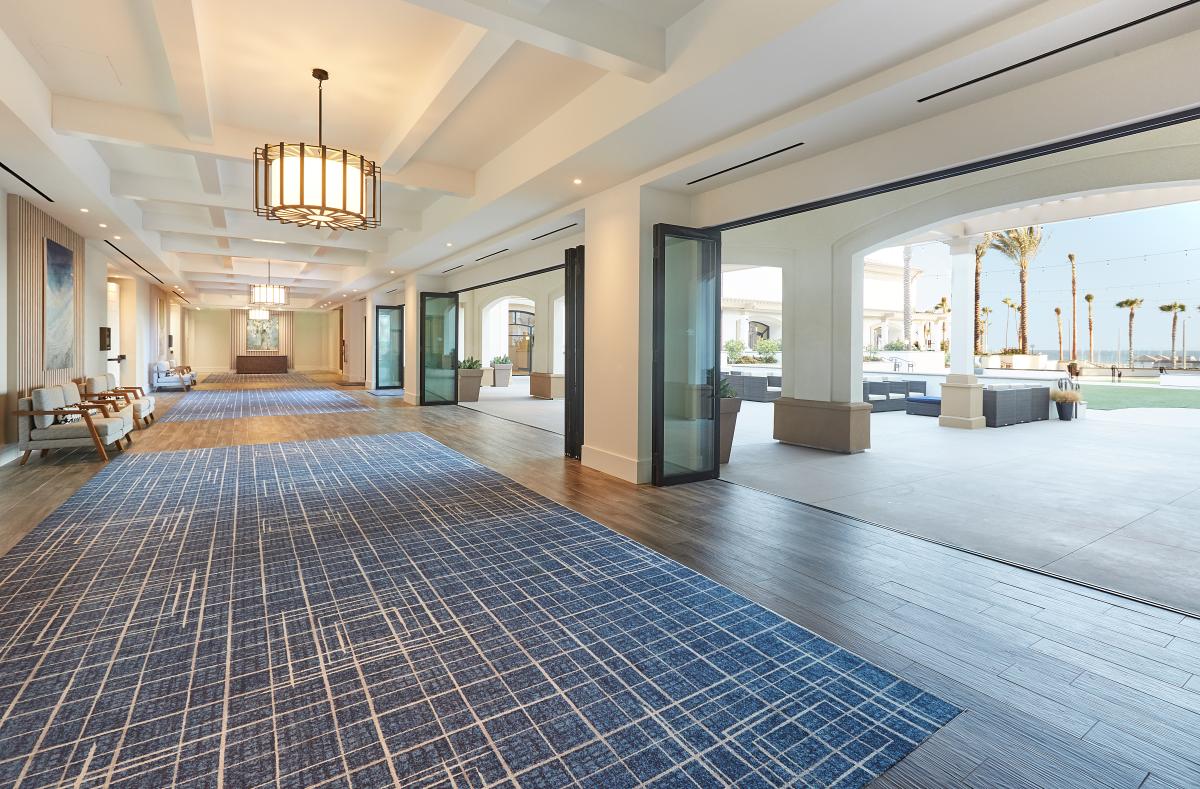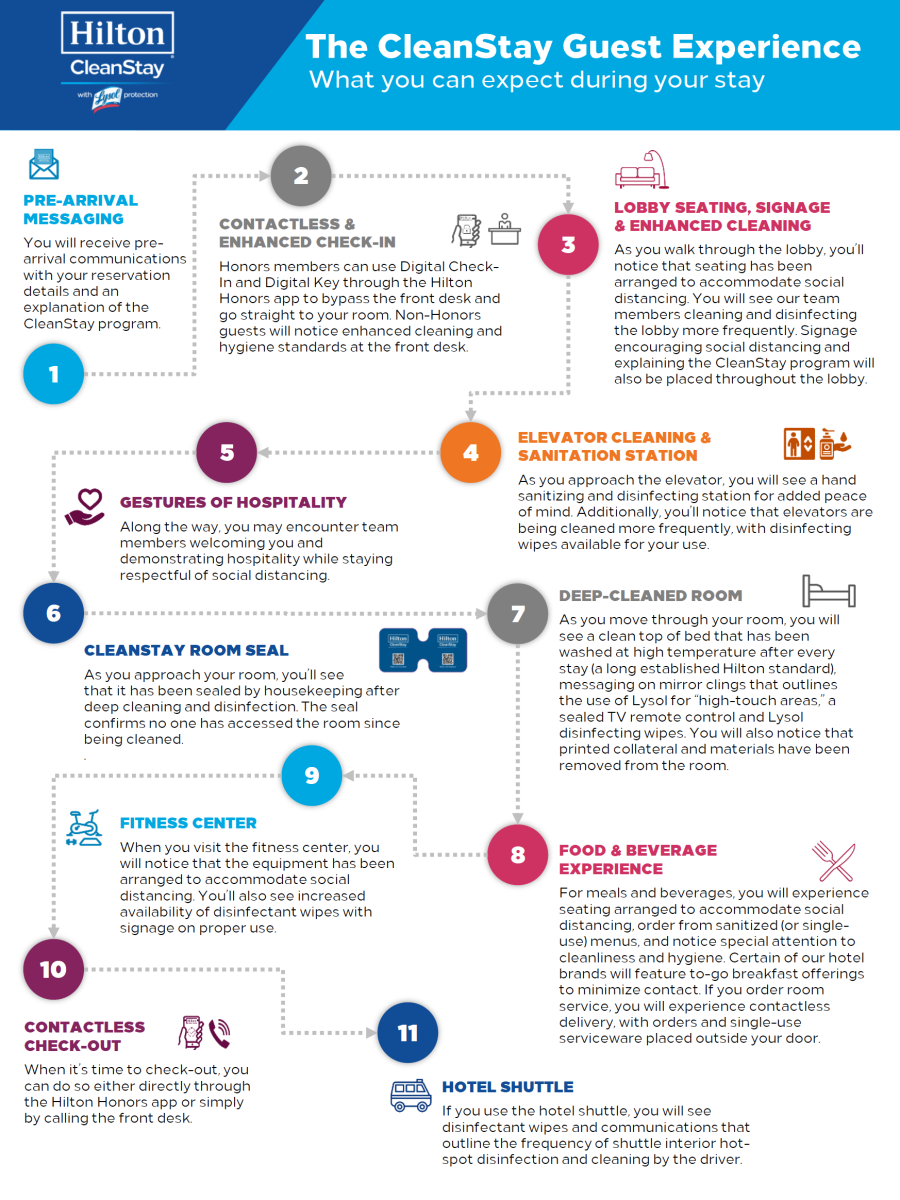 Your meeting will look a little different, but one thing that will always remain is the joy of being away and taking that time to reconnect.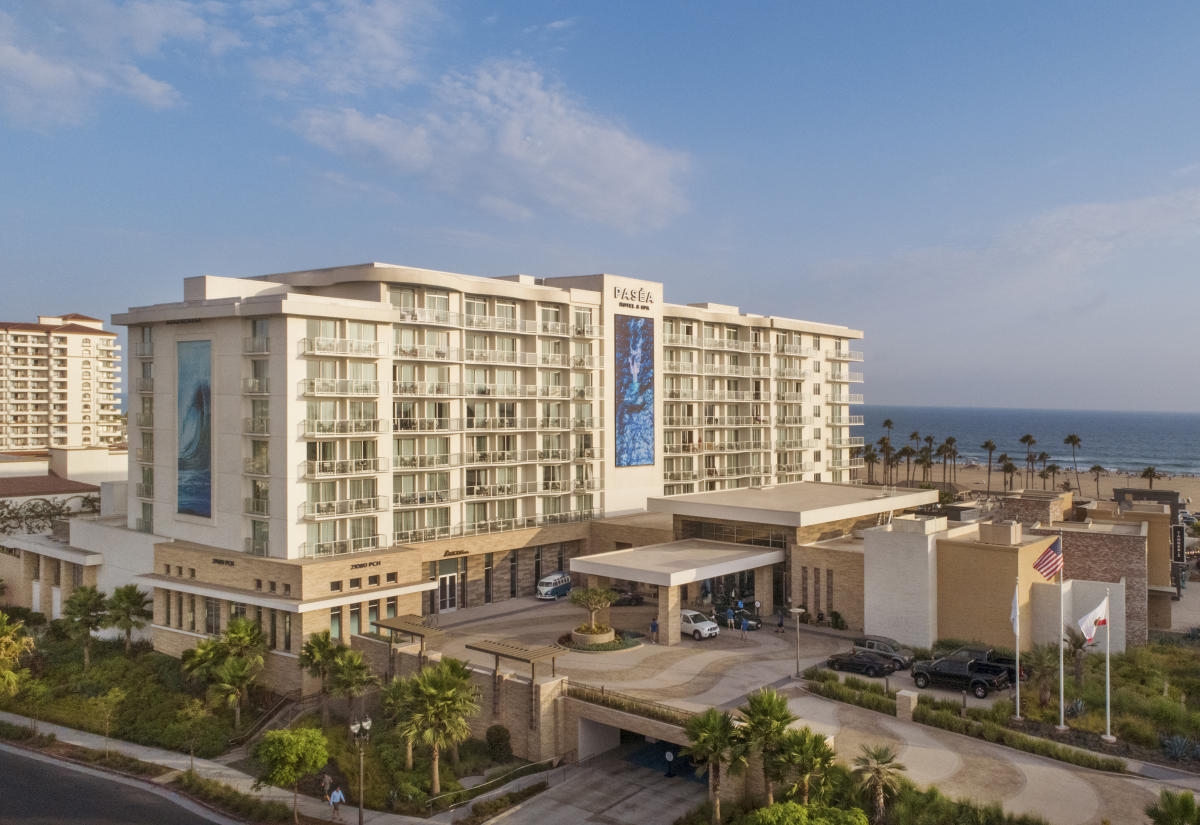 Events
All event spaces are cleaned and disinfected in adherence with hotel protocols. In addition, there are hand sanitizer stations at all functions, as well as hand washing stations for outdoor gatherings. All equipment is sanitized before and after each occasion. All food and beverage items are individually plated and served, and flatware individually wrapped. Paséa Hotel & Spa offer flexible floor plans available to accommodate group needs and modified menus that easily can accommodate the safest food delivery and handling.
Rooms
Guestrooms now have a special cleaning team who clean and disinfect the room between stays. Stay-over service is not available during this time to allow for thorough check-out cleaning. Additional sanitation measures given to doors, desks, counter tops, tables and chairs, phones, remotes, thermostats, cabinetry, pulls and hardware, and all other areas that guests come in direct contact with. All non-essential items removed from rooms and available for drop off upon request in sealed bags (linens, pillows). Each room will have hand soap, hand sanitizer and lotion available for use during your stay at Paséa Hotel & Spa.
Gathering At A Distance
To ensure each guests receive a safe amount of personal space, Paséa Hotel & Spa's distancing protocols include signage and markings to indicate safe distances, capacity restrictions with a designated team member who controls the number of people in any one space at a time. All team members mandated to maintain a distance from guests and each other during all interactions and where possible have contact-less exchanges. The number of guests riding elevators will be limited depending on the size of the elevator.
A Low-Contact Experience 
Paséa Hotel & Spa's hospitality experience is enhanced by technology to support physical distancing, such as text messaging to the hotel for needs, streaming your own content on in-room entertainment systems, as well as digital, QR-code hotel information and menus in our restaurant.
Clean Spaces
In addition to Paséa Hotel & Spa's existing rigid cleaning standards, we are adding increased frequency in cleaning and areas we cover.

Communal areas cleaned regularly and more as needed. All tables and chairs at food and beverage outlets and banquet areas cleaned after each use.

Coverage areas: High touch areas consistently disinfected including bell carts, service carts, checkout counters, payment stations, doorknobs, faucets, elevator buttons, tables, and chairs.

To promote a healthier environment, all paper information eliminated and hotel information available throughout on signs, screens, and in-room entertainment.

With the well-being of each guest in mind, hand sanitizer available to guests at entrances and high traffic areas.
Healthy Team Members
Hoteliers' daily ritual includes a stand-up meeting each day. They use this time to ensure all team members are healthy and ready to provide you with the best experience. They mandate daily temperature checks, observation of any symptoms that would require a team member to go home, enforce mandatory face coverings, an increased number of hand-washing stations, and required breaks to wash hands.
Fitness Centers
When available to operate, their fitness center will have new protocols including fewer people at a time and less equipment to allow for more space. The fitness center space is disinfected and cleaned throughout the day. Additional measures for cleaning and disinfecting for all machines, weights and hard surfaces. Fresh towels, water and single use headphones are replenished constantly for single use. Sanitation stations available inside fitness room and social distancing reminders at entry door. For those who would prefer a more private workout, streaming wellness and fitness content is available in rooms.
Pool
A pool experience with fewer people, chairs and less crowds is being enforced. To accommodate guests and provide an exclusive pool experience, all non-hotel guests or friends of guests are not permitted at the pool. Only two adult guests and their children are permitted at the pool. All seating set to maintain physical distancing and capacity requirements. No outside food and beverage permitted, but food and beverage available for all pool goers to enjoy.
Eating & Drinking 
Significant changes to ensure safety in food and beverage outlets, as well as small changes to ensure an enjoyable experience, is observed. Food ordering and delivery held in separate spaces to prevent gathering. All food related equipment, furniture, hardware and serving items are sanitized hourly. Dining tables, bar tops, stools and chairs are sanitized after each use. Kitchens are deep-cleaned and sanitized at least once per day. They have mandated limited seating in bars and restaurants to support physical distancing of patrons.
The Kimpton Shorebreak Resort is continuing to monitor developments and following guidance provided by the Centers for Disease Control and Prevention (CDC), World Health Organization (WHO) and the State of California. To help safeguard your health and best serve you during your stay with The Kimpton Shorebreak Resort, they have made necessary modifications to their amenities and services. In addition to their rigorous standard housekeeping routines, they have increased the frequency of their cleaning procedures and have put in place additional measures to enhance their disinfection protocol in public areas. Face coverings are required in all public spaces at The Kimpton Shorebreak Resort.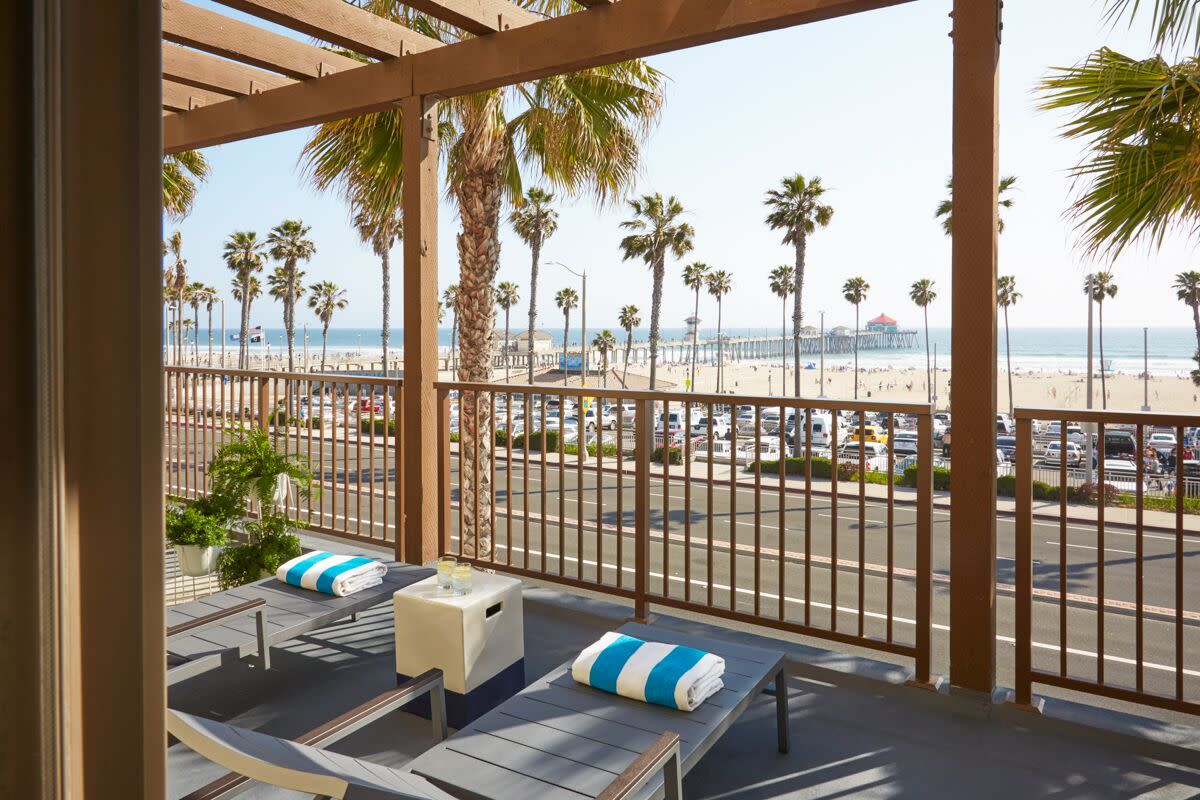 Hotel + Guest Room Cleanliness
Advanced technology cleaning systems including the use of electrostatic sprayer

Visible sanitizer stations in all public areas

Individual Personal Protective Equipment (PPE) Welcome Kit which included disposable face mask and sanitizing pads

Visible social distancing and mask requirement signage in public spaces and elevators

Contactless housekeeping service to protect the safety of The Kimpton Shorebreak Resort guests and employees
Meeting + Event Cleanliness
Creative floorplans and capacity charts to ensure physical distancing guidelines are met

Reimagined menu offering including prepackaged food served in sustainable containers

Virtual AV offerings will be made available 

New service standards training
Employee Protocols + Safety 
Personal Protective Equipment (PPE) for staff and daily temperature checks for all employees upon arrival to work

New operating procedures for physical distancing 

COVID19 employee safety training
Reimagined Signature Kimpton Programming
Morning Kick-Start served at the Front Desk and will feature a "Kimpton Get Up + Go" Spotify playlist

Evening Social Hour will offer an opportunity to enjoy a vinyl record and relax over a glass of wine or a cold beer in the comfort of your own room

Kimpton bikes are available on first come, first served basis and will have additional layer of disinfection