Weekends are for sun, surf, and brunch with friends. Here are some of the top spots for your next brunch date in Surf City USA.
Brunch is both delicious and Insta-worthy at Pacific Hideaway, nestled in the Kimpton Shorebreak Resort just steps away from the Huntington Beach Pier. Here, fresh ingredients and unique flavors are showcased in Pacific Hideaway's Southeast Asia and California-inspired dishes. Don't forget to snap some photos — the restaurants vibrant colors and surfer-chic decor create the perfect background for your food snaps!
From fresh pressed juices to delicious smoothies to innovative breakfast cocktails, Pacific Hideaway's drink menu is sure to satisfy. For a refreshing, "healthy" cocktail, order the What's Up Doc? made with reposado​ tequila and flavored with carrot, apple, orange ginger, and lemon juices. Heading to the beach after brunch? Start your day with the Endless Summer, made with gin, cointreau, blood orange, Peychaud's lemon, and topped with blonde beer. Of course, mimosas are also available with orange, grapefruit, or cranberry juices and prosecco.
Health-conscious brunchers, look no further. Broccolini, red pepper, kale egg whites, green tomato relish, salsa roja, and a rice cake make up Pacific Hideaway's Veggies in the AM, a brunch dish that's healthy and packed with flavor. Brunch adventure seekers will love the Lao Benny, a Latin-Asian spin on the classic eggs benedict, made with house-made lao sausage, poached eggs, pasilla peppers, and topped with hollandaise sauce. If you're craving seafood in the morning, try the Crab Toast, featuring the house sourdough topped with blue crab, avocado, pickled red onion, and cilantro salad.
Website: www.pacifichideawayhb.com
500 Pacific Coast Highway
(located within The Kimpton Shorebreak Resort)
Brunch Hours: 7 a.m. - 2 p.m.
 
Located adjacent to Pacific City and inside Paséa Hotel & Spa, the newest hotel on Pacific Coast Highway in Huntington Beach, Tanner's restaurant features a brunch menu that draws culinary inspiration from the local surf scene, the eclectic cultural flavors of Southern California, and Chef Carlo Narabal's passion for locally-grown, sustainable ingredients. Brunch highlights include wood-grilled brioche french toast and the breakfast burrito enchilada with sausage, bacon, egg, potatoes, corn salsa, and crema fresca.
At Tanner's, surfers, locals, and travelers alike experience a rustic, laid-back atmosphere with an open-air design and expansive ocean views from both indoor and outdoor seating. Those seeking a playful yet coastal-chic rooftop experience can head upstairs to Tanner's Treehouse, a bar and lounge where guests enjoy 180-degree views of the Pacific Ocean on the fire-pit adorned terrace.
Website: tannershb.com
21080 Pacific Coast Highway
(located within the Paséa Hotel & Spa)

Brunch Hours:
Saturday - Sunday: 11 a.m. - 4 p.m.
Enjoy your morning meal in style at this bar/eatery nestled in the glamorous Hyatt Regency Huntington Beach Resort and Spa. The Watertable capitalizes on the region's local produce and creates delicious, contemporary comfort food for brunch that is both decadent and delicious. Choose from a variety of egg benedicts, omelets, quiches, specialty lemon-blueberry pancakes, Nutella waffles, and the Mason Jar Avocana Bread 9 is a particularly unique and tasty selection. It is a concoction of house-baked buttermilk breakfast bread with banana, walnuts, California avocado, and whipped honey butter. 
Can't decide on just one menu item? Try the Surf the Breakfast bar and tickle your taste buds with breakfast bowls, acai smoothies, overnight oats, and specialty toasts like avocado with tahini, chia seeds, kale tapenade, and cracked black pepper.
Website: click here.
21500 Pacific Coast Highway
(located within the Hyatt Regency Huntington Beach Resort and Spa)
Breakfast Hours:
Monday - Friday: 6:30 a.m. – 2 p.m.
Saturday - Sunday: 6:30 a.m. – 12 p.m.
 
The Boardwalk Restaurant
Nestled in the newly renovated tower of The Waterfront Beach Resort, a Hilton Hotel, The Boardwalk Restaurant serves up a delicious brunch spread Sunday from 11:30 a.m. - 3 p.m. — perfect for the late risers! The American breakfast buffet includes all the breakfast staples — eggs, made-to-order omelets, potatoes, bacon, sausage, pancakes, french toast, and more. The breakfast menu also includes the Boardwalk's breakfast egg sandwich — delicious and gluten-free — with smoked ham, tomato, cheddar cheese, honey butter on golden pullman toast, and griddled breakfast potatoes. For a sweet and wholesome breakfast, try the house-made ancient grains and wild honey granola, served with cinnamon yogurt and honey macerated seasonal berries. To top of your brunch here, enjoy a complimentary strolling Magician and steel drummer on the patio.
Website: https://www.waterfrontresort.com/dining/the-boardwalk-restaurant
21100 Pacific Coast Highway
(located within The Waterfront Beach Resort, a Hilton Hotel)
Sunday Brunch: 11:30 a.m. - 3 p.m.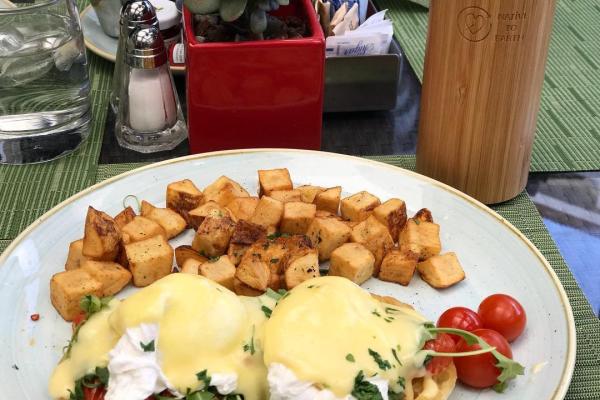 Photo Credits: _kaatthhhyyy
What better way to brunch than at the iconic Duke's Huntington Beach, located at the base of the Huntington Beach Pier? Talk about brunch with an ocean-front view. Duke's Sunday brunch buffet includes mainland breakfast staples and island favorites. Start your meal with a glass of sparkling wine, an island mimosa, fresh-squeezed juice, and coffee. If you're craving something sweet and something savory, have a little bit of both! Buffet highlights include coconut french toast with lilikoi butter, banana-macadamia nut pancakes with coconut syrup, Portuguese sausage, smoked salmon and bagels, lemon-basil fresh fish, huli chicken, kalua pork and cabbage, Hawaiian style shoyu ahi poke, a roast beef carving station, and more.
Website: www.dukeshuntington.com

317 Pacific Coast Highway
(located on the south side of the pier)
Sunday Brunch Hours: 10 a.m. - 2 p.m.
 
What's better than brunch in Surf City USA? Mexican-inspired brunch in Surf City USA! It's all served up with an ocean view at Ola Mexican Kitchen at Pacific City. Stop by the kitchen for tacos and margaritas all day long, but don't miss the brunch menu on the weekends.
Brunch begins with Ola's Bloody Maria, made with Cazadores reposado, jugo de tomate, jumbo shrimp, and a grilled asparagus spear — it's a seafood snack and drink in one! Next, try the jaiba "crab" benedict, featuring Ola's homemade crab cake with Fresno chile hollandaise sauce, topped with a poached egg and served with breakfast potatoes. Tacos for breakfast? You're in luck! The chorizo y huevo tacos are a delicious, handheld recreation of the classic Mexican breakfast staple, made with fresh chorizo, scrambled eggs, pico de gallo, Chihuahua cheese, and breakfast potatoes. Craving classic Mexican breakfast, like chilaquiles and huevos rancheros? Don't worry, Ola has that too. Wash everything down with bottomless mimosas and a beautiful view of the beach.
Website: olamexicankitchen.com
21040 Pacific Coast Highway
(located on the second level of Pacific City)
Sunday Brunch Hours: 10 a.m. - 1:30 p.m.
 
This diner food is the real deal. Mama's diverse menu can best be described as a modern-day twist on home style staples. A local favorite is the Mama Tutt's famous buttermilk fried chicken and homemade waffle topped with homemade chicken sausage gravy or maple syrup. Another popular breakfast is the butternut squash hash loaded with smoked ham, butternut squash, eggs any style, oven-roasted potatoes, griddled onions and white cheddar cheese. Can't make up your mind? You can't go wrong with Mama's "Feel Good Breakfasts" such as Mama's Breakfast Bomb served on a Hawaiian roll with two eggs, smoked ham, bacon, sausage, American cheese and roasted potatoes on the side. Plus, bottomless mimosas are available seven days a week until 3 p.m. or order the drink of your choice from Mama's full bar.
Website: mamason39.com
21022 Beach Blvd.
Hours:
Sunday - Thursday: 8:30 a.m. – 10 p.m.
Friday and Saturday: 8:30 a.m. – 10 p.m.
Breakfast served all day!
Leave your pajamas on to get 20 percent off all food on Saturday - Sunday from 8:30 – 11 a.m.
 
It may be difficult to decide which is better – the globally-inspired breakfast/brunch or the ocean view at this roomy, contemporary, oceanfront restaurant. The good news is that you don't have to choose; you can experience both! Feast your eyes on the surfers catching the morning waves while feasting on traditional items that become extraordinary with the addition of unique flavors. The bagel and lox is dressed to the nines with cream cheese, tomato, shaved red onion, capers and pickles. The granola french toast is served with whipped ricotta, goji berries, honey and almonds, and the steak and eggs include a 12-ounce New York steak, grilled onions, chimichurri, sunny side eggs, crema fresca and farmers cheese. Add a platter of smoked and cured fish and shellfish, pickles, spread, crackers and vegetable crudité to share with everyone at your table to share.
Website: dinebluegold.com
21016 Pacific Coast Hwy D200
(upstairs facing the ocean in Pacific City)
Breakfast hours: 9 a.m. – 3 p.m. daily
 
Established in 1967, the family-owned and operated Sugar Shack Café has been serving Huntington Beach locals and visitors for generations. Stop by for a quick brunch before the beach, and keep an eye out for local legends — this is a hot spot for surfers! In true surfer-style, start your morning with a hearty breakfast burrito. The Main Street burrito is made with egg, avocado, onions, sprouts, cheese. Believe us, this simple brunch item is delicious! The HSS Special, named after the Huntington Surf & Sport shop on Main Street and Pacific Coast Highway, is a grilled ham sandwich on sourdough bread with melted cheddar cheese and scrambled eggs, served with homestyle spuds. Seating is first come, first served, so if you're brunching during the busy weekend hours, expect a wait.
Website: www.hbsugarshack.com
213 Main Street
Daily Hours:
Monday - Friday: 6 a.m. - 2 p.m.
Saturday - Sunday: 6 a.m. - 3 p.m.
Visit Philz Coffee at Pacific City and have your cup of coffee created just for you by your own… Read More
AoSA Coffee's mission is to bring quality beverages and healthy food to the local community. This… Read More
Milk & Honey is a café in the Downtown Huntington Beach area. They offer a variety of menu items… Read More