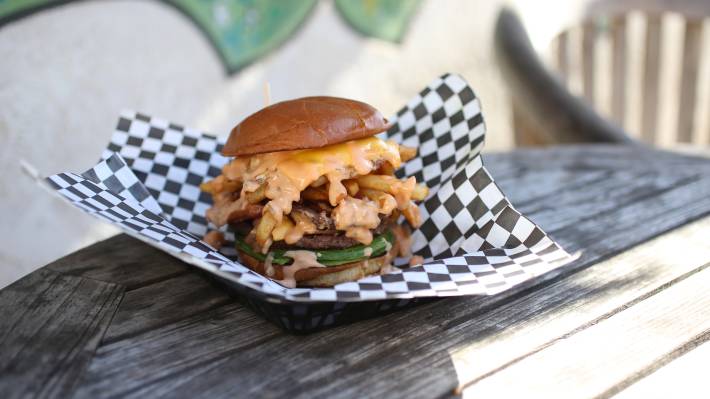 Huntington Beach is as American as a beach town gets. We boast the largest annual Fourth of July Parade west of the Mississippi, and we are all about that burger. Here are seven local spots building the most mouth-watering stacks, from your traditional cheeseburger to unimaginable combos.
Pacific Hideaway is primarily known as a Southeast Asia, the Pacific Islands, Latin & South America restaurant serving up healthy options, and it does it well. But what you really want to pay attention to here is their big juicy burger. Named "Hideaway Burger," it consists of double meat, American Cheese, secret sauce, onion, lettuce, pickle, house fries, all between two fresh buns. And if you want to get fancy with it, add egg or bacon to top it off. 
500 Pacific Coast Hwy, Huntington Beach, CA 92648
(714) 965-4448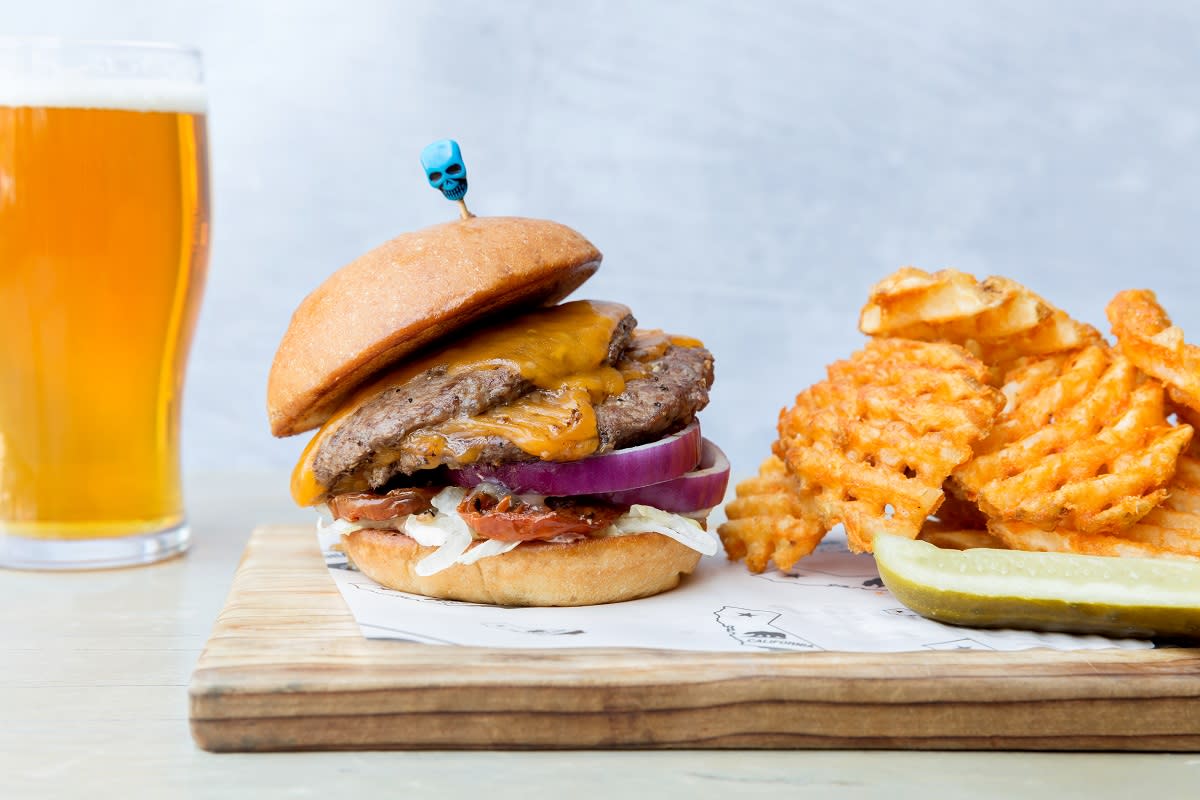 Burgers, beers, and the beach. It truly is the American dream! An anchor at LOT 579, Pacific City's modern food hall, this innovative tap house and burger bar serves up authentic burgers with a twist—and a delicious ocean view. Think Truffle Burger, Chorizo Chili Burger, BBQ Stout Bacon Burger, and more. Non-carnivores can opt for a portobello patty or vegan Impossible Burger. The best part—wash your savory tower down with your choice from more than 60 craft beers on tap.
21058 Pacific Coast Highway, Ste M130, Huntington Beach, CA 92648
714-374-1330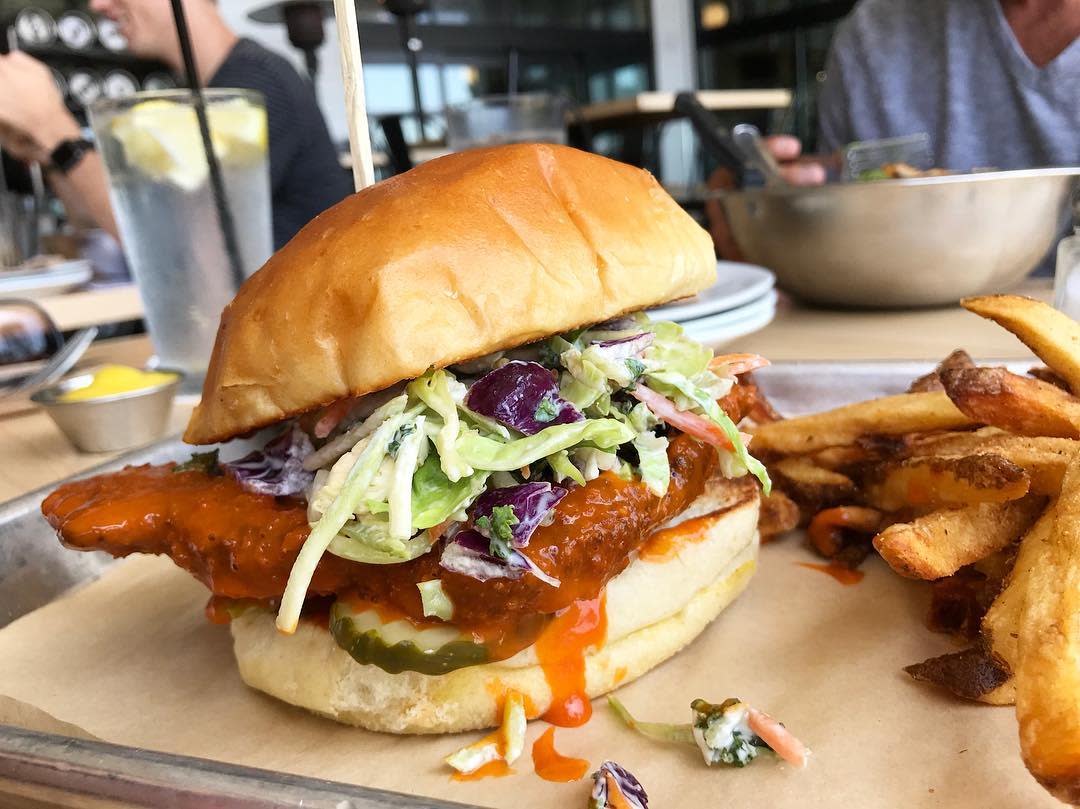 Inside this surf shack along Pacific Coast Highway, you'll find fresh, award-winning burgers that have been filling up Orange County's belly since 1986. Hugged by fresh-baked buns, these tasty charbroiled burgers come with all the fixin's, plus turkey, chicken, steak, ahi, and veggie options. Nowhere else can you score a quality cheeseburger for less than $6 with an ocean view. Grab a seat on the front patio and watch the waves while you chow down.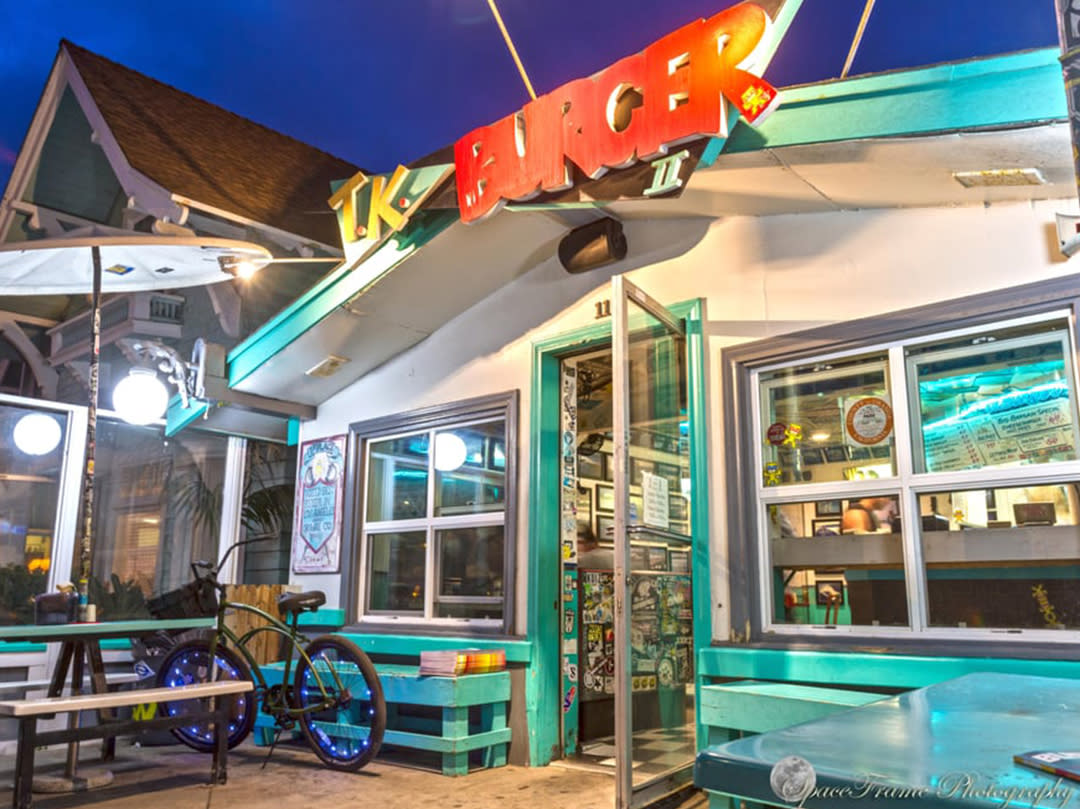 110 Pacific Coast Highway, Huntington Beach, CA 92648
714-960-3238
Named after the precise temperature between a medium-rare and a well-done burger, this hip burger joint has been serving Downtown since 2009 and is all about options. They plate six scrumptious burger styles and four different proteins, including sirloin blend, turkey, yellowfin tuna, and veggie—an incredible meatless patty. Not custom enough? You can "Craft Your Own" with a long list of extras, sauces, and cheeses. Slide into a window seat and pair your bites with one of their award-winning cocktails or spiked milkshakes. Live music sings every Wednesday and Friday.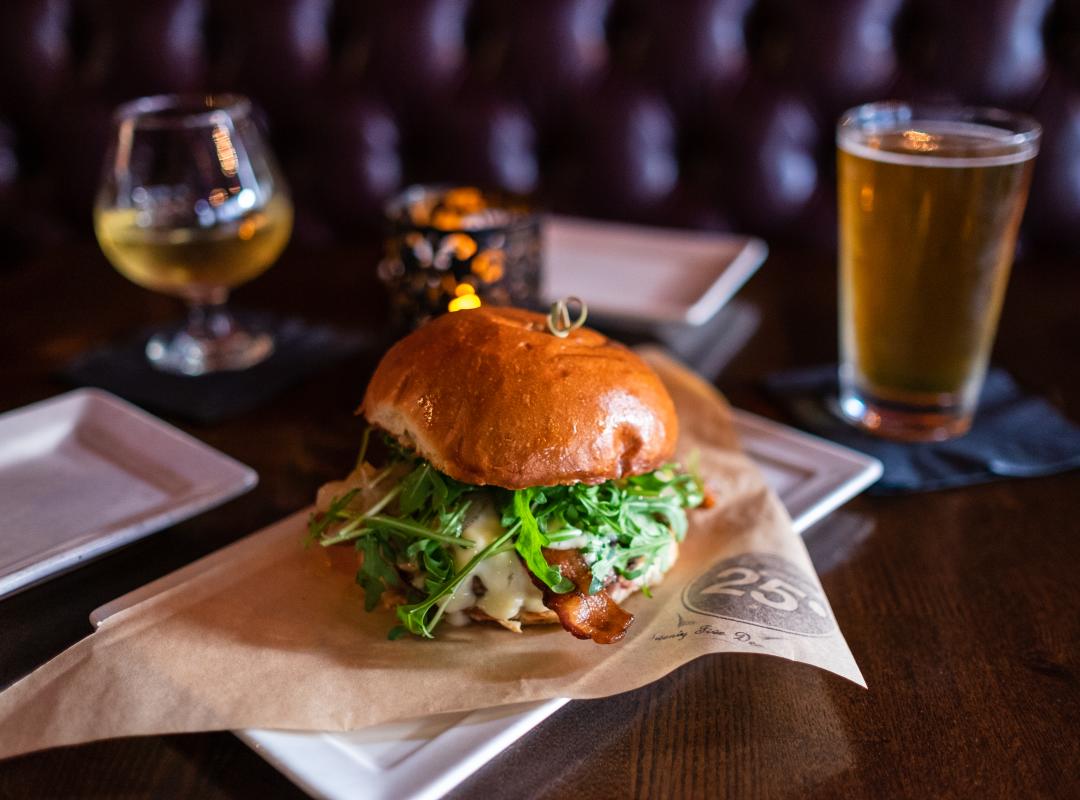 412 Walnut Avenue, Huntington Beach, CA 92648
714-960-2525
Escape from the daily grind to this skate-themed burger joint at Old World, just a stone's throw from the Vans Off The Wall Skatepark. Mastering all three essentials—burgers, fries, and beer—they send out turkey, chicken, and veggie options, accompanied by beer-battered fries, sweet potato fries, onion rings, and their famous Pigsty Fries, swimming in cheese, grilled onion, bacon, avocado, and Thousand Island dressing. Kick back on their outdoor patio and nosh away.
7561 Center Avenue, #53, Huntington Beach, CA 92647
714-895-2800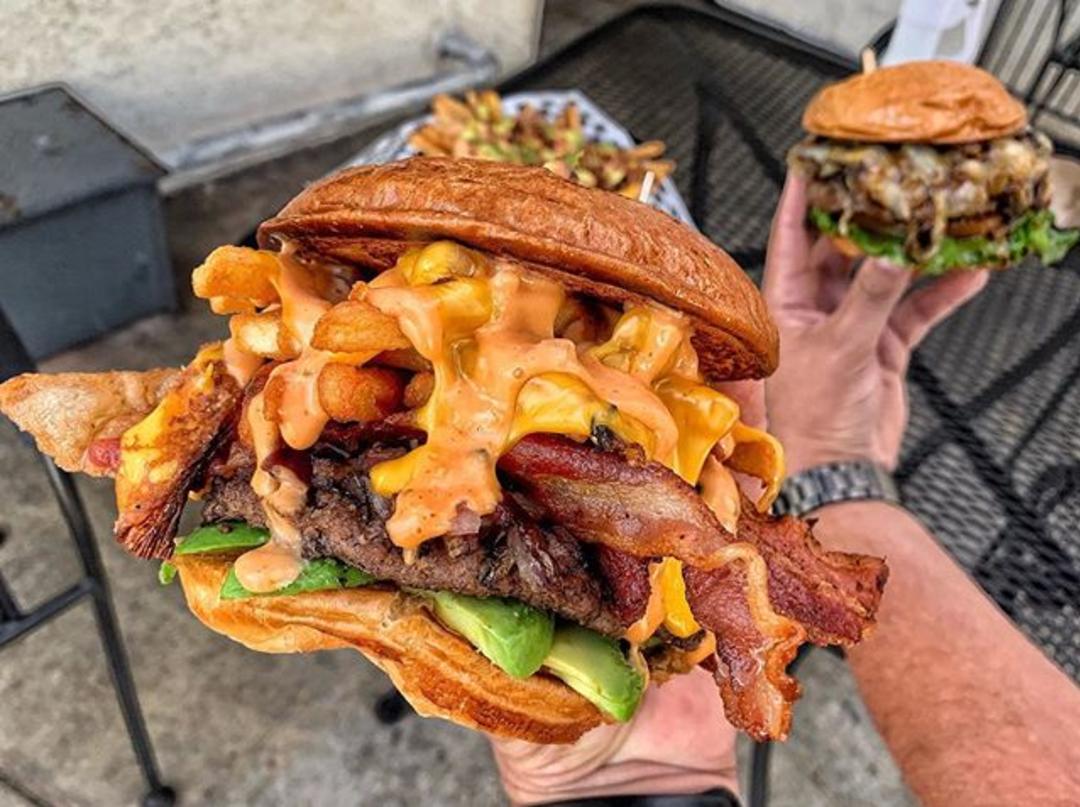 Gourmet handmade burgers own the menu here, with American craft beer and small batch whiskey on their heels. Go for the heavier Jalapeño Egg Burger, the sweet Fresno Fig Burger, or the lighter Veggie Beet Burger—one of the most unique veggie burgers in town. Located at Bella Terra, this scratch kitchen and craft bar also offers outdoor seating, live music, and Steal the Glass night every Wednesday.
7631 Edinger Avenue, Huntington Beach, CA 92647
714-230-3955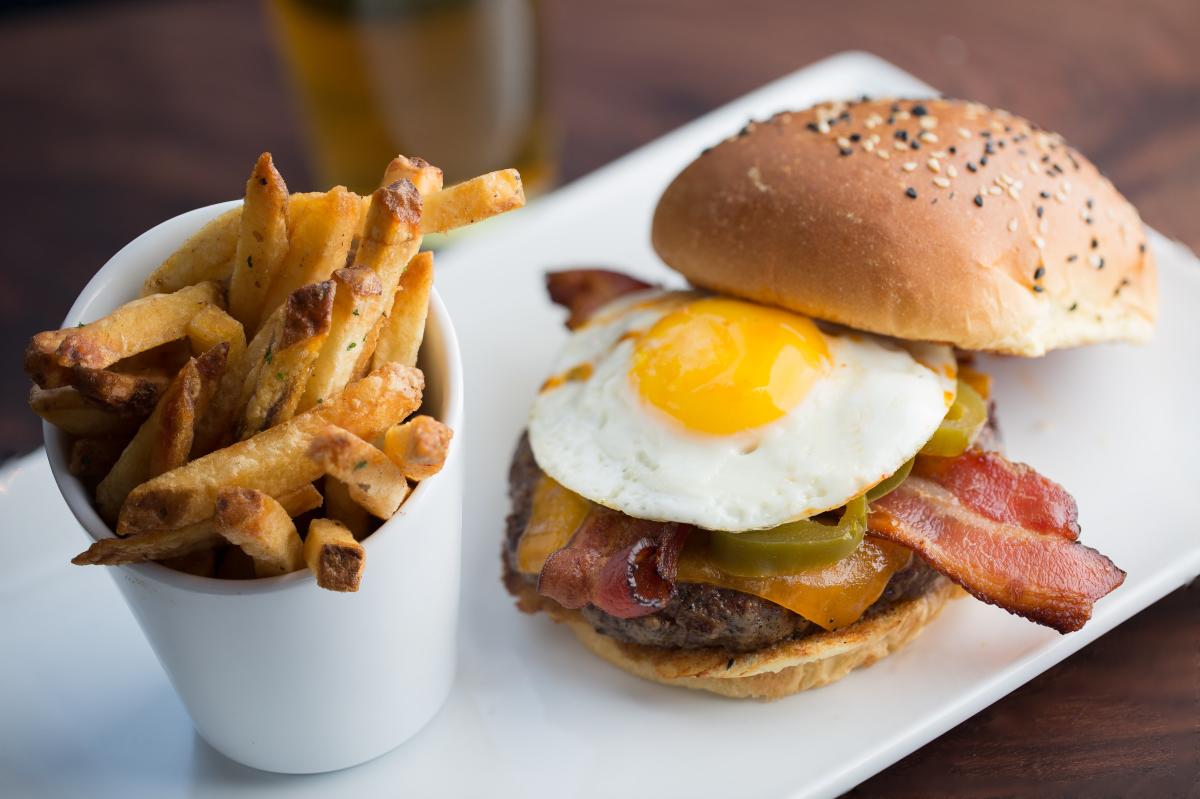 Now at a fresh location on Beach Boulevard and Warner Avenue, this award-winning rebel gastropub is home of the 50 percent ground bacon and 50 percent ground beef patty, and a delectable lineup of over-the-top bites from your starter to your dessert. Try the P.B. & Jellousy—yes, that's peanut butter and strawberry jelly and bacon and beef—or the Sriracha Burger, or go rogue with their "Design It" menu. "Slaterize" options make room for further customization, with choices of double and triple patties, and smother-happy toppings for your fries. Herbivores may opt for the ever-popular Impossible Burger. Each burger is sent out with a knife stuck in its center, ready to be devoured. Slater's legendary beer program ensures a rotating menu of local, seasonal, and limited release craft brews.
17071 Beach Boulevard, Huntington Beach, CA 92647
714-594-5730
This is as customizable as it gets! More than a dozen drool-worthy burgers grace the menu, but you can "Stack Your Own" from an extensive roll of buns, patties, cheeses, lettuces, sauces, toppings, and condiments. Stacked also delivers the biggest selection for guests craving non-beef patties, with picks like the Turkey Burger, Grilled or Blackened Chicken Breast, Salmon or Blackened Salmon Burger, as well as two vegan burgs. Don't forget to whet your whistle with a seasonal cocktail or one of their many mules. Its prime location across from Bella Terra and near other popular retailers makes Stacked a choice stop before, during, or after a shopping spree.
7490 Edinger Avenue, Huntington Beach, CA 92647
657-845-2100