Van's US Open of Surfing
August 1 - 9, 2020
The Vans US Open of Surfing is the world's largest surf competition and lifestyle festival. The event includes world-class surfing, skateboarding and BMX competitions, movie premieres, retail and art exhibitions, and product demos and samples from your favorite action sport industry brands, including title sponsor Vans. The event is free to attend.
Location 
Huntington Beach Pier
Main Street & Pacific Coast Highway
Huntington Beach, CA, 92648
*South of the Pier, in front of Duke's Huntington Beach
Places to Stay
Dotting Pacific Coast Highway are luxury resorts and affordable hotels in Huntington Beach, California.
Parking
DOWNTOWN PARKING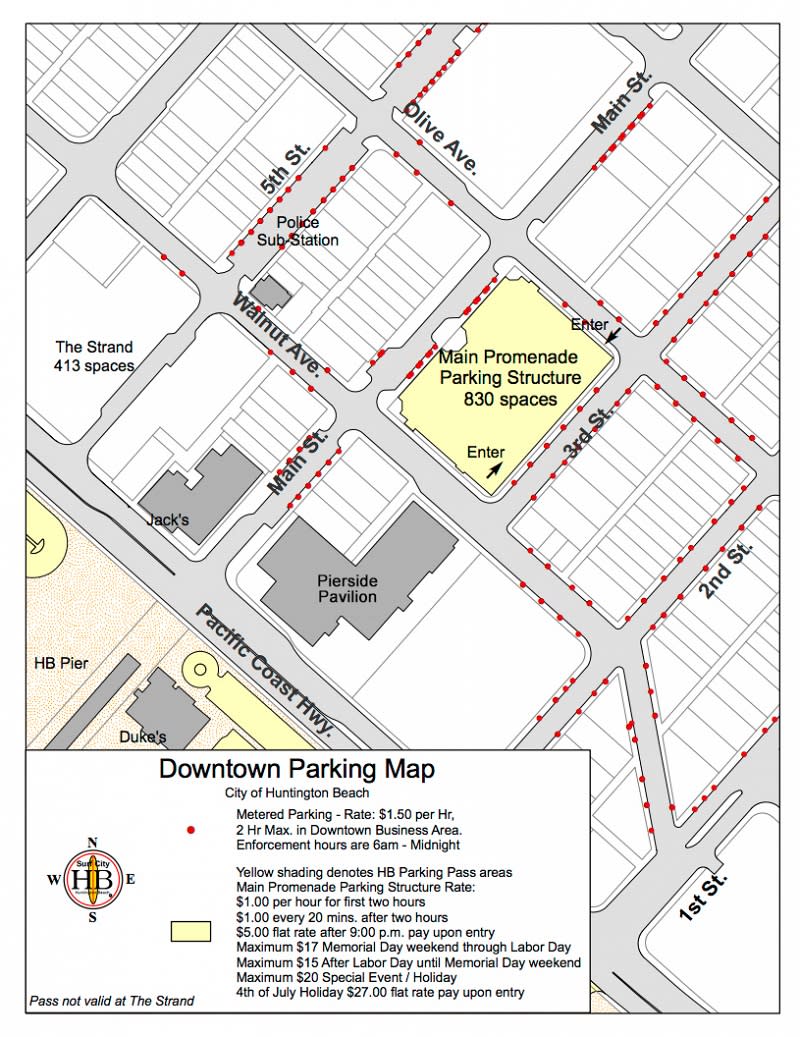 Main Promenade Parking Structure
This 830-space parking and retail structure is located on the east side of Main Street between Walnut and Olive Streets. Validations are available at participating downtown merchants. Holiday and special event rates are effective May 1 through Labor Day each year. Parking after 9:00 pm is $5.00 flat rate and no validations are accepted. Parking rates listed below:
Main Promenade Parking Structure Rates
Cost
First 30 minutes (included as part of the first hour)
No Charge
Up to 2 hours
$1.00 per hour
After 2 hours
$1.00 each 20 minutes
Maximum Daily Rate - Non-Peak
$15.00
Evening rate (after 9:00 pm) Flat Rate
$5.00
Fourth of July - Flat Rate
$27.00
Maximum Daily Rate - Peak (Memorial Day thru Labor Day)
$17.00
Maximum Daily Rate - Peak Season Holidays and Events Memorial Weekend / Labor Day Weekend / U.S. Open / AVP
$20.00
Strand Parking Structure
Located at 155 Fifth Street with an entrance off of Sixth Street. Operating hours are from 9 am - midnight. For further information, phone LAZ Parking at (714) 536-4600. The Municipal Beach/Main Promenade Parking Structure parking pass is Not Accepted at the Strand Parking Structure.
Strand Parking Rates: May 16 - September 14
First 2 hours or less $2.00
Each 20 minutes thereafter $3.00
Daily Maximum $20.00
Pierside Pavilion Parking
Pierside Pavilion parking garage in Huntington Beach near the bustling Main Street shopping and dining area is contained in a commercial building with restaurants, shops, offices and an elevator. There is one entrance to the car park area of the building on Walnut near Main Street. 
Pierside Pavilion Parking Rates
July 23rd - July 24th: $25 all day
Weekly Rate: $20 all day | $1.25 per 15 mins
July 30th - July 31st: $35 all day
Complimentary valet services will be provided on the weekends.
Downtown Metered Parking: Rate is $1.50 per hour, 2 hour max in Downtown Business Area;  Enforcement Hours are 6am - Midnight
WHAT TO BRING:                          
Sunscreen
Water
Camera
Footwear
Sunglasses
Photo credit: Celina Kenyon
For more information on the Vans US Open of Surfing, click here. 
Places to eat
Places to eat near the US Open of Surfing in Huntington Beach, CA. 
Explore more of Surf City USA