A cut above the rest, the family-owned Beef Palace Butcher Shop is a Huntington Beach institution. Butcher shops are experiencing a renaissance of sorts with trendy new markets popping up across Orange County, but this hidden gem has been around for over 50 years.
It's a throwback to another era, oozing old-school vibes with tall glass display cases of beautifully marbled meat and warm, wood-paneled walls. Stepping across the threshold brings forth visions of cowboys and the Wild West. But customers aren't just here for the retro decor. Beef Palace has a stellar reputation among both fellow butchers and customers who travel far and wide to shop a generous selection of high-quality prime meats.
Whether you're looking for a couple of date night steaks or a prime rib roast fit for a family feast, Beef Palace is worth a visit. Here are six reasons why this butcher shop is one-of-a-kind.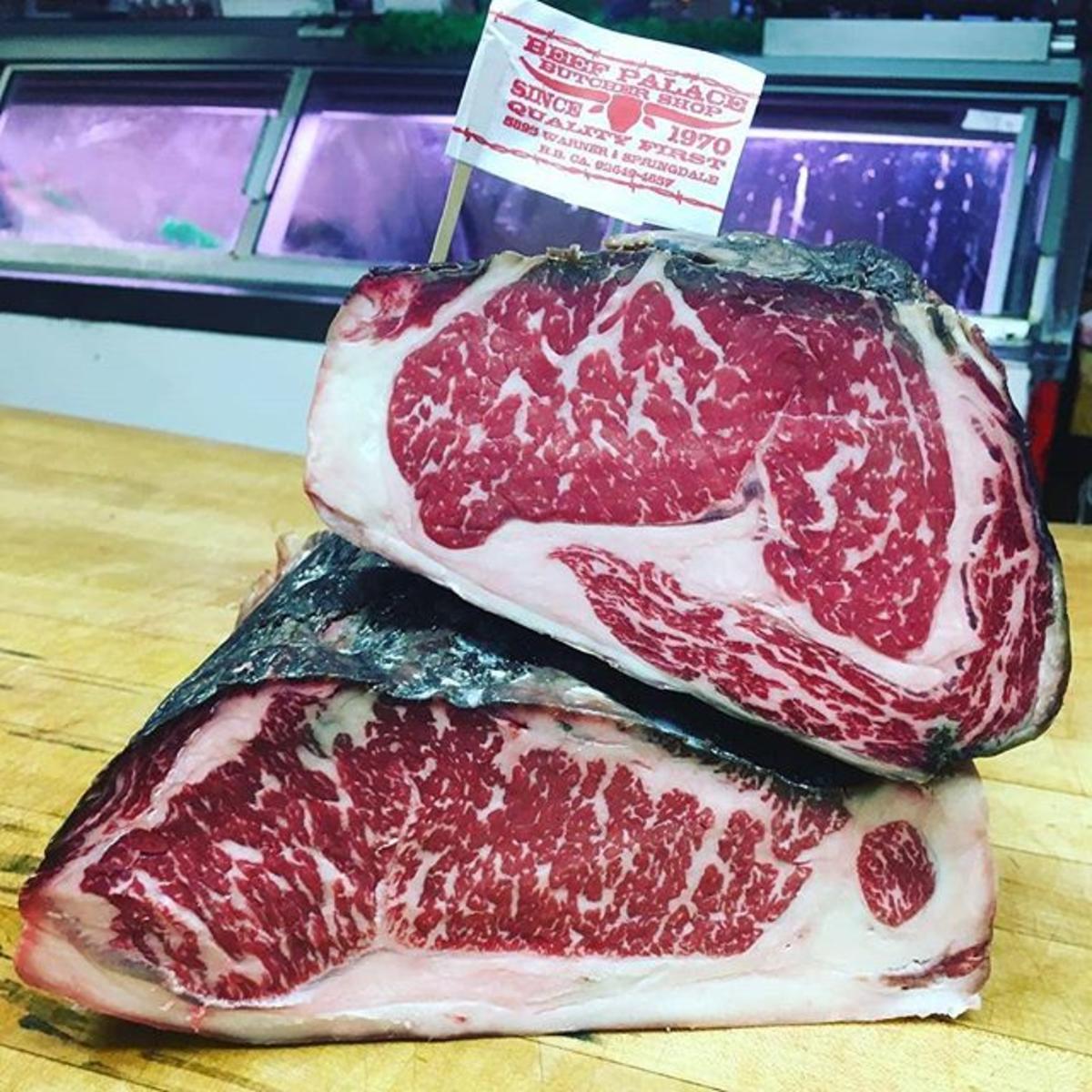 Image: @orangecountygrappling on Instagram
It's incredibly popular, yet flies under the radar. Despite legions of customers spanning generations, the Beef Palace buzz is primarily spread through word of mouth. The shop's digital footprint is minimal, with no website or updated social media. Yet, there are fans around the world — just take a look at the shop's walls, where framed photos over the years have shown people holding homemade Beef Palace signs everywhere from the remote rolling hills of Easter Island to the peaks of Mount Everest. A focus on quality and building trust with customers keeps locals and visitors coming back time and time again.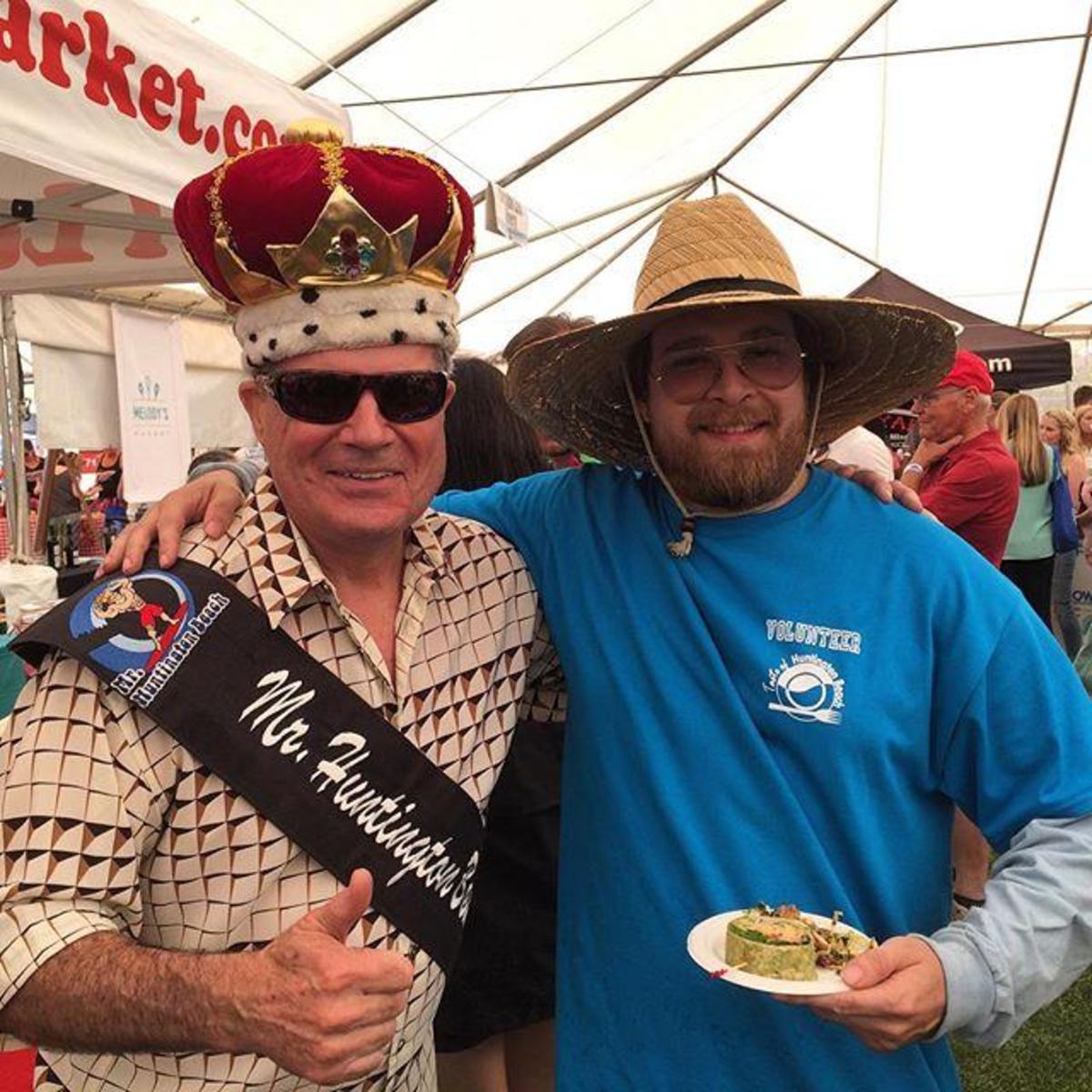 Image: @yarnelson_shirthood on Instagram
It's run by a local legend. The Beef Palace is owned by Mr. Huntington Beach himself, Calvin Lee. Crowned in 2011 at Surf City USA's tongue-in-cheek fundraising pageant event, Calvin is a larger-than-life personality who infuses the shop with his energy and charm. He comes from a long line of butchers and cowboys dating back five generations, working in the shop since his dad opened it back in 1970.
It's one of oldest butcher shops in Orange County. This butcher shop is steeped in history. Black and white photos of the Lee family line the walls, with dates and nameplates creating a visual family tree. You can trace their lineage back to 1880, starting with Calvin's great-great grandfather. The Beef Palace was also one of the original tenants in Huntington Beach's Westfair Shopping Center at Warner and Springdale, which was designed by Frank Lloyd Wright, Jr., son of the famed architect.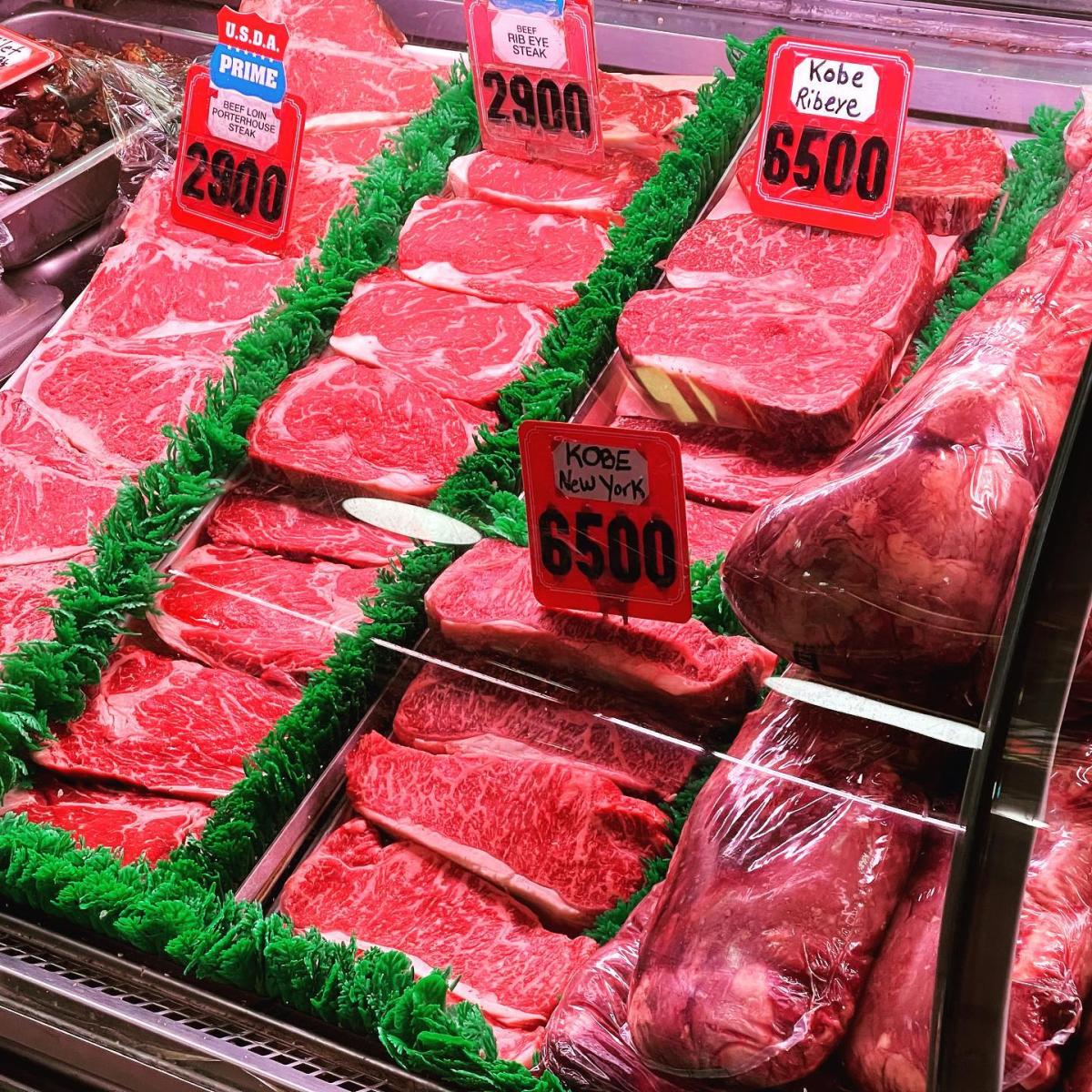 Image: @jds2f on Instagram
It has premium meat offerings. From rib-eyes and New York steaks to brisket and beef bones, Beef Palace sources from multiple brands to sell prime meat that's tender and full of flavor. Nothing is pre-cut or pre-packaged here; employees handle meat with expertise, butchering hind quarters in the shop to produce flank steaks, Porterhouse steaks, T-bones and more. All beef is also aged at no extra charge. Not sure what to order? No problem. Just ask a skilled butcher behind the counter for a recommendation and they'll cut and wrap exactly what you need. While you'll pay a premium for this quality meat, it would cost double (or more) to enjoy a similar cut in a steakhouse. A popular pick is the prime rib roast, a favorite among customers who make the hearty dish as a tradition for celebrating holidays or special occasions.
It's cash only. True to its old-school sensibility, Beef Palace is a cash-only establishment. There's an ATM on-site for those who need to make a last-minute withdrawal.
It sells house rubs and sauces. At the center of the shop are an array of rubs and sauces you'll need to prepare a mouthwatering, meat-forward feast. Ranging from a house seasoning to the "hot, hot" Wild West Burnin' Love rub, Beef Palace knows exactly what it takes to make your meat the star of the show. Butchers are happy to season your meat for no additional charge, and also provide cooking instructions and recipes for different cuts.
Beef Palace Butcher Shop is located at 5895 Warner Avenue, Huntington Beach, CA 92649. The shop is open seven days a week from 11 a.m. to 6 p.m., with plenty of on-site parking.