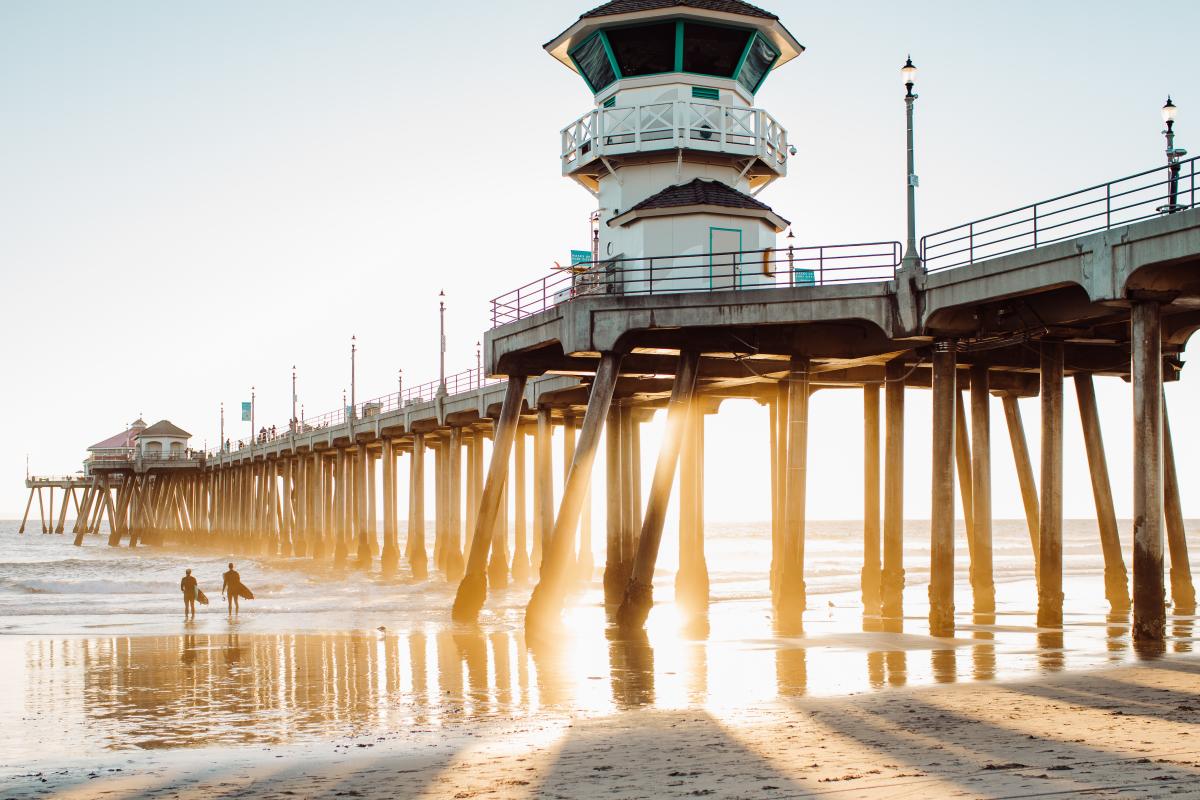 Implements Leadership Changes and Recruits New Hires to Expand Sales and Marketing Efforts
Nicole Llido Promoted to Vice President, Administration and Community Engagement
Jennifer Tong Promoted to Vice President, Public Relations and Communications
Susan Valen Named Director of Sales
Kimberly Dunnegan Named Sales Executive
Hannah Sutton Named Marketing Coordinator
Huntington Beach, Calif.— January 26, 2022 — Visit Huntington Beach (VHB), the official destination marketing organization of Huntington Beach, announces a strategic reorganization with leadership promotions and recruitment of three new hires. The restructuring process will help align the organization's sales and marketing efforts of the Surf City USA® brand, while supporting Huntington Beach's tourism industry.
"This strategic reorganization is a foundational step for VHB to proactively realign our programs as tourism returns to Huntington Beach," said Kelly Miller, president & CEO at Visit Huntington Beach. "We have never been more prepared to reconnect the Surf City USA brand to visitors globally. Throughout this pandemic, Huntington Beach has shown its resiliency and I'm confident that the talented leadership and staff are equipped to reinforce the importance of tourism to local stakeholders."
Nicole Llido, who previously served as the Director of Information Technology and Visitor & Partner Services, has been promoted to Vice President, Administration and Community Engagement. She has been with VHB since 2009 and has created policies and procedures across departments leading to the organization's national accreditation. In addition, Llido developed and managed numerous public-private programs with various partners, including the City of Huntington Beach. In her new role, she will create VHB's strategic community engagement plan, while overseeing the finance, administration, information technology, office management, and visitor and partner services departments.
Since joining VHB in 2015, Jennifer Tong has led the public relations and communications department and is responsible for generating local, domestic, and international earned media to drive demand for Huntington Beach as a travel destination. Following the retirement of VHB's former chief marketing officer, Tong led the marketing department through a period of transition culminating in the appointment of its new CMO. In her new role as vice president of public relations and communications, Tong will integrate a comprehensive communications plan that strategically aligns with the marketing, social media, group sales, business development, visitor and partner services, and advocacy departments. Additionally, she joins the leadership team to shape strategic imperatives for the organization's future and, working in tandem with the marketing team, will help oversee the development of marketing initiatives.
"COVID-19 has significantly impacted the travel industry and I applaud VHB for quickly adapting during the pandemic," said Justin Simpson, VHB board chair and Kimpton Shorebreak Huntington Beach Resort general manager. "Visitation has steadily increased with Huntington Beach's ADR surpassing 2019 pre-pandemic records and occupancy overcoming 2020 pandemic shutdown metrics. Tourism is vital to the Huntington Beach economy and its return will fuel our recovery even more. We invite visitors to come and experience everything the Surf City USA destination has to offer."
Susan Valen joins as the director of sales and brings a wide range of experience and expertise in the meetings, events, tourism, and visitor industry. Prior to VHB, she served as the National Sales Director for the Long Beach Convention & Visitors Bureau for almost 13 years and held director of sales and marketing manager positions at Marriott and Hilton hotel brands, as well as IMPROV Comedy Clubs and Planet Hollywood. Valen is a Certified Meeting Professional (CMP), a member of Society of Incentive Travel Executives (SITE) and has been involved with the Southern California chapters of PCMA and MPI.
In August 2021, VHB recruited Kimberly Dunnegan and Hannah Sutton to support VHB's expanded sales and marketing efforts. Dunnegan is an experienced sales leader in the hospitality and tourism industries and will join the group sales department as a sales executive. Previously, Dunnegan served as the national account director at Visit Newport Beach and Company and held hotel roles such as the senior sales manager at Island Hotel Newport Beach and the senior sales executive at Marriott International. Hannah Sutton joins as the marketing coordinator and contributes to a variety of marketing, public relations, travel trade and film programs. With over eight years of experience, she previously held marketing roles at Simple Green and graduated from California State University, Long Beach with a bachelor's degree in journalism.
About Visit Huntington Beach
Visit Huntington Beach is the official destination marketing organization of Huntington Beach, Surf City USA®. One of Southern California's premier coastal destinations, Huntington Beach is the ideal location for a California family vacation, active outdoor adventure trip or relaxing weekend getaway. With 10 miles of wide-open beaches, Huntington Beach is a destination of choice for vacationers and business travelers alike. To plan your Surf City USA® vacation, or to learn more about Huntington Beach, see the Visit Huntington Beach website at www.surfcityusa.com or call 1-800-729-6232 for a free Visitors Guide.
###
Surf City USA® is a registered mark of Visit Huntington Beach