1. Spend Your Day Surfing
We are the official Surf City USA, so a visit practically requires a surf sesh—or at least that you witness one. Our rich surf heritage dates all the way back to 1914, when George "Father of Modern Surfing" Freeth first demonstrated surfing at the Huntington Beach Pier. Since then, Huntington Beach's surf culture has evolved through decades of legendary surfers, surf shops, surfboard shapers, and surfing contests.
Equipped with your own board? Huntington Beach's best surfing spots are the north and south sides of the iconic pier—seasoned surfers only, please—17th Street and Pacific Coast Highway (PCH), the "Cliffs" at Goldenwest Street and PCH, the Santa Ana River Jetty, and Bolsa Chica State Beach.
Novice surfer? Numerous surf schools offer group and private lessons, and various local beach concessions and surf shops rent boards. For current listings refer to the latest Huntington Beach Visitors Guide, available online, at the Visitor Information Kiosk at the foot of the pier, at the Welcome Center at the Huntington Beach International Surfing Museum, and at various businesses throughout Downtown Huntington Beach, including hotels.
Pro tip: Check the swell at surfline.com, where you can view surf cams and catch the latest wave, tide, and wind conditions. Also, check out the Huntington Beach Surfing Lessons blog. 
2. Kayaking 
As this list proves, the best place in Huntington Beach to enjoy calm waters is the Huntington Harbour. This amorous, European-inspired pocket of islands and navigable waterways is a serene surprise in itself, blending the mystique of waterfront estates and luxury yachts with water adventure-seekers.
Kayaking not only lets you experience the Harbour's magic from the water, it's also a fantastic workout. Kayak rentals are available through OEX Sunset Beach, Sunset Rentals  and Huntington Harbor Boat Rentals —all along PCH in Sunset Beach.
3. Stand Up Paddle Boarding (SUP)
Another fun way to work the Harbour and your body is atop a Stand Up Paddle Board (SUP). Rentals are available through the same kayak rental spots listed above. If you've never SUPed, try a lesson with McKinnon Surf & SUP Lessons. If you've never SUPed while doing yoga, OEX hosts workshops and Glow Hot Yoga in Sunset Beach specializes in blending the two for the ultimate mindful experience.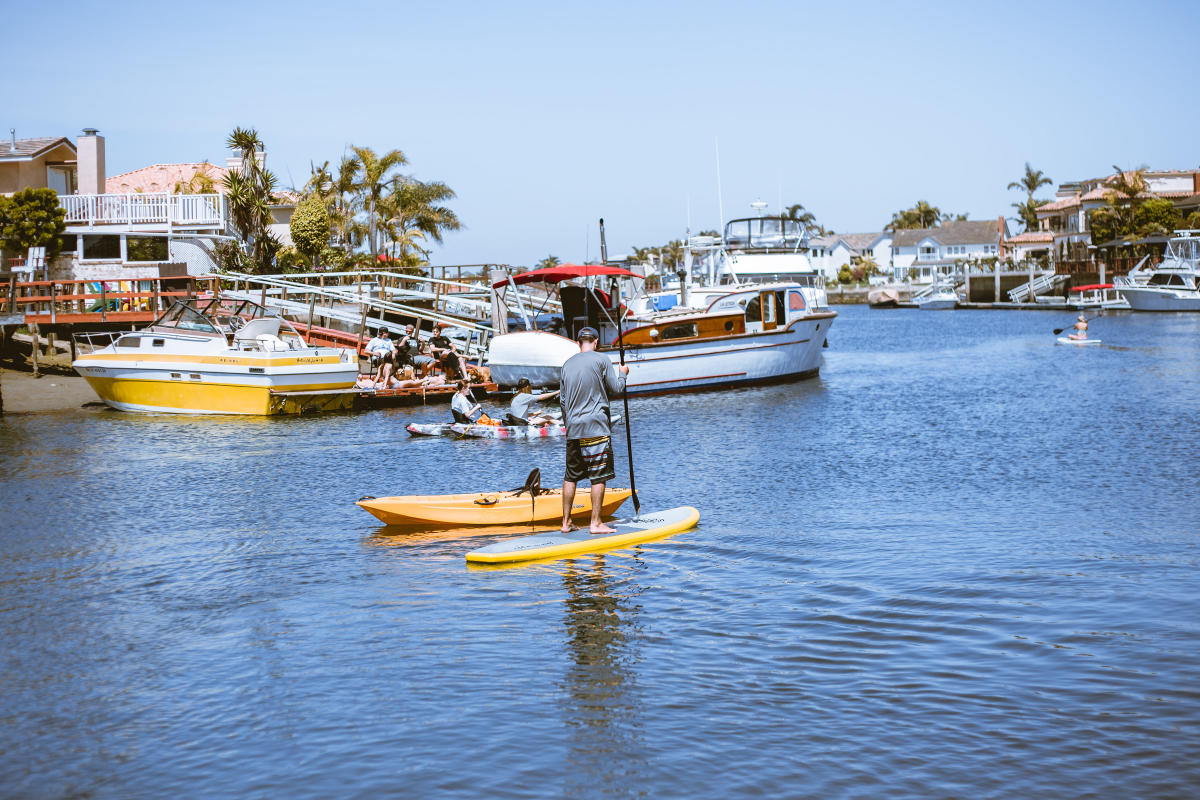 4) Cruise Around Huntington Harbour
Prefer to effortlessly cruise the Harbour with friends? Family-run Prince Charters offers private charters in a stunning classic wood boat for up to 12 people, and a completely restored vintage 1960s yacht for up to 30 people. Bring your own bites and beverages, or let your captain handle the menu.
Looking for tours of the USS Iowa, the Queen Mary, or a scenic view of the coast? How about whale watching? If so,  Wagner Charters is for you. 
5) Rent A Duffy Boat
Play "Captain" yourself and rent a Duffy electric boat from Huntington Harbor Boat Rentals in Sunset Beach. You'll glide along the peaceful waters while taking in striking views at your own pace, and you're free to BYOB (beverages and bites). Ice and coolers are provided.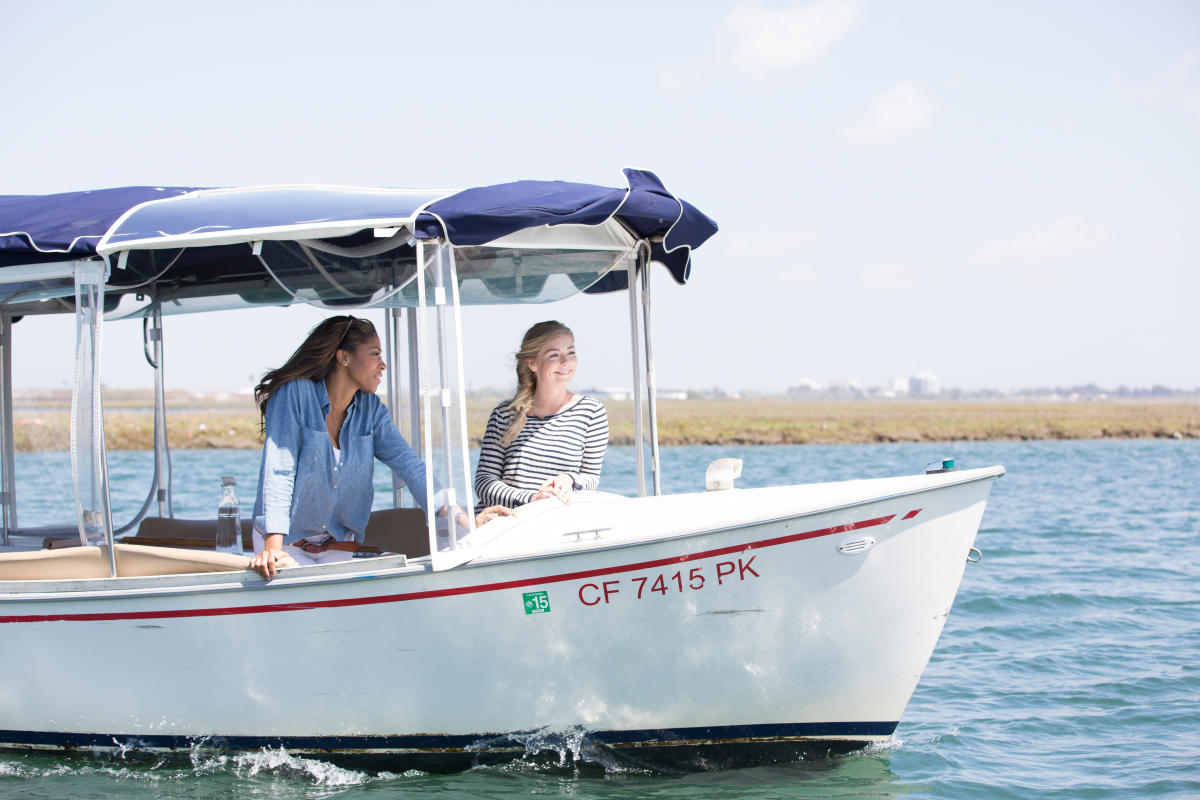 6) Take a Trip to Catalina 
Want to take an adventure to Catalina with friends and family? Family-run Wagner Charters offers fishing charters, tours to Catalina, Huntington Harbour tours and more. The boat is a 27 ft Edgewater Express that holds up to 6 people. Bring your own lunch, sunglasses, sunscreen, and a hat. Learn more here.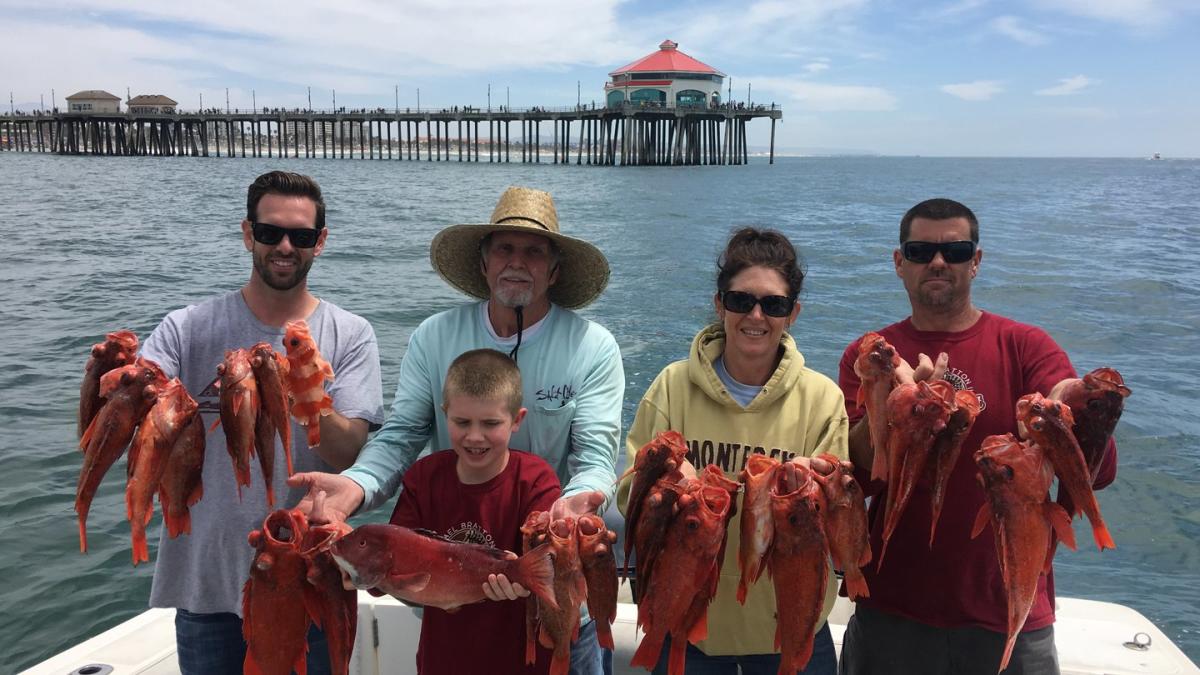 Explore more of Surf City USA