UPDATED APRIL 27, 2022
Want to glide through the ocean, breathe in the salt air, get up close to herons and pelicans -- all without dipping beyond your ankles? Try renting a SUP (Stand-Up Paddleboard), sea kayak, or an electric Duffy boat to explore the calm canals of Huntington Beach Harbour. 
Huntington Harbour is the perfect place to go kayaking and paddling (or try either for the first time). The harbor is mellow with light boat traffic, making it much easier than paddling through busy Newport Harbor. The speed limit for boaters is 5 mph, so you don't have to worry about watching out for jet skis or fast boats kicking up big wakes.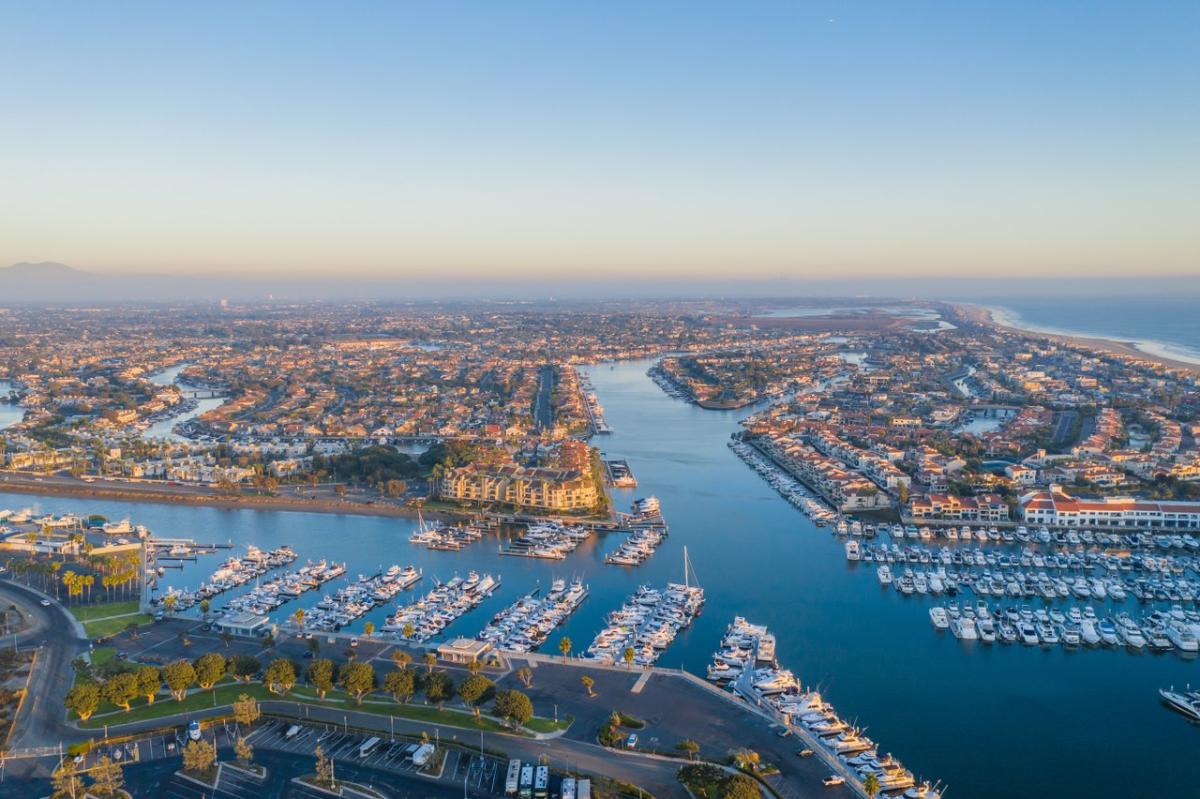 With five islands and some nine miles of canals lined with gorgeous homes and yachts, you'll have more than plenty of places to explore. Paddle out to a couple of sandy coves or parks for a picnic, or even dock at a harbor-side restaurant for lunch."
As a novice SUP-er, I have found the boards so stable and the harbor so calm that I've never fallen in the water during the dozen or so times I've paddled here. First-time SUP-ers may be surprised how easy it is. To get started, just make sure your board is floating (so the fins aren't touching the sand) before stepping aboard on your knees in the middle of the board. Grasp your paddle on the top of the handle so the scooped side is facing outwards; once you are stabilized, you can stand up and begin paddling.
I can attest that it's important to be aware of which way the wind is blowing, and whether the tide is coming in or out, especially in the larger unsheltered waterways. If you find yourself moving forward briskly without much effort, you will be faced with a good workout as you paddle straight into the wind or against the tide on your return. Mornings are generally much calmer than afternoons.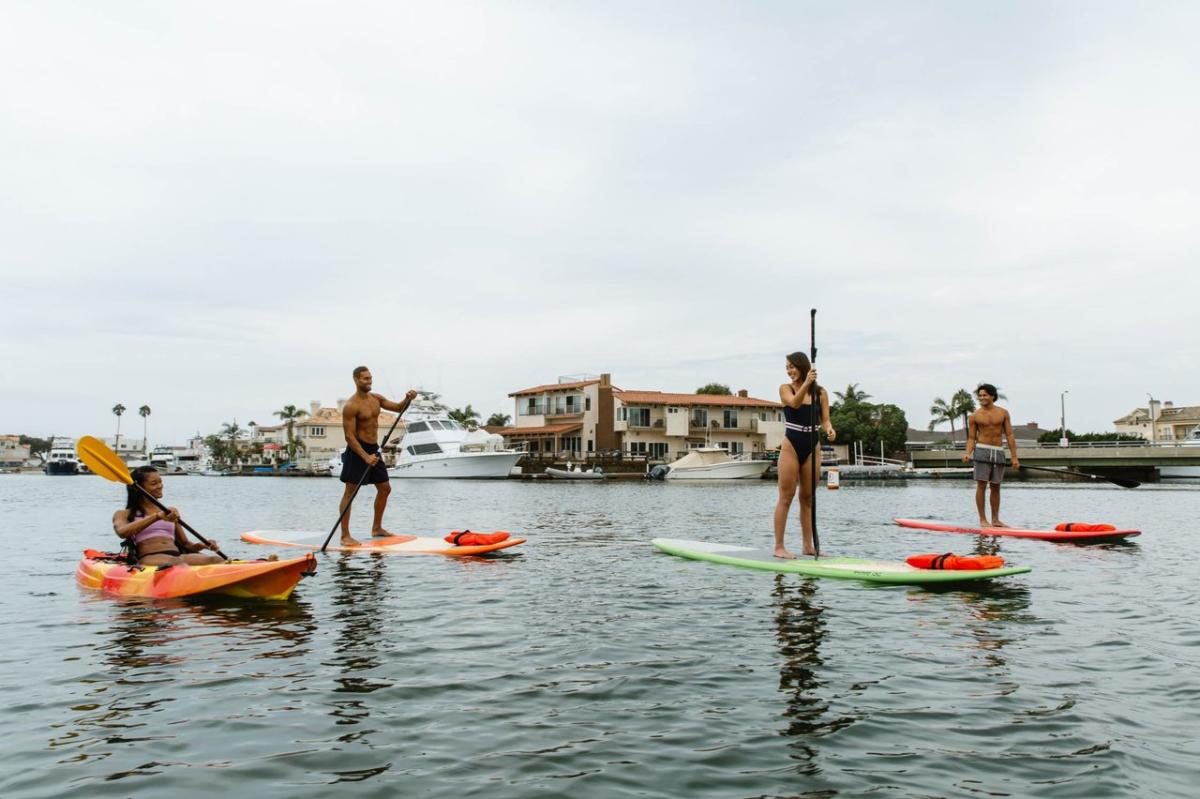 Depending on the weather, wear a swimsuit or shorts, and layer on a long-sleeve microfiber shirt if it's cooler.  Note that you're more likely to get wet on a kayak than on an SUP when you first sit down for launching; you may also end up splashing yourselves more as you paddle your kayak, since you are sitting lower in the water than if you were standing on a SUP.
OEX SUNSET BEACH
For kayakers and paddle boards rentals and sales, check out OEX Sunset Beach (16910 Pacific Coast Highway). OEX, short for Ocean Express, has been owned and operated by Andrew Allen for the last 10 years. Adjacent to a nice wide beach with shallow entry, its launch area is ideal for even first-time paddlers.
OEX has some 50 single and double, sit-on-top Hobie Malibu kayaks for rent, plus 55 Art in Surf SUPs in a variety of sizes all geared for beginners -- wide, heavy and very stable. The shop also has Hobie paddle kayaks for rent, ideal for fishermen who want their hands free to tend their rods. Allen's staff walk you out to your board or kayak, size you up for your paddles, and review the basic strokes and safety rules. Don't forget to review the map of the harbor and its canals and ask about the best routes to take according to how much time you have.
OEX is open 9 a.m. to 5:30 p.m. daily year-round, "rain or shine." Rental rates for kayaks are $15 for two hours for a single kayak and $25 for a double kayak. Hobie pedal kayaks rent for $25 for two hours; doubles for $50 for two hours. SUP's are $15 for the first hour, and an additional $5 for every additional hour. Ask about special rates for full and half-day.
Rentals are limited to Huntington Harbor, unless OEX approves your skill level and means of transport. The shop does not rent wet suits, tie downs or any other means of transport.
Contact OEX, 16910 Pacific Coast Hwy., Sunset Beach; 562-592-0800.
HUNTINGTON HARBOUR BOAT RENTALS

Another block north on Pacific Coast Highway, Huntington Harbour Boat Rentals, also rents SUP and kayaks, and is currently the only place to rent Duffy electric boats in Huntington Beach. Especially popular for cruising the holiday-decorated canals and boats in December, the company has six Duffy electric boats for rent. There are eight-passenger boats renting for $170 for two hours, and 12-passenger models for $190 for two hours.
Rich Nortier, who has owned the business since 2012, says, "With just a short driving and safety lesson, customers are ready to roll." Same goes for renting from his fleet of 26 Bruce SUPs and 38 Hobie Malibu sit-on-top kayaks, he says. "Each of our friendly, skilled customer-service oriented employees will get you standing on a SUP or kayaking in no time." He notes that there is also nice, little beach next to its Duffy dock for launching the kayaks and SUPs – freshly replenished with sand.
SUP and kayak rental rates are $15 for first hour, $5 per hour thereafter on weekdays; on weekends, the rate is $15 each hour.  Weekend hours are 9 a.m. through 5 pm, and last rentals must be returned by 6 p.m. Weekday rentals are 10 a.m. to 3 p.m. (closed on Mondays October through May.) Check for rental hours on Duffy's, which are available later during the evenings, depending on the season.
Contact Huntington Harbor Boat Rentals, 16732 Pacific Coast Hwy, Sunset Beach. (562) 592-7877.
PRINCE CHARTERS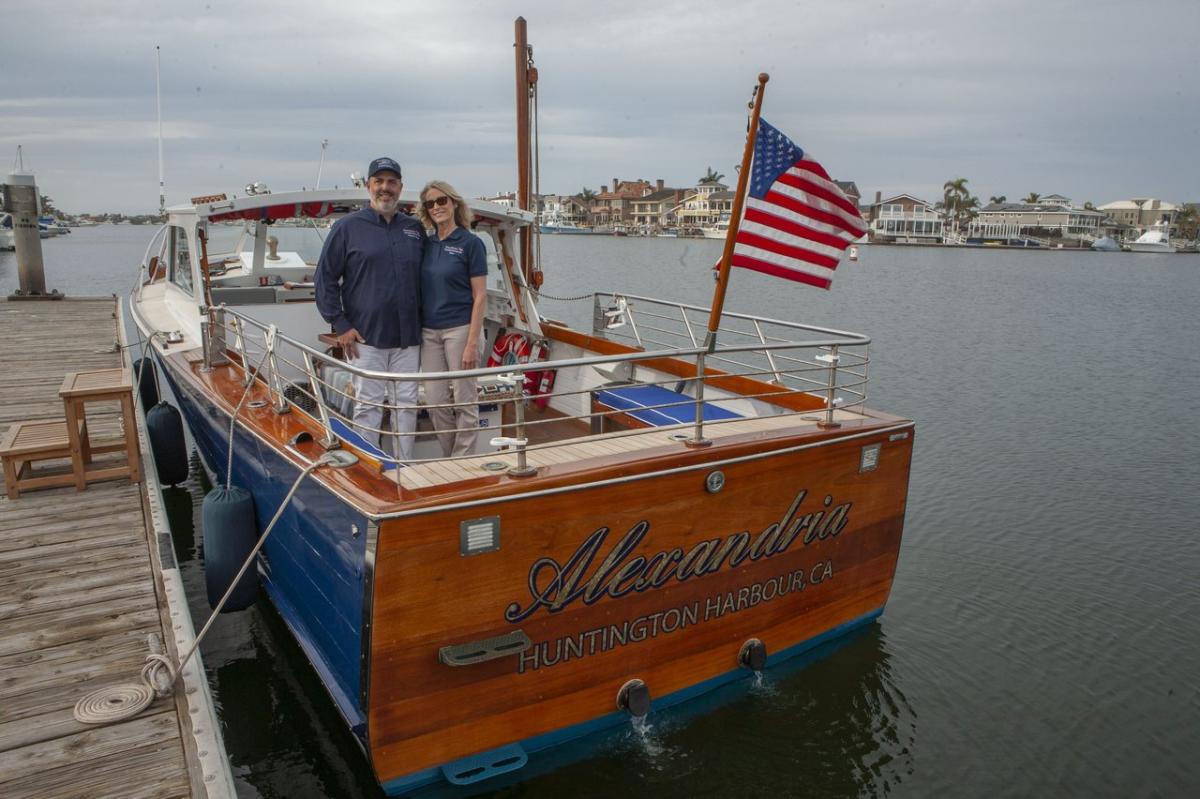 If you want to relax on a beautifully restored Classic Wood Boat, Prince Charters is the perfect Huntington Beach Harbour activity for you. Your private harbor cruise is guided by a licensed captain and offers beer, wine or champagne for sale on board. Catering options are also available. Book Now and up to 12 friends, family or coworkers can sit back, relax and experience a peaceful harbor cruise on a classic beauty.
Kick back and relax on a beautifully restored Classic Wood Boat, a Luxury Yacht, or a Harbor Cruiser…
Located in Sunset Beach, Huntington Harbour Boat Rentals has duffy boats, stand-up paddle boards…