Surf City Surf Dog in Huntington Beach
September 25, 2021
8:00 AM - 3:00 PM
The annual Surf City Surf Dog event at Huntington Dog Beach features a multi-heat dog surfing competition, guaranteed to entertain and impress. The event is free to attend and spectate. Surf dog competitors will have twelve minutes to catch his or her top five waves and be judged by local celebrities and surf judges on confidence level, length of ride, and overall ability to ride the wave.
This unique canine sporting event not only features the world-famous dog surfing competition, but also family-friendly activities including pet adoptions, canine play zones, vendor booths, and food trucks. The series has benefited charities such as the French Bulldog Rescue Network, Westie Rescue of Orange County, Golden Retriever Rescue, Barks of Love, OCSPCA, and Huntington Dog Beach. Bring your family and four-legged friends for some fun in the sun!
Location 
Surf City Surf Dog will be held at Huntington Dog Beach. 
Huntington Dog Beach, 100 Goldenwest Street, Huntington Beach California
Registration 
Surf City Surf Dog Registration prices increase after August 6, 2021.
COVID19 Updates: 
The 2021 Surf City Surf Dog comPETition is planned to be IN PERSON. While you might not see the exact same event that you're used to, we are planning all we can to maintain the fun for our pawticipants while also following State and local guidelines to maintain a safe event. 
COMPETITION FORMAT
Individual surFURS (single dogs) compete in either Weight-Based or Shredder heats. 
WEIGHT-BASED - Includes both Owner-Launched and Handler-Launched surFURS
Owner and handler categories will surf together in weight-based heats in the prelim rounds and in the finals they will be separated into owner or handler heats.
SHREDDER - Advanced/pro surFURs that are owner-launched.
TANDEM - Double the fun in tandem division(s):
Dog/Dog (2+ dogs)
Dog/Human
Dog/Human SUP
Registration includes a super cool collectors t-shirt and medal. There are limited surFUR slots within each heat, so register early! Registration will close (if not sold out) on Monday, September 20!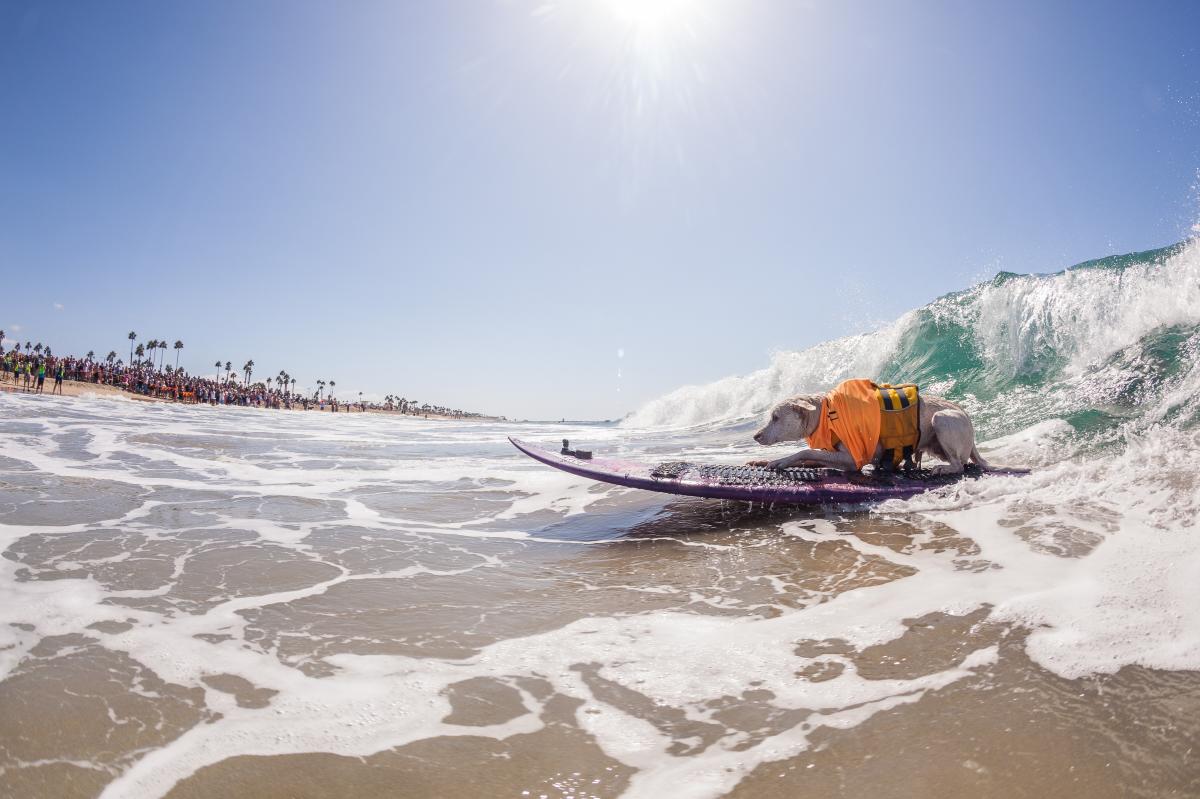 Dog Friendly Hotels
Dotting Pacific Coast Highway are pet-friendly resorts in Huntington Beach, California.
Charity Pawtners
$10 of each surFURS registration is donated directly to their official charity pawtners. Each surFUR can donate and also raise additional funds during the registration process. Please consider fundraising for Surf City Surf Dog's charity pawtners below.
Spectators 
Surf City Surf Dog is FREE to attend! Bring your family, pups &  friends, and check out the action.