UPDATED APRIL 19, 2023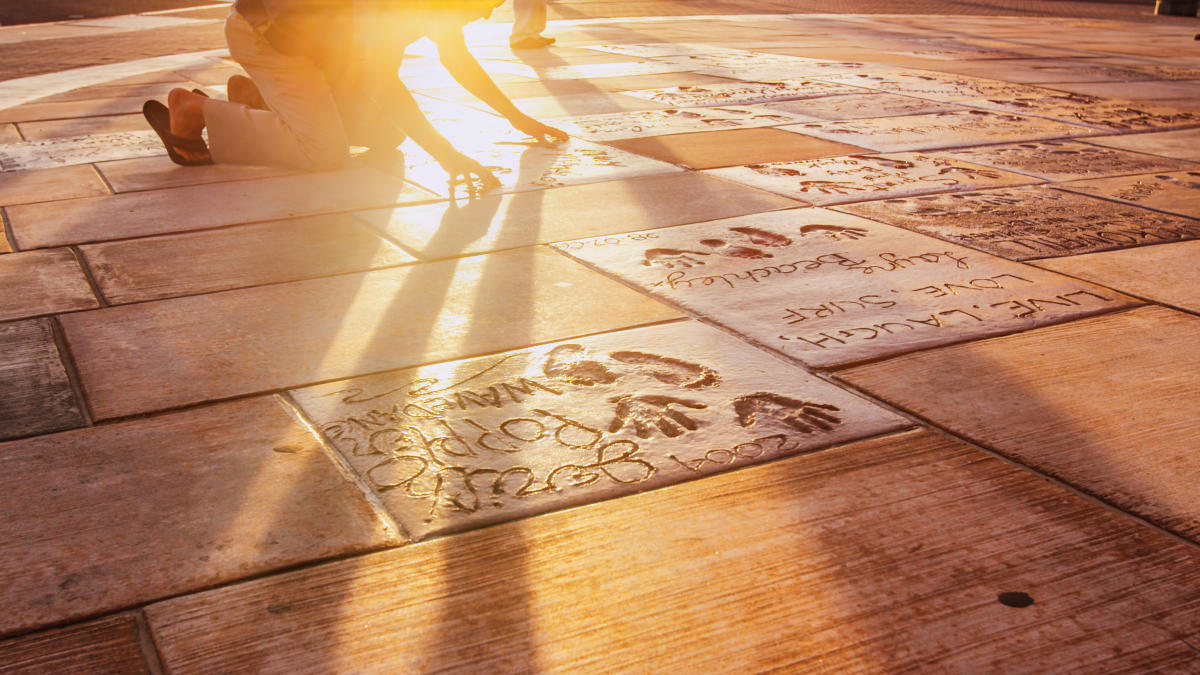 Photo credit: Jennifer Herron
Huntington Beach is the official Surf City USA—for good reason. Our rich surf heritage dates all the way back to 1914, when George "Father of Modern Surfing" Freeth first demonstrated surfing at the pier. Since then, the city's surf culture has evolved through decades of legendary surfers, surf shops, surfboard shapers, and surfing contests. Evidence of our epic history can be seen all over town, from the Surfing Walk of Fame (along the sidewalk next to Jack's Surfboards), Surfers' Hall of Fame (in front of Huntington Surf & Sport), and, of course, the International Surfing Museum.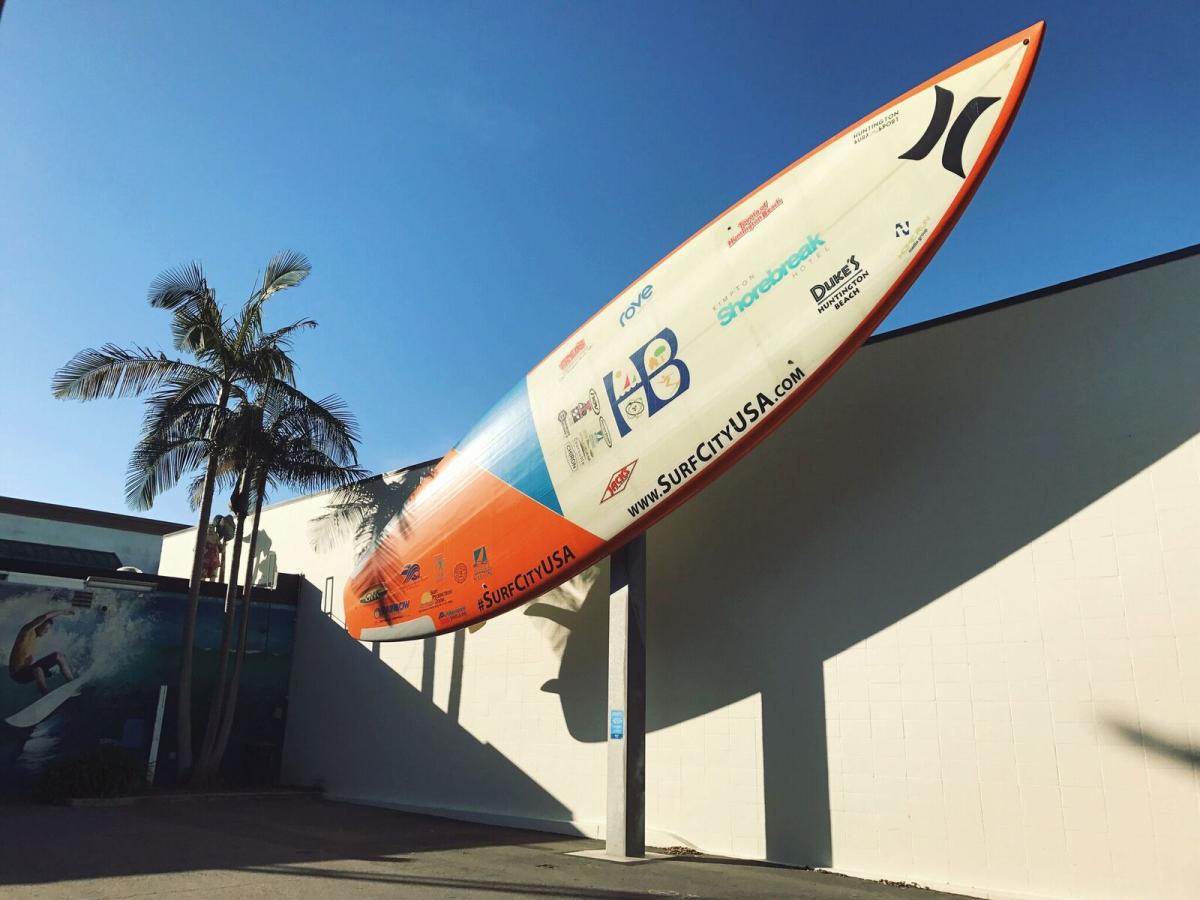 Photo credit: Jennifer Herron
Founded by surf lover Natalie Kotsch in 1987, the renovated nonprofit museum has since seen countless rotating exhibits celebrating the past, present, and future of surfing. Murals of surfers and surfboard evolution adorn the iconic art deco building's exterior, and above the free parking lot, you can't miss the World's Largest Surfboard, proudly holding the Guinness World Record at 42 feet long, 11 feet wide, 16 inches thick, and a whopping 1,300 pounds.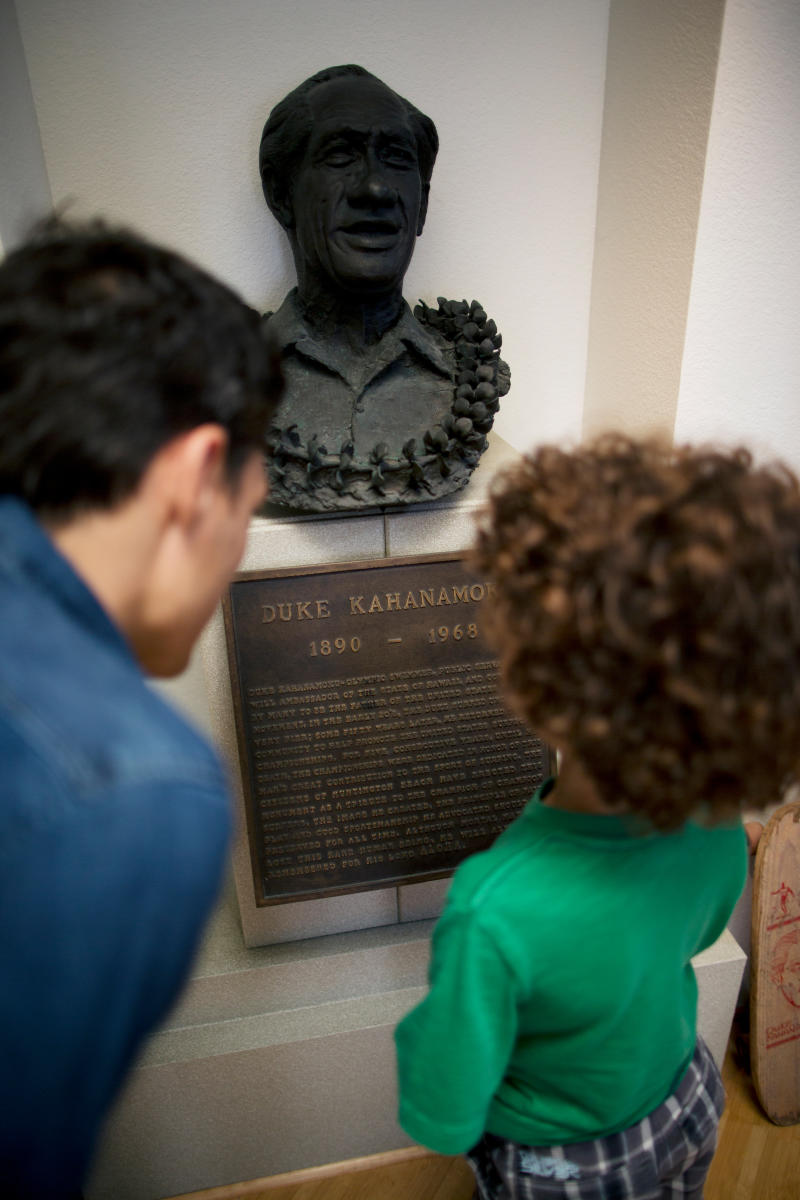 ​Photo credit: Jennifer Herron
Inside you'll find some of the best surf culture memorabilia in the world. Relics like Duke Kahanamoku's and George Freeth's surfboards, a cornerstone from the 1914 Huntington Beach Pier, and a catalogue of surf rags, from The Surfer's Journal to Surfer, make up the permanent collection—as do numerous donated surfboards hanging from the rafters. Also housed inside is a cozy theater, a gift shop, and a Welcome Center stocking free maps, guides, and brochures all about Surf City USA.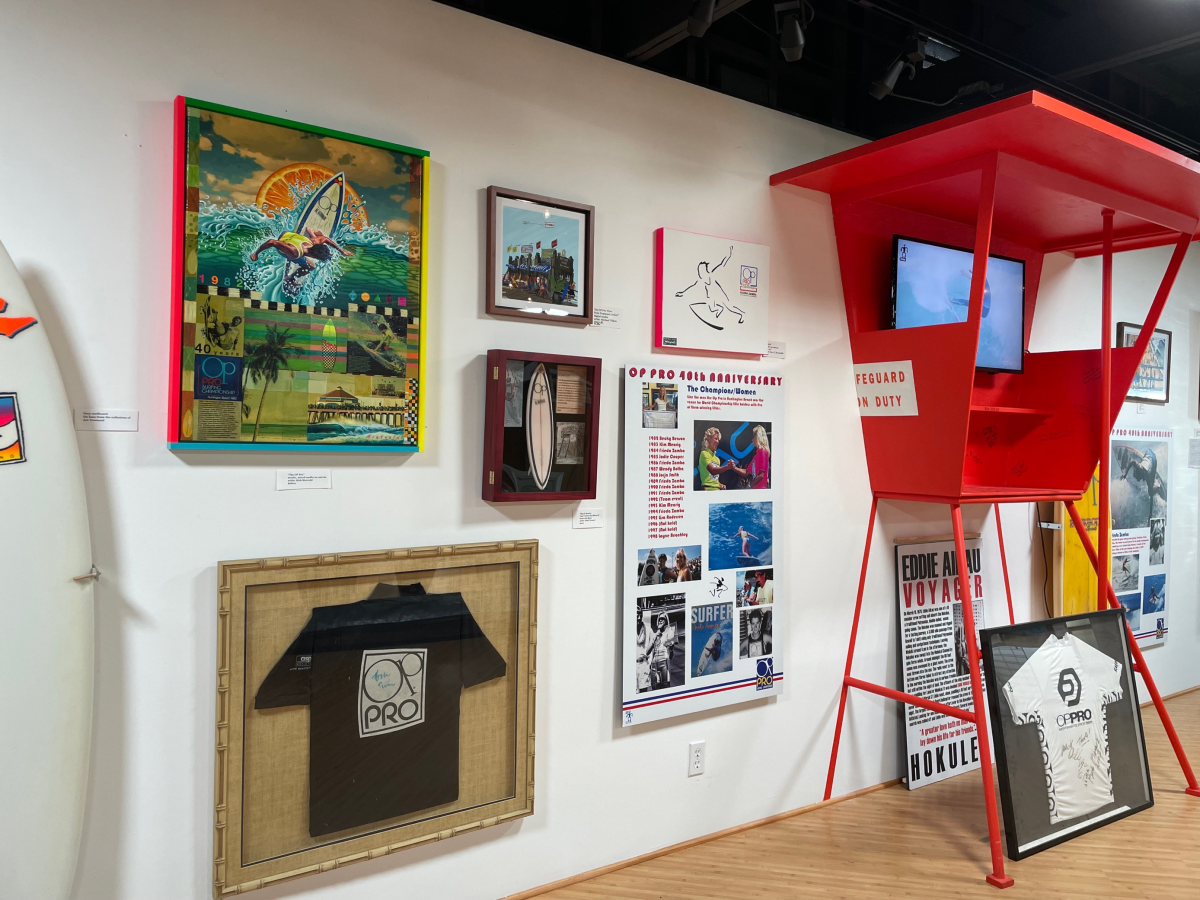 Carefully curated exhibits punctuate the museum's mission statement: "Preserving our history, culture and looking towards the future of surfing while protecting our surfing playgrounds and supporting our next generation of groms." Currently on display is the "Op Pro 40th Anniversary" exhibit, which will be on display through 2023. It highlights the evolution of the Op Pro surfing tournament and how it has shaped modern pro surfing.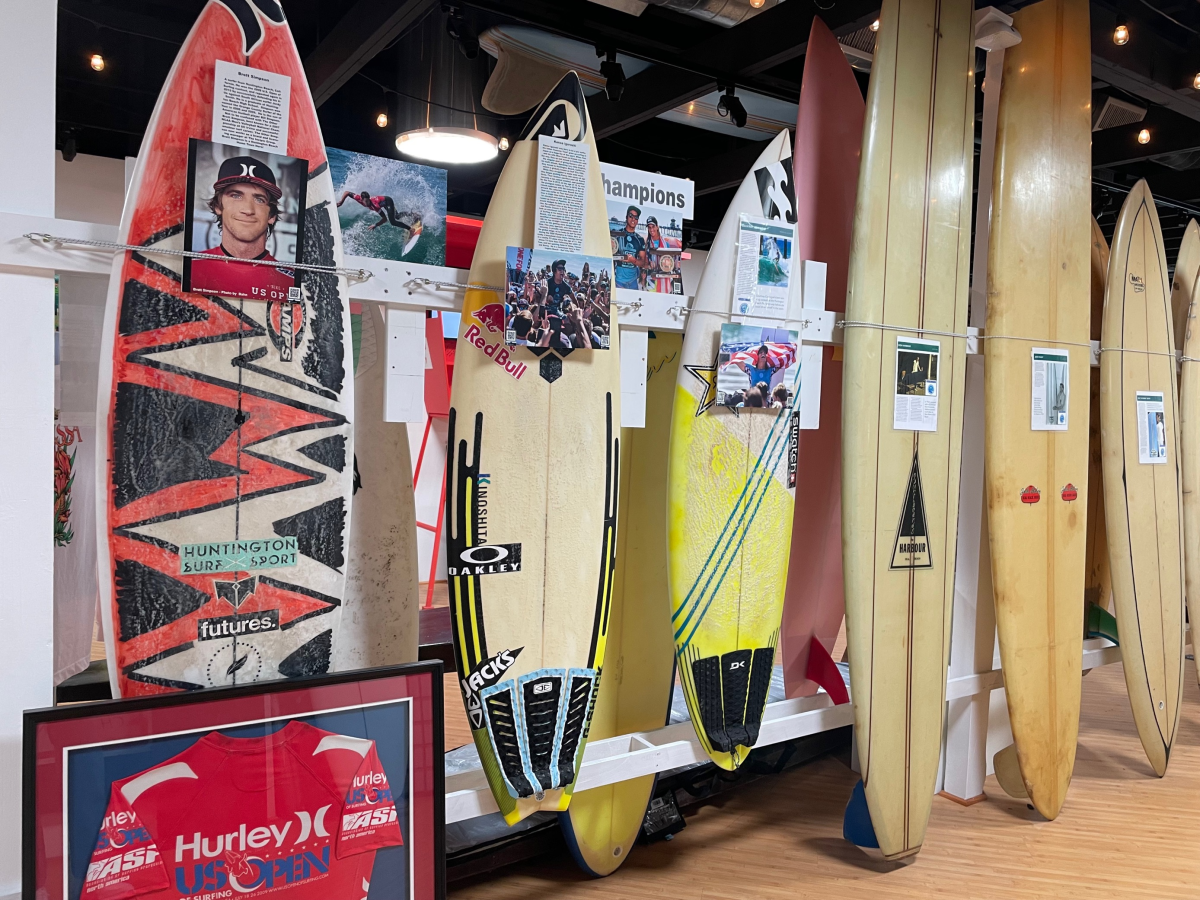 The museum also hosts various events throughout the year, including the annual Surfin' Sundays. Held at the Huntington Beach Pier Plaza, the rockin' concert series features live surf music with the Pacific Ocean as its backdrop. Family-friendly and free, the 2023 lineup entertains twice a month from 11 a.m. - 6 p.m.  
2023 dates:  
April 15 & 16, May 20 & 21

June 24 & 25, July 15 & 16

August 19 & 20

September 9 & 10

October 7 & 8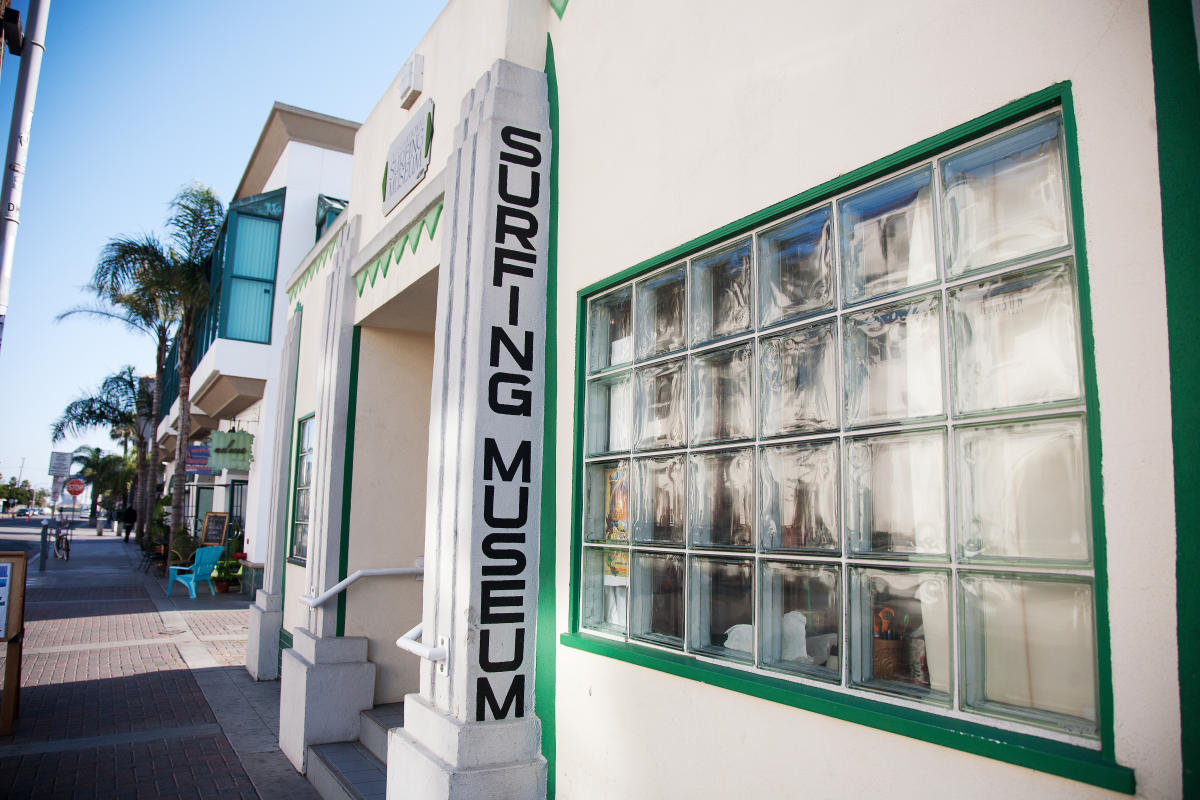 ​Photo credit: Jennifer Herron
The museum also features a "Surf Art Corner" with art from local Huntington Beach artists. The art is available for purchase, and there are prints of the original paintings available for a cheaper price in the gift shop! The museum is also one of the only spots downtown where you can get an iconic Reyn Spooner Aloha shirt. 
Admission to the dog-friendly museum is free for everyone, and donations are always welcome. Hours are Thursday through Sunday from 11 a.m. - 5 p.m. The museum is located at 411 Olive Avenue, Huntington Beach, CA 92648, at the corner of Olive and 5th Street. Contact the museum at 714-960-3483. 
One thing is certain: If you're not a fan of surfing upon entry, you will be when you leave.