ANY OF HUNTINGTON BEACH'S parks offer a high dose of nature. With year-round warm weather makes hiking an enjoyable activity during all seasons. From the beaches to the parks and ecological reserve, Huntington Beach offers many hiking trails to experience the outdoors. The next time you're looking for a getaway in Surf City USA, head to the various parks in the city and bring your hiking shoe to enjoy the great outdoors of Huntington Beach.
Bolsa Chica Ecological Reserve is first up on the list, in part due to its sheer size. It covers roughly 1,300 acres of land. There are 30,000 number of people who visit the Bolsa Chica Ecological Reserve each year. With 321 species of birds spotted in the past decade, makes the reserve not only a place where hikers enjoy going but also bird watchers. Habitats include open water, mudflats, salt marsh, coastal dunes, seabird nesting islands, riparian, and freshwater marsh. There are 5 miles of public hiking trails, which include many scenic overlooks throughout the reserve. 
There are three parking areas to access the trails at the Bolsa Chica Ecological Reserve. See below.
The Bolsa Chica Ecological Reserve Parking Area
The Bolsa Chica Conservancy Parking Area
Brightwater Trailhead Parking Area
Adventures of all kinds await within the sprawling 350 acres in the heart of Huntington Beach. Huntington Central Park is the largest park in Orange Country with peaceful open grass and paved paths, making it a perfect hiking destination in Surf City USA. The park is covered in extensive tree and flower plantings with walking trails through butterfly and hummingbird gardens, redwood trees, meadows, and a freshwater wetland. Afterward, fuel up at Kathy May's Lakeview Cafe or Park Bench Cafe located within the park.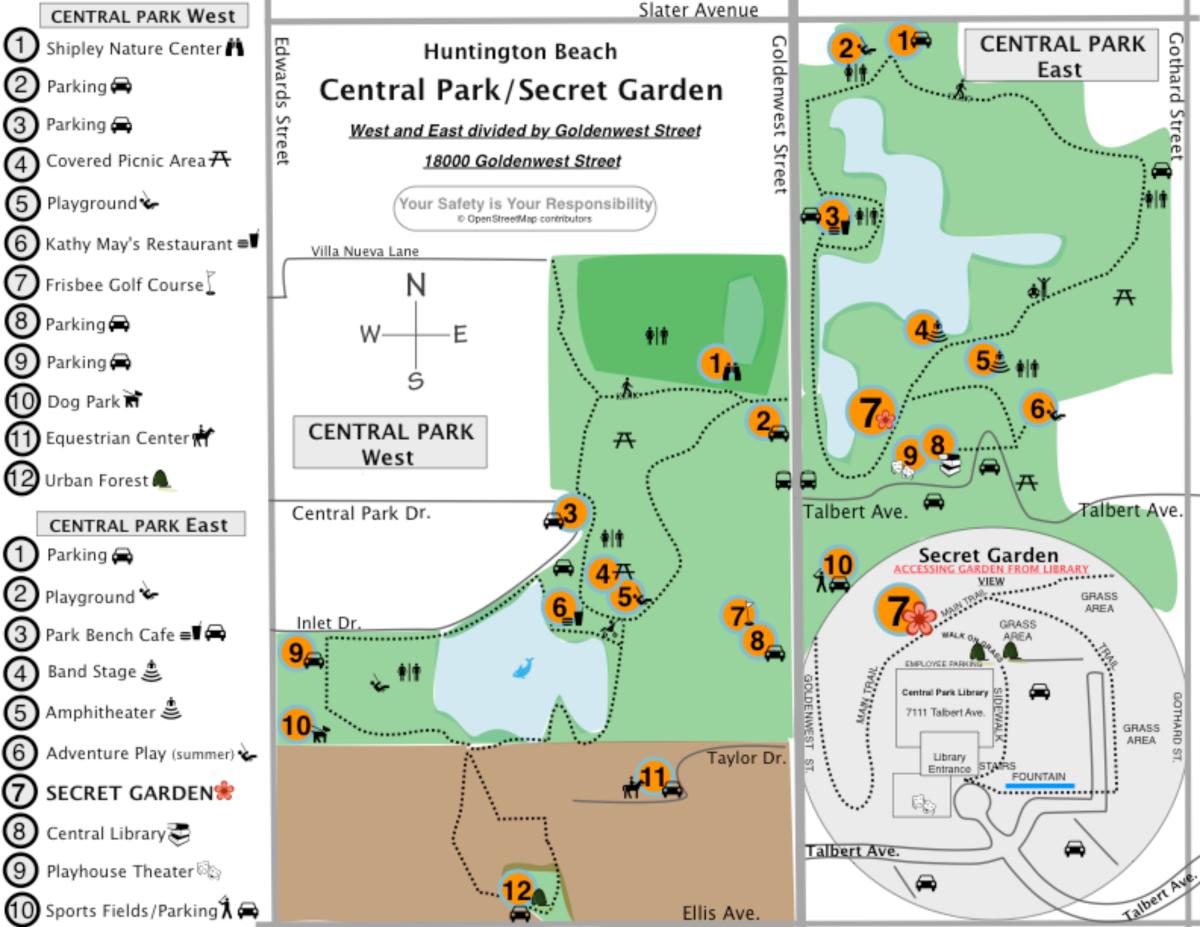 3. Huntington Beach Boardwalk 
Located along the beaches of Huntington Beach, the Huntington Beach boardwalk is a 10-mile trail along the coast of Surf City USA. Walkthrough Sunset Beach, Bolsa Chica State Beach, Huntington Dog Beach, Huntington City Beach, and Huntington State Beach. Even take a stroll along the Huntington Beach Pier. It is a half-mile walk to the end and back. To end it, fuel up at one of the beach concession stands along the way.