Oktoberfest in Huntington Beach at Old World Village
September 8 - November 3, 2019
Wednesdays & Thursdays - 6:30 PM - 10:30 PM // Fridays & Saturdays - 6:30 PM - 1:30 PM // Sundays -  2:00 PM - 7:30 PM
Old World Village in Huntington Beach has been host of Orange County's Biggest Party since 1977! This year's Oktoberfest promises to be the best celebration yet, offering authentic German Food (voted "Best Bratwurst" in California), imported German Beers, German Bands straight from Germany, and other festivities, competitions, games & more. 
Tickets
SUNDAYS are Kinderfest (Family Days) and feature our World-Famous Weiner Dog Races. (2:00-7:30pm)
Oktoberfest Admission is FREE on Wednesdays & Thursdays.
Friday and Saturday hours are 6:30pm-1:30am.
 Tickets range from $5.00 to $25.00 depending on the date.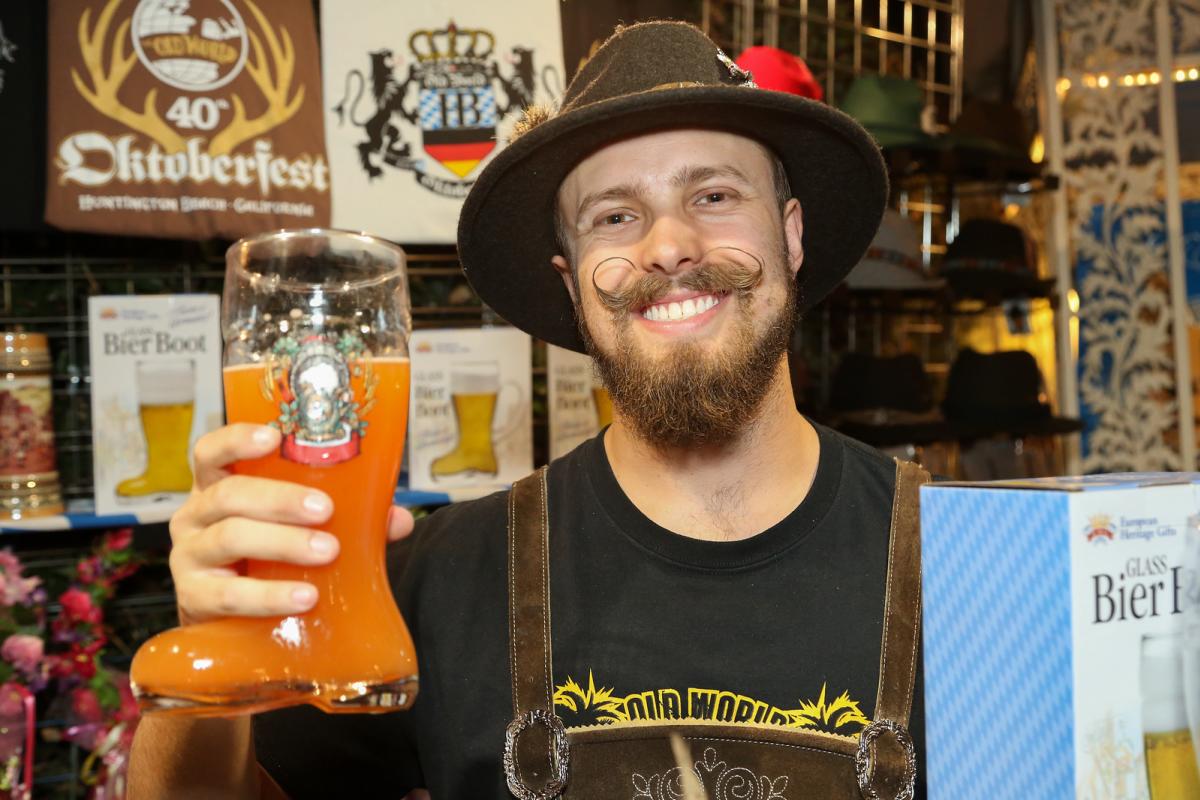 VIP Tables
VIP Oktoberfest tables range from $100 to $200 depending on the day. Purchase your VIP table here.
But First, Some Important Side Notes:
* You VIP Table purchase DOES NOT INCLUDE YOUR GENERAL ADMISSION into Oktoberfest.  You can purchase tickets at the gate (there may be a line) or buy your FAST PASS Ticket(s) online (no waiting in line!).  
* Tables purchased within a certain Table Area (for example: Band area Tables) can be selected on a first come, first choice basis......so ARRIVE EARLY if there's a very specific table you're eyeing.  
* VIP Table purchasers will check in at the VIP Check-In Table next to the Festival Hall.  We recommend you have your order confirmation email with you just in case.  We will also be able to check you in under the purchaser's last name.
* Usage and terms and conditions regarding Table Purchases can change without notice.  If you have any questions or concerns, please email us at Info@OldWorld.ws or give a call at (714) 895-8020 x 108.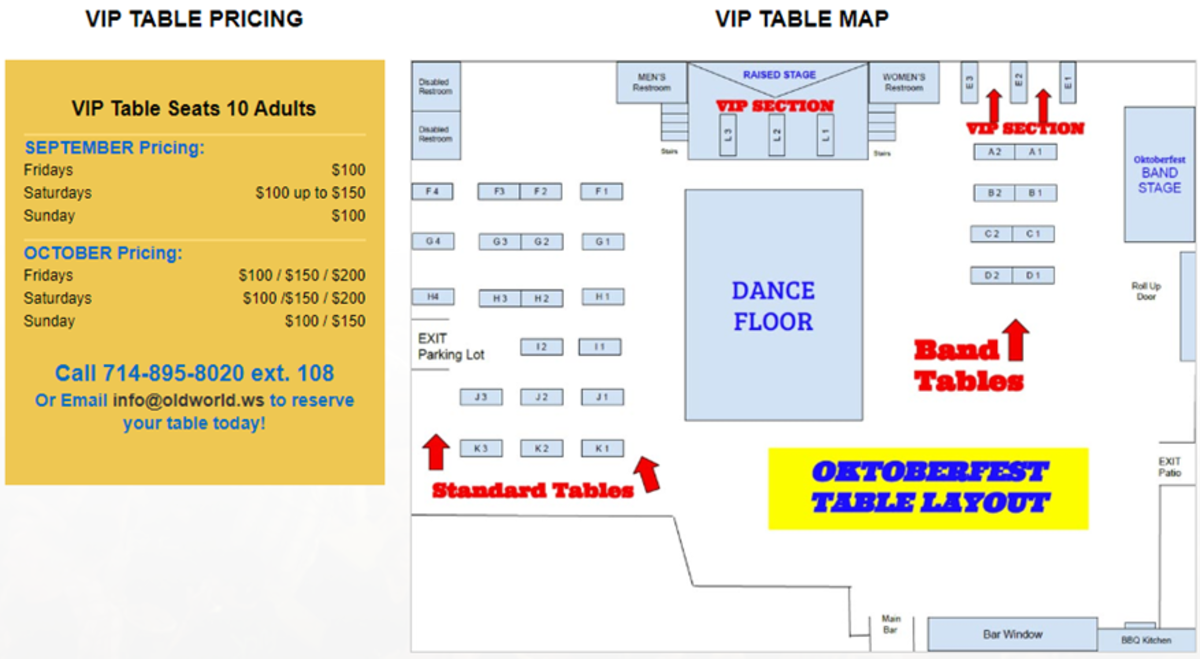 Location
Oktoberfest in Huntington Beach California is located in Old World Village. 
7561 Center Ave, Huntington Beach, CA 92647
Wiener Dog Races
When: Every Sunday from 3pm - 4pm during Oktoberfest

Where: Old World Beer Garden

Admission to Oktoberfest on Sundays & to watch the races:

Oktoberfest general admission tickets are sold at-the-door OR you can buy Fast Pass tickets sold online.Under 21 you must be accompanied by your parents. No exceptions.
HOW TO REGISTER YOUR DOG:
If you have a Dachshund you'd like to enter in a race, call Inge McKellop (The Wiener Dog Store) at (714) 402-7327.
You can also go to the Wiener Dog Store #38 to register your dog.
The Wiener Dog Store will register your dog and give you an entrance ticket that will allow you to enter at no cost and bypass the General Admission Line to enter through a VIP line. During Oktoberfest, you will stand in the FAST PASS Line.
Only 1 entrance ticket per dog registration.
Additional guests (friends & family members) coming to watch the race must purchase their own general admission tickets (sold at-the-door). During Oktoberfest, FAST PASS tickets (sold online) are available for purchase.
Kinderfest
The kids can enjoy the dog races, carnival games, face painting, a bouncy house, and join everyone on the dance floor for everyones favorite song, the Chicken Dance. While the kids are having fun, the adults can enjoy the our great selection of German Beers, and our new menu includes some amazing sausages you'll love. Please note: Kinderfest on Openind Day (September 8) and Final Day (November 3) is from 2pm to 6pm (doors open at 1pm).
General schedule: Doors open at 1pm, band begins at 2pm and Dog Races begin at 3pm.
Admission includes: Entrance, viewing of the Dog Races, and live German Oom-Pa-Pah band.
There are additional charges for: Carnival games, face-painting, bouncy house, food, drink and treats.
Bring your four legged friends! On Sundays, dogs 25lbs and under, are welcome to the Oktoberfest beer garden and village area. Bring your four legged friends with you to enjoy the outdoor festivities! Please note that no dogs are allowed inside the festival hall. All dogs must be on a leash at all times. Any recovered Service dogs are welcome.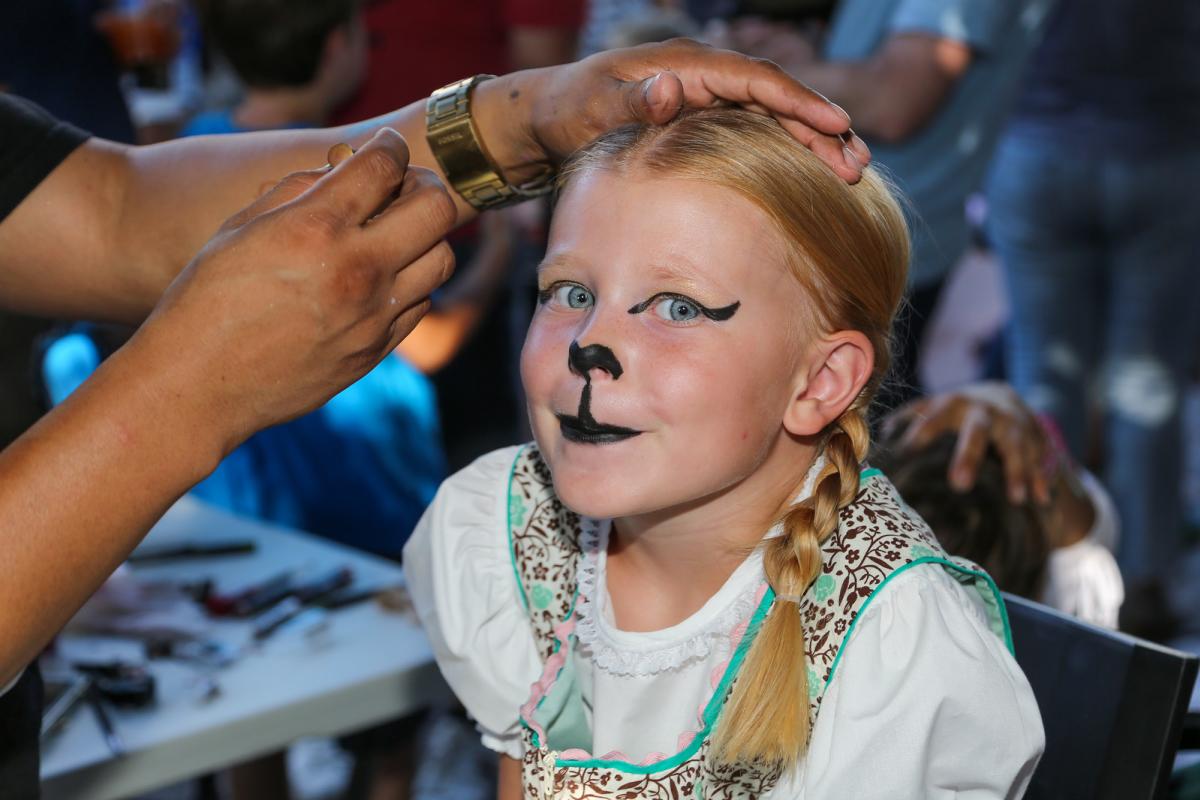 Oktoberfest Parade 
Sunday September 29, 2019 at 2 PM
Old World's Oktoberfest Parade is open the public.
The Parade will begin gathering at 1pm at Bella Terra shopping mall in Huntington Beach.
All Parade participants will start lining up at 1:50pm
The Parade will begin marching at 2pm from Bella Terra, over to Old World Village, and arriving at Old World Festival Hall.
The Master of Ceremonies will insert the first tap into the first keg, and with a cry of "O'zapft is" — "It's Tapped," Old World's Oktoberfest will be opened to the public.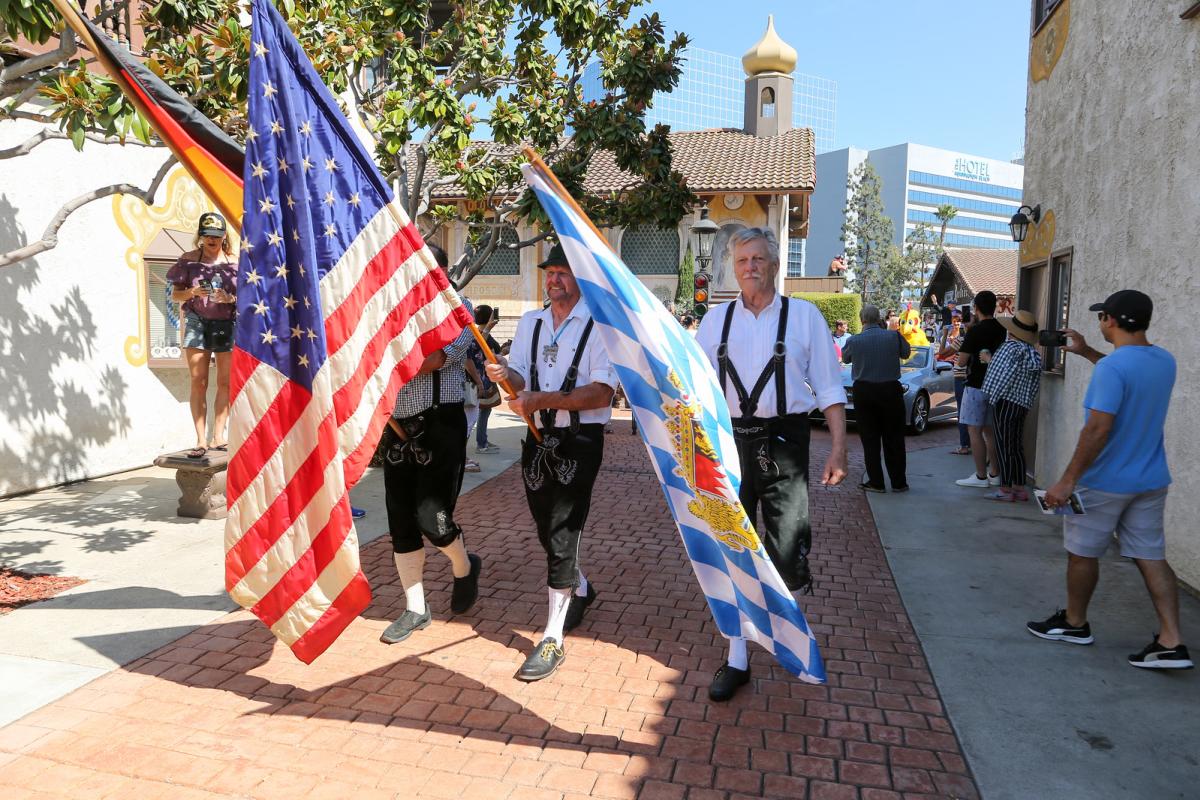 Explore more of Huntington Beach