In April 2019, NBC called pickleball "the fastest growing sport you've never heard of." Now in 2020, whether you've heard of pickleball or not, it's here, and the people are here for it. Huntington Beach has welcomed pickleball since 2007, and is considered Orange County's flagship city for the popular paddle sport. We boast dedicated courts, classes, a tournament, and the Surf City Pickleball Society.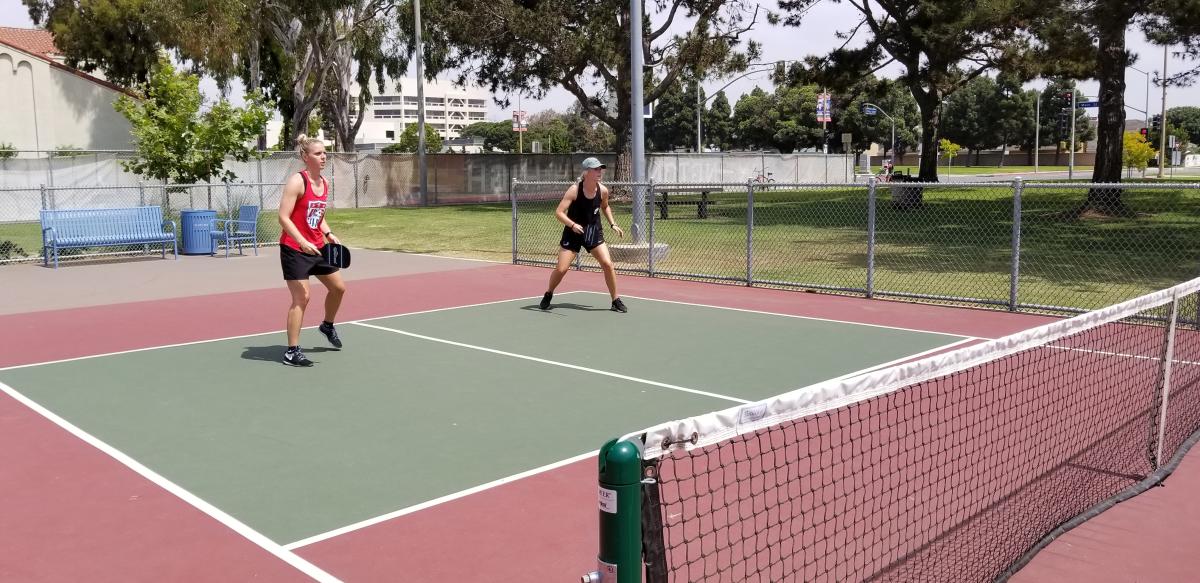 It all started in 1965 when two dads—and U.S. Congressmen—Bill Bell and Joel Pritchard invented the game in a backyard on Bainbridge Island in Washington state. They named it after Pritchard's family dog, Pickles, and it has since become an increasingly favored family sport across America.
Offering a fresh take on one of Surf City USA's favorite words—paddle—America's beloved pickleball combines elements of tennis, badminton, and ping-pong, and is played with a graphite paddle and wiffle ball on a Badminton-size court. The rules are simple, making the game fun and easy to learn. The benefit of this affordable lightweight gear, smaller court size, and simplicity are that anyone at any age can play.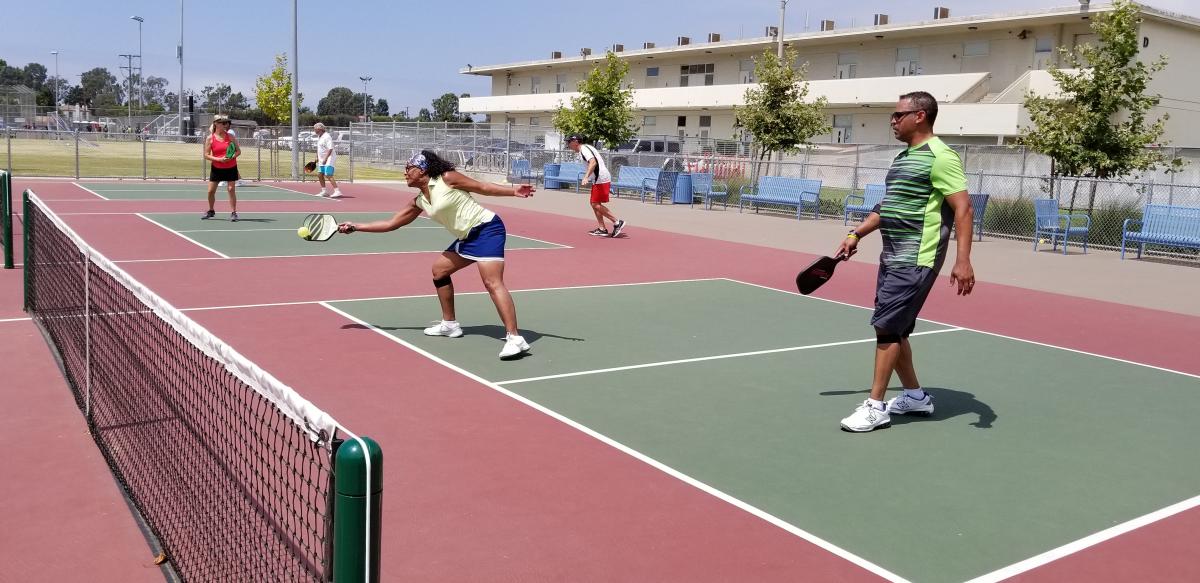 Keep up on Surf City USA news. Featuring updates about local events, restaurants, businesses and special hotel promotions, the Surf City USA e-newsletter is the best way to stay in-the-know on the latest and greatest in Huntington Beach.
Diana Abruscato, president of the Surf City Pickleball Society, and Les Taylor, vice-president of the Surf City Pickleball Society, have been championing the sport locally since 2013 and 2007, respectively. Acting as a liaison with the City of Huntington Beach, Abruscato scored four dedicated pickleball courts in 2017 at Worthy Park, which sits in the heart of Surf City USA at 17th and Main streets.
Worthy Park's four permanent outdoor pickleball courts are free to the public and open and lighted daily until 10 p.m. On Saturdays from 9 a.m. to noon at the park, the Surf City Pickleball Society hosts free open drop-in play for all ages and levels. Players need only bring court shoes and a smile. The Society provides paddles, balls, and rules review.
Additional courts in Huntington Beach are in the works, and not-just-your-grandma's sport is already being played in all local grade schools, middle schools, and high schools, as well as at local Golden West College.
"The sport is a destination sport," says Abruscato, who also serves as an International Pickleball Teaching Professional Association (IPTPA) Level II Certified Pickleball Teaching Professional, 4.5 tournament player, and co-advisor to the Edison High School Pickleball Club. "People travel the world to play pickleball," she says. Huntington Beach hotel guests interested in playing should connect with the concierge, who can arrange for free loaned gear, courtesy of the Surf City Pickleball Society.
For those interested in pickleball instruction, the City of Huntington Beach offers private and group adult beginning and intermediate classes, as well as youth programs for ages 8 and up, through HB Sands. Register online or in-person at any staffed community center. And guess who's teaching? That's right, our very own Diana Abruscato.