You've got your tickets for the inaugural Darker Waves Fest on November 18, 2023 and you're stoked! But perhaps you have a few questions in terms of where to go, where to park, what to bring, and so on. We've compiled a helpful guide of what to know before you head out to the daylong festival on the sand!
21301 Pacific Coast Highway
Darker Waves festival site is located on the beach across from The Waterfront Beach Resort, a Hilton Hotel and the Hyatt Regency Huntington Beach Resort & Spa on Pacific Coast Highway.
The beach, paved beach path, and City Beach parking lot will be occupied. Open beach will still be available about 50 feet past the lifeguard towers.
The event will consist of three performance stages. Each stage will face the ocean, and the main stage will be next to the Hyatt Regency's pedestrian bridge.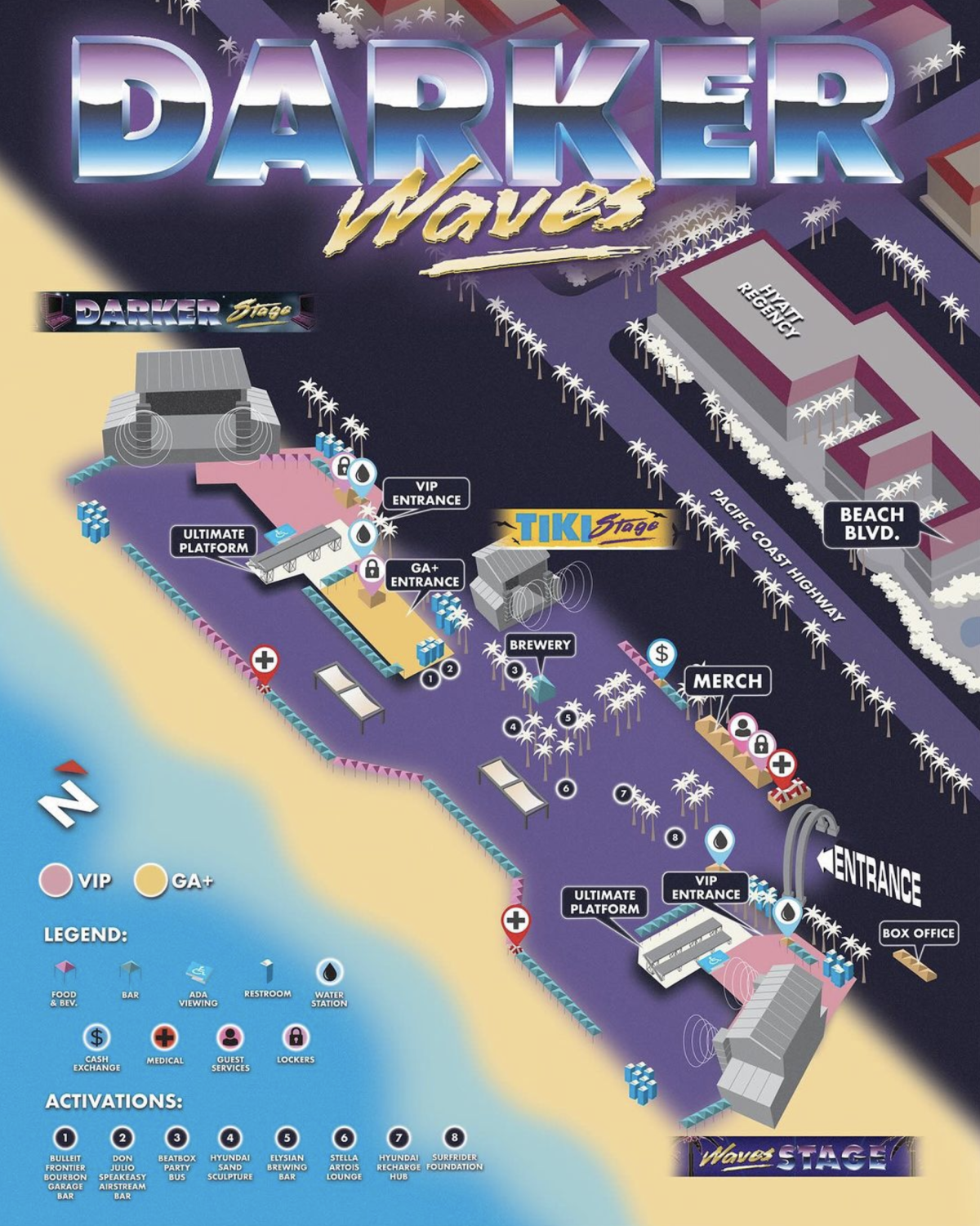 There are numerous parking options near the Pier and in Downtown Huntington Beach. Check out our official parking guide for more information.
If you live nearby, it's highly recommended that you walk, bike, use a rideshare service (Uber, Lyft, Circuit, etc.), or other means of public transportation. Rideshare pickup and drop-off will be on the beach side (south side) of the street on Pacific Coast Highway between Twin Dolphin Dr. and Beach Blvd. 
For your convenience, the festival will be providing free shuttles picking up at Pacific Coast Highway and Magnolia St. as well as Pacific Coast Highway and Brookhurst St. The shuttles will drop off patrons at Beach Blvd. and Pacific Coast Highway. Shuttles will begin at 10 a.m. and run until 10:45 p.m. Shuttles will run about every 15 minutes.
Guests and their belongings are subject to search upon entry. Help keep the lines moving quickly by leaving large bags at home. 
NO backpacks, purses, or bags are allowed to be brought into the venue, EXCEPT for the following:
Small clutch purses and fanny packs that are 6" x 9" or smaller do not need to be clear, but can have no more than one pocket. 
All other bags are larger than 6" x 9" must be smaller than 12" x 6" x 12" and clear. 
Hydration packs are allowed and do not need to be clear, but must be emptied of all liquid and have no more than two pockets in addition to the one holding the water reservoir. 
See a complete list of allowed and prohibited items HERE. 
Darker Waves is an accessible event. For any accessibility-related questions not answered in the guide, please email access@darkerwavesfest.com. They welcome and encourage all feedback and suggestions from patrons with disabilities. 
See the complete event accessibility guide HERE.