Like music is said to be a universal language, pizza is a universal pantheon of taste. Pizza-loving visitors to Surf City can rest easy knowing that Huntington Beach boasts a variety of pizza places poised to satisfy the diverse taste buds of visitors and residents alike.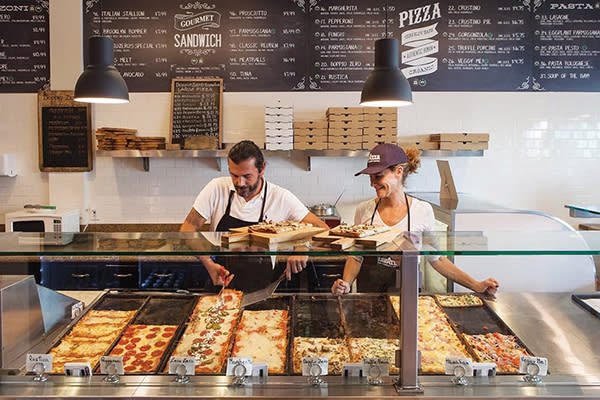 Photo Credits Orange Coast Magazine 
Zero Zero 39 Pizzeria
First up, Zero Zero 39 Pizzeria serves Roman-syle pies featuring organic ingredients on a focaccia-like crust made with ultra fine double zero flour - the inspiration for their name. Word of their authentic, rectangular cut pizza quickly spread and owners Francesco and Carlotta, quickly became the darlings of the surf community and mainstays of the downtown business community. For slices, long trays of unique pies such as Truffle Porcini, Rustica and Gorgonzola, along with more traditional combinations, are displayed behind glass as they are at sidewalk pizzerias in Italy. Generously sized sandwiches on house made rolls, salads, calzones, and a selection of pastas and home made lasagna round out the menu. Location: 221 Main Street (at Olive), Unit D. 714-969-2929. Open 10:00 a.m. to 10:00 p.m. Monday - Sunday, 10:00 a.m. to 3:00 a.m. Friday and Saturday.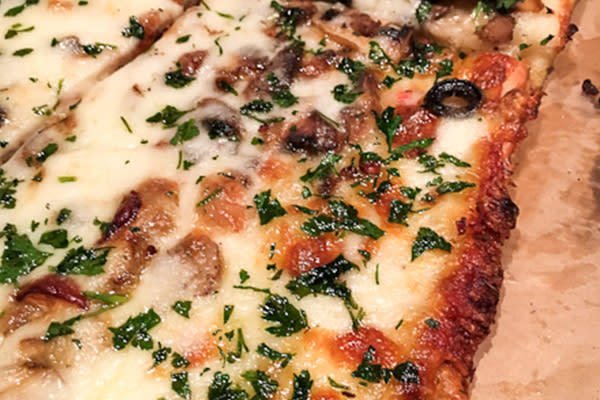 Zero Zero Truffle Porcini pizza
Perry's Pizza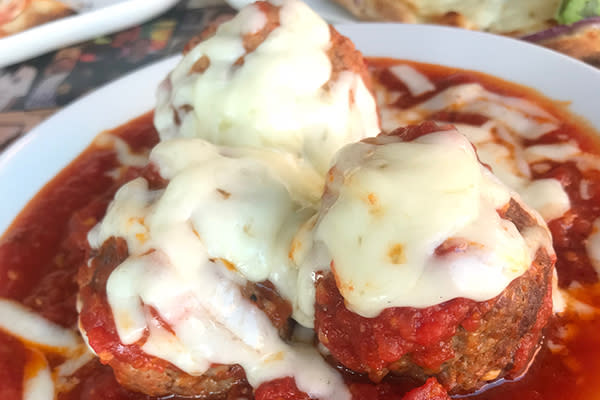 Perry's Meatballs
Perry's Pizza is known as the "Home of the Jug" for their milk jug beers - larger than a pint but smaller than a pitcher - you can quench your thirst with an adult beverage (beer and wine) while satisfying your pizza craving in a family-friendly restaurant. Family owned and operated since 1973, first at Newport Pier where, for forty years, they were THE place for pizza by the slice, and now in Huntington, stories and memories abound at Perry's. Their popularity originated with their Sicilian style pizzas which has expanded to three styles of homemade crust: Thin, Sicilian, and Gluten Free. The menu includes hot and cold sub sandwiches, a variety of salads, soups, spaghetti and lasagna, and even prime rib. Locals love the Wednesday Prime Rib dinner special followed by prime rib sliders on Thursday! Italian Sausage, Meatballs, Chicken Parmesan, French Bread, Marinara & Pizza sauces, and their popular Chocolate Chip Cookies are all made in house. Sister owners Dawn and Lynette proudly support the community by collecting donations for local organizations and hosting special hardship fundraisers.
Location: 21411 Brookhurst St. (Brookhurst and Hamilton). 714-593-2800. Open 11:00 a.m. - 10:00 p.m. Monday - Sunday, 11:00 a.m. - 11:00 p.m. Friday and Saturday.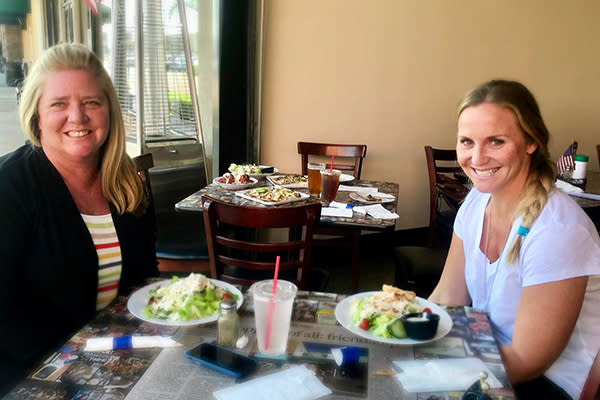 Perry's Pizza owners Dawn Bingaman and Lynette Swanson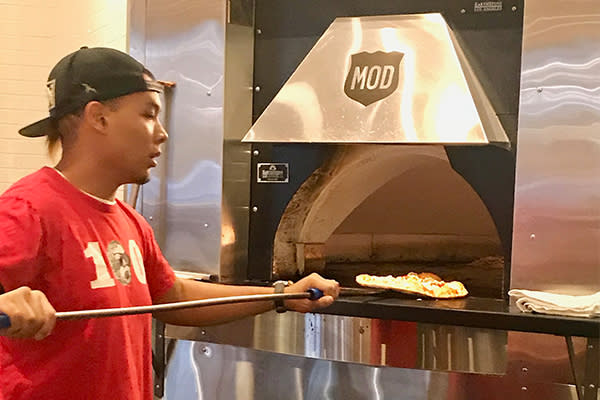 Mod Pizza Oven
MOD Pizza specializes in the design your own, fast casual pizza trend of one pizza, one price, and as many toppings as you want from the buffet of pizza ingredients before you. The concept is simple - line up like you would at a Subway or a Chipotle. Choose your crust, sauce, cheese, and toppings. The handcrafted pizzas are then fired in MOD's 800 degree display oven. Minutes later, you're presented with your very own customized pizza at a reasonable price of $8.47 for an 11" pizza. Or select from one of MOD's classic pizzas or design your own salad. MOD also offers milkshakes, house-made iced teas and lemonades, local craft beer and wine.
Location: Seacliff Village Shopping Center, 7051 Yorktown Ave, Suite 103. Open 10:30 a.m. -10:00 p.m. daily.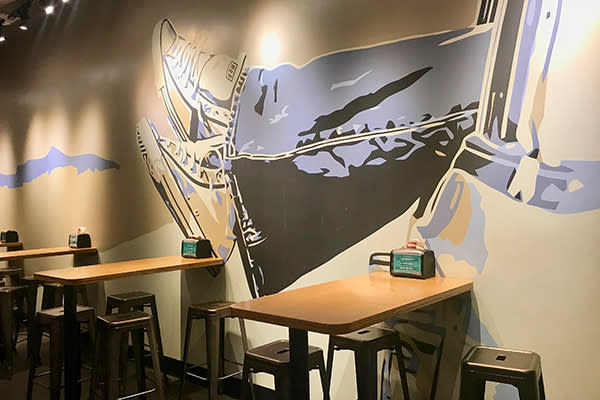 Mod Pizza Interior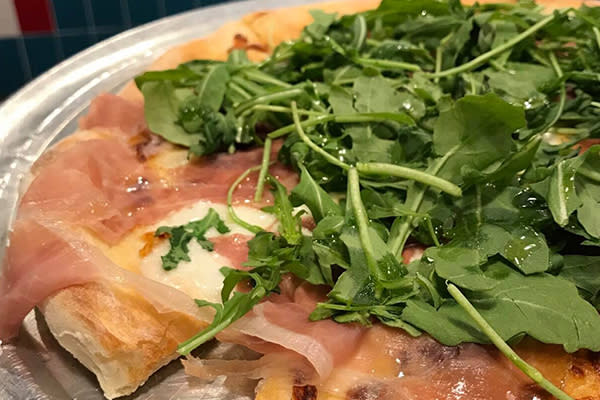 II Barone pizza
At Il Barone Sicilian Street Food you'll find authentic Sicilian pizza with Chef Daniele, who is 100% pure Sicilian, cooking up pasta and daily specials for you. Jonathon Barone leads the newest concept from his father, well-known OC chef and restaurateur, Franco Barone. Serving the most delicious whole pies and pizza by the slice, Il Barone also features incredible daily lunch and dinner specials from fresh Atlantic Salmon to Filet Wellington, salads, pastas, calzones and gelato! Wine and beer round out the menu in this warm and friendly dining spot at Pacific City inside Lot 579 food hall.
Location: Pacific City, 21010 Pacific Coast Hwy. (714) 374-1065. Open 11:30 a.m - 9:30 p.m. daily.
Finally, if mom and dad desire a sit down dinner of finer fare along with cocktails and an extensive wine list, but the kids insist on pizza, Cucina Alessa  and Bluegold feature more extensive menu offerings - Italian specialties at Cucina Alessa and California coastal cuisine with an ocean view at Bluegold - as well as fresh made gourmet pizzas.
Cucina Alessa: 520 Main Street. (714) 969-2148. Open 11:00 a.m. - 10:00 p.m. daily.
Bluegold - Pacific City, 21016 Pacific Coast Hwy. (714) 374-0038. Open 9:00 a.m. - 10:00 p.m. daily.