Grass Areas Along City Beaches Will Close Starting April 3
Beginning April 3, 2020, the City of Huntington Beach will be closing all grass areas along the City's beaches and on both sides of the bike path, between Seapoint Street and 9th Street.  This includes the large grass area between 9th and 11th Streets, and the Picnic Area located just south of Seapoint Street (see attached maps). 
These closures are being made in an effort to address overcrowding in certain areas and to facilitate safe social distancing practices in response to the COVID-19 situation.  As you are likely aware, Governor Newsom's Stay-At-Home Executive Order urges Californians to only leave their homes for essential needs and exercise, and to ensure that each person practices safe social distancing when outside their home to flatten the curve of coronavirus (COVID-19) cases.  Effective social distancing requires individuals to remain at least 6 feet apart. 
Enforcement of Grass Area Closures
To enforce these closures, the City will be installing 500 signs spaced 50 feet apart along the identified grass areas to clearly communicate these new restrictions to the community.  The large grass area between 9th and 11th Streets will also be fenced off to further discourage gatherings.  Tampering with or removing fencing or signs is considered a misdemeanor and violators will be subject to citation or arrest by the Huntington Beach Police Department.
The City is constantly evaluating the situation at our beaches, to determine if safe social distancing can be practiced.  To that end, the City has instituted a variety of measures to help facilitate a decrease in beach visitation so that we can further facilitate enhanced social distancing, with some of those measures including the closure of the Huntington Beach Pier, the closure of all City-owned beach parking lots, the installation of enhanced signage, increased police patrols, and hourly announcements about the need to socially distance from Tower Zero. 
Of note, given the current situation in Huntington Beach, and based on current regulations issued by the State, Orange County, the Public Health Official, and other medical professionals, the City is currently keeping the beaches open.  Multiple medical experts have also shared that in certain circumstances, going to the beach for exercise is not only fine among adults who are not at high risk, but should be encouraged, provided social distancing is possible and practiced at all times.  We also recommend residents get their share of outdoor time by walking in their neighborhoods to lessen the traffic in other public spaces such as the beaches and parks. 
If you encounter groups of people not minding social distancing requirements, please remove yourself from the area and enjoy one of the many other open space areas in our community.
Please be assured that the City is monitoring the situation daily, and if the circumstances change, we will certainly take proactive steps to respond.  We thank our community in advance for supporting the Stay-At-Home Order, which will save lives.  By working together as One HB, we will bring an end to this pandemic. 
For more information on City services and COVID-19 updates, please call our HB Ready Call Center at (714) 536-5511 or visit our website at www.HBready.com. 
Large Grass Area between 9th and 11th Streets: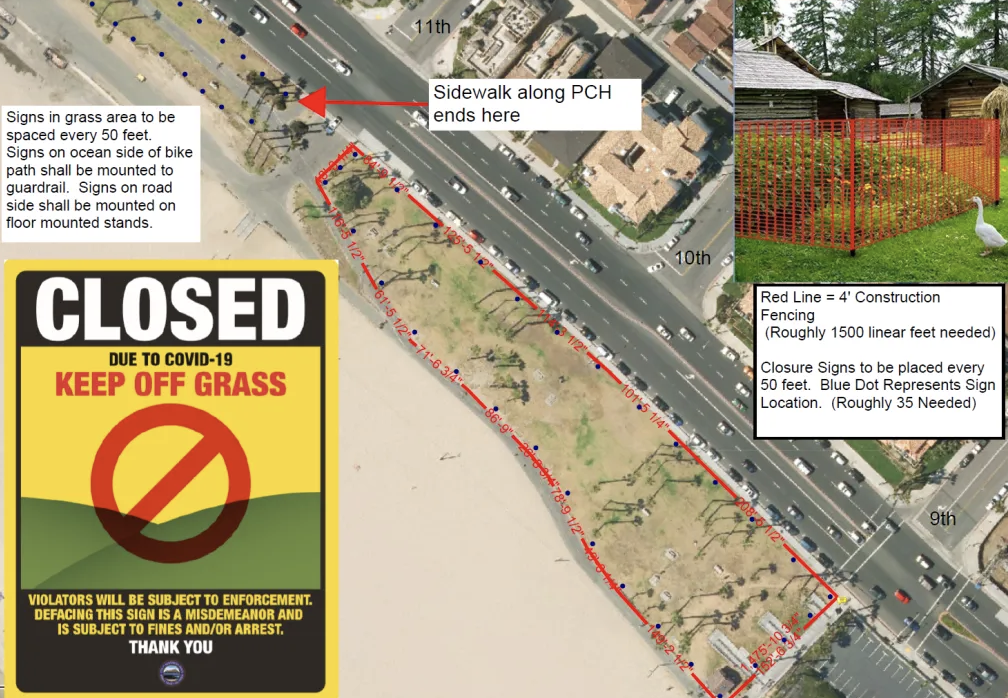 Picnic Area South of Seapoint Street: