The Waterfront Beach Resort, a Hilton Hotel Workspace
Work. Relax. Repeat. 
Welcome to your ideal Workspace at The Waterfront Beach Resort, a Hilton Hotel where you can get work done in a private room, with an ocean view, and the soothing sound of waves crashing right outside. Their newest private suite workspace provides the perfect blend between business and luxury - giving you the opportunity to vacation while you work.
PRICING:
Full Day Use (7AM - 6PM) = $149

Half Day Use (7AM - 12PM or 1PM - 6PM) = $99

Parking Fees = $9 Day Use per Vehicle

Book here or call 714-845-8000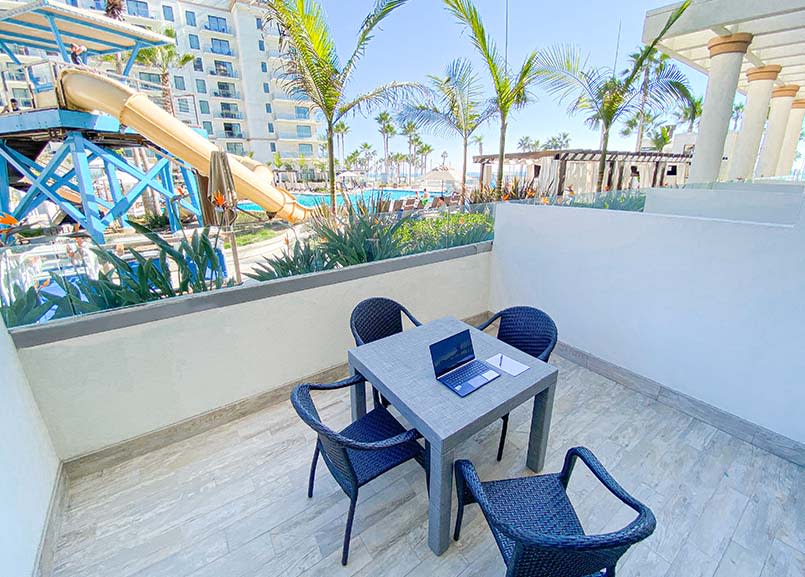 When you reserve their office space, you have access to a private patio, comfortable loungers, pet - friendly accommodations for your furry co-worker, hotel amenities access, a 20% dining discount, and much more. Take breaks in between business to sharpen your mind and release tension by utilizing our designated wellness area, go for a stroll on the beach, or give yourself a long lunch break and dine on the patio with a drink in hand.
Enjoy a change of scenery by getting away from your home office and stepping into ours, where relaxation and work go hand in hand. Their new workspace allows you to get business done the right way: in your own private beachside paradise.
OCEAN BREEZE PLEASE
Private patio with Ocean Views
Take your work outside on to the private patio space breathing in the fresh ocean breeze. Enjoy an extended lunch while outside and enjoy a front row seat of Surf City USA's beautiful beach. Book here.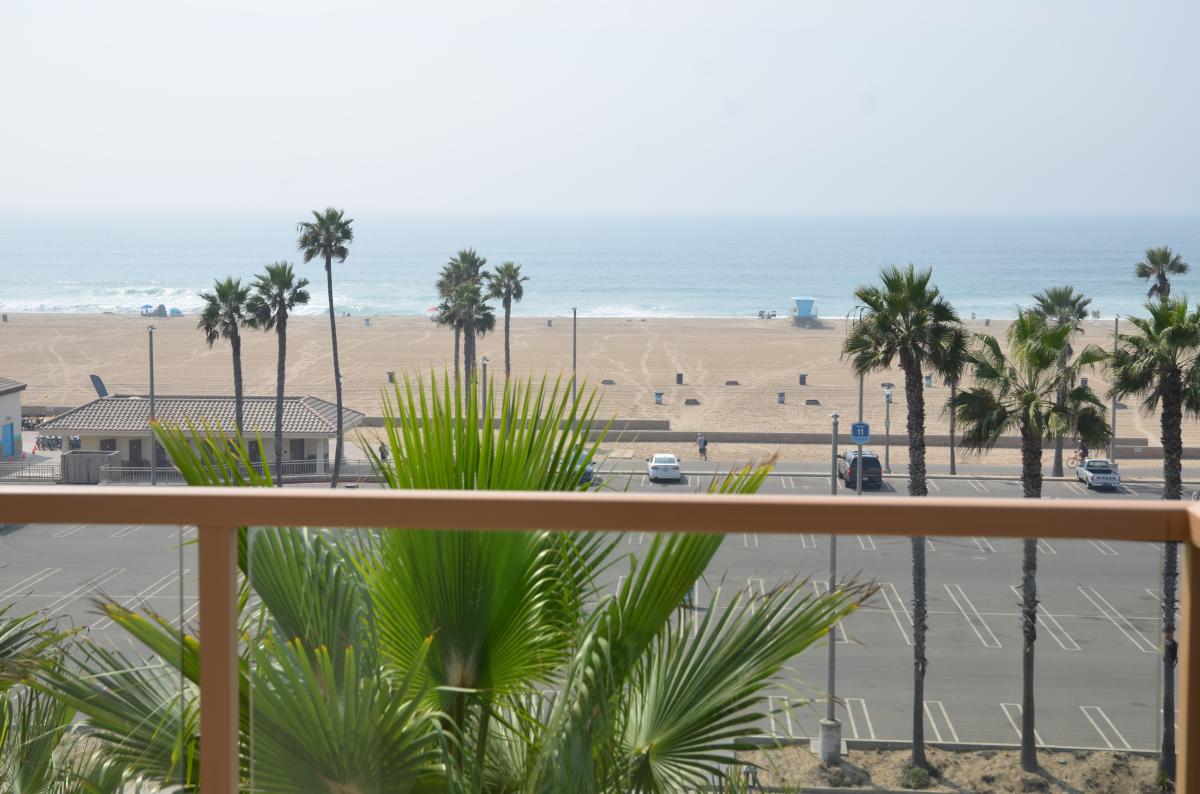 WELLNESS AREA: FIND ZEN IN BETWEEN BUSINESS
Private Wellness Area
Stay healthy in body and mind by utilizing this private wellness area. With complimentary water bottles, yoga mat, and a medicine ball - make time during your work day to center yourself and find Zen in between business. Book here.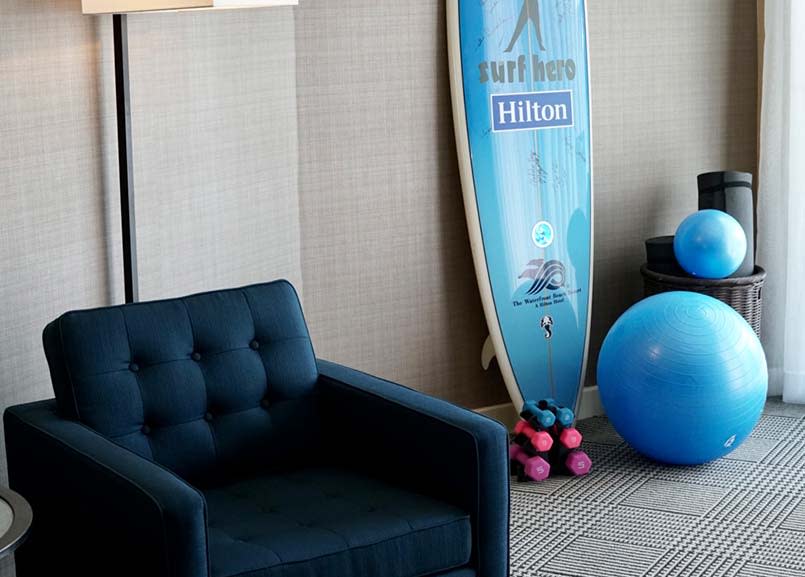 OFFICE AMENITIES: WORK TO RELAX
Connectivity Elevated
They provide ample office amenities and supplies designed for your success and productivity. Whether you have an important video meeting or prepping for a conference call, The Waterfront Beach Resort, a Hilton Hotel has everything you need with an ocean view. Book here.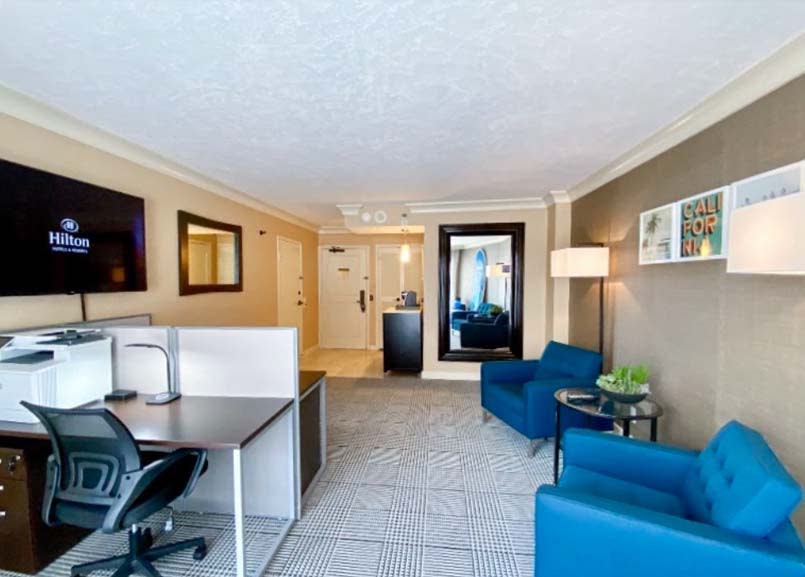 RESORT AMENITIES: VACATION WHILE YOU WORK
Resort Discounts
In between business calls, partake in their resort amenities at your disposal when you reserve their hotel room workspace. Enjoy a 20% dining discount with complimentary delivery to your room, a 15% spa discount, beach access and much more. Book here.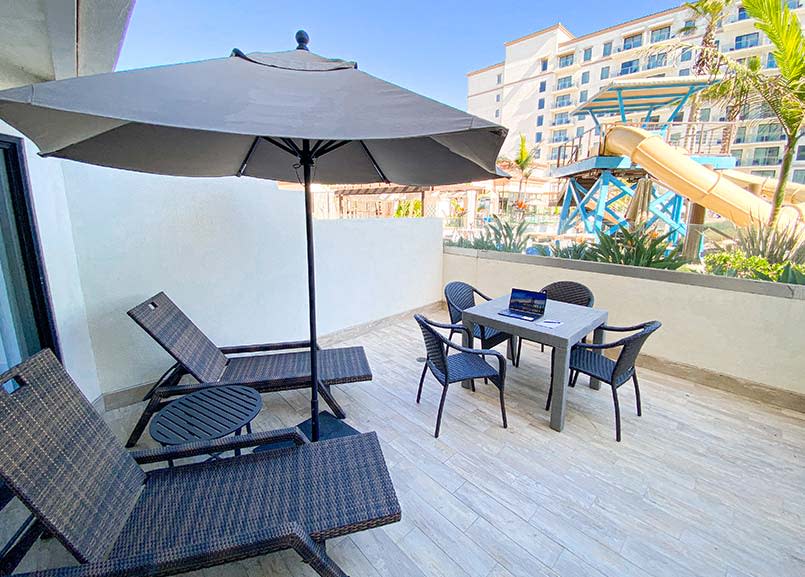 FOR YOUR FAVORITE FURRY CO-WORKER
Pet-Friendly Accommodations
We know work can be ruff, but bringing your furry friend to accompany you for the day makes it all better. In order to ensure a comfortable stay for your pet - pal, The Waterfront Beach Resort, a Hilton Hotel provide a bed, treats, toys, and other amenities to make it the best work day pawsible! Book here.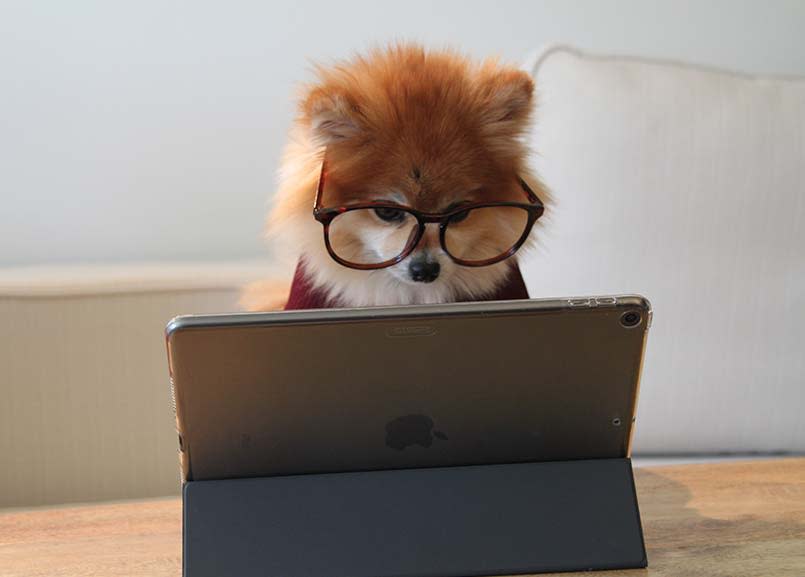 Explore More: 
Why The Waterfront Beach Resort, a Hilton Hotel is Made For Meetings.