Hours & Parking: Open from 5 am to 10 pm. Metered parking is available for $1.50 per hour in two lots along Pacific Coast Highway. Please note parking rates are subject to change at any time without notice.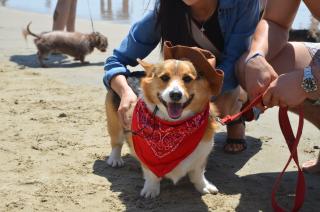 Restrictions: No alcohol, glass, or smoking allowed. The Preservation Society advises: "If your dog is new to Dog Beach, take it slow. Keep them on their leash until you can be sure of how they will react to the sand, sea, and especially other dogs and people." Additionally, "Under existing city ordinance, dogs must remain leashed. However, for the past several years only unleashed, potentially dangerous dogs have been cited or removed."
Concessions: None.
Perks: Numerous "furtastic" events take place at Dog Beach throughout the year, including the annual Surf City Surf Dog, So Cal Corgi Nation Beach Days, and even doggie weddings. Stay up-to-date via our events calendar.
For more information, call 714-841-8644 or visit the website.