Surf City Craft Beer Tour
Huntington Beach is in the midst of a craft brewery explosion. With six breweries and eight tasting locations, this self-guided craft beer tour of Surf City USA will take you around the city for some of the best brews in town. Visit Beach City Brewery, BJ's Restaurant Brewery, BrewBakers, Four Sons Brewery, Huntington Beach Beer Company, and Riip Beer Co. for a taste of local flavor.
The tour can be done on bicycle or by car - please remember to feed your designated driver!
Click below to download a copy of the map.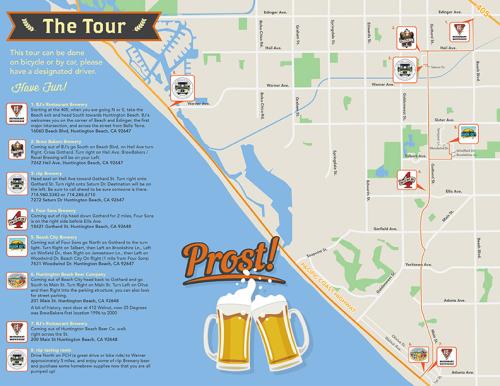 Meet the Author
Dennis Midden grew up a baker's son. In the mid-1980's, Midden's wife bought him a home brew kit that eventually spurred the idea for BrewBakers, a unique pub concept that allowed visitors to brew and bottle their own beer while enjoying freshly baked bread and pretzels. Midden sold BrewBakers to its current owner, who is keeping the tradition alive, and now spends his time educating visitors and locals on the new craft breweries in his home town. Prost!