Orange County Cherry Blossom Festival 
This event has been cancelled.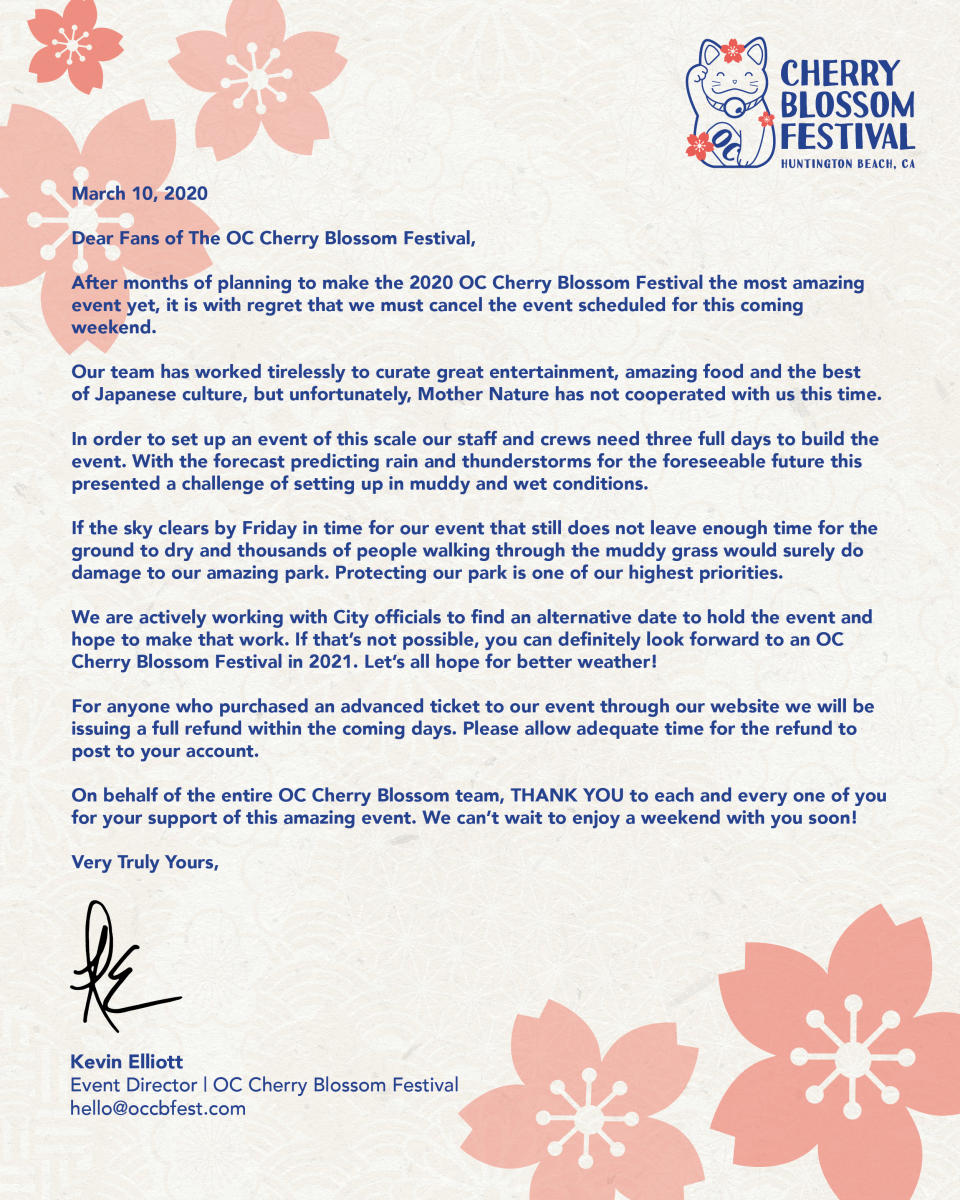 Tickets for the Orange County Cherry Blossom Festival 
Weekend Pass - $10.00
Friday, March 13, 2020, 5pm-9pm
Saturday, March 14, 2020, 10am-9pm 
Sunday, March 15, 2020, 10am-9pm 
Places to Stay
Dotting Pacific Coast Highway are luxury resorts and affordable hotels in Huntington Beach, California.
About the Orange County Cherry Blossom Festival 
Since Orange County Cherry Blossom Festival inception, it has been inspired by and helped to fund an international student exchange program between Huntington Beach and its sister city, Anjo, Japan.
The Huntington Beach Sister City Association is a volunteer organization dedicated to maintaining the tradition of friendship and cultural exchange with our sister city in Anjo, Japan.  In 2013 the Huntington Beach Cherry Blossom festival was created by one of our student ambassadors as her Girl Scout Gold Award project after realizing the program was in jeopardy due to a lack of funding.  The Huntington Beach Cherry Blossom Festival features Japanese dance, music, cultural exhibits, arts, crafts and games and has become known for it's delicious Japanese food offerings!  The festival is advertised throughout Orange County and Los Angeles County and on social media.  Attendance at last years Festival was well over 8,000 with a delegation coming all the way from Japan for the event!  If you would like to be involved with the Huntington Beach Sister City program as either a student ambassador or chaperone we encourage you to apply!
Sister City Anjo, Japan
A Sister City relationship was initiated with Anjo, Japan in 1982 and the program officially incorporated in 1992. The Sister City Association of Huntington Beach is a nonprofit citizen-run organization, which successfully operates annual programs of international goodwill between Huntington Beach and Anjo, Japan. The sister city movement is an outgrowth of then President Dwight Eisenhower's People to People concept created in 1956.
The idea is that it is the interaction of people--not governments--of different countries and diverse cultures that can put the world on the path to enduring peace. The local Sister City Association has been involved in a variety of capacities, including the selection of Assistant English Teachers to teach in Japan, and exchanges of art and music. Recent program from Anjo include koto players, a dance group and taiko drum performers. Many Anjo adult delegations have visited Huntington Beach and a number of Huntington Beach individuals and several organized groups of local citizens have visited Anjo.
Annually, four high school students and a chaperone participate in a 2-week reciprocal exchange where students in Anjo come to experience life in Huntington Beach and then our students traveling to Anjo. Cultural and fun activities are enjoyed; a number of lifetime friendships have been formed, and the experience has made a dramatic impact on many students' lives. High school freshmen, sophomores, and juniors who either live in Huntington Beach or attend one of the five Huntington Beach Union High School District schools are eligible.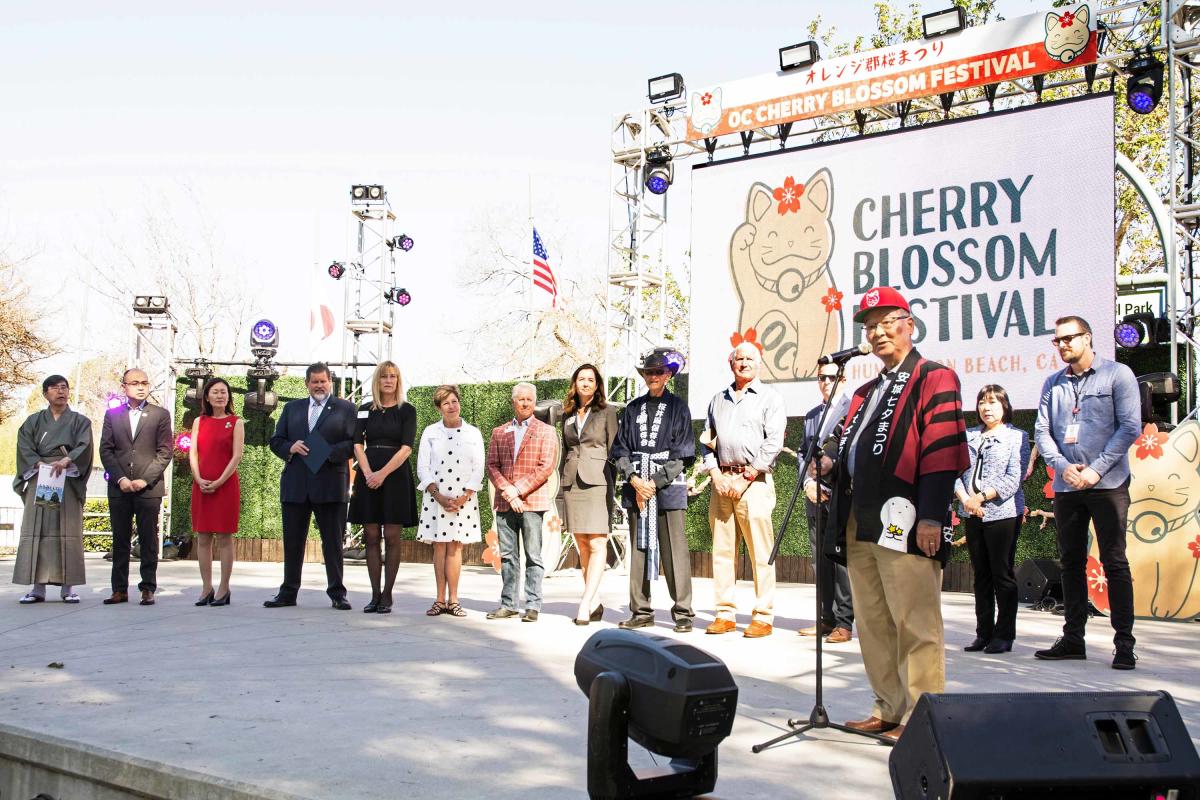 Get Involved 
The goal of the Orange County Cherry Blossom Festival is to introduce to the community, particularly our youth, the expansiveness of Japanese and Japanese American culture (and to have a great time doing it). The Festival welcome proposals from performers who would like to participate in the event - your work can be as traditional as Gagaku or as contemporary or unconventional as you can imagine. They encourage and welcome your participation in the Festival! Apply here.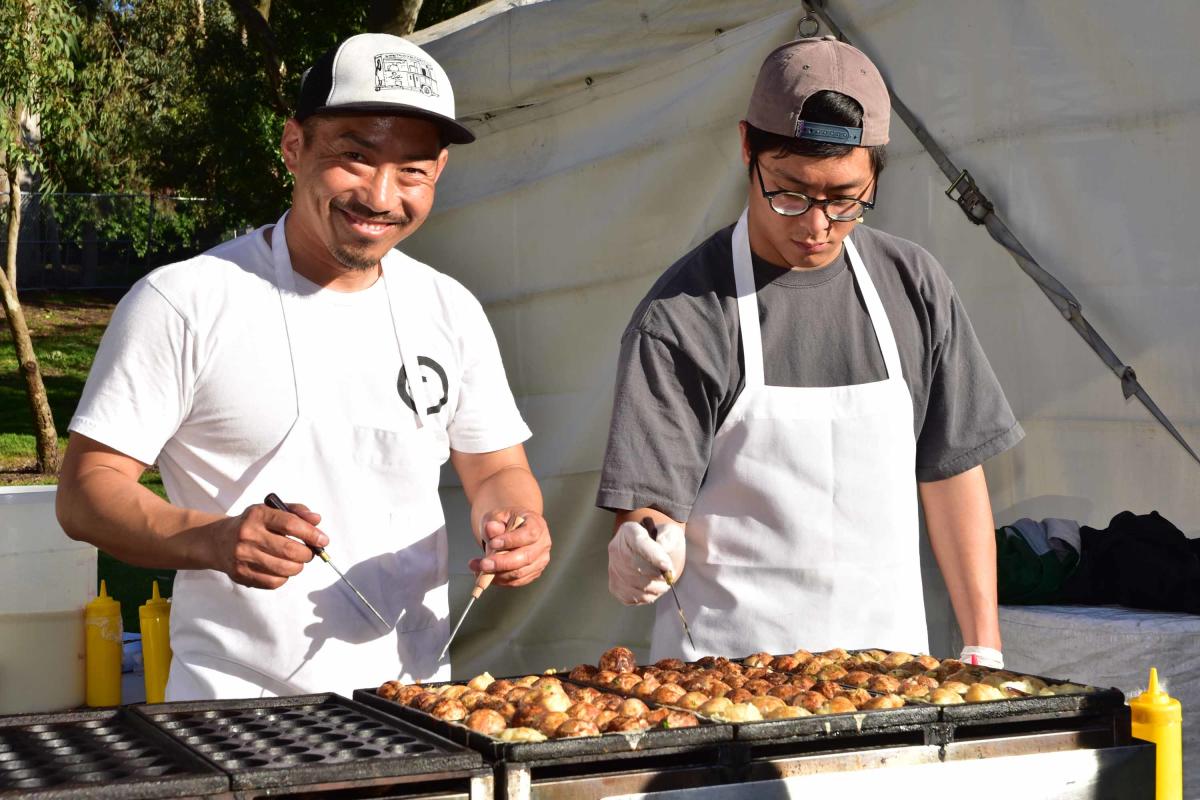 September 30 - October 2, 2022
The 6th annual show line-up will feature the U.S. Air Force Thunderbirds, and others, in what is sure to be a spectacular event. The Huntington Beach Airshow is free to the public with a large event footprint spanning Huntington City Beach from Seapoint to Beach Boulevard.
The Annual Taste of Huntington Beach features delectable tastes from 50 local restaurants and catering companies plus unlimited sips from the region's top wineries and breweries