Coffee connoisseurs, the tides have shifted in Huntington Beach. Over the last year, the city has enjoyed a wave of new baristas and roasters bringing premium java to the masses. This fall, enjoy a warm cup of joe while the weather cools down. Here's what to order at the city's newest, including Milk & Honey, Philz, Portola Coffee Roasters and MoMa Coffee.
Lavender Americano at Milk & Honey
Milk & Honey opened last fall, breathing new life into downtown's coffee scene. Its organic offerings borrow from the tried and true menu at the Costa Mesa location, with standard sips including blended drinks, tea lattes and, of course, coffee. Its Huntington Beach digs up Main Street, just far enough away from the buzzing energy at PCH, make it a great place to spend a quiet morning or afternoon.
And to relax, what better choice than a warm cup of joe laced with an herb known for its calming properties? The lavender americano blends bold flavor from beans with the lighter, floral notes of the shop's lavender latte. It's not your typical americano; rather, expect a creamier, sweeter and more soothing cup of coffee than you might be used to—just what you needed to wind down after a busy day out on the town.
438 Main St., Huntington Beach, CA 92648
Open Monday through Thursday 7 a.m. to 8 p.m.; Friday through Sunday 7 a.m. to 9 p.m.
Mint Mojito Iced Coffee at Philz
This Bay Area staple has a cult following up and down the state. Fortunately, the gourmet roaster brought its first Orange County location to Huntington Beach's Pacific City in June 2016. Known for a coffee program that focuses on drip blends, each cup is made to order starting with the grinding of beans behind the counter.
Even when beach breezes are at their windiest, order the mint mojito for a pick-me-up of the cooler variety. Just don't be confused by the fun name—this is no latte or cappuccino. An iced coffee so rich it's like liquid velvet in your mouth, the signature Philz drink blends cream, sugar and an infusion of muddled mint. For good measure, it's garnished with a sprig so you can inhale the refreshing aroma with every sweet sip.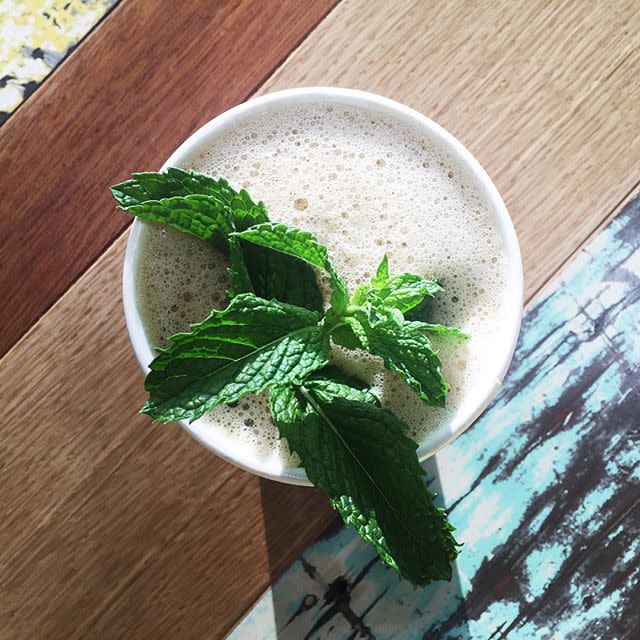 21010 Pacific Coast Hwy., Huntington Beach, CA 92648
Open Monday through Sunday 6 a.m. to 9 p.m.
Portola
Though NorCal originated Philz, Orange County can claim fame to being the birthplace of the award-winning Portola Coffee Roasters. Follow your nose through Pacific City's Lot 579 to track down the heavenly aroma coming from the local roasters' shop across from Popbar. You can't go wrong with anything on the menu at Portola, where coffee is treated as a precise science and beans are roasted on-site at the owner's first location in Costa Mesa.
At $5.25 a cup, the Portola mocha is the priciest pick on the menu but well worth the investment. Dark chocolate ganache and espresso are married for the ultimate decadence in a cup, topped with a slow pour of milk to create artwork worthy of an Instagram snap.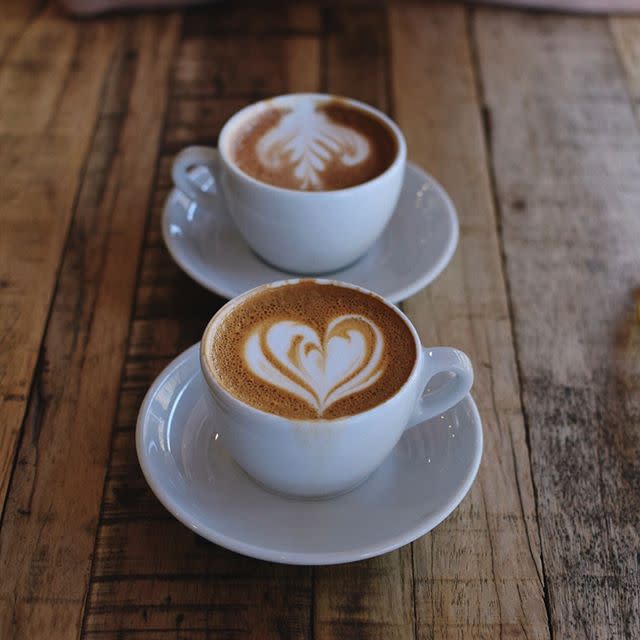 21058 Pacific Coast Hwy., Space 170, Huntington Beach, CA  92648
Open Sunday through Thursday 7 a.m. to 9 p.m.; Friday and Saturday, 7 a.m. to 10 p.m.
Cinnamon Cappuccino at MoMa Coffee
This mom-and-pop coffee shop opened quietly in Huntington Beach earlier this year and it's a diamond in the rough. Located on the street side next to Los Primos Cantina, MoMa Coffee serves up Stumptown fresh roasted coffee for a gourmet sip.
Espresso is a popular pick at MoMa, so try it in the form of a hot cappuccino. Drink as the Italians would and stop by early morning for this milk-based drink, best enjoyed with breakfast. The frothy micro-foam strikes the perfect balance with the smooth espresso, while a sprinkle of cinnamon adds a touch of flavor and festive flair to help get your day started.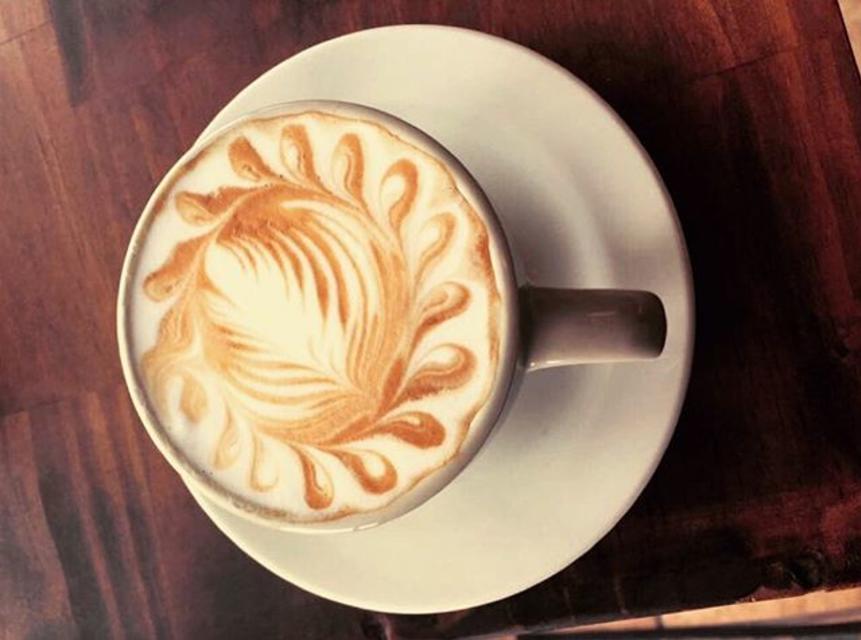 10178 Adams Ave., Huntington Beach, CA 92649
Open Monday through Friday 7 a.m. to 6 p.m.; Saturday and Sunday 7 a.m. to 2 p.m.
For more popular standbys, check out our article on Yelp's top three cafes in Huntington Beach to learn more about local favorites Sweet Elle, The Coffee Tale and Caffe Caldo.