Although Huntington Beach obeys the "endless summer" philosophy, we also entertain the idea of four annual seasons. With spring fast-approaching on Friday, March 20, outdoor events are ramping up and will peak come summer. Here are three free family-friendly events to add to your calendar this spring.
10th Annual HB Downtown Art Walk
Emerging from its winter hibernation, the HB Downtown Art Walk returns just one day before the first day of spring, setting the stage for local artists on Thursday, March 19, from 6 p.m. to 9 p.m. More than 40 artists will pop up along Main Street, The Strand, and surrounding streets, as well as inside participating businesses. 
Organized by the 
HB Downtown Business Improvement District
 and 
HB Culture Magazine
, the community event kicks off at the International Surfing Museum (http://www.surfingmuseum.org/) at 5th and Olive, where Art Walkers can scoop up maps, register to win $25 gift cards to downtown businesses, meet featured artists, and groove to live music. 
The Art Walk continues through 2015 every third Thursday. Details for the first night are still in the works, so follow 
HB Downtown Art Walk on Facebook
 for updates.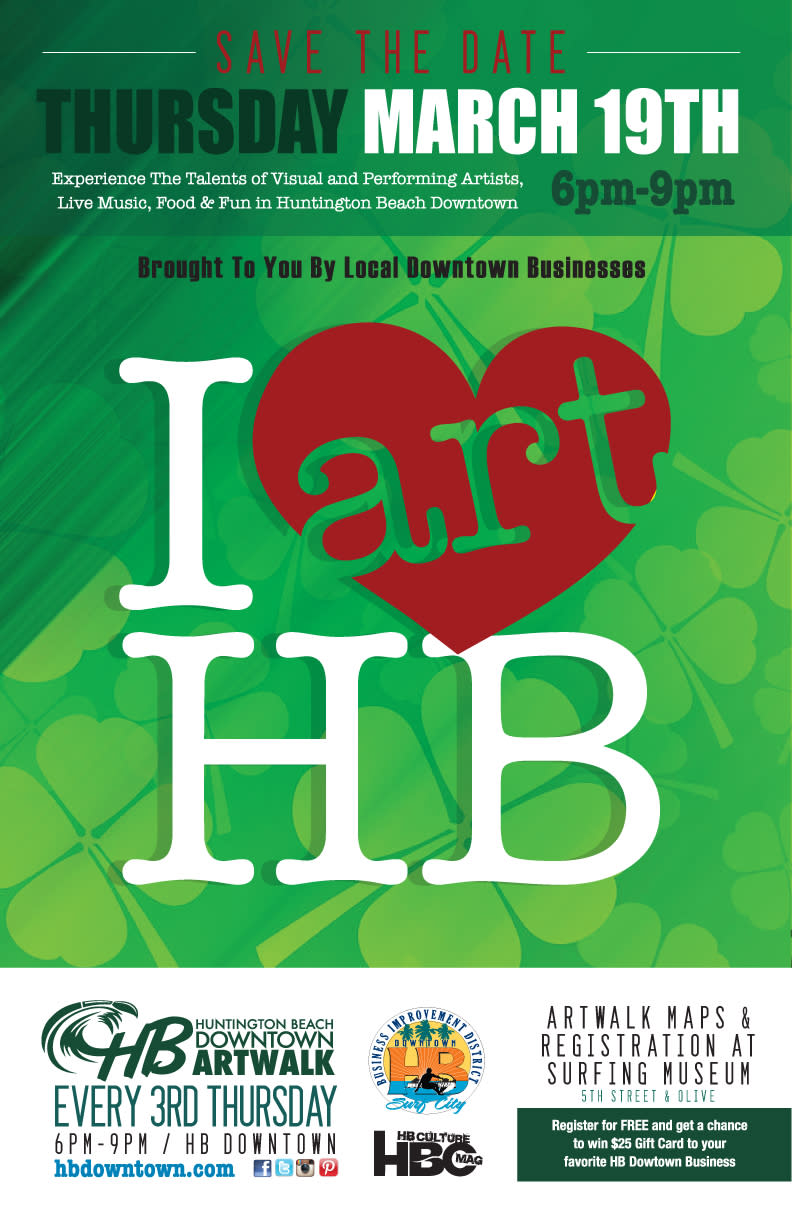 33rd Annual Cherry Blossom Festival
Now in its 33rd year, the 
Cherry Blossom Festival
 will grace the Huntington Beach Central Park Bandstand, directly behind the Huntington Beach Central Library, on Sunday, March 22, celebrating the rich culture of Japan and the enduring relationship between Huntington Beach and sister city Anjo, Japan. Hosted by the Sister City Association of Huntington Beach, the event entertains from 11 a.m. to 4 p.m. and features music, dance, demonstrations, food, cultural exhibits, craft vendors, and kid-friendly games and crafts. Taiko by Kokomo Taiko-kai and Daion Taiko, karate demonstrations by Sensei Fumio Demura, music and entertainment by Minyo Station, dance by Bando Hidesomi, kabuki by Bando Hiroshichiro, koto by Ryan Kaneko, and hula by Lokelani Studios are just a few of the many acts. 
Admission is free, and all proceeds benefit the Huntington Beach-Anjo Sister City Exchange Program. Festival Organizer Maureen Anzivino says, "The annual student exchange has played an important role in the lives of students in both sister cities, providing students with a learning experience not available in a classroom or even as a tourist. Long lasting friendships have been formed, and some career decisions made as a result."
Anzivino also shares that an official cherry tree planting and dedication ceremony performed by Huntington Beach and Anjo city officials will take place at 10:30 a.m. just west of the festival stage. Spectators are welcome.
23rd Annual Easter Candy Hunt & Family Fun Day
Roughly 2,500 pounds of sweets will be hidden throughout the hunt area. The free candy hunt kicks off at 9 a.m. and is organized into eight different age groups, including a special first slot for children with disabilities. For little ones who prefer a healthier alternative, sugary treats can be traded for healthy snacks, like pre-packaged sliced apples or bags of baby carrots, courtesy of Orange Coast Memorial Medical Center. 
The good times continue to roll throughout the day with face painting, live music, games, refreshments, fire department and community services displays, more than 50 local businesses demonstrating their wares, and of course, photo ops with the Easter Bunny. Nearly 8,000 residents attended the 2014 hunt, so expect an impressive turnout.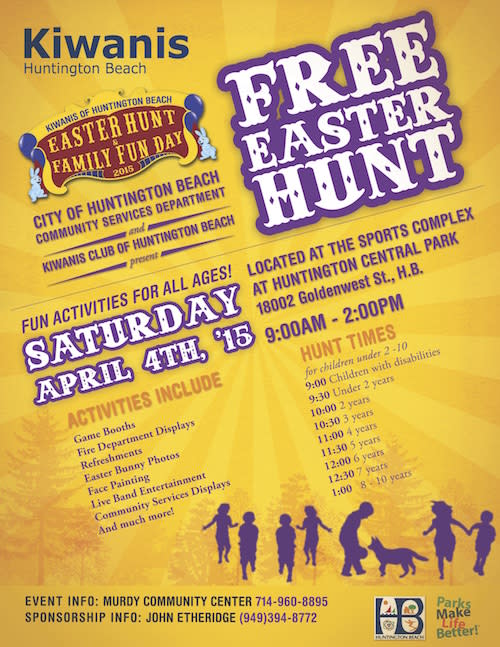 *Headline photo by Kevin Chang of the HB Independent, 2014.