'Tis the season to spend extra moments with the ones we love, especially our main squeezes. From hot cocoa and tree lightings to boat parades and coastal wonderlands, Huntington Beach always makes the season bright. Here are three festive date night ideas, all fun and all free.
Santa Claus carves time out of his very busy holiday schedule on Sunday, November 22, to help Downtown Huntington Beach light its towering Christmas tree. Miracle On Main Street kicks off at 2 p.m., filling the second block of Main Street with free entertainment, holiday craft vendors, and refreshments—including hot chocolate. The street comes alive at 3 p.m. with Forever Young, featuring Sid, a 90-plus-year-old tap dancer, followed by TubaChristmas. Sunshine Generation, APA's Surf City Singers, and the world-famous All-American Boys Chorus take the stage starting at 4 p.m. The tree lighting is slated for 6 p.m., and visitors of all ages are invited to sit on Santa's lap to divulge their Christmas lists and pose for photos. He'll return to his trusty sleigh come 7 p.m., as the event draws to a cozy close.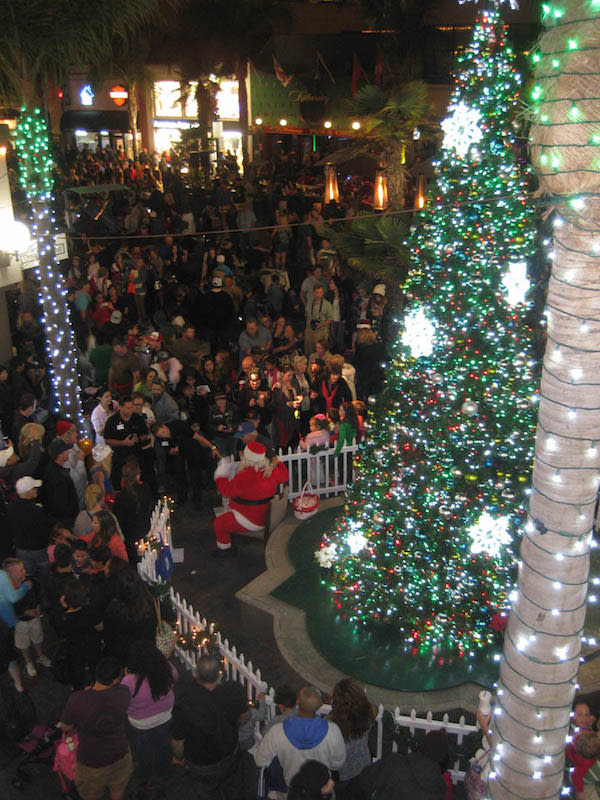 53rd Annual Huntington Harbour Boat Parade
The Huntington Harbour lights up every year with the glow of festive homes decked out for the annual Cruise of Lights. As a thank you to participating harbour residents, the annual Huntington Harbour Boat Parade invites luminescent, musical vessels to sail the waters during the weekend before the cruise. With the theme "Songs from the Silver Screen…A Tribute To Hollywood," this year's parade takes place on Saturday, December 12, and Sunday, December 13. Organizers are changing the tune this year by encouraging participants to not only select a favorite movie soundtrack and decorate their boats accordingly, but to also dress the part. Boats start lining up at 4:30 p.m., and the parade sets sail at 5:15 p.m. sharp. More than 75 boats are expected to join the festive fleet this year. The parade is free, open to the public, and entertains until roughly 8:30 p.m. Prime viewing spots include Seabridge Park, the bridges and park on Trinidad Island, and Sunset Marina.
Visit the Cruise of Lights website for more information on the December 17 through December 23 schedule and pricing.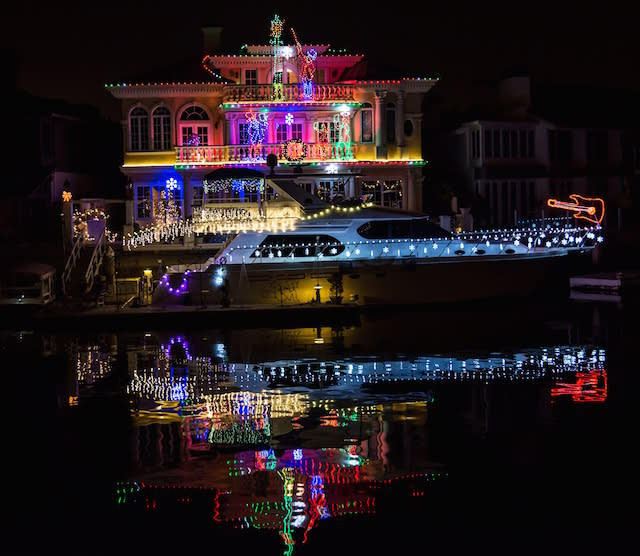 Pacific City's "Holiday Gift to You" Weekend
Huntington Beach's hip new retail and restaurant hub will transform into a coastal winter wonderland on Saturday, December 12, and Sunday, December 13, as part of a special holiday celebration. The weekend promises free tote bags filled with merchant offers and samples, DJs, complimentary bites from Pacific City restaurants, cutting-edge festive decor, and the man of the month—Jolly Ol' Saint Nick. Hours are 11 a.m. to 7 p.m. on Saturday, and 11 a.m. to 5 p.m. on Sunday.