The GUINNESS WORLD RECORDS breaking Big Board is back for it's documentary film premiere and unveiling ceremony on January 21 and 22. Relive surf history with The Biggest Board: Surf City USA's Epic Ride. This new documentary short shows the making and shaping of the world's largest surfboard that set two Guinness World Records on the south side of the Huntington Beach pier during the summer of 2015.
Visit Huntington Beach, the official destination marketing organization for the City of Huntington Beach, worked with local makers and shapers, an international team of surf and maritime industry professionals, 66 surfers, and a host of corporate sponsors, such as Hurley, to design, build and test the board to exacting specifications.  
"Our filmmaker, Nick Bowser, captured both the artistry and the ingenuity of the global team of surf and aquatics experts who turned our big dream into a tangible reality on June 20, 2015," said Visit Huntington Beach President & CEO Kelly Miller. "We invite the community to come out and help us celebrate this moment in time that will have an impact for generations to come."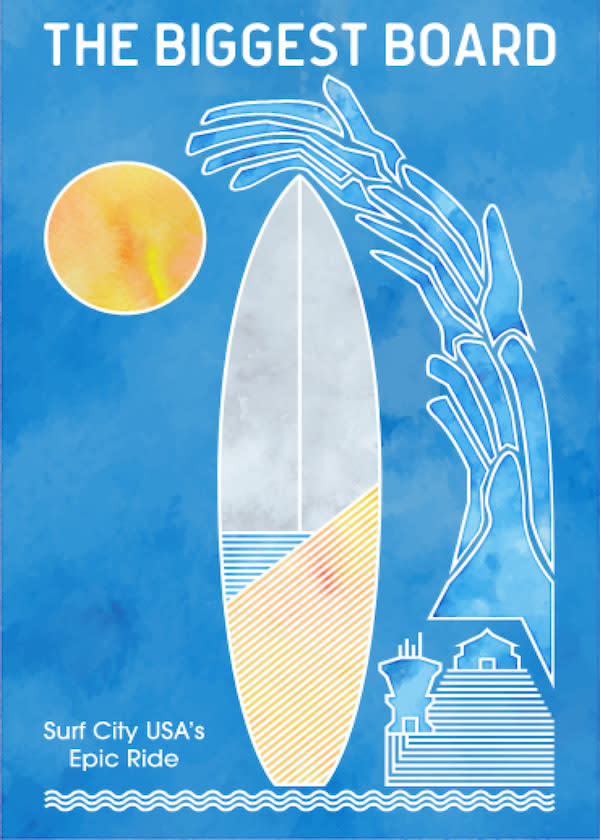 The film premiere will take place in the ballroom of the Kimpton Shorebreak Hotel, on Thursday, January 21, from 5:00 p.m. to 7:30 p.m. A cocktail reception and silent auction will precede the screening of the documentary short film, as well as a showing of Visit California's "Dream Big" video about the event that set the Guinness World Records for "largest surfboard" and "most people riding a surfboard at once." Limited tickets to the event are available for $50 per person, and can be purchased online at www.The BiggestBoard.com.
The next morning on Friday, January 22, the 42-foot-long surfboard will be unveiled outside the Huntington Beach International Surfing Museum for permanent display during a public installation ceremony. The ceremony is free and open to the public.
"We're excited to partner with Visit Huntington Beach in hosting this phenomenal, iconic new cultural and historic attraction in Surf City USA," commented Brett Barnes, Chairman of the Board of the International Surfing Museum.  "It will undoubtedly become the ultimate new selfie spot for California surf culture enthusiasts, including residents and visitors to our fair city by the Pacific."
Photos with the Big Board are encouraged and can be shared using #BigBoardHB. Both events are expected to draw surfing legends, local surf heroes, community leaders, media, local businesses and residents. Net proceeds from the film premiere and auction will be used to fund the installation and maintenance of the surfboard at the International Surfing Museum.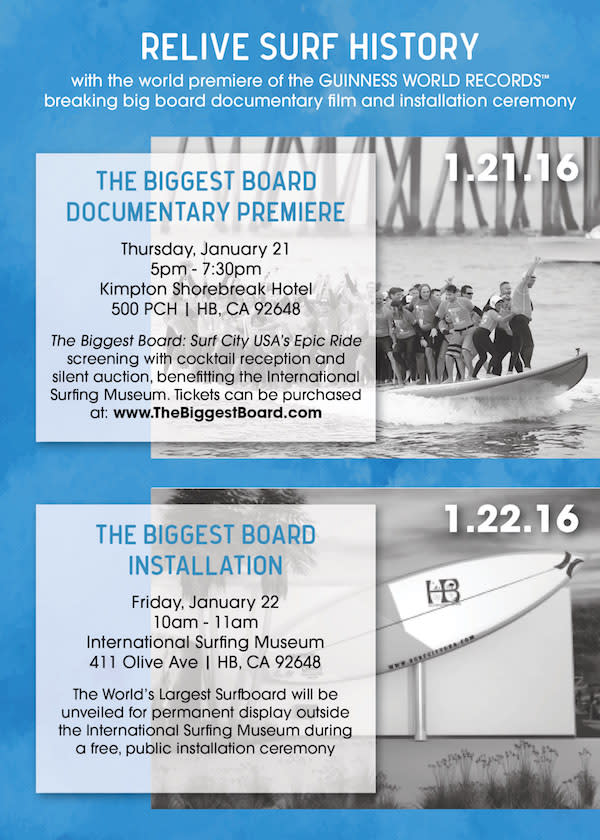 Plan on attending? RSVP on our Facebook event!