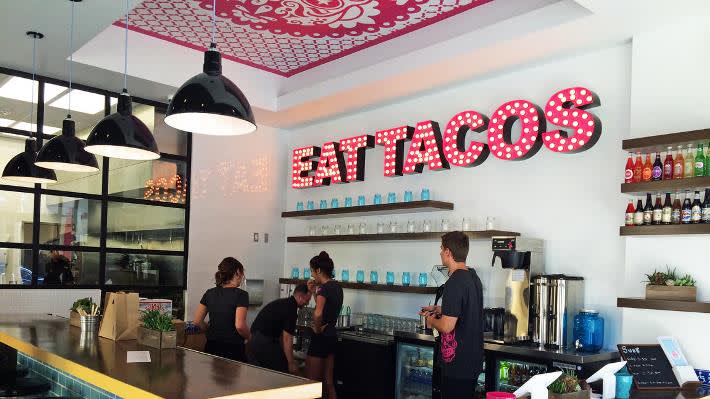 America's favorite Mexican fast food chain has finally opened the doors of their very first U.S. Taco Co. in Downtown Huntington Beach. This fast casual restaurant developed by Taco Bell features a menu of tacos inspired by the best of the 50 states. Southern fried chicken, lobster from Maine, Texas brisket, and Philly steak are just a few of the 10 possible taco fillings.
Since opening in August, some of the more popular menu items include the "Winner Winner" with crispy chicken, jalapeno Southern gravy, and roasted corn pico de gallo on a flour tortilla, the "Literally Grilled Cheese" with grilled manchego cheese, molcajete salsa, grilled peppers and onions, and topped with avocado, cotija, and cilantro. "The 1% Er" is the most talked about taco, featuring lobster, garlic butter, slaw, housemade roasted poblano crema and cilantro on a flatbread all served for just under $10.
Most tacos are between $3 and $5, with a choice of specialty soda or one of three milkshakes to wash it all down. The "Friggin' Fried Ice Cream" combines vanilla ice cream and caramel and is garnished with Cinnamon Toast Crunch cereal. If tacos aren't your thing, (or even if they are) order the "Papa's Fritas" (more commonly known as French fries) with a side of jalapeno ranch and ghost chile ketchup or roasted chile queso.
"It's food truck food you don't have to chase. It's playful, it's different, it's not about creating the next chain concept," says Jeff Jenkins, the marketing genius behind the first U.S. Taco Co.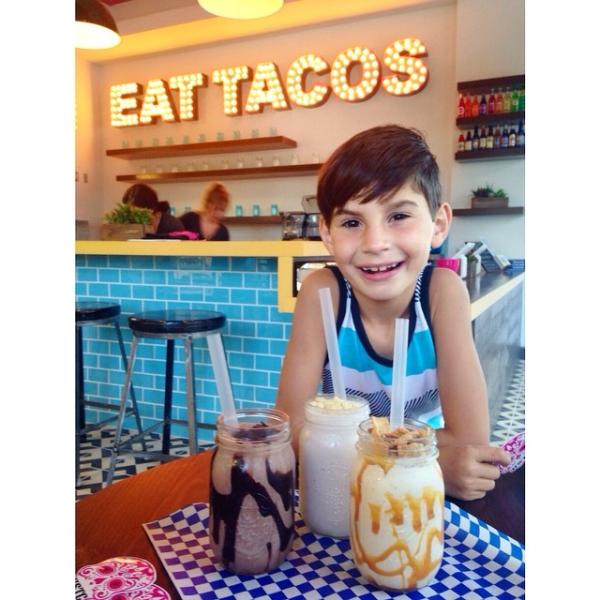 We gathered a couple of Yelp reviews since the grand opening on August 11:
"This place was cool, inexpensive, fast, fun, and really tasty. Forget about the fact that it's owned by Taco Bell, and don't expect traditional Mexican food. If you go in with an open mind (and an empty stomach) you'll leave happy." - Chris C. from Hollywood
"Absolutely the best tacos I've ever had. Amazing menu and even more amazing food. The spud, the grilled cheese taco, and the hot chick tacos are heavenly. This is how you combine simple yet complex." - Rushabh S. from Brea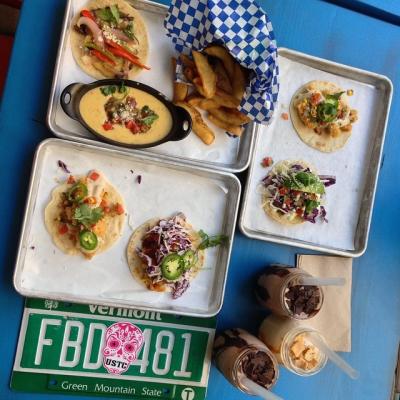 Let us know what you think! Do you prefer the "Surf City" or "Brotherly Love" taco? What do you think of the big light up "Eat Tacos" sign? Share your review on our Facebook page.
(Top photo by Jenn Harris)