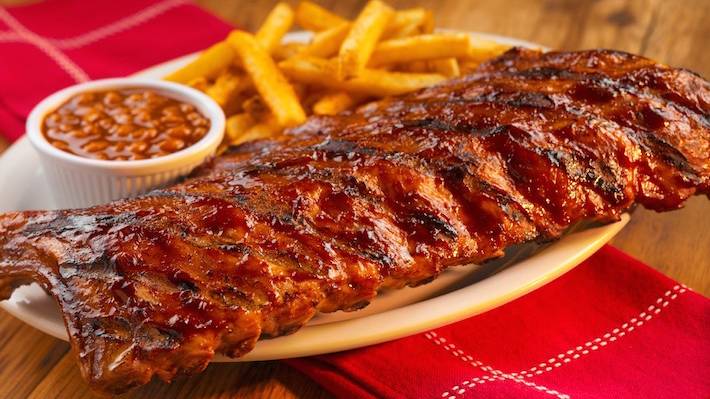 Did you know that May is National Barbecue Month? What better way to prep for summer than to celebrate everything good about dry rubs, seasoned marinades, and delicious smoky entrees! Here's a list of restaurants to keep in mind for the ultimate barbecue experience in Surf City USA!
HOT OFF THE GRILL: BEST BBQ RESTAURANTS IN HB
BLACK BULL CHOP HOUSE
The Black Bull Chop House, Orange County's best kept secret, is a family friendly steakhouse specializing in steaks and chops while also providing different forms of entertainment. They combine a warm atmosphere and laid back beach environment with a complete menu including appetizers, salads, soups, succulent chops, fresh fish, a kids menu, & delicious desserts! In the evenings, Black Bull Chop House changes from a steakhouse to a high-energy nightlife spot with dancing, DJs and a mechanical bull, Bodacious, the center piece and first mechanical bull in Orange County.
We recommend: Grilled BBQ Chicken Breast and Ribs Combo
BONDI GRILL HOUSE
Bondi Grill House is named after the famed Australian surf sport, bringing a little bit of the down under to Surf City USA. Its signature Bondi is the first restaurant to serve these Australian ribs in North America. Their menu offers generous portions of flame-grilled steaks, chicken, burgers, and more. Bondisaurus Pork Ribs, a local favorite, features 3 pounds of free range, all natural, lean pork ribs basted in a house made, proprietary sauce and cooked at 825 degrees for a perfect chargrilled sear. In addition, other signature items include:
- Boerewors: a house-made traditional South African sausage served with Monkey Gland sauce (a tangy barbecue sauce with dried apricots, traditionally served with meat in South Africa)
- Lamb Burger: half pound of grass-fed lamb with sun-dried tomatoes, feta, red onion, lettuce, tomato, pickle and tzatziki
- Steak Roll: filet mignon served on an artisan bun, organic wild baby arugula, caramelized onions and peri mayo sauce
- Portuguese Chicken: Mary's free range, antibiotic free chicken, chargrilled and basted in Bondi's own peri peri sauce, served butterflied.
We recommend: Bondisaurus Pork Ribs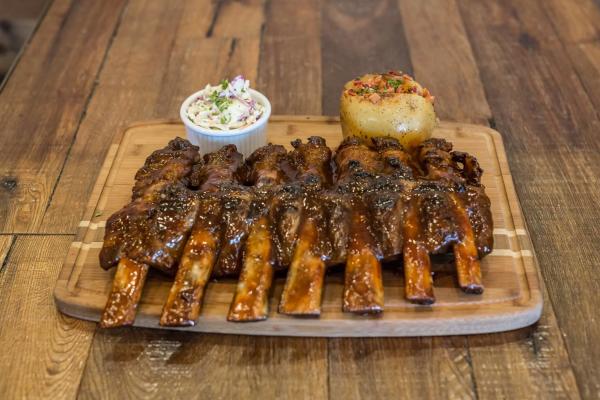 BT'S SOUTHERN BBQ
BT's Southern BBQ is a family owned and operated restaurant where they serve "real barbecue" every day with good Blues and great beer. They serve traditional barbecue with their award-winning recipes, rubs, and sauces. Stop in and have them fix you a plate of delicious smoked pork, tomato-cucumber salad, and baked beans. Or, take dinner home for the family with their family-style packs of a rack of ribs, spicy Louisiana links, smoked chicken, and fresh hot-buttered-biscuits.
We recommend: Tri-tip or Pulled Pork Plate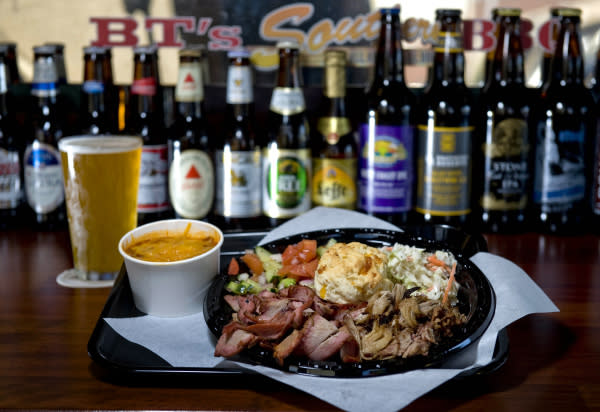 EUREKA!
In a warm contemporary and slightly rustic environment, Eureka! offers burgers made from all natural beef with delicious toppings like figs, goat cheese, bacon-infused jalapeno jam and homemade barbeque sauce. Their menu also features gourmet salads, hand-cut French fries and mouthwatering starters. With quality, local produce, locally baked breads and hand packed, vegetarian fed, hormone and antibiotic free beef for the burgers, Eureka! has something for everyone on it's menu. Add to that the craft beers and small batch American made whiskies and bourbons and Eureka! will be a place for great food and great beverages.
We recommend: Osso Buco Riblets as an appetizer and the Napa Burger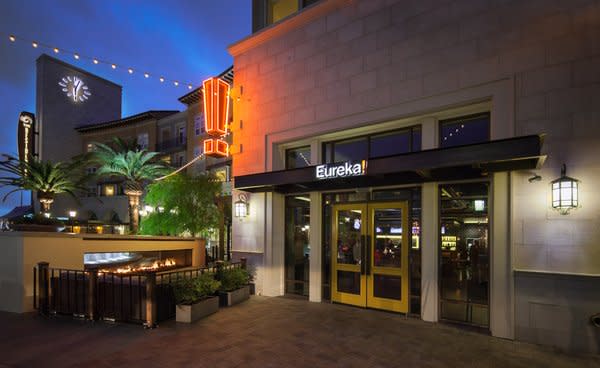 Gyu-Kaku is a "yakiniku," or "grilled meat," restaurant where diners cook meat over a gas or charcoal grill. Also known as Japanese barbeque, you take charge as marinated meat and seafood is cooked at your table on charcoal braziers.
We recommend: Kalbi Chuck Short Rib, Filet Mignon, Chicken, and Pork Belly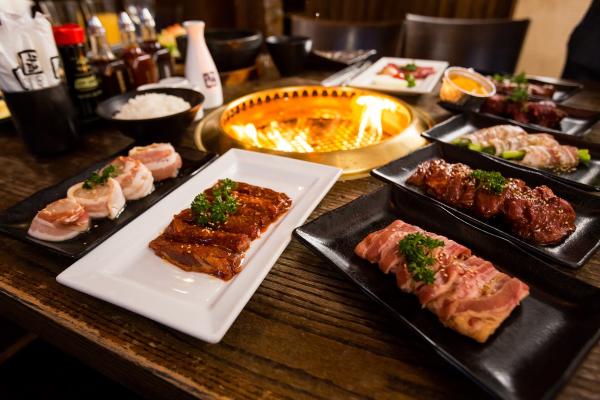 HANGOUT TOO SOUTHERN BAR & GRILL
Hangout Too Southern Bar & Grill features a New American menu with a southern flair, including menu favorites Cajun grilled shrimp salad, fish n' chips, jalapeno burger, grilled Atlantic salmon, deviled eggs, and a grilled fish taco. Hangout Too slow cooks their tender, mouth-watering ribs with their in-house BBQ sauce, making them some of the best in the area. Located in north Huntington Beach, off Bolsa Chica and Heil, Hangout Too is just 8 minutes from Bolsa Chica State Beach. Open for lunch and dinner daily with a wonderful selection of craft beer and cocktails.
We recommend: BBQ Pork Cheese Burger with French Fries or the Slow Roasted Beef Brisket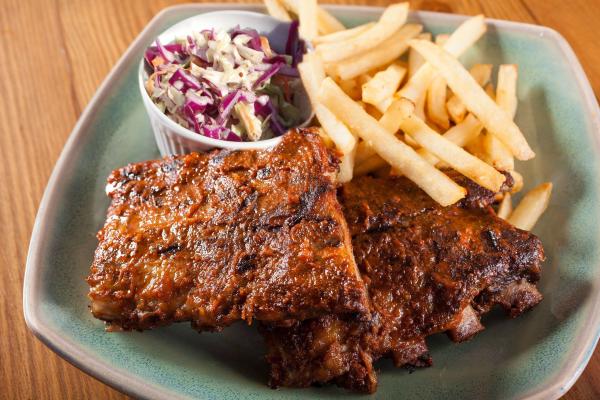 LOU'S RED OAK BBQ GRILL
There's a reason why Lou's Red Oak BBQ Grill has created such a loyal following among diners in Huntington Beach and around Southern California. Their perfect combination of Southern hospitality and mouth-watering barbecue dishes keep BBQ lovers coming back for more. With so many loyal followers, Lou's Red Oak BBQ Grill serves up delicious barbecue including tri-tip, steak, and chicken, and more! Try the Buffalo Bill BBQ Flatbread, or the Baby Back Ribs.
We recommend: Tri-tip Combo Plate (rotisserie roasted tri-tip, and your choice of half chicken, grilled linguica sausage, southern barbecued pulled pork, or our shredded bbq beef; served with a homemade santa maria style tomato salsa.)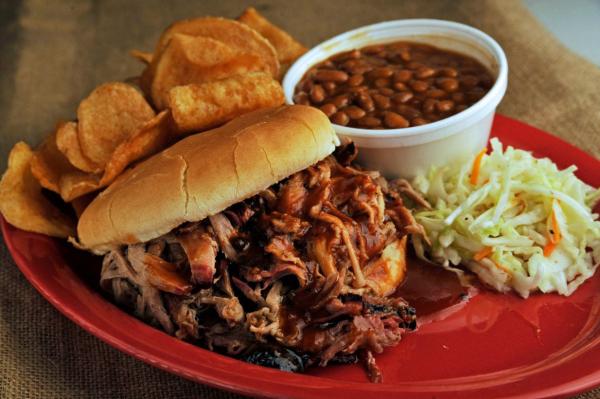 What are your favorite places to enjoy delicious barbeque? Let us know in a comment below!