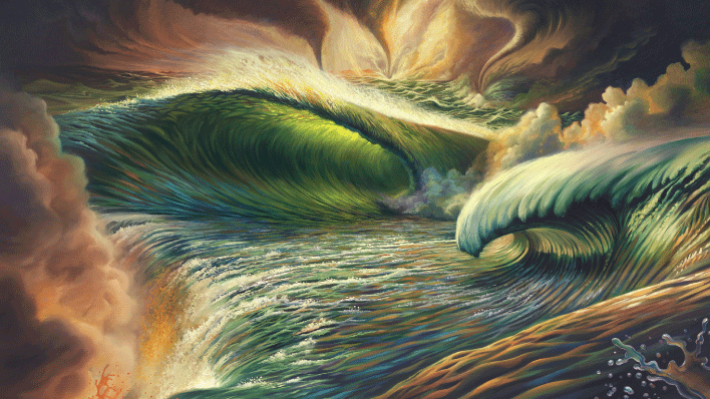 Visit the Huntington Beach Pier or any of the city's wave-washed beaches, and you can see the art of surfing practiced by everyone from beginners to world champions.
Stroll up Main Street to the Huntington Beach Art Center, and you can see "The Art and Soul of Surfing," an exhibit of surfing in art. The featured artists range from the late, legendary Rick Griffin to current Disney artist James Finch ("Frozen") and other modern-day interpreters of the surfing experience and culture.
The two dozen or so artworks are arranged in the Art Center's light and airy space along with vintage handmade wooden surfboards loaned by the Surfing Heritage and Cultural Center.
A film loop of rolling waves and a soundtrack of soft, meditative music hint at the otherworldly bubble far removed from the workaday world that many surfers find when they are out beyond the breakers awaiting the next set or gliding down into a barrel.
The works themselves are attempts by the artists, most surfers themselves, to also evoke the unique, almost spiritual experience of giving oneself over to forces of nature. They represent a wide range of styles, from the huge, bold graphic of a curling wave by surf art pioneer John Van Hamersveld to the plein air watercolor of surfers at their cars, lined up and facing seaward, by Ken Auster.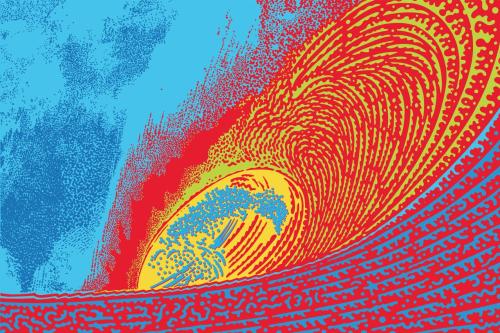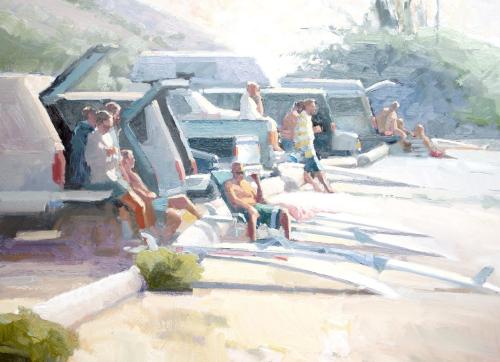 Specifically not part of the exhibit is the pop-art or comics-style work that so infuses the surf culture and has been highlighted in past exhibits at the Art Center and elsewhere. Even Griffin, the comic artist par excellence, is here represented by a highly stylized acrylic painting of a surfer just emerging from (or disappearing into?) a swirling barrel.
What this all adds up to is an immersion (pun intended) into not just the beauty of surfing but also the total experience - the art AND soul of surfing.
"The Art and Soul of Surfing" will be on display through September 20 at the Huntington Beach Art Center, 538 Main St. A closing reception and panel discussion will be held Sept. 13 from 6:30-8:30 p.m. at the museum. For information, visit the Huntington Beach Art Center or call 714-374-1650.