It's time to come together with friends and family to enjoy each other's company and express gratitude, and what better place to give thanks than in Huntington Beach? On top of the restaurant and retail events this season, each Huntington Beach oceanfront resort is dishing up its own version of a delicious Thanksgiving dinner. Put on your stretchy pants and check out all Huntington Beach has to offer for the season of giving thanks!
1. AR Workshop's November DIY Schedule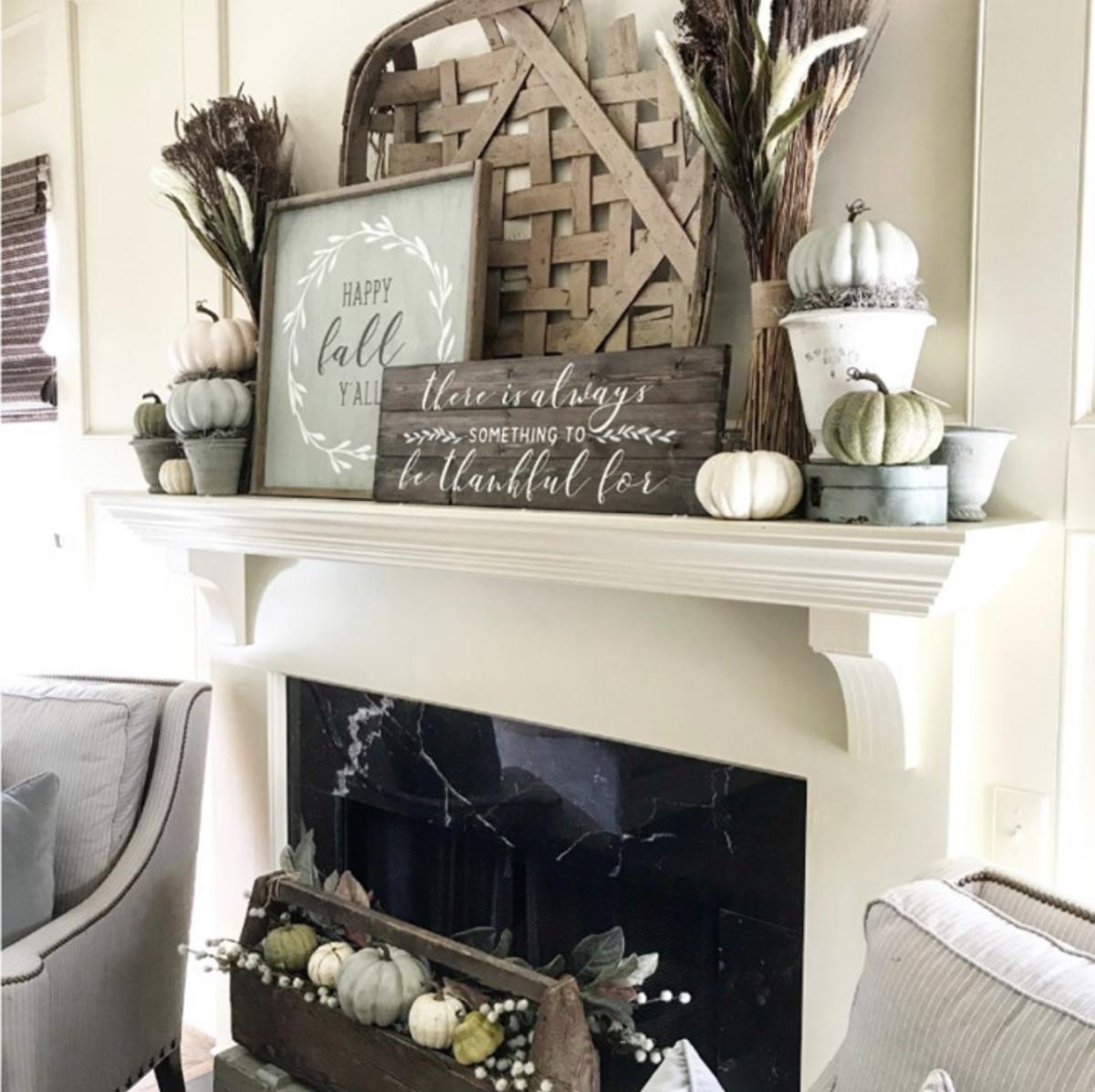 November 11 (6 p.m. - 8 p.m.) Specialty: Door Mats & Drinks - Customize a door mat with designer paints and stain colors. You'll also receive a Buffalo Check Rug to complete the festive porch styling.
November 12 (6 p.m. - 9 p.m.) Chunky Knit Blanket Workshop - In this workshop, you'll be guided step-by-step through the hand knitting process to create a super cozy, one-of-a-kind blanket. Registration fee is $85 and includes all materials for a 40" x 50" blanket and instruction. Intended for guests 15+.
November 16 (6 p.m. - 9 p.m.) Specialty: Chunky Knit Pumpkins or Chunky Knit Wreath - You won't need needles or knitting experience to make chunky knit pumpkins or a knit wreath! Make 3 pumpkins for $55 or one pumpkin and wreath set for $65. The fee includes all materials needed and class instruction. 
November 17 (6 p.m. - 9 p.m.) Swap ARt: The Ultimate Interchangeable Project - The Swap ARt package includes one 18" x 18" framed sign for your background and one 10" x 10" sign. You'll then be able to create more signs by swapping art out seasonally!
November 19 (6 p.m. - 9 p.m.) Girls Night Out - Gather up your ladies and choose from wooden signs, trays, boxes, signs, and more. You'll use designer paints and stain colors to create custom decor piece. 
November 23 (6 p.m. - 9 p.m.) Holiday Tiered Tray Workshop - You will customize a tiered tray and create mini signs for your holiday decor collection. In the workshop, you'll have the opportunity to customize your project and choose from 4 different holiday design packages.
November 24 (6 p.m. - 9 p.m.) Celebrate the Holidays Wood Workshop - Create your very own wooden sign, tray, box, frame, or other festive piece!
Register for these and other workshops here!
3. Pre-Order Your Thanksgiving Pies from Sweet Elle Cafe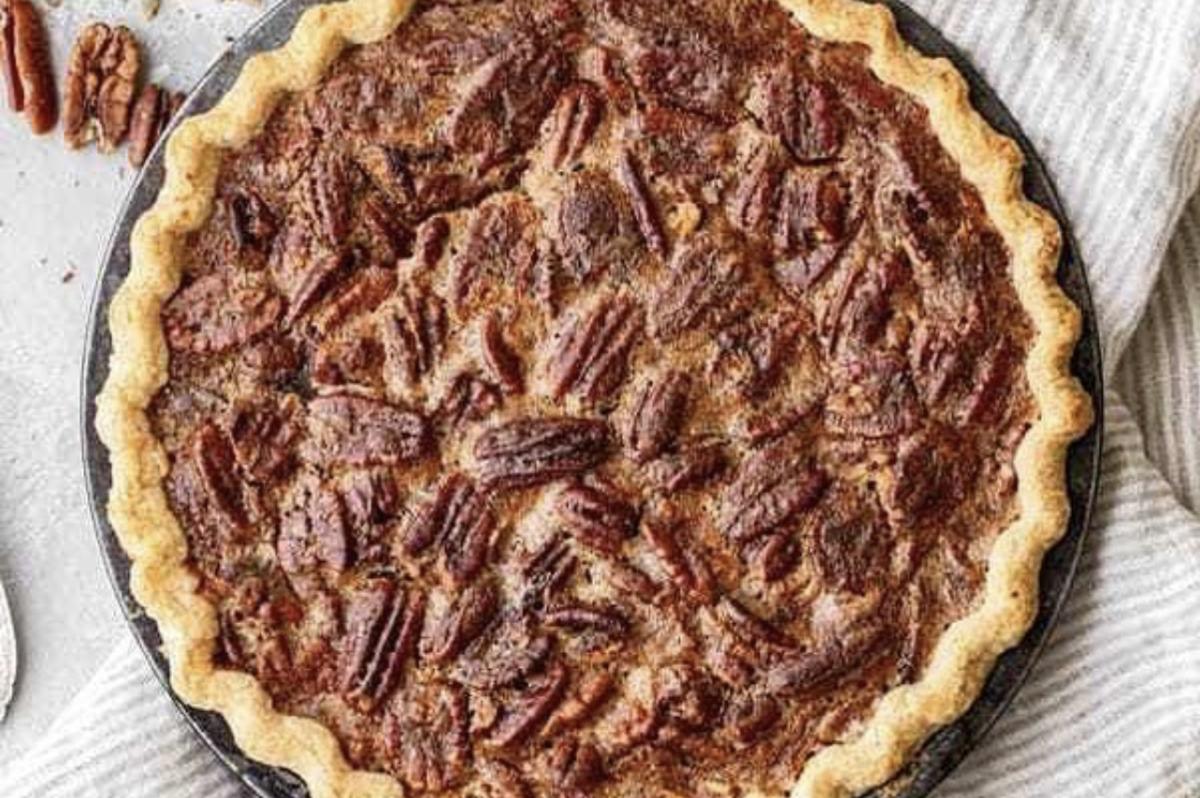 All Thanksgiving orders must be submitted by Sunday, November 21! Choose from Heirloom Apple Pie, Bourbon Pecan Pie, or Heirloom Pumpkin Pie. Sweet Elle is also offering challah and rustic country loaves, fresh whipped cream, and desserts for gluten-free feasters. 
Place your order in-store or online by clicking here. 
4. Thanksgiving Centerpiece Workshop at Pacific City
Create your very own rustic and modern Thanksgiving centerpieces to adorn your table this year! On November 21 from 11 a.m. to 1 p.m., learn to create a feathery, dried grass centerpiece to add cozy yet sophisticated style to your holiday celebrations. Class includes a fall vase, chicken wire for inside the vase, dried floral stems, shears, a hot glue gun, dried fruit elements, ribbon, decorative mini pumpkins, holiday-themed hors d'oeuvres, and apple cider. 
RSVP here!
5. Pre-Thanksgiving Party at The Bungalow
Get to celebrating at The Bungalow the night before Thanksgiving with those you're most thankful for!
Happening Wednesday, November 24 and featuring dancing with DJ Trevor Shawn.
6. Turkey Feast from Santa Maria BBQ Shack
Pick up your Santa Maria BBQ Shack Thanksgiving meal for 6-8 people complete with three sides, gravy, and cranberry sauce!
Turkey breast bone-in smoked and ready to eat
16 oz. cranberry
16 oz. gravy
Choice of sides and pies
Choice of additional meat add-ons
Orders must be placed by end of business November 23, 2021, and all pickup will take place at 7144 Edinger Ave. in Huntington Beach. 
7. Main St. Wine Co. Thanksgiving Sale

8. The Longboard Restaurant & Pub's Wild Turkey Party

9. 10th Annual Huntington Beach Turkey Wobble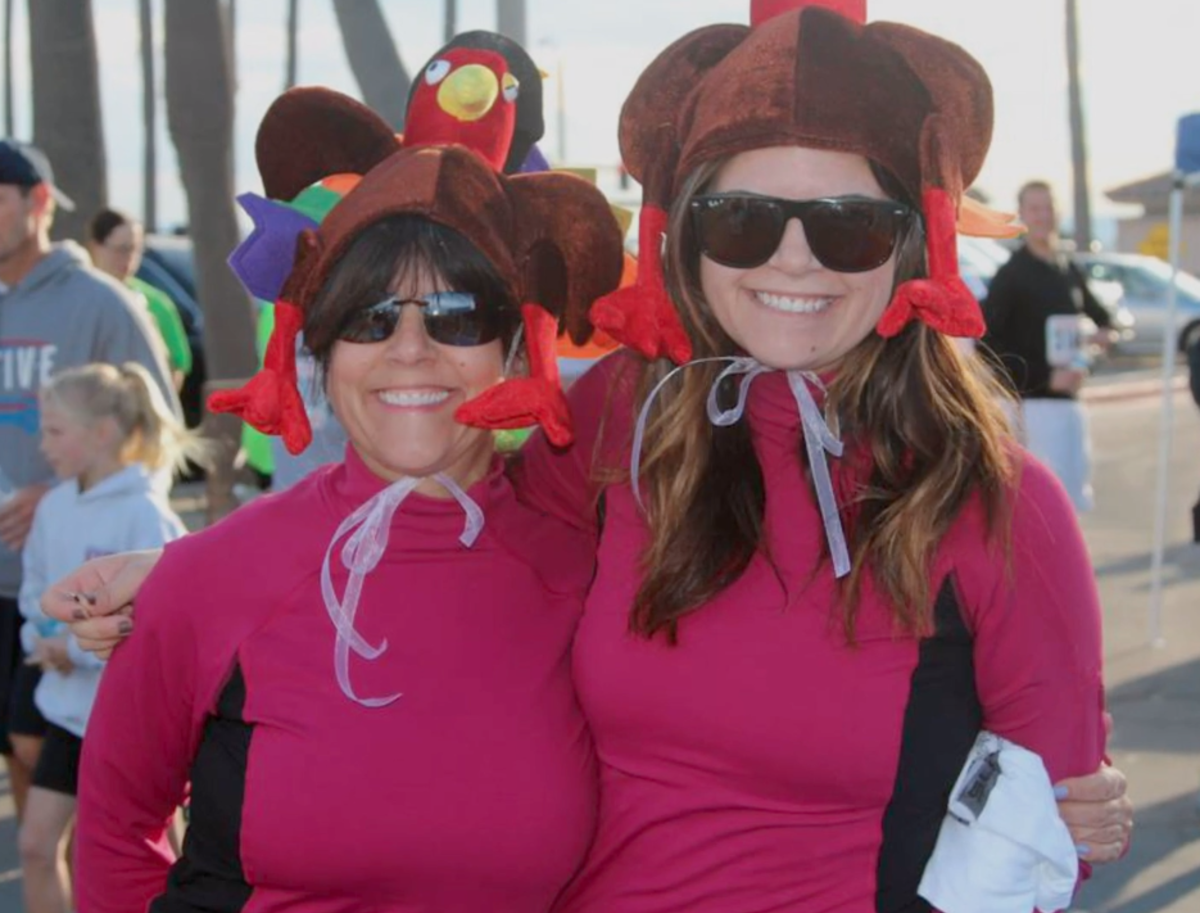 Get your steps in before your feast-filled day! The 10th Annual Huntington Beach Turkey Wobble kicks off bright and early at 7 a.m. on November 25. Enjoy the pounding surf and cool ocean breeze while walking or running under the historic Huntington Beach Pier and through charming Main Street. 
Your participation helps provide clean water to those in need. Past events have raised enough money to drill more than 40 wells in developing countries, and each well provides clean, fresh water to hundreds of people. 
10. Good Vibes Bar & Kitchen Thanksgiving Harvest Buffet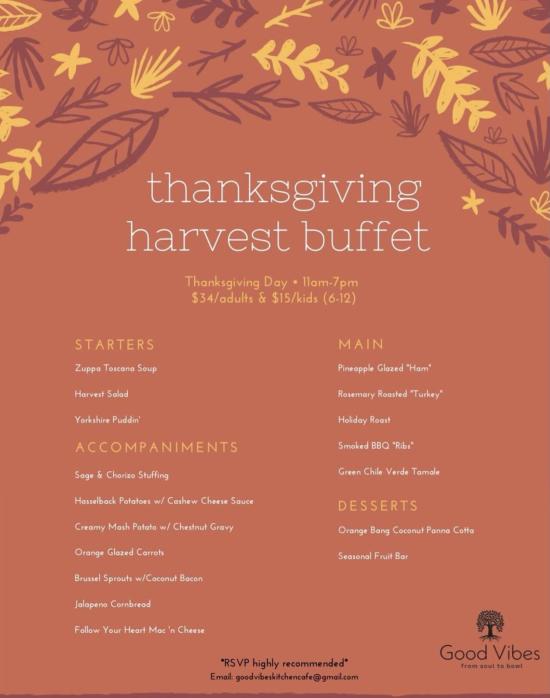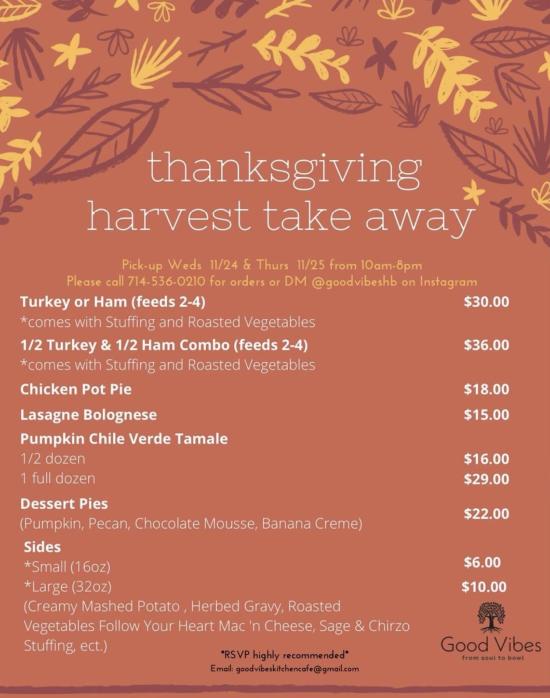 Good Vibes is hosting a Thanksgiving Harvest Feast from 11 a.m. to 7 p.m. on November 25! Reservations are highly recommended - email goodvibeskitchencafe@gmail.com to reserve your spots.
If you can't make the buffet but still want to enjoy a feast wherever you're celebrating Thanksgiving, Good Vibes is also offering take out options. Pick-up Wednesday, November 24 and Thursday, November 25 from 10 a.m. to 8 p.m.
DM @goodvibeshb on Instagram or call (714) 536-0210 to place your takeout order.
11. Biergarten Old World Huntington Beach - All You Can Eat Thanksgiving Dinner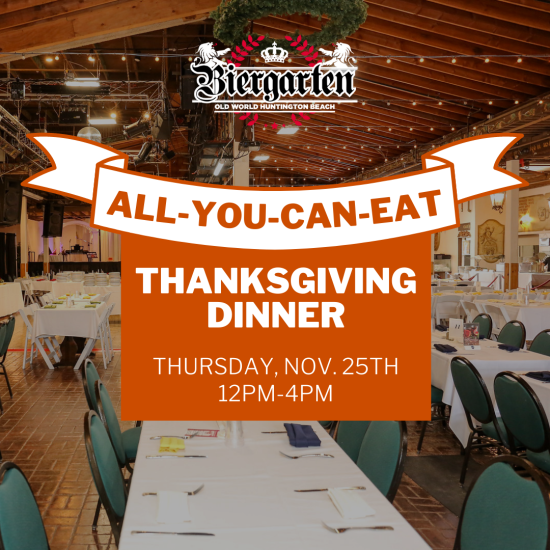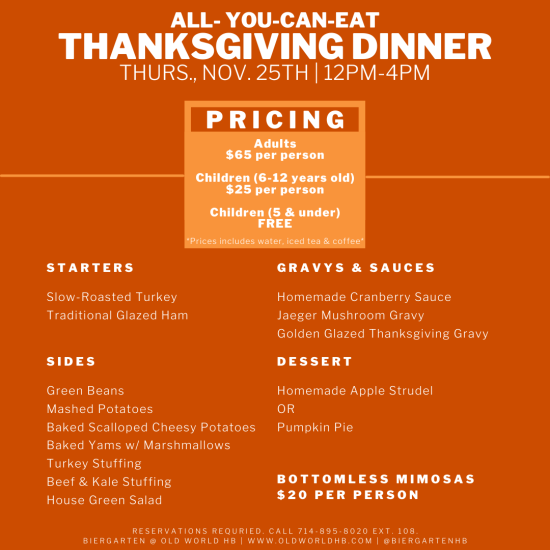 Enjoy an All-You-Can-Eat Thanksgiving Dinner on November 25 from noon to 4 p.m.! Adult meals are $65 per person, child meals (6-12 years old) are $25 per person, and children 5 and under are FREE. Reservations are required - click here or call (714) 895-8020 ext. 108 to snag your spots!
12. Thanksgiving Brunch at Mama's on 39

Mama's on 39 will be open normal business hours the day before Thanksgiving and from 8:30 a.m. to 2 p.m. Thanksgiving Day!
13. Indarra's Thanksgiving Feast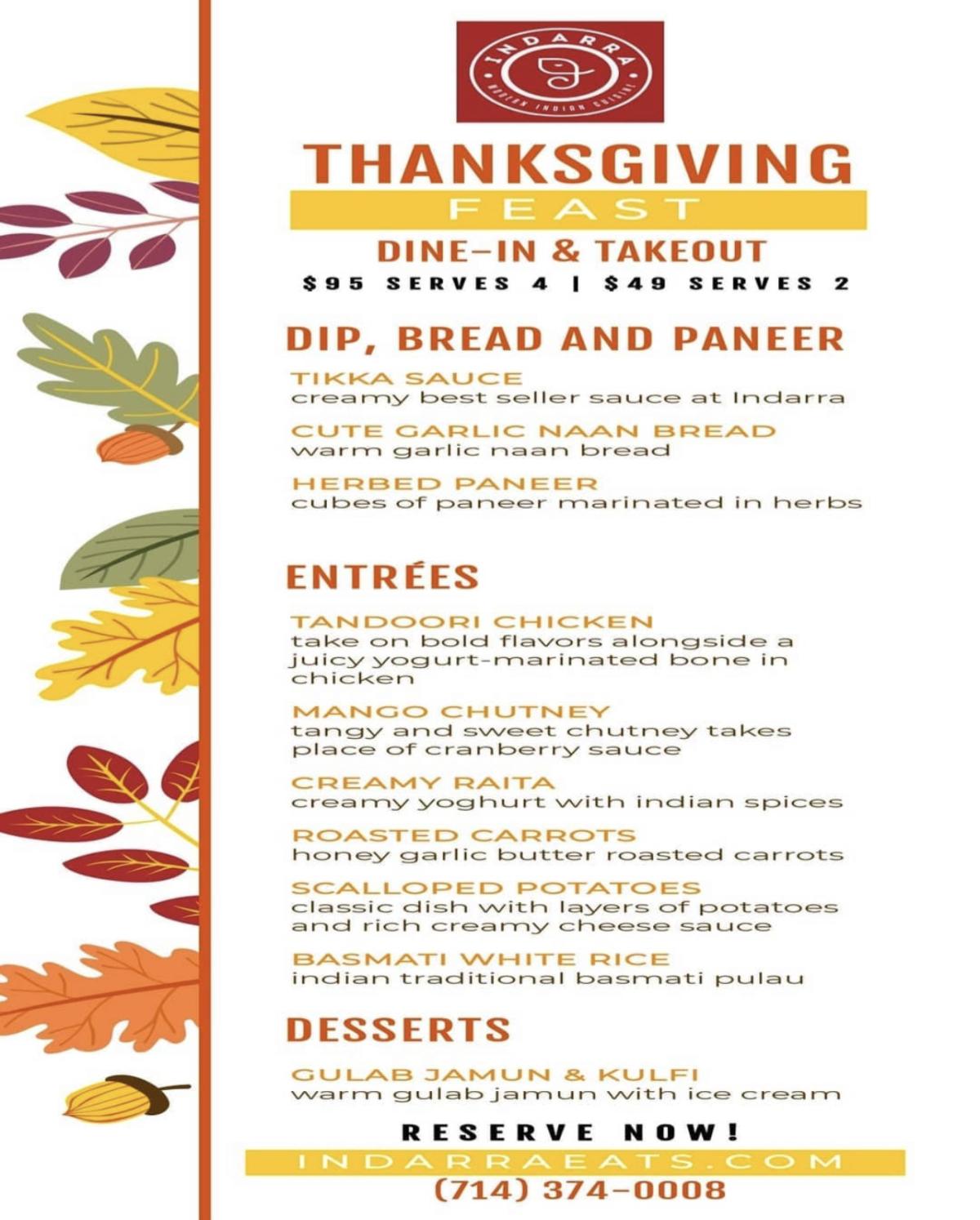 Dine-in or takeout to enjoy with family and friends wherever you celebrate! Indarra's 4-serving feast is $95, 2-servings is $49.
Orders can be placed until 6 p.m. on Wednesday, November 24. Pick up any time from 11 a.m. to 4 p.m. on Thursday, November 25. 
Call (714) 374-0008 or email savitur@indarraeats.com to place your order.
14. No Ka Oi's Annual All-You-Can-Eat Thanksgiving Feast
Thursday, November 25
Main Course
Oven roasted turkey and ham
Green beans with bacon
Fresh house-made cranberry sauce
Cornbread stuffing
Garlic mashed potatoes
Sweet potato casserole
King's Hawaiian dinner rolls
Dessert: Pumpkin pie with whipped cream
Beverages
Red or white wine
Soda
Iced tea
$25 per adult and $12 for kids ages 6-12. Kids 5 and under eat free with each paying adult entrée (one child per adult).
The full menu will also be available! No Ka Oi can also prepare your meal to-go with all of the fixings! Reservations are recommended, please call (714) 960-8300. 
15. The Longboard Restaurant & Pub's Turkey Dinner

16. Cool Yule Black Friday Event at Pacific City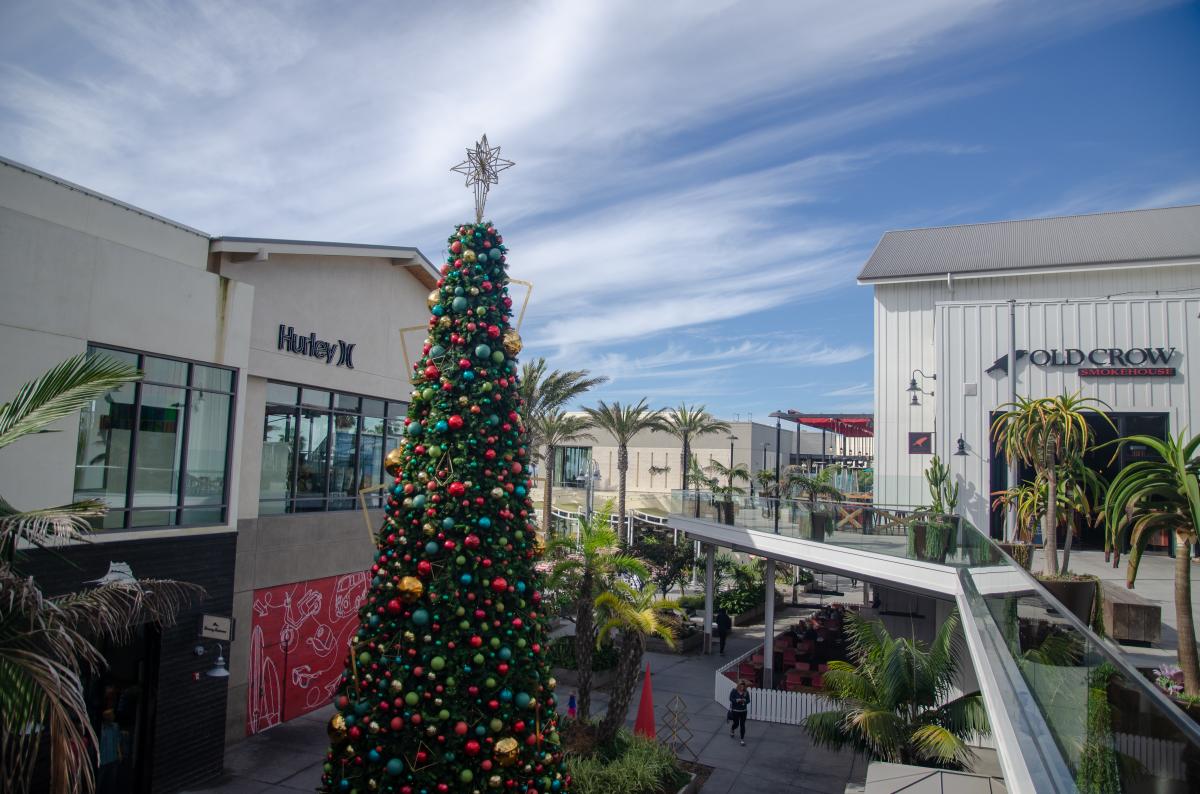 Pacific City wants to make your shopping and dining experiences as stress-free as possible this year. Their Cool Yule Black Friday event on November 26 includes the following:
Free all-day self parking
Children's jingle bell necklace crafts and face painting
Reading Reef and book signing with Author Kim Ann from 2 p.m. to 3 p.m.
APA Surf City Singers putting on a holiday show on the Main Deck from 2 p.m. to 3 p.m.
OC Song and Dance show on the Main Deck from 3 p.m. to 4 p.m.
HB Tuba Christmas concert on the Main Deck from 4 p.m. to 5 p.m.
Yuletone Carolers by the Tree from 5 p.m. to 7 p.m.
Santa photos throughout the day on the Main Deck
Get into the holiday spirit and register for Cool Yule here!