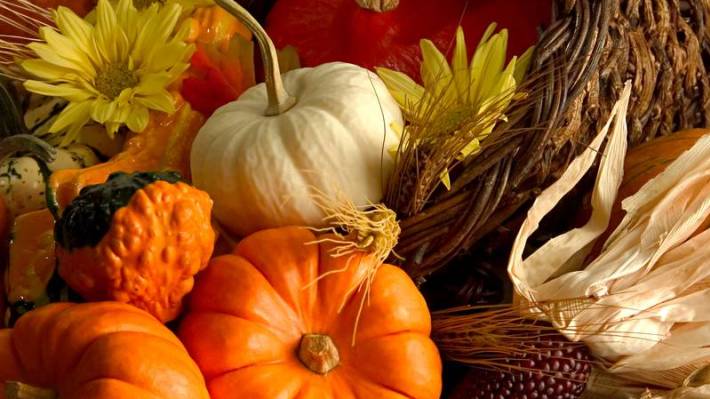 What's even better than enjoying a Thanksgiving feast without the cooking, cleaning or hosting drama? How about being able to walk off that piece of whipped-cream-topped pecan pie with a beautiful sunset walk on the beach? Let Huntington Beach's ocean-view hotels treat you to a delicious, decadent and stress-free Thanksgiving dinner November 23.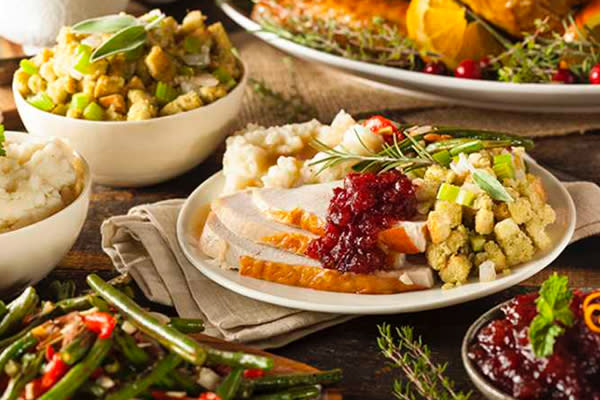 Hyatt Regency Huntington Beach Resort and Spa will be dishing up an absolute feast with its Thanksgiving buffet — roast turkey with all the trimmings, prime meats, seafood, gourmet salads and mouthwatering desserts, all set in the hotel's Vista Ballroom known for its spectacular ocean views.
Will you heap your plate with the apple cider-herb brined roasted tom turkey? Or will it be the garlic-rosemary encrusted prime rib of beef and the brown sugar-mustard brushed baked ham with an orange-maple glaze? Don't forget the snow crab claws with drawn butter and jumbo shrimp.
Save room for the dessert buffet —  besides the always popular pecan pie, house-made pumpkin pie or baked apple cobbler, try the vanilla bread pudding with spiced crème anglaise or the vanilla panna cotta with cranberry glaze for an added treat.
Beyond the eye candy provided by the lavish buffet, the holiday sand sculptures in the lobby are also a treat. Prices, including champagne, coffee, tea and soft drinks, are $75, adults; $65, seniors (65 and over) and $25, children (age 4 to 12, under 3 free). Outdoor seating is also available. Hyatt Regency Thanksgiving Menu.
For reservations, call 714-845-4893, or visit the hotel's Thanksgiving Facebook page, https://business.facebook.com/events/156970381572924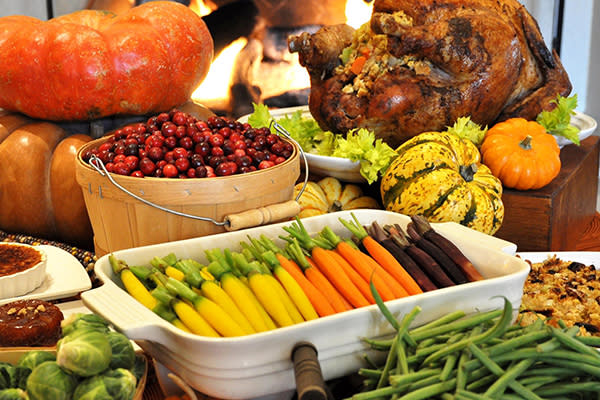 Photo credits: Hyatt Regency Huntington Beach Resort & Spa
Live entertainment, free flowing sparkling wine and mulled spice wine will ensure the festive spirit at the traditional Thanksgiving buffet at The Waterfront Beach Resort, a Hilton Hotel.
Savory selections on the carving boards will feature free- range turkey with giblet gravy, roasted, herbed prime rib with cabernet jus and honey-glazed ham. Even turkey purists will find it hard to pass up the sumptuous seafood displayed amid the glistening ice carvings: Alaskan King Crab legs with mango cocktail sauce, prawn cocktails and Fanny Bay oysters on the half-shell.
Handcrafted Cheeses, artisan breads, organic greens and gourmet salads, lobster bisque, seared salmon, Chilean seabass, crabcakes and sushi, roasted pork, stuffed chicken breast, mashed and sweet potatoes, and an array of fresh vegetables are just a sampling of the giant selection. Popular kids' favorites —  all white-meat chicken fingers, mini beef corn puppies, pastas and brownies —  will be set up at a special children's buffet.
Seating Times are 11:30 a.m., noon, 3 p.m. and 3:30 p.m. Prices are $92 for adults; $45 for children (age 5-12) and include an 18 percent service charge. For a detailed menu and tickets, visit http://www.waterfrontresort.com/dining/upcomingevents.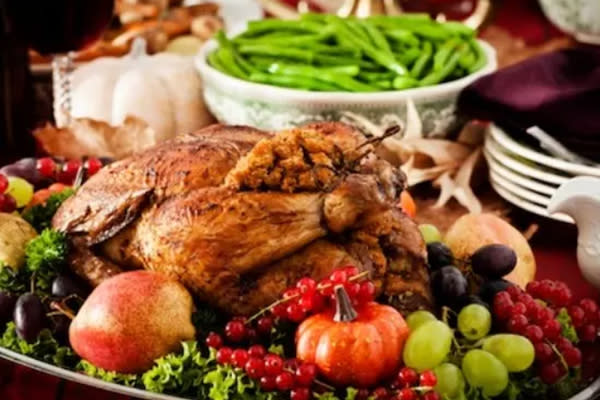 Dine either inside or on the patio while giving thanks for the ocean views at Tanner's Huntington Beach at the Pasea Hotel. The restaurant, adjacent to Pacific City dining, shopping and entertainment center, will be serving a set Thanksgiving dinner "with a wood-fired twist."
Start with an autumn salad with grilled peaches and locally-sourced brussels sprouts and pancetta. Then, break from tradition with the tantalizing entrée — a turkey roulade with all-natural breast. It's wrapped with Neuske bacon, then stuffed with traditional cornbread, chestnuts, dried apricots and braised collard greens.  Give thanks that you've saved room for dessert -- a pumpkin cheesecake, served with whipped cream, cinnamon and seasonal fruit. 
Price is $66 per person. For reservations, call (714) 698-6130, or visit www.tannershb.com. 
For another intimate setting just steps from the beach, make your reservations for a traditional Thanksgiving dinner at the Kimpton Shorebreak Hotel's Pacific Hideaway restaurant.
Launched last May as part of the Kimpton Group's renovation of the hotel, the Pacific Hideaway has a beachy Southern California vibe. Start your dinner at the soup and salad station – perhaps select the butternut squash bisque, along with a garden salad with pomegranate and candied pecans. Visit the carving stations for roast turkey with turkey-sage demi-glace or a cornbread-stuffed roast pork loin.  Then, choose from a tempting selection of side dishes: herb cheese mashed potatoes; sourdough and apple and dressing; ginger yam puree with toasted homemade marshmallows; Mezcal creamed corn, brown sugar-roasted fall squashes; and Green Bean Almondine.
Of course, there'll be pumpkin and apple pie for dessert, but you just may want to opt for the chocolate cake with maple walnut frosting. Linger at the restaurant's heated outdoor patio to watch the sunset, or take the short walk to the beach to work off that last serving of mashed potatoes and stuffing.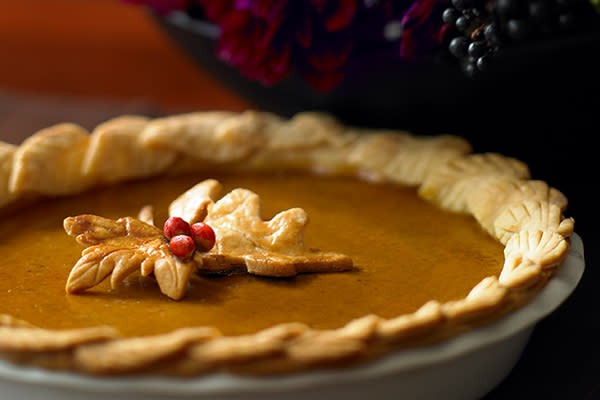 Dinner will be served noon to 6 p.m. Prices are $75 per person; $60 seniors; $25 for children age 4 to 12; under four years old are free. For reservations, call 714-965-4448 or visit http://www.pacifichideawayhb.com/menus/