Sam Bernal grew up in Southern California and studied Physics at Eastern Washington University before going into lighting engineering. Nearly five years ago, Sam was injured in a rock climbing accident. With a decreasing enthusiasm for engineering and an increase in spare time, Bernal began to pursue his passion for art in Huntington Beach. He has made over 60 paintings since his recovery and stand by his motto, "DREAM. FAIL. SUCCEED. REPEAT." It is even tattooed on the inside of his right arm. His work can be viewed at his website, www.sambernal.com, and at his booth each weekend in Pier Plaza.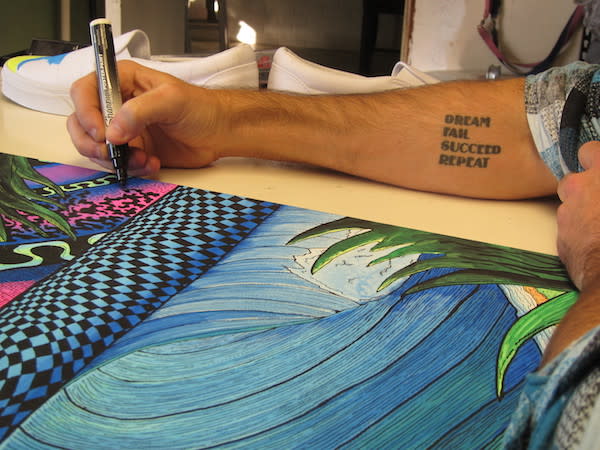 You have such a unique style, tell us about your artwork.
As an artist, I create to share. Every painting I made I consider a practice painting.  I can always make another one if it I mess it up.  I really started to develop my style once I let go of expectations and just allowed myself to have fun with what I was doing.  There was no pressure, it was just for fun anyway. I use paint pens, acrylics, and spray paint to make psychedelic, trippy surf art. It has a lot of bright neon colors with fine black outlines in a graphic style. Each piece contains a lot of detail and geometry.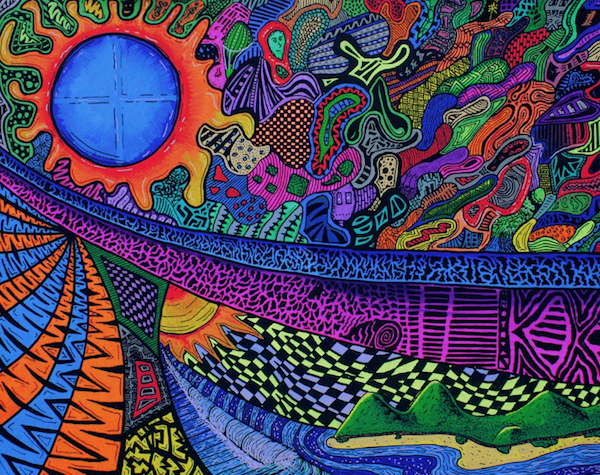 What brought you to Huntington Beach?
My grandmother has lived here in Huntington Beach for over 60 years so a lot of my family grew up here. I was born in Riverside, but my mom worked at a runaway teen shelter in Laguna Beach. I'd spend 2 days a week with my grandma here in Huntington Beach, and while she was watching me my uncles would teach me to surf. I've spent loads of time here at the Pier when I was a kid. I always just loved the smell of the ocean air and could never wait to come back here.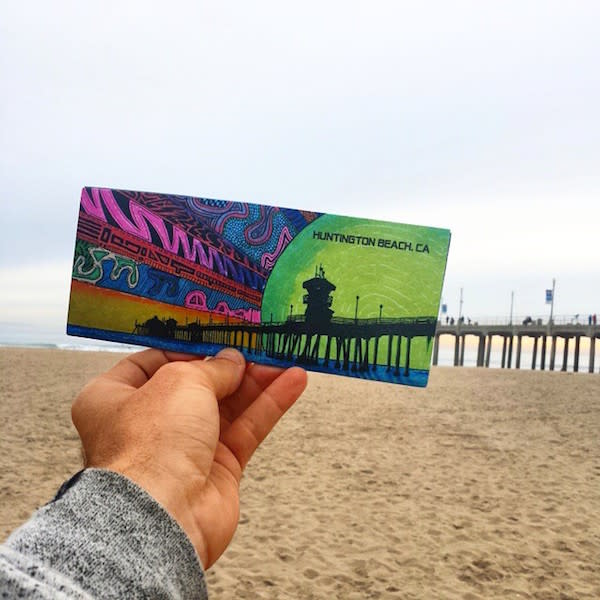 What about Huntington Beach inspires your artwork?
Whether it's surfing at the beach, skating down the boardwalk, or hanging out at Surf City Nights, Huntington Beach always keeps me inspired. I use a lot of sunset imagery in all my paintings and Huntington Beach has some of the best, world-class sunsets. Nature's putting on its own psychedelic show almost every night here in HB. And that is a huge inspiration for me in a lot of my paintings.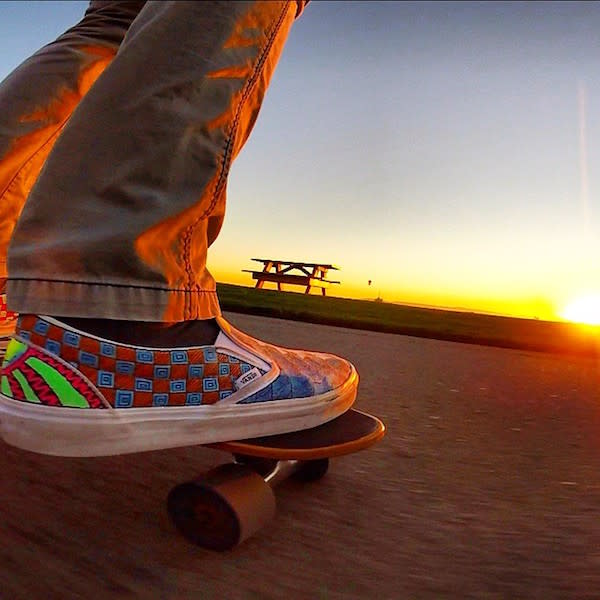 Where do you go to paint? Do you have any secret spots?
I do a lot of my painting at my house, but when I venture out, most of my work is taking place in my art booth. So when I have my booth set up in Pier Plaza on Fridays, I do a lot of painting there where people get to see it. People will watch my work as it comes along or visit me throughout the week and see the new paintings that I have started. If I'm looking for a quiet place, I love to go to Central Park and hang out by the lake. There are some really amazing gardens there. Or my favorite beach spots are the cliffs or at Warner Ave as you enter Sunset Beach. It's always pretty chill there. There aren't a lot of people so it's really quiet and you can just enjoy nature and the scenery.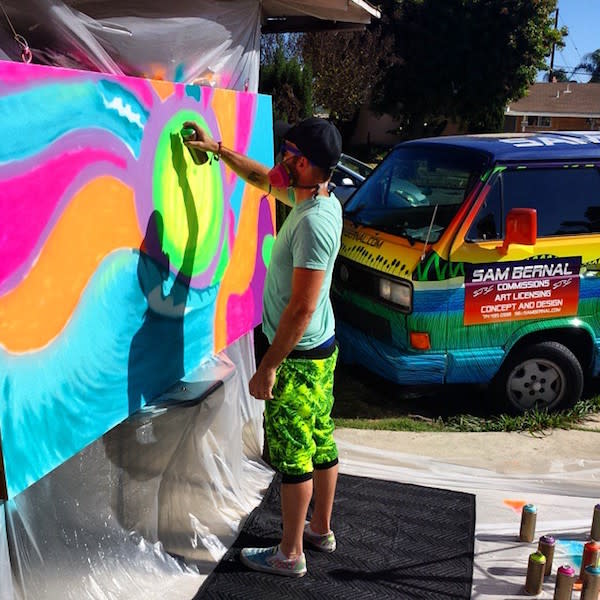 You often paint in public. How do you feel about people watching while you paint?
I totally enjoy that. I develop relationships with a lot of people in the community because they are always interested and keep coming by to see my new artwork. I love explaining how I make my artwork and showing people or young artists how I do certain things. I'm always happy to share any information with them about my process or what I'm thinking while I'm creating the art. It's just a real fun way to connect with people and when they get to see the final piece all the way through, they have more of a connection with the artwork.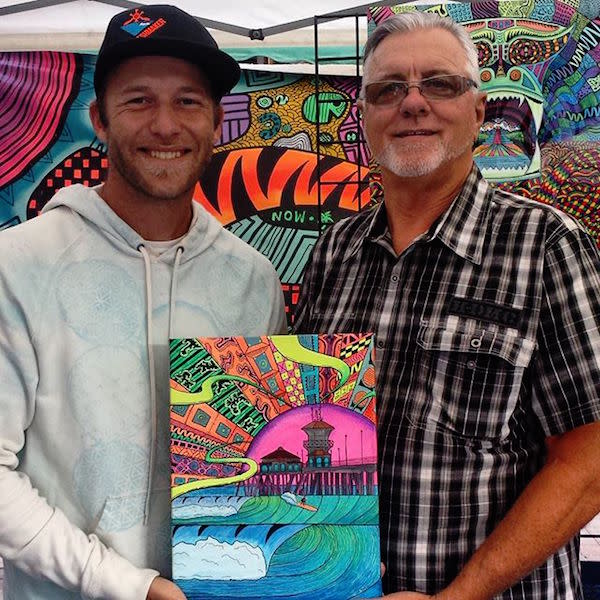 I have people come buy prints cause they saw me working on the original in my booth and they couldn't wait for it to be done and see how it turned out. It's amazing to get to share that connection with people versus them just seeing the finished piece in a gallery. They get to actually interact with me, the artist, and become part of the artwork and part of the inspiration as I'm making the piece.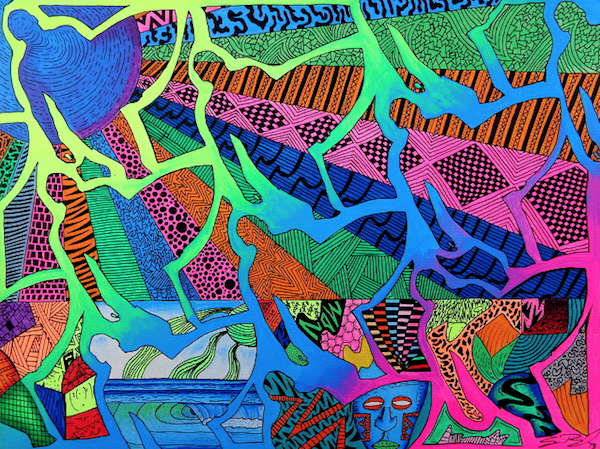 A lot of your work is sold at the weekly street fair and farmers market held Downtown. How would you describe Surf City Nights and its reflection of the community?
If you're visiting Huntington Beach for the first time and looking for something that's family friendly, there's no better place than Surf City Nights, which is held every Tuesday night. There's awesome artwork, amazing food (you know, churros and other treats), the bounce house for the kids. All kinds of local businesses come together and you feel like you're a part of the community when you're walking down Main Street.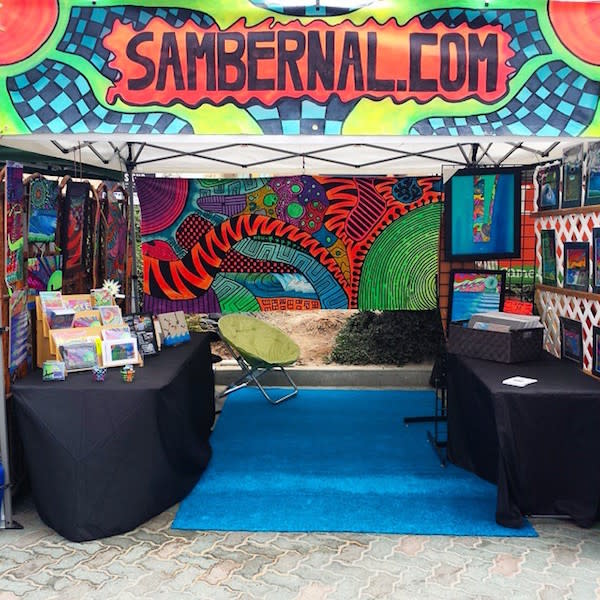 There's an eclectic mixture of people. Like the older couples walking over from their houses Downtown and locals that have their favorite vendors, where they have to go get their candied nuts every week, or bring their dogs to get their homemade dog treats. One of my favorite things is the live entertainment with younger local artists. Their friends and family always show up for support. It's just a really fun time with a great community.
Describe the artist culture in Huntington Beach and how Surf City Nights is helping local artists thrive.
Surf City Nights is a great venue for us local artists where we can all come together and show our work. There are really no feelings of competition between us because each artist has their own unique audience and the artwork speaks to each person independently. We're always rooting for each other to succeed and do well. We're always happy when someone makes a big sale. It's a real close-knit artist community at Surf City Nights.
Have questions about Art in Huntington Beach?
Ask Sam! You can find him on Instagram at @sambernal and Twitter at @sam_bernal_art!