Born in Los Angeles, professional beach volleyball player Casey Patterson has resided in Huntington Beach for over a decade with his wife and three kids. After playing at Brigham Young University, Casey followed his beach volleyball dream and has since earned 15 first place finishes in his professional career. Patterson and his teammate Jake Gibb ended the year as the top US men's team and hope to continue their success if chosen to be the American representatives in the 2016 Summer Olympic Games in Rio. Noted as one of the most charismatic and energetic players in the AVP, Casey is widely known for his suave hawk and expressive style. "I always play with passion and fire because I was not born with natural athletic ability," Patterson told AVP.com. "Just great hair and great hand-eye coordination."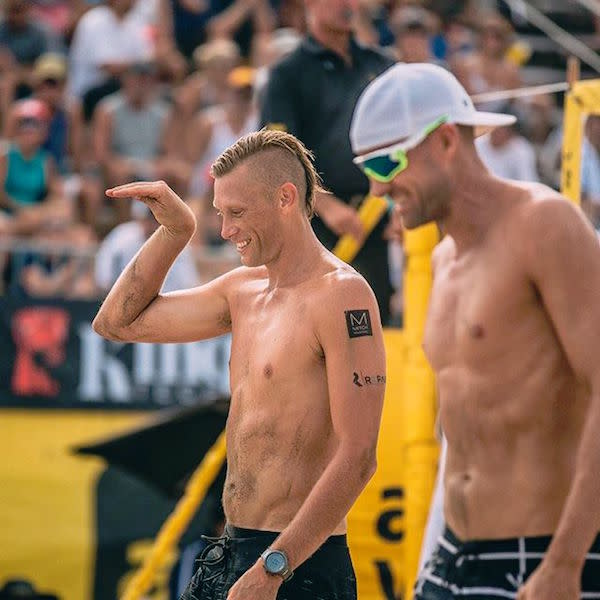 How did you decide that Huntington Beach was the place for you to pursue your goal of becoming a professional beach volleyball player?
I always dreamt of being a professional beach volleyball player and in 2001 when I was still in college, I walked down Main Street and there was Jack's and all the surf shops and people crossing Pacific Coast Highway to the beach. It was really cool seeing the drum circle by the Pier and the performers. Seeing all the volleyball courts, the rows and rows of volleyball courts, it was just a very magical experience for me. I felt like this is the place where you should live if you want to do anything in your life. No matter what you want to be, this is where you have to live because you have the opportunity to do anything you want. Especially being a beach volleyball player, I wanted to be in Huntington Beach for the rest of my life after that moment. That was it for me.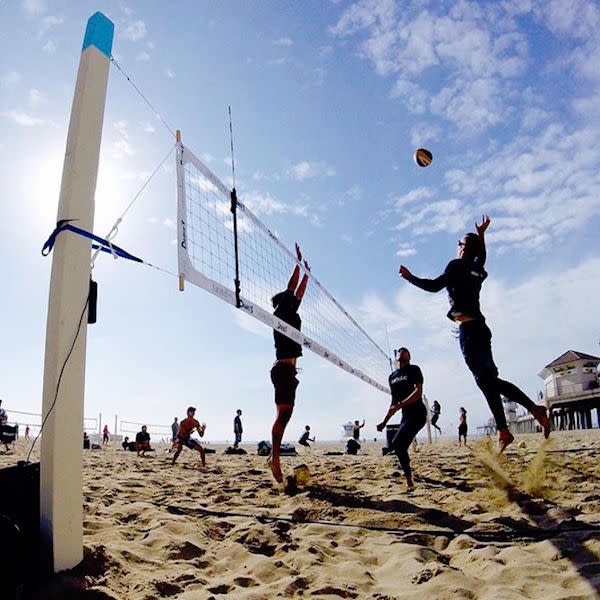 So you were sold on Huntington Beach after that moment?
It was so rad to see all those courts and everybody playing. Every day there's people playing volleyball. Monday, Tuesday, Wednesday, it doesn't matter. People are out there getting after it. And it was such a cool feeling for me that I could go and play my passion every day. That was a special day. Huntington Beach is just really cool. Now that I have a family with three children, we have so many activities and there are so many things to do for the kids. It's a very special place and you can't beat it anywhere else. I've lived a lot of places and this is where I want to live the rest of my life.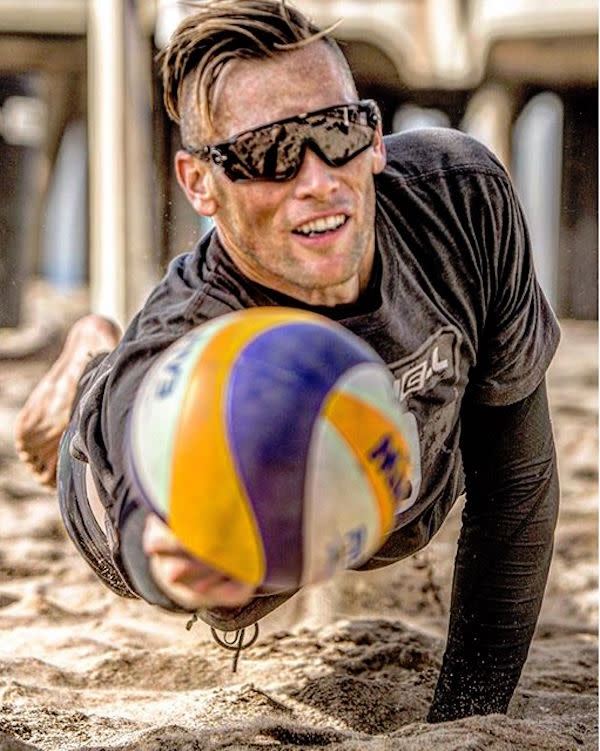 Tell us about your first experience playing volleyball in HB.
Court one, south side of the Pier, is where I started playing in Huntington Beach because every weekend it's the pickup game court. You sign your name on the list and you wait in line for your turn. My first day I waited three hours and it took forever to get in on a game. It was frustrating. So as soon as I got on the court I made it worth it and won every match for the rest of the day because if you win, you stay. That atmosphere on court one by the pier is very special. There's really nothing like that anywhere that I've seen and I've played in beach volleyball tournaments and events all over the world with thousands and thousands of people. But a Tuesday afternoon in HB with all that action, there's nothing that beats it. It trumps all those other tournaments.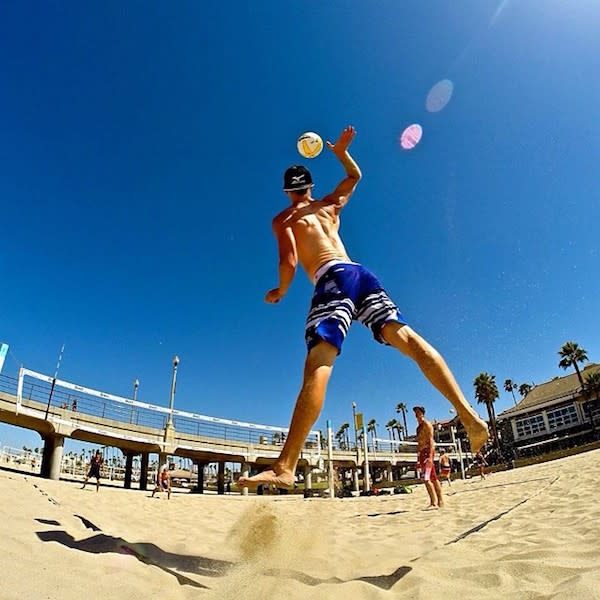 Do fans often stop and watch while you're playing?
Court one is where Jake and I train every day and it's almost like we're performing during practice with people walking on the pier and stopping when they see us. We get so many different people, families, older couples, cheering us on, kids yelling, "nice play!" You have all the action on the boardwalk right there, kids on bikes and skateboards, driving by in front of Sandy's and Duke's. It's really cool because it's almost like we're in a movie. There's so much going on around us and support by locals and our friends and families. A lot of people from out of state will stop and point us out saying, "there's Jake and Casey." They have kids that love watching volleyball and they know of us and it's a really fun atmosphere.​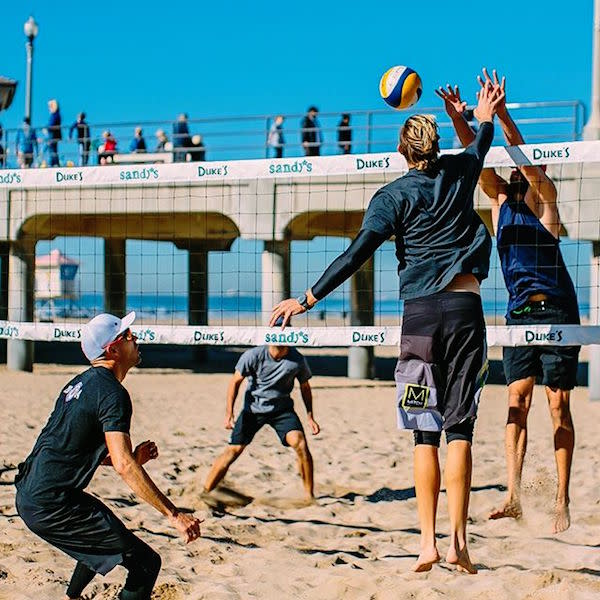 Describe the beach volleyball culture in Huntington Beach.
Beach volleyball in Huntington Beach is very different form most places I've ever played because there's a family style aspect to the culture. Everyone's always connected on social media and they're setting up games and groups. We've even got some fun groups as pros where we play with a bunch of amateurs. And on the weekends it's always crazy because there are pickup games. I have a lot of friends that I have met just playing pickup games and interacting during leagues. They have a Friday Night Lights league where you can play under the lights at Duke's. Its really cool, my wife plays in it. There's just opportunity for anyone at any level to play beach volleyball in Huntington Beach. It's always going year round and I think that's different than anywhere I've seen because usually they'll play summer, maybe spring, then people take the rest of the time off. But everyone is such a hardcore lover of beach volleyball in Huntington Beach that it's nonstop. There's a big volleyball culture here. It feels like a family when you come play down by the pier, it's a special thing.
What do your kids do while you're playing and working at the beach?
What's really cool is because it's a family dynamic down by the beach at those courts its real easy to bring your kids. You're not worried or paranoid because there are so many other kids and people that we know. My kids can run over to court 27 or wherever and they're safe because everyone knows my family and my kids.  It's a cool thing for us to be able to have them kind of roam and be taken care of by all their aunts and uncles. It's nice that the kids can come watch practice and help collect the balls for us and then of course they bail to the water as soon as possible and go play. For me, if I were a kid, it would be my dream scenario to have my dad play beach volleyball in Huntington Beach. Be able to go get an acai bowl at Banzai Bowl across the street and watch volley and play in the water. I can't stress it enough that this is a really special place. There's nothing like it.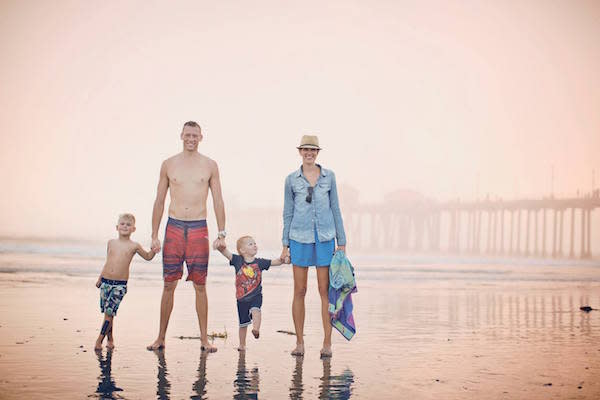 How do you spend time with your family here at home?
Of course we like to go to the beach. We like to ride our bikes up and down the coast of Huntington Beach. We do bonfires all the time; my family loves being at the beach as much as possible. We live real close to the beach and city center so the kids do karate, swimming lessons, and soccer. You name it, we've been there and done that in Huntington Beach. Walking down the pier to Ruby's is one of the most special things because the kids get to grab a hamburger, fries and shake. That's something that you remember. You see the fishermen and get a nice view of the surfers from up high.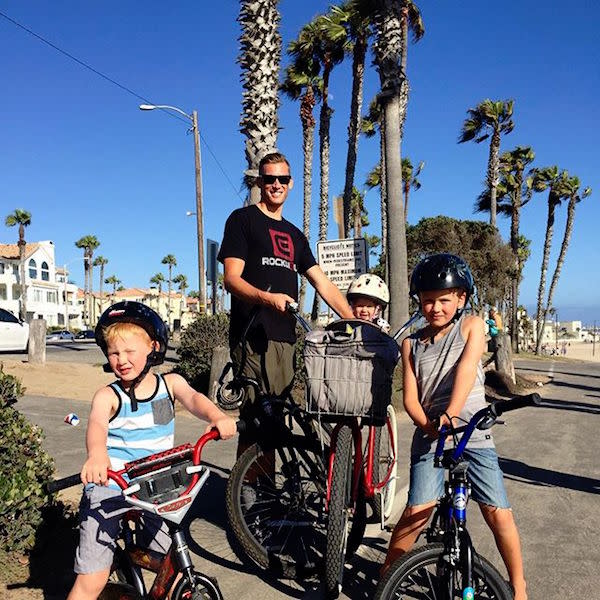 What do you enjoy doing besides playing beach volleyball?
Having three children, I have two boys and a daughter, weekends get real busy and even during the week its busy. If we have any free time we come down to Main Street. Tuesday nights they shut down Main Street for Surf City Nights and have a farmers market and stuff for kids like bounce houses, that's always a go-to and it's free. There's always something new and you're supporting your local business owners. There are also entertainers like singers or those guys that are balancing chairs on their chin. You get everything here… it's crazy. As a family man, this is an ideal place because there is so much for my children to be a part of and see and do. Not only volleyball but any hobby or passion.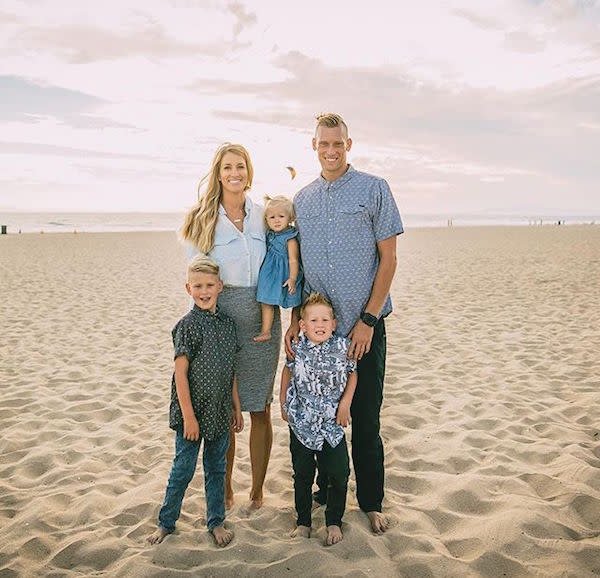 Are there other events that you like to attend? The AVP Tour stops in Huntington Beach, which must be fun for your family to watch.
There are always events going on. It seems like they always have classic cars in the parking lot by the pier and you feel like you've almost gone back in time. Almost like you're living this 50s beach lifestyle where there's rad hotrods. A cool event that happens every year is the US Open of Surfing. It's a massive event and I take my kids to watch the skateboarding and surfing. There's a surf competition probably every other weekend so you have an opportunity to see long boarders and stand up paddle boarding from the young kids to the highest level. Even throughout the rest of the year there's the kite competition.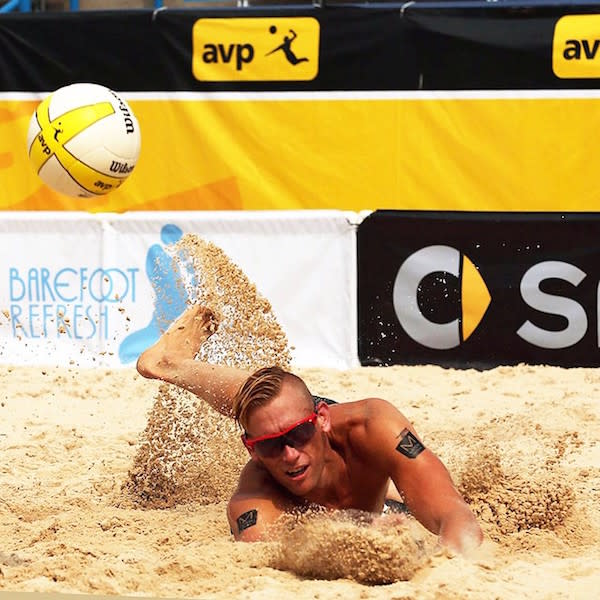 I love that AVP hosts a tour stop in Huntington Beach during the summer, this year it's May 5-8. It's always the most exciting because I get to be home. Playing on my home beach on the sand that I love and around my community. No matter what time of the year, there's something going on that your family can enjoy and you don't get that anywhere else. I've gone to other beach cities and they're like ghost towns. If you love being outside at the beach, this is the place to be.
What are some of your favorite spots in Huntington Beach?
Sugar Shack is a really cool place to go in the morning for breakfast. There's Jan's Health Bar, which has been here for the longest time. It's this small restaurant that Jan started a long time ago just selling sandwiches and chips and guacamole to surfers. I probably eat there, no joke, 4 times a week since I've lived here and I've lived here for 10 years. There's something for everybody.
What do you love most about playing in Huntington Beach?
There's a different feeling playing volleyball here than anywhere else. I feel like I'm always playing in front of an audience. For an athlete, it's easy to get bored with the basic routine of training and trying to improve yourself. There's this cool feeling because there's always someone you see every day or someone new that's watching and supporting and helping us in our dream whether it be Olympic gold medals or world tour medals. As a pro beach volleyball player, I get the most enjoyment playing in Huntington Beach because of the constant audience. It's always different. I play with the pier and ocean in the background knowing that Main Street is right there across PCH. Just knowing you're in a place where you can do anything. It's magical.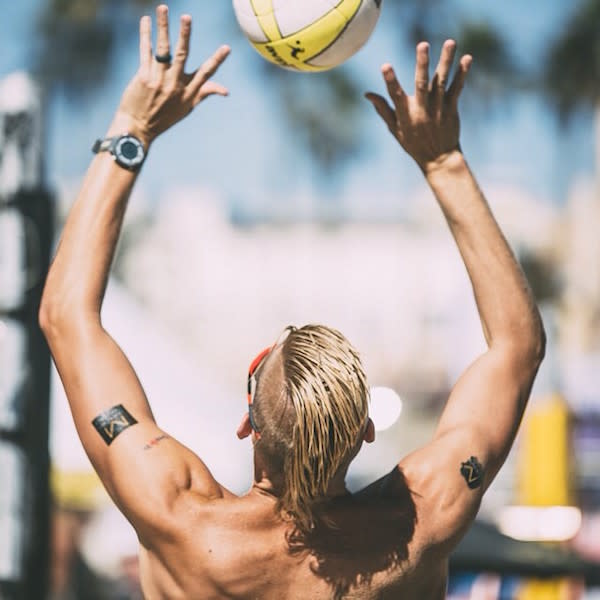 Have questions about Volleyball in Huntington Beach?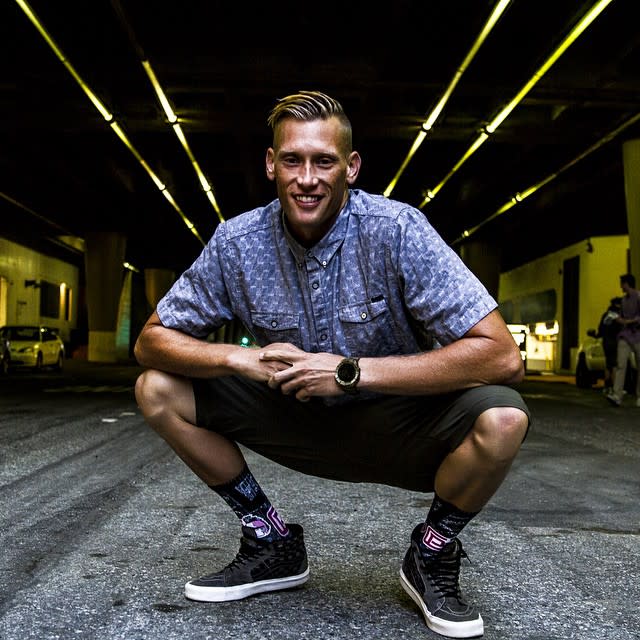 Ask Casey! You can find him on Instagram and Twitter at @caseypatt!