In its simplest form, sushi is raw fish and vegetables on vinegar rice—but as culinary tastes have evolved, so has our affinity for this Japanese staple prepared in increasingly elaborate ways. The Western interpretation of the delicate dish adds approachability and innovation to a dish that some may be hesitant to try. 
Here in Huntington Beach, where you're never more than a few miles from the water, sushi is in high demand. Fresh catches are bountiful and there are Japanese restaurants to be found at nearly every turn. Take your tastebuds on an adventure and try one of these five hot spots featuring options that range from authentic nigiri to complex combinations packed with flavor. 
Sushi On Fire
301 Main St #103, Huntington Beach, CA 92648; 714-374-8885
Located in the heart of downtown, Sushi on Fire is every bit the modern sushi stop. Pulsating strobes light up the artful presentations of innovative culinary treats. The offerings here are plentiful—there's something for every palate on the menu that features 70 specialty rolls in addition to traditional cut rolls, hand rolls and 2-piece small tastes. A few names will bring a smile to your face, but the tastes are nothing to laugh about. For fun, try the Hello Kitty hand roll sans rice, which is packed with fresh seafood including tuna, yellowtail, salmon, crab salad and masago (roe) with green and red onions and shrimp tempura. The restaurant's namesake sushi is also a must-try, artfully arranged on the lip of a plate and drizzled with three sauces (spicy, sweet and creamy) to represent flames of a fire. This is a great introductory dish for those hesitant to try the traditional raw sushi—shrimp tempura and shrimp salad are tucked inside soy paper, which is wrapped with an avocado slice and topped with a square of baked langostino. Be forewarned: With eight hearty pieces, it's incredibly filling.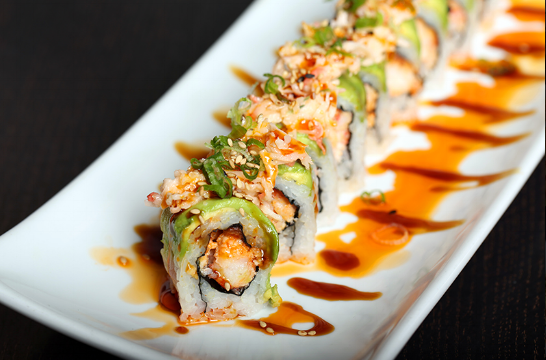 Irassae 
8841 Adams Ave., Huntington Beach, 92646; 965-1904
A cozy spot tucked away in a neighborhood plaza off Adams Avenue and Magnolia, this hidden Japanese restaurant almost always people in line to nab one of its 50 or so seats—and it's worth the wait. The menu at Irassae runs the spectrum of seafood, doing everything well from the buttery soft salmon to spicier specialty rolls. If you like to turn up the heat, go off-menu with the Ghost or Nancy rolls. The former offers plenty of kick with spicy tuna, tempura shrimp and albacore, topped with an avocado wedge and a generous dollop of spicy mayo and spicy ponzu; the latter is a roll version of the tuna special nigiri with avocado, smelt eggs and the house special sauce.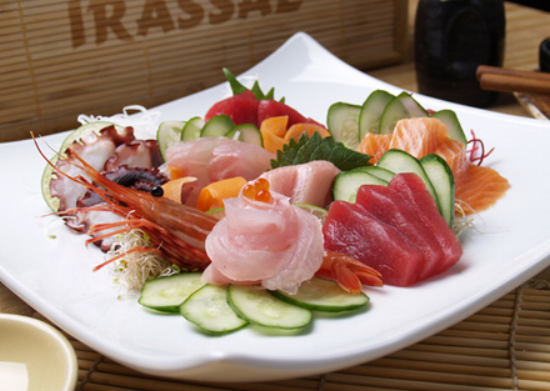 Tsunami
17236 Pacific Coast Hwy., Huntington Beach, CA 92649; 562-592-5806
With an understanding that sushi can be pricey, this north Huntington Beach joint just off PCH offers tongue-in-cheek specials two nights a week (Tightwad Tuesday and Flat Broke Wednesday with BOGO teppanyaki deals), in addition to daily happy hour. Tightwad Tuesday at Tsunami features half-off select sushi rolls such as the crunch roll, which is the traditional California roll topped with crunch flakes and eel sauce. Another Tightwad Tuesday favorite, the Godzilla, offers crab, avocado, cucumber shrimp wrapped in seaweed and deep fried with ponzu sauce, sesame seeds and green onions on top. One must-try—if only for its fun plating—is the Lady on Fire, another deep-fried roll with crab and spicy tuna that's topped with fresh seared tuna and a dot of sweet chili sauce. In the middle of the plate, a bright flame reminds you that this is no traditional sushi restaurant.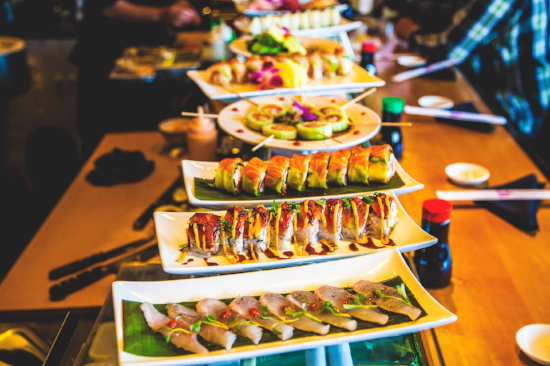 Hashigo Sushi 
18685 Main St., Ste. 106, Huntington Beach, 92658; 714-848-1111
More traditional than trendy, Hashigo charms with its high-ceilinged space next to the Trader Joe's at 5 Points Plaza. Cut rolls are elegantly plated and garnished, with options ranging from the quintessential California roll to vegetable rolls for the non-seafood eaters. Traditional doesn't mean boring, however—the Paradise Cucumber Roll is a rainbow of seafood with salmon, tuna, crab meat, white fish, yellowtail and smelt eggs with yamagobo, avocado and sprouts, all wrapped up in a paper-thin slice of cucumber. Newer to the menu is the Hashigo845, packed with fresh flavors of the ocean with blue crab, avocado and asparagus wrapped with white fish and topped with a spicy baked scallop with garlic butter and drizzled with ponzu sauce for an artful finish.