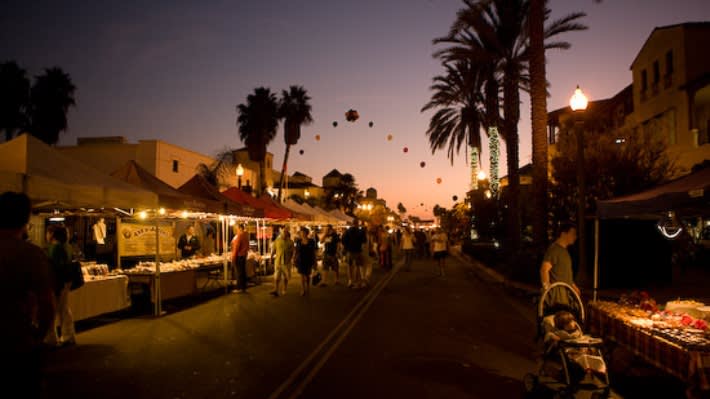 A weekly street fair, Surf City Nights has accomplished the impossible and turned sleepy Tuesday night into one of the hottest times of the week in Huntington Beach. With traffic shut down on three blocks of Main Street, locals and visitors flock downtown for live music, food stands, and a certified farmers' market. In addition to plenty of great food, many come to this community gathering to bargain shop for art and clothing.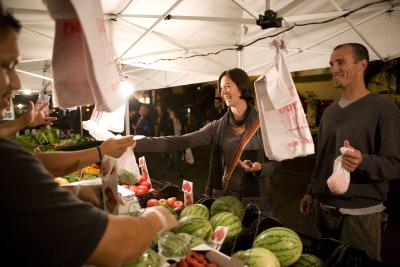 Farmer's market vendors sell fresh fruit and vegetables, along with fresh cut flowers, local honey, gourmet salt, olive oils and vinegars, fresh baked goods, and dried fruit and nuts. Merchants feature original artwork, glass and ceramics, clothing and couture, and gifts and collectibles.
Bring the kids for children's activities including inflatable slides, face painting, a balloon artist, musical groups, magicians, a petting zoo and bubble man. Then sample one of the many food vendors selling homemade tamales, fresh donuts, organic juices, kettle corn, bacon-wrapped hot dogs, fresh roasted corn, and food from local restaurants.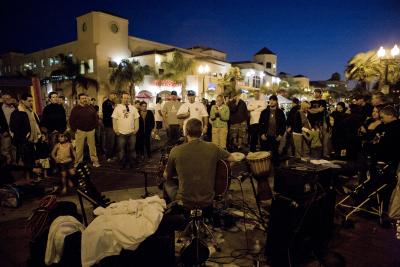 Surf City Nights is held every Tuesday evening from 5 pm to 9 pm along Main Street, between Pacific Coast Highway and Orange Avenue. The event takes place year-round, but may be cancelled due to inclement weather. For more information about Surf City Nights, including how to become a vendor or street performer, go to the Huntington Beach Downtown Business Improvement District's website