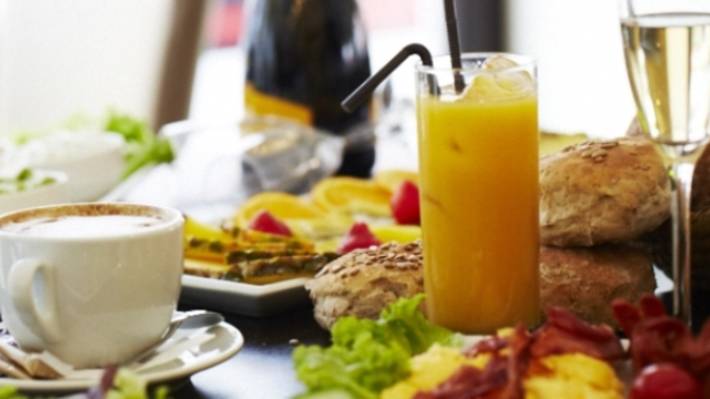 Excellent service, Alaskan king crab, shrimp cocktail, carving and waffle stations, bottomless champagne, and a gourmet omelet station, make Hotel Huntington Beach Champagne brunch an Orange County favorite. Seating is limited and fills up fast (even if you get there early), so a reservation is an absolute must if you're serious about this decadent and delicious fine dining brunch experience. Every Sunday from 11am to 2pm. Call 714.908.5178 for reservations.
Shades offers a remarkable champagne brunch every Sunday from 11:30am to 3 pm. The popular dining event features a wide variety of delicacies including a carving station, a customized omelet station, Belgian waffles, fresh sushi, and an irresistible assortment of desserts featuring cheesecake and chocolate covered strawberries. From the Shades Restaurant patio you can enjoy Sunday Brunch with an ocean view and cool breezes. Call 714.845.8000 for reservations.
A unique brunch menu and an ocean view is what Duke's near the Huntington Beach Pier has to offer. The menu includes two types of egg Benedict, fresh baked muffins and croissants, coconut French Toast, or Duke's Hawaiian style seafood cocktail and Ginger Shoyu Chicken. Of course, being on the beach and having great food means Duke's is quite popular, so be sure to make a reservation at 714.374.6446. Looking for a different selection? Head downstairs to Sandy's Beach Grill and check out their weekend breakfast menu.
Spark Woodfire Grill
Every Sunday from 10am to 2pm, Spark Woodfire Grill features a Champagne brunch including eggs benedict, sausage, seafood, salads, and more. There is a generous amount and a wide variety of food items at this buffet. Be sure to check out the carving station and omelette station. Live entertainment is also provided. For reservations, call 714.960.0996
The menu at SeaLegs Sunday brunch moves to an entree style selection with choices such as; Seared Ahi Benedict, Fresh Biscuity Breakfast Sliders, House made Brioche French Toast Sticks and Truffle Vegetable Omelet to name a few. All entrees come with a split of the delicious Karma Champagne to start your meal with an extensive champagne menu to choose from including favorites such as Vueve, Ace of Spades and Moet Chandon. Champagne Sundays starts at 11am -and go until 5pm and cater to large parties & celebrations. To book a reservation for a party of 6 or more call 714-536-5700.
This is the place to go for a casual brunch that doesn't get overcrowded. Blackbull Chop House is nestled just off of downtown Huntington Beach's Main St. and has a great layout and flow. Favorite dishes include seared Ahi, eggs Benedict, the prime rib and the amazing dessert station. The wait staff is friendly and attentive and keeps the champagne flowing. For reservations, call 714.969.6700.