Photo by @j.lovat

Huntington Beach, with its wide beaches and the majestic surf of the Pacific Ocean, draws thousands of visitors every year. To ensure an enjoyable visit, it's vital to be respectful of the ocean and know how to keep yourself and your family safe in this marine environment. Yet, many people don't have experience with oceanic conditions.
So what can you do? We asked Lt. Eric Dieterman, Marine Safety Division Watch Commander, for some safety tips.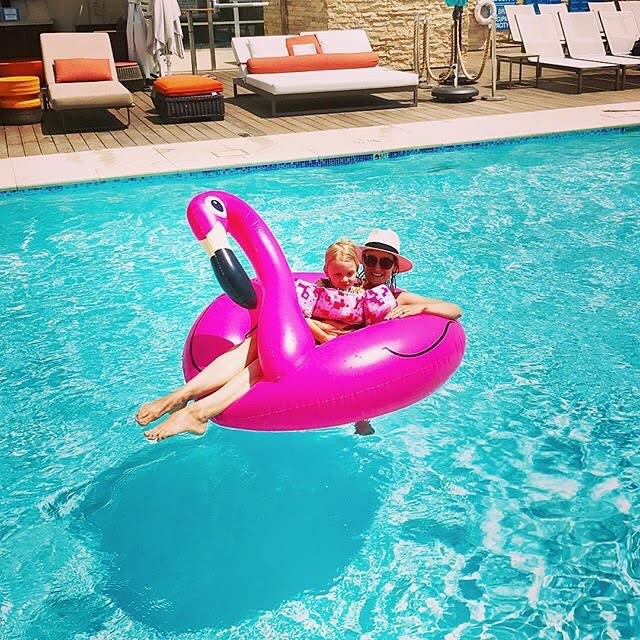 Photo by @clklement
Sun Safety
First of all, protect your skin from sunburn by applying sunscreen with the proper Sun Protection Factor. SPF is a measure of how well a sunscreen will protect your skin from UVB rays, the kind of radiation that causes sunburn (including second degree burns), damages skin, and can contribute to skin cancer. If you are planning on getting wet, use the waterproof variety and reapply as directed.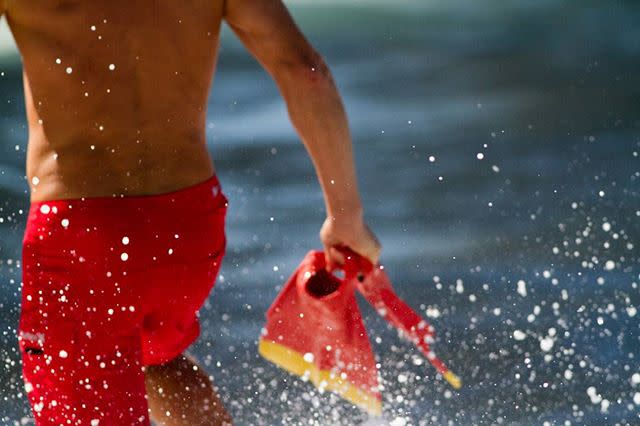 Photo by @j.lovat
Swim Safety
If you want to venture into the ocean, this tip may seem like a no-brainer, but it is vital—know how to swim. And for parents of young children who are non-swimmers, be diligent in the surveillance of your little ones. Even in ankle-deep water, waves can create a dangerous situation. Plus, if you put "floaties" on your child, be aware that these can provide a false sense of security and therefore present hazards. Floatation devices are not a replacement for supervising your children, because these devices are less effective in the ocean than in a pool.
The dynamic environment of the Pacific Ocean in Huntington Beach is unique. According to Lt. Dieterman, people who get in trouble because of rip currents make up 80 - 90 percent of the rescues. Learning how to locate, identify, and get out of rip currents is key to keeping yourself safe. Even before that, when you get to the beach, it is wise to ask the lifeguards where the hazardous conditions exist and where to swim.
A rip current is a specific kind of water current which can occur near beaches with breaking waves. A rip cuts through the lines of breaking waves like a river running out to sea. It is strongest near the surface. Due to the uneven ocean bottom conditions present in Huntington Beach, the water that moves out to the ocean from shore can create a river that moves at upwards of 8 - 10 miles per hour, faster than Michael Phelps swims.
Identifying a rip current is fairly simple if you know what to look for. When you look at the ocean, the rip current will look like a river of water with a mushroom cloud. It may be choppy, may have some sand or discoloration, contain no waves breaking in the vicinity, and water may be going backwards.
It is easy to get pulled off of your feet and drawn out to sea whether you are near the shoreline or beyond. While the natural reaction is to swim directly to the shore, the best way to get out of a rip current, if you are a strong swimmer, is to swim parallel to the beach until you reach green and cleaner water before swimming to shore. As an alternative, swimmers who are caught in a strong rip can relax and go with the flow (either floating or treading water) until the current dissipates beyond the surf line and then signal for help or swim back through the surf diagonally away from the rip and towards the shore. If you aren't a good swimmer or if you are still stuck in the rip current, remain calm, shout out or signal to a lifeguard for help and tread water or float on your back to conserve energy until help arrives.
Other common assists that lifeguards attend to regularly in Huntington Beach are cervical spine injuries caused by people diving into the ocean headfirst without evaluating the depth of the water.  Remember to check the bottom of the ocean with your feet and not with your head to avoid serious injury, especially since the ocean floor in the Huntington Beach area is not level.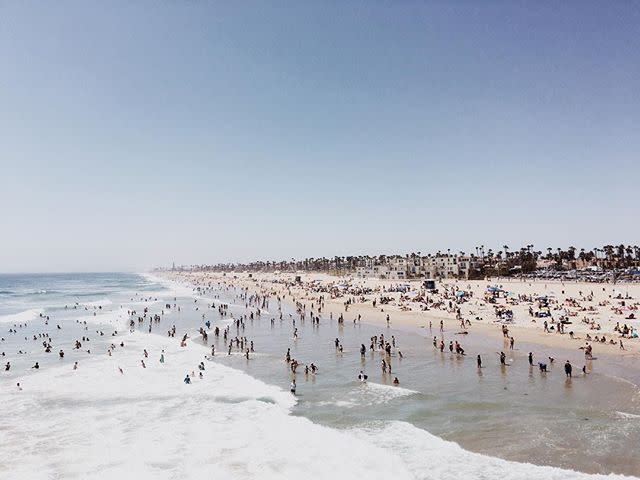 Photo by @_willkim
Wildlife Safety
In Huntington Beach, there are many species of marine life that share their home with humans as we interact with their habitat. Most are docile and go about their business. Nevertheless, there are some that you want to avoid, such as the stingrays that shuttle along the ocean floor and are common in this area. If you step on them, the barb on their tails can give you a painful sting. This is mostly preventable by shuffling your feet along as you walk so that the surf will push these sea creatures away from you.
Less common, but still not usual, are shark sightings. Adolescent great white sharks swim through the Huntington Beach area as a normal part of their migration pattern. Sharks, like all creatures, need a food source and are attracted by the local stingrays. Percentage-wise, these sharks won't bother you because they are quite skittish. However, once someone reports seeing a shark, credibility is ascertained by police helicopters that fly over to monitor and confirm the sighting. The helicopters also fly over the coastline looking for sharks and other safety concerns on a regular basis. After confirmation, there is criteria that determines whether public notification is sufficient or whether the beaches will be closed. Although a sighting can be alarming, Lt. Dieterman says that there have been no recent shark attacks in Huntington Beach or Sunset Beach.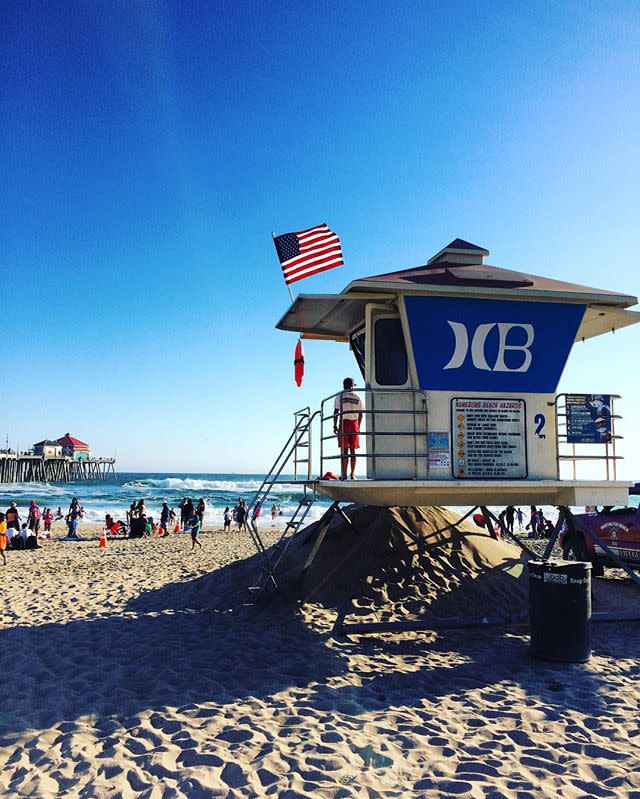 Photo by @hbcity_juniorlifeguards
Lifeguard Information
The Marine Safety Division provides public safety to the City of Huntington Beach's main beach and Sunset Beach. Lifeguards patrol the 3.5 miles of Main Beach shoreline from Beach Boulevard north to Seapoint Street dawn to dusk, 365 days a year. Lifeguard patrol in Sunset Beach from Warner Avenue to Anderson Street is maintained from 10 a.m. until sunset. Daily staffing levels vary from five Marine Safety Officers in October through April, to as many as 65 lifeguards in the summer. Even during non-peak hours when some of the towers are closed, surveillance visibility from the main tower on the Huntington Beach Pier reaches for miles with lifeguards being able to see all the way to the Newport Beach Pier.
Marine Safety staff provides public safety through a variety of functions and responsibilities. The ocean lifeguards perform a vital role in providing frontline protection of life, limb and property. Marine Safety officers patrol and respond to ocean rescues, major medical and law enforcement incidents from their emergency vehicles and vessels.
The longstanding Junior Lifeguard program, one of the best in the US, age 9 - 17, starts as a summer recreational program and merges into a "farm recruitment" league. The vast number of ocean lifeguards are recruited from this program because they become well-trained in the distinctive conditions of the ocean in Huntington Beach which requires many years of experience. The initial class of 24 junior guard students in 1964 has blossomed to an impressive average of 1,100 students per year.
Helpful Links
City of Huntington Beach
http://www.huntingtonbeachca.gov/residents/beach_info/marine_safety.cfm#sthash.uq6ks8lo.dpuf
Huntington Beach Pier, Southside HD Cam & Surf Report
http://www.surfline.com/surf-report/hb-pier-southside-southern-california_4874/
Huntington Beach Junior Lifeguards
http://www.juniorguard.com/
California Surf Lifesaving Association
http://www.cslsa.org/