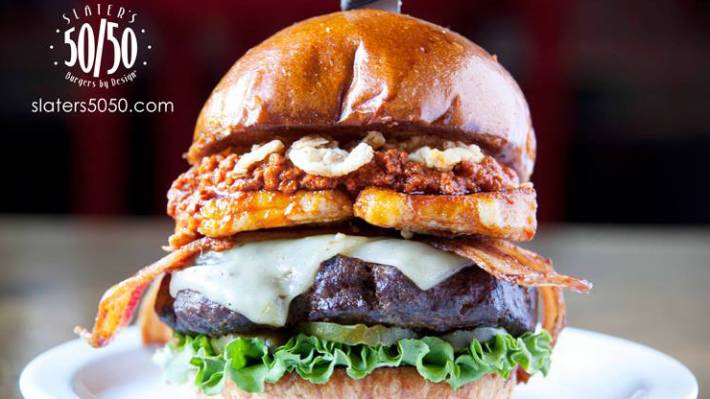 You love bacon (who doesn't?). You love burgers. But, I bet you haven't tried a bacon burger quite like the ones from Slater's 50/50. They're guaranteed to take your love of bacon indulgence to the next level.
Slater's 50/50 is famous for the patty that carries its namesake. The original 50/50 patty is made of 50% ground beef and 50% ground BACON. That's right. The bacon isn't in flimsy strips on top of your patty; it is literally infused into your burger.
Slater's operates under its philosophy of Excesstasy. Your meal shouldn't be simply amazing. It should be over the top and utterly phenomenal, and this is evident just from the sheer size of its burgers. Not only is your meal guaranteed to be unique, it is guaranteed to be generously filling!
However, the crafty restaurant is known for more than its distinct patties. Slater's offers a wide variety of local and regional craft beers to complement your meal. For an adventurous cocktail, try sipping a Bacon Mary, a house-made Bloody Mary with a meaty twist, containing Three Olives Vodka, bacon salt, and-you guessed it-a slice of bacon.
Even if you're not craving a burger, you'll also experience Excesstasy in Slater's variety of wings, salads, and sides. Dig into a plate of Thai Sriracha buffalo wings, Loo-siana 'Gator Mac N' Cheese, or Slater's Fries with a side of bacon ketchup.
Here, your meal is completely your own. You can choose a classic pre-built burger or create a new one using the "Design It" sheet at your table. Everything from the bun to the patties, toppings, and sauces is completely customizable. For a personal touch, you can even name your meaty masterpiece once you finish designing it.
Originally founded close to Surf City USA in Anaheim Hills, California by Scott Slater, the obsession with Excesstasy has spread nationwide. The Orange County restaurant has earned recognition across the country, including features from the Discovery Channel, Travel Channel, and The Huffington Post-to name a few.
Slater's 50/50 is located on Adams Ave., just a few minutes away from Downtown! Check out these Instagram photos of burgers designed right here in Huntington Beach: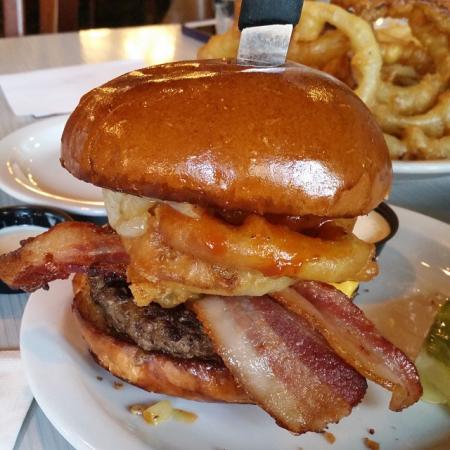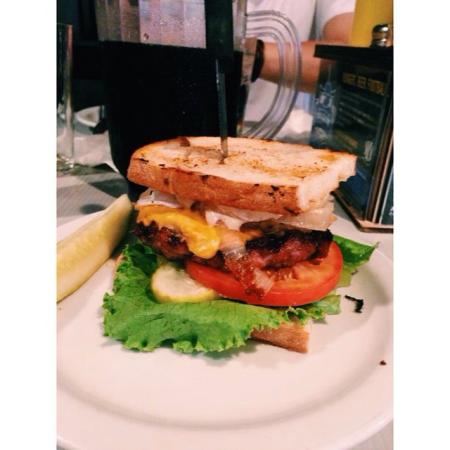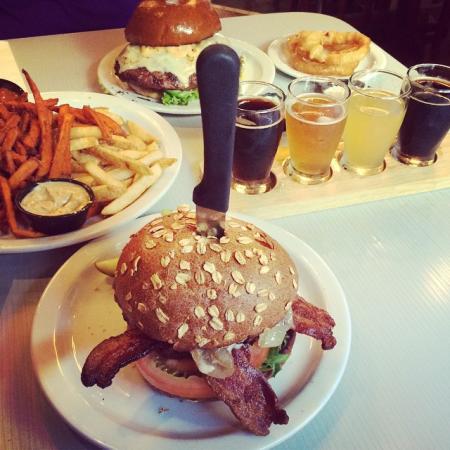 Have you indulged in #Excesstasy yet? Trust me, you can't leave Huntington Beach without stopping at Slater's!