Huntington Beach's Newest Brewery and 2015 Best Beer Winner
Neither Ryan Rasmussen nor his brother-in-law Ryan Hopkins knew anything about brewing beer when they started home brewing in Hopkins' Huntington Beach garage two years ago. A couple of months later they purchased an original 1931 Helms Bakery bread truck, and these two guys and a truck hit the road delivering their own Riip Beer Company brew to the local community. To their delight, people loved their product. So did the judges at two of Orange County popular beer contests where Riip Beer's small batch, hand-crafted beer took top honors last spring at the Beer Taste of Huntington Beach and the Newport Beach Beerfest. 
To keep up with growing demand, Rasmussen, Hopkins and their new partner Michael Shorey opened a tasting room and home brew supplies shop in October at 17214 Pacific Coast Highway to rave reviews. Located in an historic area of Huntington Beach, the nano (small system) brewery resembles a vintage Huntington Beach garage. Old oak wine barrels rest on the original concrete floors. Photos dating back to the 1930s and memorabilia line the walls, including the original clam digger forks Rasmussen's grandfather used to catch clams on the sand by the Huntington Beach pier. A unique beer board draws the eye to the beer selections painted on the bottom of skateboards in synergy with the Huntington Beach vibe of skating and surfing.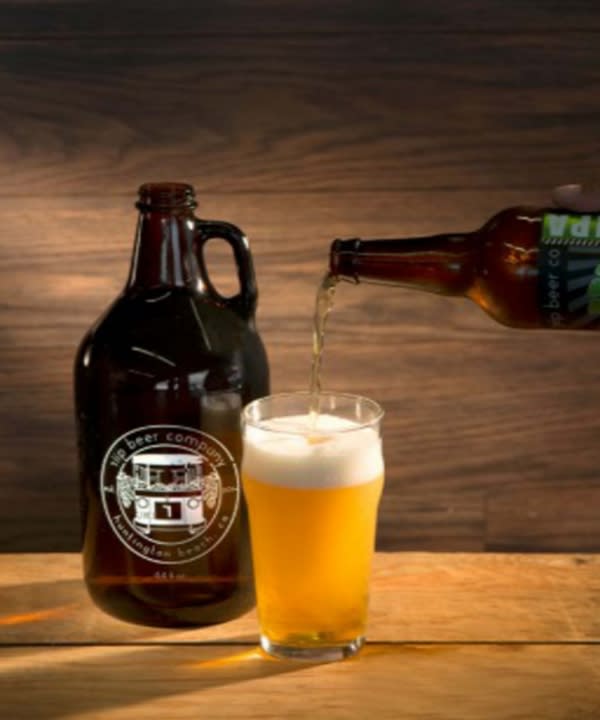 Riip Beer Company is one of the first nano breweries in Orange County.  Beer is brewed on a three barrel system which is one-third the size of most other brewery systems. Brewer Andrew Moy puts a lot of time and attention into the formulation of the recipes which are constantly tweaked for optimal taste. 
"We have thrown out batches if we don't like them. We will only sell to our customers what we love. Otherwise, it goes down the drain," Rasmussen said. 
Riip's most popular beer style is the West Coast IPA. Several variations are available that utilize different hop and malt profiles. The light-colored, citrusy, dank hop characteristics have proved to be very appealing to the west coast craft beer drinker. The two highest selling IPAs are Riipalicious IPA, which uses the rare Nelson Sauvin hop grown in New Zealand, and Dan K IPA, Riip Beer's award-winning Citra dry-hopped West Coast IPA. It has a very citrusy nose and is easy to drink with its floral and citrusy characteristics. With winter approaching, Xoconela Mexican Chocolate Stout and Girl Scout Cookie Thin Mint Stout will be on tap for the holiday season.
Riip Beer Company has earned respect from peers in the industry as well as customers. For the two guys who took a risk by maxing out their credit cards and taking small bank loans to get started, they are proud to grow the business and share their passion.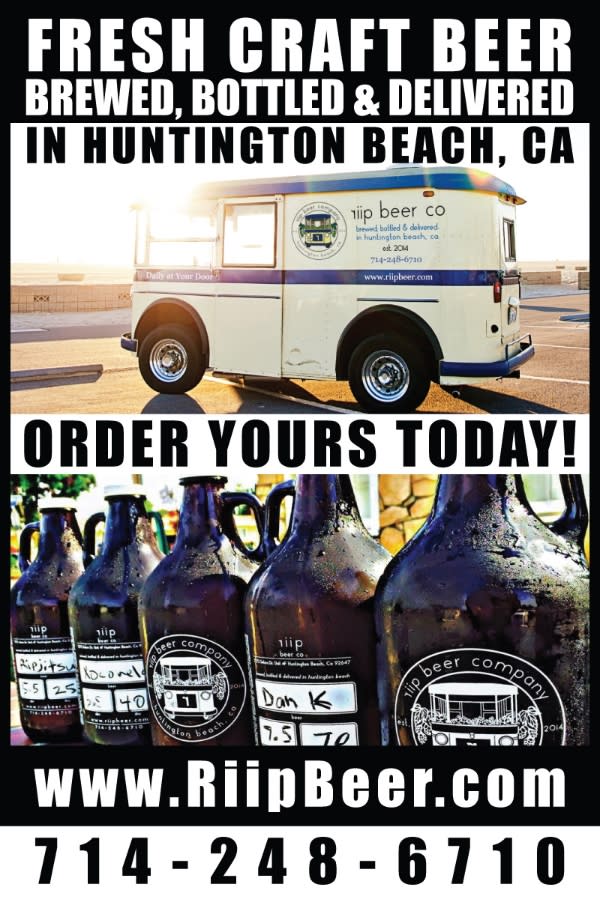 Wondering how Riip Beer Company got its name?
Riip it is a derivative of "rip," the surfing and skating term that indicates speed, power and precision (not unlike the trajectory of the Riip Beer Company). Although he admits some people think it means Ryan's Insane Investment Plan, according to Rasmussen, "The way we say rip in Huntington Beach is by dragging out the 'i' a little longer... like 'that guy riips!' Plus, the extra "i" looks cool." 
Delivery Truck Orders
Allow about 45 mins to an hour for delivery. There is no minimum or maximum order limit. Calling in advance at (714) 248-6710 is recommended.
Tasting Room Hours
Monday – Saturday 11 a.m. – 10 p.m.
Sunday 11 a.m. – 8 p.m.
Craft Beer Tours
Riip Beer Company is on the list of six local breweries that are part of Surf City Craft Beer Tours. Find more information or book your tour here!