Pedego® Huntington Beach is the only local electric bike store offering sales, rentals and guided tours. Pedego Huntington Beach is open seven days a week from 10:00 a.m. to 6:00 p.m and is located just two blocks from the beach, on the corner of 5th and Olive street. They offer a daily three-pier tour going to Newport Beach and back to Huntington. Pedego's stylish, colorful bikes boast the latest in electric bicycle technology and deliver a green alternative for transportation, exercise and recreation. Electric powered bicycles open up a whole new world of enjoyment, especially if you're looking for ways to participate in National Bike Month!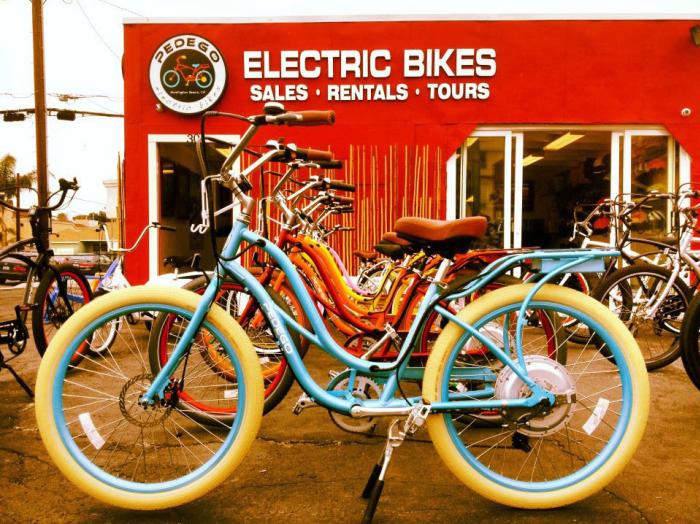 May is N​ational Bike Month and for over 50 years, bicyclists in communities across the country have celebrated all things bike! O​ne of the most important parts of the month-long celebration is "National Bike to Work Week" on May 11–15, 2015. Pedego commuters set an example for bicycle commuting while showcasing the benefits of electric bikes. They enjoy the pleasure of arriving at work less sweaty with the use their powerful Pedego motors to transport them to their destinations.
WHAT IS A PEDEGO ELECTRIC BIKE?
A colorful, sleek-looking beach cruiser with a battery pack that allows one to decide when to pedal normally or get assistance up to 20 mph!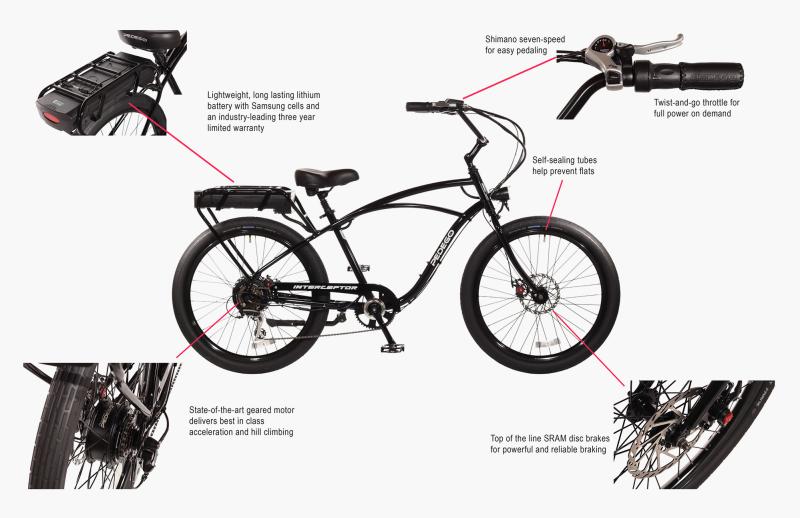 HEALTH BENEFITS
Pedego electric bikes lets you embrace healthy living in many ways. Biking can help reduce stress, boost your immune system, and lead to weight loss. The equipment combines style and function to open up cycling to anyone who might otherwise not be getting the benefits from bike riding. Many people would like to ride a bike, but find it impractical or impossible because of hills, distance, health reasons, knee problems, aging or the inconvenience of having to shower and change at work. Pedego electric bikes make biking much more accessible to the 98% of the population who aren't currently cyclists. R​iding a Pedego is fun and easy because it empowers you to go farther and faster with the greatest of ease. Hills and headwinds are a thing of the past!
SCENERY
Huntington Beach is known for their 10 miles of b​ike trails and uninterrupted coastline. What better way to experience Pacific Coast Highway than on a Pedego! Enjoy a self guided tour of all the must-see attractions of Huntington, Newport Beach, and Long Beach. Cruise along in comfort and style and explore each stop at your own pace.
Huntington Beach Pier: constructed in 1903 & rebuilt 3 times since!
Bolsa Chica State Beach: This area was once called "​Tin Can​ B​each" ​and became a state beach in 1960. ­
S​unset Beach: Located west of PCH, between Warner Avenue and Anderson Street.
BONDING WITH FAMILY AND FRIENDS
There are options available for families and friends of all ages. C​hildren under the age of 16 are not allowed to operate an electric bike on their own, however, T​ag-A-Long bikes, child seats, tandems, and trailers are available. B​askets, attached to the handle bar, are also available for pets five pounds or lighter. For pets that are heavier, having them ride in an attached trailer is recommended. Spend the day bonding with one another while riding along the iconic coastline.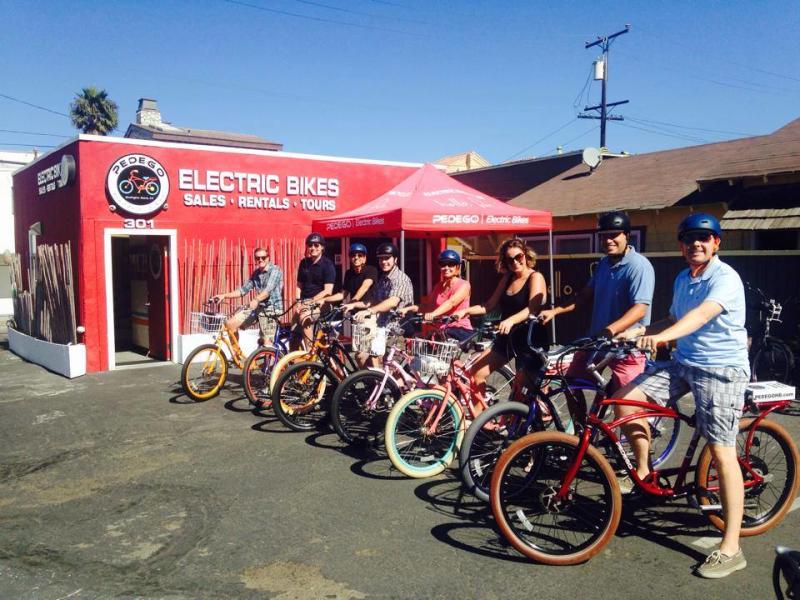 REGULATIONS TO REMEMBER
All participants are required to wear helmets throughout the duration of the tour. Pedego electric bikes speed up to 20 mph, the legal limit for electric bicycles. This tour is run on bike paths that have speed limits of 10 mph in Huntington Beach and 8 mph in Newport Beach. Licenses are not required to operate a Pedego. Feeling skeptical? Everyone is invited to stop by and take a free test ride on a Pedego electric bike!

For reservations, call (​714) 465-2782.​ Please visit https://www.pedegoelectricbikes.com/dealers/huntington-beach/ and visit their Facebook page for more information and the latest news on Pedego Huntington Beach. 
301 5th Street, Huntington Beach, CA 92648 | (714) 465-2782