The fun is going to be all right here on the beach and in the water on Sunday September 25th, 2016 as Surf City USA hosts the 8th Annual Unleashed by Petco™ Surf City Surf Dog competition. The fun starts at 8:00 am and ends at 3:00 in the afternoon. The event will be held at the Huntington Beach Dog Beach, which is located just north of the Pier at Golden West. There will be more than 70 "paw-ticipants" and international "sur-furs" will be competing for barking and bragging rights. Who will claim to be the top dogs and carry home the trophy? Families are welcome and there is no cost to attend. Score!

So bring your beach chairs, towels, umbrellas, four legged friends, and of course your cameras and binoculars to view the competition and hilarious tail-wagging adventures that will ensue in the water. And in addition to the competition in the water, there will also be food trucks, vendor expos and even doggie adoptions!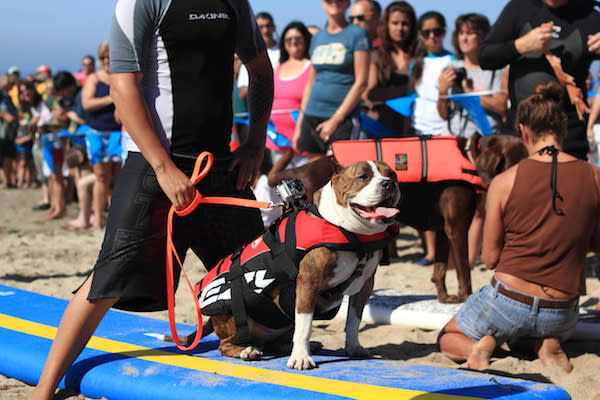 It was an honor to speak with Lisa Scolman of Book That Event LLC, about this creative sport that has evolved over the past 11years. She had been doing large-scale running events for years, and when she saw a dog competition in San Diego, that got the wheels turning. Then when Dog Fancy Magazine named Huntington Beach one of the most "dog friendly towns" she put those two things together and in 2009 launched the competition right here in Huntington Beach, better known as Surf City USA. It was a perfect match and the community embraced the idea right away. Fast forward, and we are now about to enjoy the 8th year of this annual event.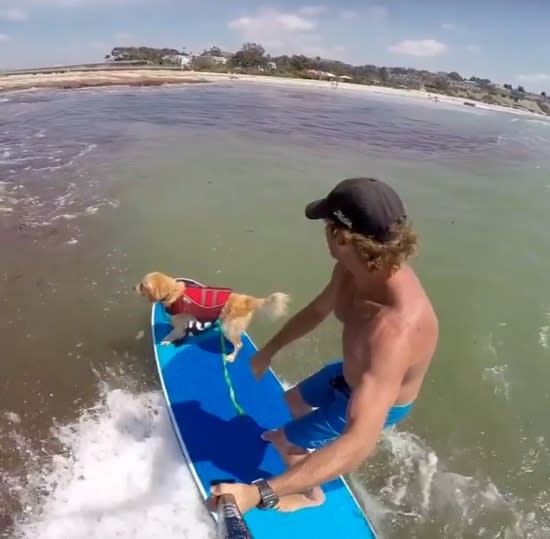 This year, the event is even drawing from international sources. Australian Dog Behavior Specialist and surfer, Chris De Aboitiz will be competing. Due to quarantine laws, he was not able to bring his own pup, but he is doing something very special. He arrived in early September and he is training a rescue pup from SoCal Golden Retriever Rescue (SCGRR). He will compete with his new "sur-fur" friend and this precious doggie will then be given a "fur-ever" home during the event.
"I am really stoked to be in Surf City USA and working with my new dog mate. I look forward to demonstrating how to understand dog behavior and how to provide exercise and structure through outdoor adventures such as dog surfing. What can be better than that, and after fostering him for the month, he will get a fantastic home and take this new skill with him."  Chris De Aboitiz - SUP Dog Oz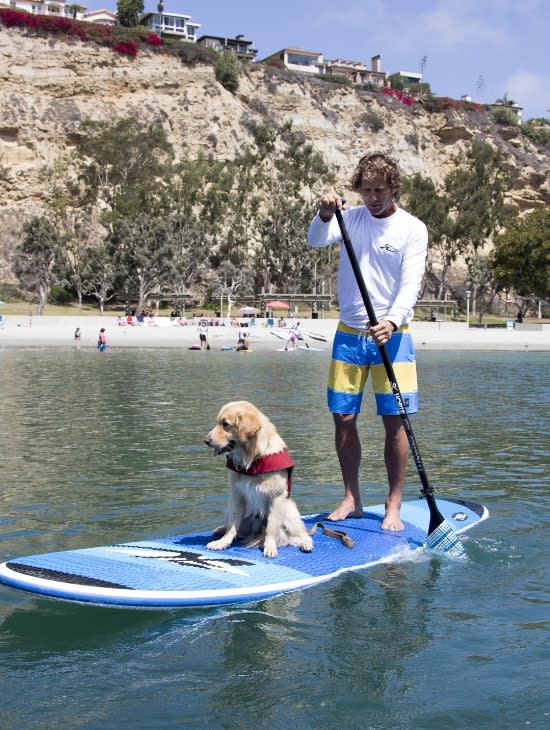 Three Days of "Dog Gone Fun" Line Up of Events-
Leading up to the exciting Sunday surf competition, there are a number of events that patrons can participate in. 
A week prior to the surf competition----on Friday and Saturday Unleashed by Petco™ will host two "sur-fur" swell events at their retail stores. They will have a costume contest, photo booth, do adoptions, mocktails and puptails, raffles and more! Join the fun…Friday 9/16/16 from 5:30 to 7:00pm in Laguna Niguel on La Paz Road, and Saturday from 1:00 to 3:00pm at their San Clemente location on Avenida Pico.
And what event would be complete without an iconic Opening Ceremony? So, to that end, on Friday evening September 23rd the weekend kicks off with an Opening Ceremony and Press Conference at the Rainwater Gallery & Events Center in downtown Huntington Beach. It is open to the public starting at 7:00pm to 9:00pm with a suggested $10 donation.  Two local artists and 3 photographers will be showcasing their work. A portion of the proceeds from surf dog art sales will benefit their partner charities. 526 Main Street ~ www.rainwatergallery.com
On Saturday, September 24th Pirate Coast Paddle Company at Newport Dunes will host "SUP With Your Pup" with special guest Chris De Aboiliz. He will be mentoring dogs and their owners with a "6 Steps to SUP with Your Dog". Owners can enjoy discounted rates on Paddleboard rentals. The event will be held from 11:00am to 1:00pm.  No need to RSVP. Pirate Coast Paddle Company @Newport Dunes 1131 Back Bay Drive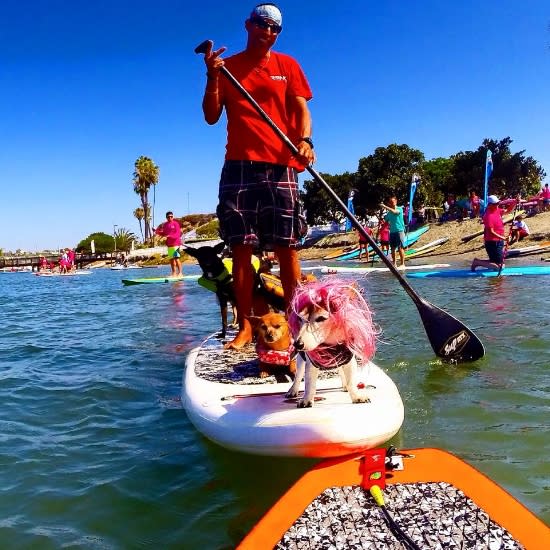 The Sunday Surf City Surf Dog® Event Details-
The competition will include six different heats. The first is broken into four different doggie weights, including: small, medium, large and extra-large size. There is a "tandem" category and a Shredder heat where only the owners push the dog off to catch the wave. (There are still a few spots open in the medium weight (21-40 pounds), and extra-large dogs (61 pounds plus). To register, please visit www.SurfDogEvents.com
Winners will be judged by World Surf League Judges based upon the length of their ride, difficulty of wave and maneuvers. Prizes will be awarded to the top dogs, however all dogs will receive a commemorative participation medal.
The Surf City Surf Dog Competition is very grateful to the following Sponsors: Unleashed by Petco(TM), Outward Hound, Realm Nation, Growl Towels, Pirate Coast Paddle Company, Waggle, Rainwater Gallery & Events Center and Advanced Veterinary Internal Medicine. This year's charity partners include: Barks of Love, French Bulldog Rescue Network, Huntington Dog Beach, OC SPCA, SoCal Golden Retriever Rescue and Westie Rescue of OC & Beyond, and OC SPCA.
For those visiting from out of town, there are four hotels that are doggie friendly. This includes: The Kimpton Shorebreak Hotel, Waterfront Hilton Hotel, Pasea Hotel & Resort and the Hyatt Regency HB Resort & Spa. I also enjoy strolling up and down 5th Street with my doggie. It is a bit more quiet than Main Street and has just enough in the way of shops and restaurants.
Deirdre Michalski is a travel and culinary writer covering topics near and far. You can read more about her adventures on her web site www.TastesAndTravel.com