Raise your glass! It's Cinco de Mayo and restaurants and bars across town are ready to help you celebrate the Mexican holiday with a Surf City spin.
For revelers on the hunt for the best margaritas in Huntington Beach, we've got you covered. From beloved local watering holes known for serving inexpensive drinks that pack a punch to the coolest new spots that add fresh flair to the Mexican cocktail, there's something for every drinker on these five menus.
Solita Tacos & Margaritas
One of the newer Mexican eateries in Huntington Beach, located at Bella Terra, Solita is known for its simple yet sophisticated street food. Slightly less healthy—but just as fresh—are the nearly 10 margarita options on its specialty drinks menu. Standard house varieties (served frozen, on the rocks or skinny) are made with Agavales blanco, while other innovative creations like the El Hombre kick it up a notch with heat courtesy of dried chipotle peppers and infused tequila. Prefer something fruity? You can opt for a full glass of the guava, kiwi-strawberry or watermelon margs, or try them all with a build-your-own flight option. You can't go wrong with any of the colorful cocktails, but the watermelon is a simply sweet summertime pick, featuring crushed fruit and fresh lime juice, served garnished with a watermelon wedge.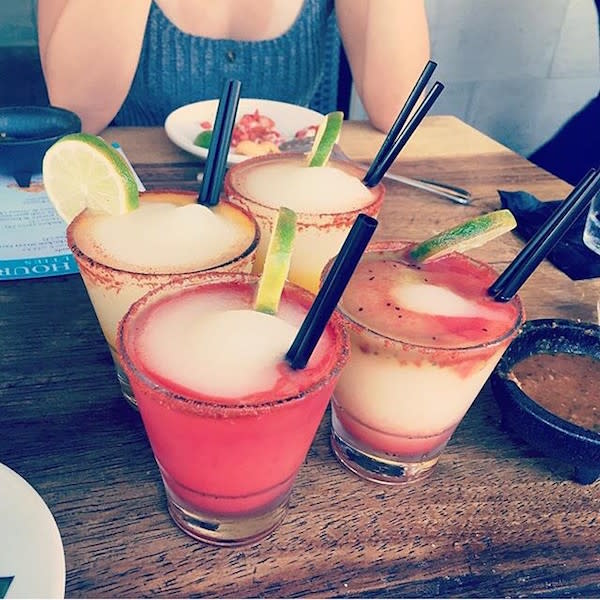 Happy hour runs from 3-6 p.m. Monday through Friday, allowing patrons to order $6 house margaritas, but the restaurant is also hosting an all-day Cinco celebration. Stop in for swag giveaways, live entertainment from Trio Mariachi Jalisco (6-9 p.m.), pinata raffles and drink specials on Grande House or Skinny Casa Noble Blanco margaritas for $8 all day.
7631 Edinger Ave., Ste. 1508, Huntington Beach, CA 92647
Ola Mexican Kitchen
Opened this past winter on the second level at Pacific City, Ola is celebrating its first Cinco de Mayo in Huntington Beach this year. It faces some stiff competition, but will hold its own with an impressive menu of creative margaritas.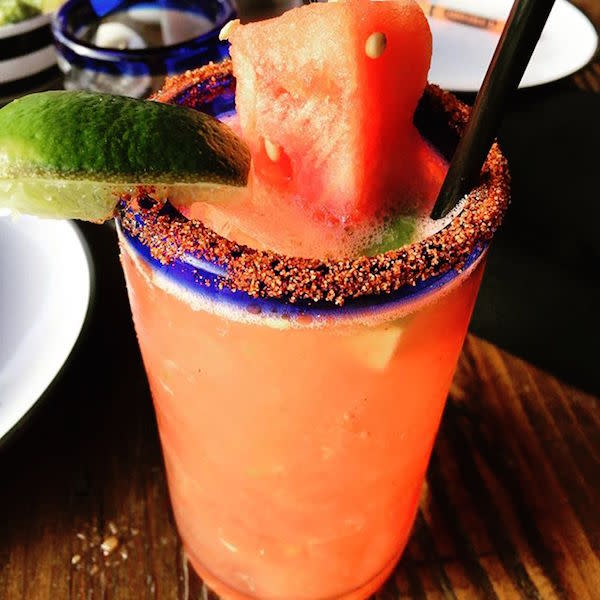 Get started with one of the top picks on the menu, the Abreojos margarita—a refreshing sip with a kick for the perfect sunny day. Don Julio Silver is mixed with muddled cucumber, jalapeno, agave nectar and sweet and sour, then garnished with slices of fresh pepper. Classic Cadillac and skinny margaritas are also available, but take your taste buds on an adventure with a more tropical take: The colorful Punta Negra features Peligroso Silver with fresh blackberry, jalapenos and pineapple juice.
21040 Pacific Coast Hwy., Huntington Beach, CA 92648
Fred's Mexican Cafe
At Fred's on Main Street, every weekend feels like a Cinco de Mayo celebration. Climb up that imposing flight of stairs and grab a seat around a fire pit on the patio to enjoy the holiday, coastal style.
Oversized house margaritas can be ordered frozen or on the rocks in regular or strawberry flavors. They're staples at this downtown HB hot spot, served in oversized goblets with colorful rims. If you want to upgrade your sip, there are plenty of choices. Try the tongue-in-cheek Horney Grandma, composed of Hornitas Silver, sweet and sour and Grand Marnier for a citrusy spin, or margarita varieties in mango, passion fruit with cranberry (the "Diva Rita"), or a lemonade and strawberry combo (the "Hang Ten").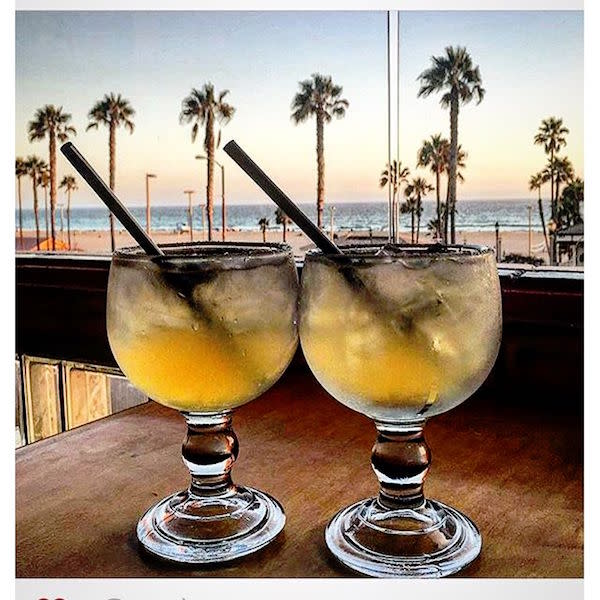 But save room for—or perhaps start with—the "K.A." Rita, a dangerously delicious premium marg with two shots of Pueblo Viejo 104-proof tequila, orange liqueur, sweet and sour mix, and lime. There's a limit of three per guest, so sip carefully.
There are no planned food and drink specials this year, but you can play festive games inside the bar while listening to live mariachi bands on the makeshift stage.
300 Pacific Coast Hwy., Ste 201, Huntington Beach, CA 92648
La Choza
Across the street from Bella Terra's Solita, La Choza offers a different complement of margaritas for Cinco de Mayo drinking pleasure. The menu is simple, with a house margarita as well as fruit-flavored options (mango, melon, peach, raspberry and strawberry). If you opt for blended, you'll be treated to a vividly colored concoction that adds to the festive vibes of the Mexican holiday. But the not-to-be-missed sip here is the Cadillac margarita, served with a heavy pour and the perfect base of lime.
7402 Edinger Ave., Huntington Beach, CA 92647
Don Jose Mexican Restaurant
If you're a #ThrowbackThursday fan, pop by the delightfully kitsch Don Jose located in a small shopping plaza at Magnolia Street and Adams Avenue. Known for karaoke weekends, it's an old-school joint that isn't afraid to have some fun.
Your best bet for Cinco de Mayo here is to join the crowd on the Cantina side of the eatery and request a Cadillac margarita (your bartender might warn you that one is more than enough!). Those with a sweet tooth can indulge with peach, strawberry, melon and mango varieties, best enjoyed blended. Since Cinco de Mayo falls on a Thursday, enjoy happy hour pricing from 3-6 p.m. with $4.95 margaritas.
9093 Adams Ave., Huntington Beach, CA 92646
Mario's Mexican Food & Cantina
Up Main Street at Five Points Plaza, Mario's is a mainstay in a center that's seen an overhaul of tenants over the last five years. Hang a left when you walk through the doors to grab a seat in the cantina and skip the wait for the restaurant. The signature margarita can be served on the rocks or frozen by the glass or pitcher. Typical fruit versions are available in the 16-ounce size, including mango, coconut, peach, strawberry and—a surprisingly choice—banana. You can also opt for specialty upgrades with infused tequilas, like the spicy mangorita or jalapeno margarita.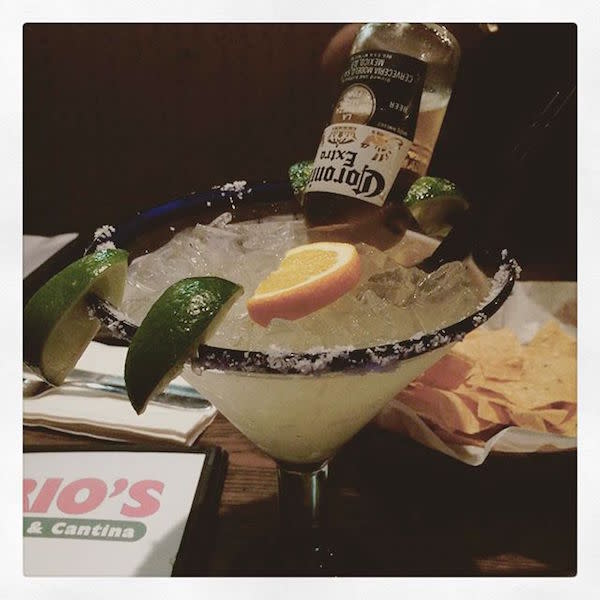 But no matter what version you order, you're almost guaranteed to have a good time—strong margaritas are a hallmark of this Surf City favorite.
18603 Main St., Huntington Beach, CA 92648